Q] Kingfisher has partnered IPL for 13 years now. What has been your IPL strategy this year?
We have associations with five teams out of eight and are presenting partners on Hotstar. Through our Kingfisher campaign in IPL, we are trying to bring to life the concept of 'Kya Plan Hai?' Of course, with Kingfisher being the 'plan'.
We are working with our influencers, creating home viewing experiences and trying to take the communication beyond a 15-second Hotstar spot. Earlier we used to do huge meet and greets with the press, bowl outs in a mall, etc. but now we are doing virtual meet and greet with the players which becomes special as it is personalised.
Q] With no cheering or get-togethers over a beer during IPL owing to many bars still being shut, has Kingfisher lost its biggest IPL connect this time?
Yes, there will be a little bit of loss from a traction standpoint in bars, because the bars are not open. People sit around in bars, watch a game and have a couple of beers. It is part of the overall IPL experience.
So yes, I will be lying if I said that we won't be impacted. But the upside is normally IPL jostles for space with multiple other things but in the face of a pandemic, it is getting a lot of uninterrupted eyeballs.
Q] We are seeing some Kingfisher ads with a changed positioning, from an outdoor brand to an indoor brand. Tell us about that.
We realised that the bars will take a lot of time to open up and even if they do, getting back to normal will take time. For years, this category has been built as an away-from-home social lubricant. So we wanted to bring the Kingfisher experience at home with 'Ghar pe Kingfisher'.
And we picked up regular father-son, father-daughter situations and celebrated having Kingfisher at home with our loved ones, obviously with the right drinking age and the right profile.
Q] Do you feel this IPL season will be as effective for Kingfisher as the past 12 seasons, given the circumstances?
The cost of a ten second spot has shot up by 15 times in the last 13 years, and that is the power of IPL. Yes, there is a lot of pain in the ecosystem right now but IPL is a fantastic platform, the biggest festival that India has arguably, therefore the opportunity for us to be part of it and celebrate it with our portfolio of brands is fabulous.
We also have the other brands beyond Kingfisher like Ultra and Heineken active on Hotstar. So we are leveraging the power of the portfolio. As a whole I have realised that impressions are starting to lose meaning in the space.
So we look at engagement only and define it under the below four parameters --viewing, liking, sharing and commenting on our content. And the engagement scores are looking very good. In the last six to seven months, in times of adversity we have not lost touch with the consumer. The subscribers on our Instagram page have doubled in the last year and reached 160,000 now.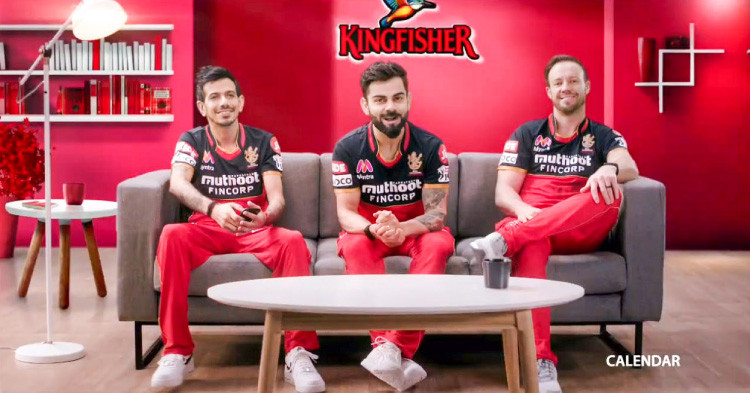 ABOUT THE BRAND
United Breweries Ltd. is the market leader of the Indian beer market and sells beer under its flagship brand, Kingfisher. Kingfisher Strong is India's largest selling beer. International beer brands Heineken and Amstel, along with the imported portfolio complement United Breweries' Kingfisher franchise.

FACTS
Creative agency: Wunderman Thompson
Media agency: Mindshare
PR agency: PR Pundit
Digital Agency: Spring Marketing Capital

PROFILE
A veteran in Integrated Marketing Communications with over 25 years of experience, Debabrata Mukherjee (Debu) currently serves as the Chief Marketing Officer at the UB group. In his current role, he is responsible for managing a diverse set of local and global brands like Kingfisher, Heineken and Amstel.

MARKETING TIP
Focus on agility and courage



Q] Because of the surrogate advertising laws in the country on TV, many alcohol brands have moved their ad spends largely to Digital where they can advertise the brand for what it really is. Is it the same for UB?
We follow the policy and laws of the land. Today on Hotstar, the numbers are mind-boggling, with the first IPL match viewed by close to 70 lakh people. So, Hotstar today is an extremely viable medium. Many people told me that they saw IPL on cable TV last year but this year they are watching it on Hotstar because they've got so used to watching stuff on the net. It's a logical extension.
For me the choice of the medium is directly proportional to the consumer preference of that medium and the consumers who are consuming my product. So in the last six months, I would say my predominant spend has been on Digital, say 80%-85%.
I've got nothing against TV, it's a powerful medium. But given the resources that we have, it was more about resource optimisation based on the marketing task at hand.
Q] While liquor stores were one of the first to open post the lockdown, sales must have taken a big hit this year…
I won't be able to comment on the sales figures at this point.
Q] How has UB Group managed to stay relevant in its communication in the past year?
We tried many innovative things like perching the Kingfisher bird on a branch for the first time in many years with the messaging 'the good times will come back but for now stay on your branch' to taking a dig at the Dalgona coffee fever with the messaging 'The original king of froth is back' when liquor stores were about to reopen.
Then we created a Kingfisher anthem, a 90 second video that talked about celebrating the new normal of being at home by connecting with friends and even took Sunburn and Bollyboom to Digital. We've got a lot of positive feedback for our communication during the lockdown.