Just like all of us I too have my share of issues in life. Most of them like in many cases are self-inflicted. Thoughts like I am 37 years old already! Am I doing well enough? Will anyone ever agree to marry a workaholic like me? How do I reduce my ever-increasing weight? Why can't I quit smoking? Why did I lose that pitch? Why didn't that campaign work? etc. etc. etc.
I realized that we are conditioned to be unhappy and sad. There is just so much that you expect out of life that it is almost impossible for you to go through one full day without your share of failure and disappointments. And the thing about failure and disappointments are that they always manage to make you forget about all the good things happening in your life that you should be grateful for.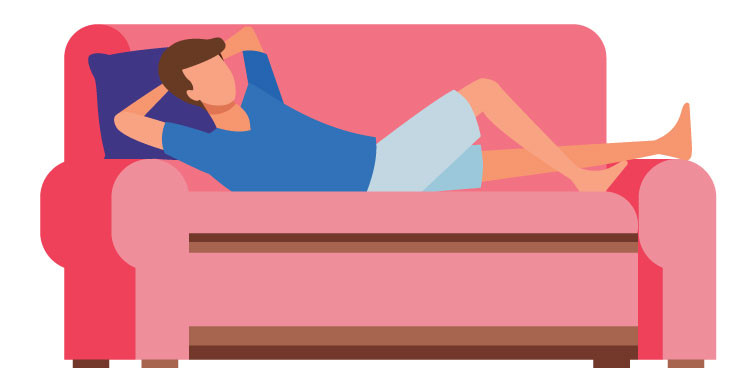 But during the lockdown when we were all stuck in our homes, I had my little secret affair that changed my life forever. For the better.
Thanks to the lockdown and the subsequent advent of the now legendary WFH concept, I started to spend a lot of time next to my sofa cum bed (as it's right next to my work station), and before we could both realize, me and my sofa cum bed were in an illicit relationship
(considering I was already in an existing live-in relationship)
Every time I had an exhausting call with the boss, a nasty conversation with someone, a bad client presentation, as 'you guys didn't make the pitch email', a fight with the better half, no matter what the bad news or issue or problem was, I would quickly take refuge in my new found love, my mustard yellow sofa cum bed, and would invariably take a nap. Yes. I would just go to SLEEP. Sometimes it would be a 15 mins shortie or a 30 mins power nap, a 60 mins strong one or a 120 mins deep one, I would just avoid any pondering or sulking and go straight for the sack.
The effect this idea started having on me was nothing short of magical. I woke up with renewed gumption every single time. And since then, I realized how important sleep is not just for our physical health but for our mental health and sanity. And the best part is it doesn't cost me a penny.