BY RUCHIR MODI
Founder & CEO Modi Ventures
Growing up in an influential family has been a blessing. The general perception is that things are served on a platter, but that is not the case. As tennis great Billie Jean King said, "Pressure is a privilege". The legacy of the Modi family - right from my great grandfather Rai Bahadur Gujjarmal Modi to my grandfather K.K. Modi, down to my father Lalit Modi, only sets the bar higher for me. Each generation has set high standards, and I plan to continue in the same vein.
Cricket conversations and innovative ideas were the soundtrack of my life growing up. My passion was, and still is, cricket. It is innate, and I suppose my father's enthusiasm for cricket has a lot to do with it. I thrived on the cricket conversations all around me. The adrenaline rush at a cricket stadium with thousands of fans screaming; the duel between bat and ball; skill and power, ensured my involvement in this great sport.
My father's mentorship has been the biggest inspiration for me. He taught me unique ways to approach issues and to take advantage of challenges by turning them into opportunities. People always remember the mistakes, but they overlook the hard work and efforts put in. I am glad that I am strong enough to follow my passion and stand up to the criticism that is inevitable.
People are always ready to stab you in the back, but what matters more is how you take it, never backing down. It's how you move on and how you keep following your passion. That's what matters the most.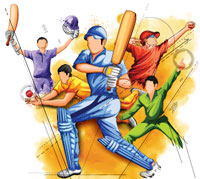 That's how you achieve your dreams. My biggest advantage is that I was born in the generation of millennials and, as rightly said by most, we are dedicated to our passion and dreams. We love being our own boss and we thrive in chaos. We learn from our mistakes. What my father did for cricket is commendable. And since cricket is my passion too, I see it as my responsibility to work towards bettering the current system of cricket and helping to enhance the game.
I am working my way up from the ground level to understand what it takes to provide the kind of leadership a cricket organization needs. I am confident that I can help shape the future of cricket in India and globally. Indeed, cricket is ripe for fresh ideas and a system upgrade.
I remember having had the time of my life with my father, clocking hundreds of miles travelling, attending more than 200 games with him, and 100 different tenders and launch events. Watching him create the Indian Premier League (IPL) is what inspired me the most – as I am sure it has inspired millions across the globe. I still cherish the memories.
I remember one instance when cricketer Yuvraj Singh told my father that he wanted a Porsche, to which my father replied, "Go, hit six sixes!" Yuvi actually did it and subsequently got his reward. What I got was Yuvi's bat with which he hit those six sixes off English bowler Stuart Broad. He gave it to me, and it still hangs proudly on my office wall. A sweet reminder of how our Young Turks created history in 2007 in the first T20 World tournament.
Apart from my father, I am also deeply inspired by the likes of Elon Musk, Henry Ford and Steve Jobs. Their example drives me to work for the greater good of society and the world. I love how Musk always emphasizes the need to take feedback and criticism. His feedback loop theory which basically implies that you should be thinking about what you've done and how you could be doing it better, is my mantra for any project I undertake. I also believe that everyone should follow a sport, not just for fitness, but because it keeps the mind and body controlled, relaxed and at ease. Believe me, any sport has the potential to create a better version of you as a person. For me, it's cricket! What's yours?
@ FEEDBACK
ruchirmodi@me.com