American author, entrepreneur, and motivational speaker Jim Rohn rightly said, 'Take care of your body. It's the only place you have to live.' My daily fitness routine includes 70% focus on a balanced diet, and 30% focus on workouts. Though it includes cardio, weights, agility and strength training, hula hooping is my personal favourite to stay fit. Hula hooping is a fun and effective form of exercise that can improve cardiovascular fitness, coordination, and balance. It can also help to strengthen the core muscles, tone the hips and waist, and improve flexibility. However, to get the most out of hula hooping for fitness, it is important to practice regularly and use a heavy, adult-sized hoop. It can be incorporated as a full-body workout routine or as a standalone activity.

I, on the other hand, have innovated a new hula hooping technique – hula hooping while hanging and doing pull ups, which I feel is a most challenging workout that combines cardio and strength training. This exercise can improve your upper body strength, core stability, and coordination, while also providing a cardio challenge.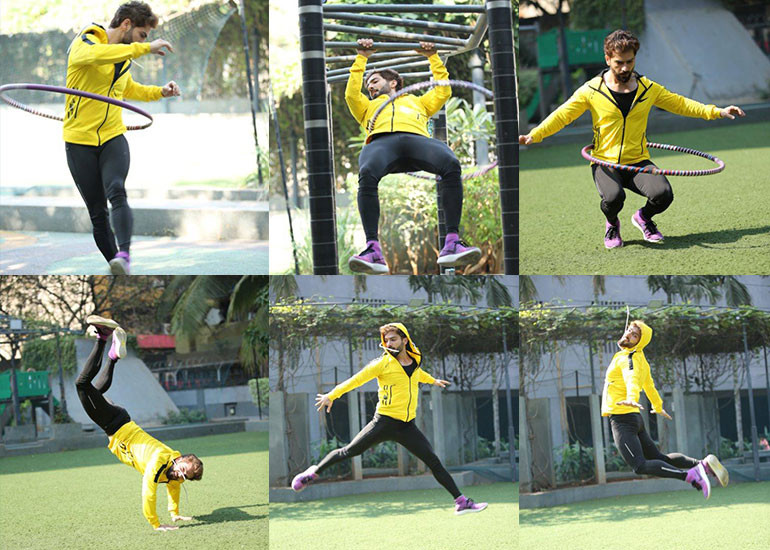 It all started when I was attending my regular dance classes at the academy. One day, a fellow dancer brought a hula hoop to class and started to play with it during a break. I had always been fascinated by the colourful and lightweight nature of hula hoops, so naturally I was drawn to it. As she spun the hoop around her body with ease and grace, I realised that the hula hoop could be used as a dancing prop. I asked her to show me a few tricks and she happily obliged. I picked up the basics quickly and soon found myself spinning the hoop. At first, it was just a fun way to pass the time during breaks. But as I got more comfortable with the hoop, I began to incorporate it into my dance routines. I experimented with different styles and techniques, exploring the ways in which the hoop could enhance my movements, and add a dimension to my performances. It wasn't always easy, I struggled with some of the more advanced tricks, and had to practice tirelessly to perfect my technique. But with each small victory, my confidence grew, and I became more enamoured with the art of hula hooping.

Eventually, I became known around the dance academy as the 'hula hoop boy,' and I was invited to perform at few events. I never expected that a simple plastic hoop could bring me so much joy and fulfilment, but it had become an integral part of my dancing journey. Looking back, I'm so grateful that I stumbled upon hula hooping that day in class. It not only helped me improve my dancing skills, but also introduced me to a new hobby and passion that I'll carry with me for the rest of my life.