BRAND: Idea 4G #ApnoKeSaath
CREDITS
BBDO India and Vodafone Idea
AGENCY

Brand Idea has always offered a mobile telephony driven possibility or 'idea' for the time. And it's great to know that as we stay home, there is no lockdown on networks, connectivity and most importantly on learning.
Hemant Shringy
Chief Creative Officer, BBDO India
CLIENT

As Indians prepare to embrace the new normal, Idea acknowledges people who used this lockdown to fulfil their dreams and lent a helping hand to others. Idea 4G's campaign Online Seekho #Apnokesaath showcases Idea 4G network enabling Indians to stay connected and learn new things when the world had come to a standstill.
Kavita Nair
Chief Brand and Digital Transformation Officer, Vodafone Idea Limited
BRAND: Titan Watches International #QuaranTIME
CREDITS
Brand Team, Titan IBD: Vandana Bhalla, Piyush Pandey, Priyanka Sridharan
Creative Director: Rohit Mukherjee
Director Business: Ashwin Dravid
Social Team: Abhimanyu Jain, Akanksha Sharma & Puja Arleshwar
Creative Team: Parmit Dabas & Amit Boralkar
Business Team: Maria John & Barun Gupta
AGENCY

All of us shall remember the time we spent during this crisis. It'll become a story. And how engaging that story is, will depend on how we're spending this quarantine. Therefore, idea #QuaranTIME and who better than Titan to own this time for eternity? Through this campaign, we are simply urging people to have some happy memories of this unhappy time.
Rohit Mukherjee
Creative Director (South), Isobar India
CLIENT

They say you should never let a crisis go waste. Titan stands for time, and we wanted to capture how our teams and consumers across geographies are making the best of the time available to them. The idea was to inspire everyone to stay positive during these tough times.
Vandana Bhalla
Marketing Head, Titan – International Business Division
BRAND: Kellogg's #PassTheBowl
CREDITS
Client: Kellogg India Pvt. Ltd.
Brand Team: Sumit Mathur, Saurabh Nath, Khushbu Jhaveri, Kopal Doshi
Agency: Ogilvy, Pollen and FoxyMoron
AGENCY

Videos of people of all age groups having Kellogg's and then passing it on were stitched together to make it seem like they are passing a bowl of breakfast to each other. Even in these times of strict social distancing, we must make sure our loved ones don't miss breakfast.
Shahrukh Irani
Group Creative Director, Ogilvy
CLIENT

Our philosophy at Kellogg is to engage consumers with authentic content. This is the third agile campaign from the house of Kellogg's in the current environment. With #PassTheBowl, we once again partner the home-maker / mother and play a role in reminding consumers to not forget to have a wholesome breakfast.
Sumit Mathur
Director Marketing, Kellogg South Asia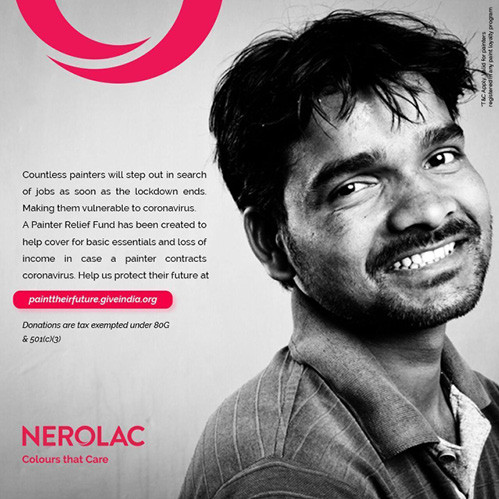 BRAND: Kansai Nerolac #PaintTheirFuture
CREDITS
Creative Agency: Leo Burnett
MD – India & CCO – South Asia, Leo Burnett: Rajdeepak Das
MD – India & CSO – South Asia, Leo Burnett: Dheeraj Sinha
Executive Creative Director: Mayuresh Dubhashi
Associate Creative Director: Savya Narang, Rucha Rao
Art Director: Sachin Pardeshi
Executive Vice President: Maninder Bali
Brand Director: Mukul Dhavan
Brand Associate: Karina Sethi
Senior Vice President Planning: Aniruddha Khandekar
Brand Strategy Director: Vishana Devnani
AGENCY

The #PaintTheirFuture campaign is an endeavour to help the painter community through these tough times. Our painter community is an important pillar of our brand success and in these trying times we want to ensure that their safety and welfare is well taken care of.
Rajdeepak Das
Managing Director India and Chief Creative Officer South Asia Leo Burnett
CLIENT

I appeal to citizens to contribute as much as they possibly can to safeguard the lives of painters who have always spread cheer by transforming people's homes using colors and their own hardworking and skilled hands. The amount collected through this platform will be used to provide financial aid of up to Rs 7000 each, to those painters suffering from Covid-19. Nerolac has further made an initial contribution of INR 500,000/- to set up the fund.
Anuj Jain
Executive Director, Kansai Nerolac Paints Ltd.