BRAND: Axis Bank #ReverseTheKhata
CREDITS
Client: Asha Kharga, Abraham Chacko, Hardik Joshi, SayanHaldar
Creative Team: Prateek Bhardwaj, Ashwin Joharapurkar, Ripanka Kalita, Garima Khandelwal, Poonam Wahi
Account Management: Shantanu Sapre, Jay Ladhani, Nitasha Chandnani
Production: LinProductions
AGENCY

The 'Reverse the Khaata' idea, in fact, came from a group that doesn't work directly on the brand. The team and the client loved it as it fits so well with the core Axis idea of 'Dil se Open'. Amer, our chairman, himself pitched in as the VO artist that brings it together. With this much belief behind the idea, it isn't surprising that it's getting so much love too.
Prateek Bhardwaj
CCO, Lowe Lintas
CLIENT

The concept came from a simple, uniquely Indian insight of khata that most of us have with local shops like the kiraanawala, the neighbourhood chaiwaala, the istriwala, to name a few. As the country starts opening up, these small businesses will need all our support to get back on their feet. The simple message was to appeal to the collective goodness in people by asking them to reverse the khata for these local shops.
Asha Kharga
EVP & Group CMO, Axis Bank
BRAND: WeWork #PrideStreetofWe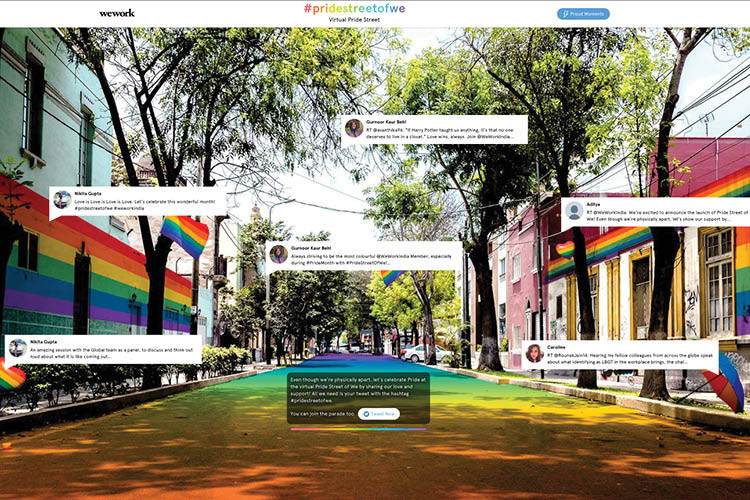 CREDITS
Agency: Digitas
Account Management: Pratyush Shukla
Copy: Umang Puri, Harneet Bahal
Art: Pratyush Mishra, Jeetu
Technology: Keval Chauhan, Aman Kumar
Media Outreach: Vineet Nanawati, Ali Banatwala
Client: WeWork
Vineet Singh, Group CMO, Embassy Group
Nikita Mankani, Senior Brand Manager
Azra Adenwala, Lead Graphic Designer
Ezaz Ansari, Creative Design Manager
Hrishika Basappa- Director, Brand & Marketing- WeWork India

AGENCY

India WeWork is a modern brand and lives by values like diversity and inclusion. During Pride month, WeWork wanted to communicate that it stands by the community. Given the lockdown situation and movement restrictions, this simple idea of a virtual pride parade, enables the WeWork community to come together and celebrate.
Unny Radhakrishnan
CEO, Digitas
CLIENT

In this time of isolation, the community at WeWork aims to ensure LGBTQIA+ employees and members feel far from distanced. This microsite is our small way of showing love and support as we are extremely passionate about educating and creating safe spaces for everyone by motivating them to share their stories and experiences to help lift one another up.
Vineet Singh
Group CMO, Embassy Group
BRAND: eBay #LocalToGlobal
CREDITS
Ideation & Planning: Sumit Maurya (Associate Marketing Manager)
Marketing & Creative Agency: Clevertize
Planning Team: Saumya Agrawal, Lebonah Ambath, Diwakar Das, Moloy Mukherjee
Creative Lead: Anoop V
Creative Team: Akshit Pareek, Gopika Raveendran, Harish Hari, Paraj Singh
AGENCY

What started as a small topical idea to support #VocalforLocal translated into a beautiful extension called #LocalToGlobal. The campaign captured the imagination of the Indian sellers and got many of them to aspire to sell their products across 190 countries through eBay marketplace platforms. This is a step towards establishing eBay as the preferred platform to export for Indian sellers
Sagar Nidavani
CEO, Clevertize
CLIENT

The #LocalToGlobal campaign aims to highlight the potential for Indian products, build awareness among Indian small and medium businesses of this opportunity and the role that the eBay marketplace can play in realizing this business opportunity. We are glad that our marketing service provider Clevertize has been able to translate our vision into this precursor campaign and bring it alive in the most creative fashion.
Pavan Ponnappa
Head – Growth Categories, Shipping & Marketing, eBay
BRAND: RoohAfza Freshness & Taste Ka Double Dose
CREDITS
RoohAfza and FCB Ulka
AGENCY

Young people are irrepressible. They are endearing in their ability to break decorum and get away with it in broad daylight. And that's what makes them so refreshing! We wanted to transplant the same refreshing and irrepressible quality to RoohAfza Fusion.
Surjo Dutt
National Creative Director, FCB Ulka
CLIENT

The double dose signifies the unique punch of fruits with Roohafza in Roohafza Fusion, and milk with Roohafza in the Milkshake. Our aim has always been to innovate and treat our discerning consumers with our exciting, unique flavours. The launches and campaigns symbolise the entire family of RoohAfza as the 'refreshingly local' Indian brand that everyone relishes.
Mansoor Ali
Chief Sales & Marketing Officer, Hamdard Laboratories India