We are building Amazon Prime Video as an alternate and a better choice for consumers when it comes to entertainment. The current campaign amplifies how Amazon Prime Video sets you free, letting you decide where to watch and when to watch your entertainment. The campaign draws from a typical banter between a couple about who is the 'ghulam'.
Dheeraj Sinha
MD – India & Chief Strategy Officer – South Asia, Leo Burnett India

At Amazon, our focus has always been the customer. Our new campaign highlights the various benefits linked to Prime Video in India. With a premise of 'Anytime, Anywhere,' we have kept customer benefit at the centre of the campaign. With a very wide library of content choice available, Prime Video empowers our consumers to define and dictate what they watch and when they watch it.
Ravi Desai
Chief Marketing Officer, Amazon India
AGENCY: LEO BURNETT INDIA
EXECUTIVE CREATIVE DIRECTORS: PRANAV HARIHAR SHARMA, PRAVIN SUTAR
SENIOR ART DIRECTOR: VIJAY KUMBHAR
PRODUCTION HOUSE: PRODIGIOUS
ACCOUNT MANAGEMENT: ROHINI RADHAKRISHNAN, HEMAL THAKKAR, ROHAN MITRA
PLANNING: ADITI JAIN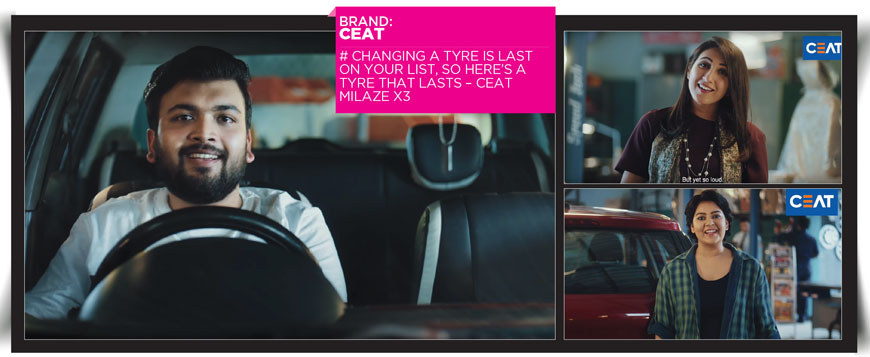 For the first time on mainstream television advertising, CEAT is not showcasing a tyre in action. With MILAZE-X3, it was easy to fall into the trap of being clever; to exaggerate, to play on longlife, to go gimmicky. In fact, it is a bigger challenge to be relevant, and to be insightful. We're glad we found a good insight, and stayed true to our brand personality, which is always set in human truth.
Kiran Anthony
ECD, Ogilvy & Mather

This campaign has been conceptualized basis consumer insights that consumers want to accessorise/personalize their vehicles, but seldom do they think about the tyres. Hence, CEAT created the Milaze X3 tyre which significantly delays the need for a tyre replacement, making it a hassle-free and a long-term purchase for the foreseeable future.
Nitish Bajaj
Vice President – Marketing, CEAT
AGENCY: OGILVY & MATHER
EXECUTIVE CREATIVE DIRECTOR: KIRAN ANTHONY
GROUP CREATIVE DIRECTOR: ROHIT DUBEY
PRODUCTION HOUSE: NIRVANA FILMS
PRODUCER: MANJEET BAWA
DIRECTOR: RAJIV RAO
COPYWRITER: SOHIL WADHWANIA
ACCOUNT TEAM: HARSH BHATT, ANAND GANESH, HUSHBU SACHDEV, HARDIK PAREKH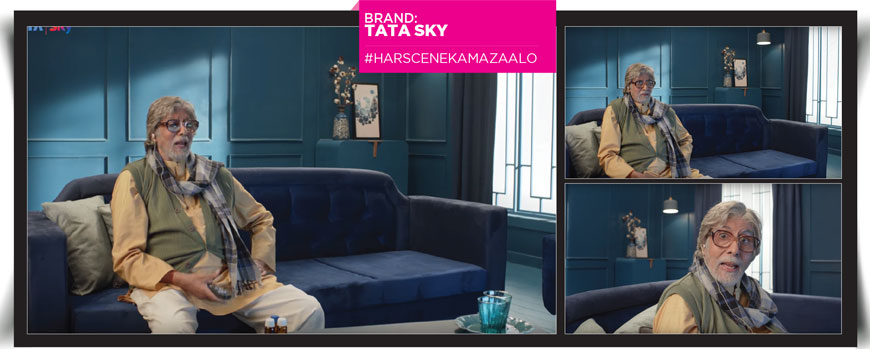 When you truly enjoy watching a film you begin to respond to an actor's performance. You are either awed or disappointed by their performance and you may be vocal about it. We used this insight as an entry point to talk about the huge bouquet of movie channels Tata Sky has to offer. The core idea of 'Har scene ka mazaa lo' was beautifully brought to life by none other than Mr. Bachchan enacting the role of a tough film critic, with Shoojit directing.
Sukesh Nayak
Chief Creative Officer, Ogilvy India (West)

In a country which is obsessed with movies, it's not a surprise that feature films aired on TV contribute to over 28%of the total viewership. Mr. Bachchan's legacy along with Ogilvy & Mather's creativity, has helped us create the magic for Tata Sky. It beautifully depicts our objective to offer some of the best entertaining content to our consumers at any budget, on any screen, anytime, anywhere.
Malay Dikshit
Chief Communications Officer, Tata Sky
AGENCY: OGILVY & MATHER
DIRECTOR: SHOOJIT SIRCAR
PRODUCTION HOUSE: RISING SUN FILMS
PRODUCER: SUPRIYA MACWAN
CREATIVE TEAM: SONAL DABRAL, SUKESH NAYAK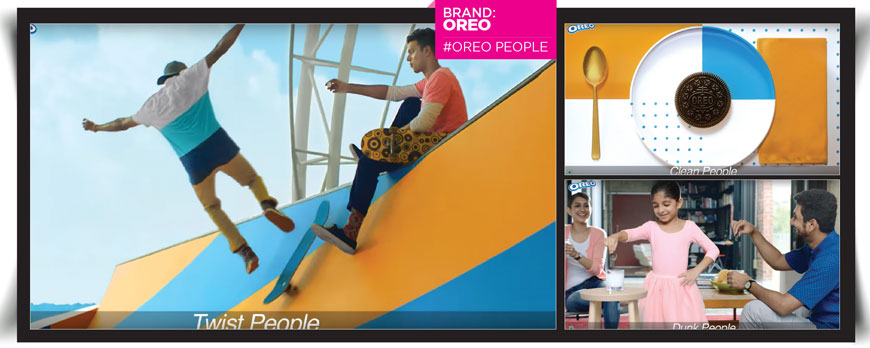 When we were kids, playing together was our way of communicating. We connect better when we play together. We believe everyone has a playful spirit waiting to be let out. With this film, we tell the story that no matter our differences, playing with Oreo brings us together, because we are all Oreo People.
Jane Lim
Regional Chief Client Officer, Asia - FCB

Oreo was introduced in India close to seven years back and in such a short span, India has emerged among its topfive markets by volume. The campaign is based on a key universal insight that while we all share the same playful spirit inside, we often forget about it because of the pressures of modern life. The global campaign aims at widening the appeal of the brand, connecting with a wide cross-section of people, while picking up on the local nuances to drive relevance.
Sudhanshu Nagpal
Head – Biscuits Category, Mondelez India
AGENCY: FCB SHANGHAI
CREATIVE TEAM: SIMEN LV, EWAN YAP, EMING WEN, AKIRA LUO, AMOUR XIANG
PRODUCTION HOUSE: HELLONICK LIMITED
DIRECTOR (FILM): NICK LIM & MARTIN TONG
PRODUCER: JEANNETTE LEE
DIRECTOR OF PHOTOGRAPHY: KOKEI LEUNG
COMPILED BY - BERYL MENEZES
Mail your latest creatives to
beryl.menezes@exchange4media.com