This year, we undertook to preserve the almost premium aura of the brand, while ensuring it delivered on appeal across multiple audiences, ranging from the niche to the masses. We continued to build on the #FeelTheFizz story line while pushing the boundaries of being bold, edgy and confident; core attributes of Appy Fizz, as well as its consumers.
Jessica Walsh
Partner at Sagmeister & Walsh

With the new #FeelTheFizz campaign, the target is to further increase the double digit growth Appy Fizz has been consistently seeing over the past few years, while establishing it as the leader of the fruit-plus Fizz category. Salman Khan as the face of the brand plays a critical role in achieving the aggressive vision we have set.
Nadia Chauhan
Joint Managing Director & CMO, Parle Agro
Creative Agency: Sagmeister & Walsh
Creative Director: Jessica Walsh
Concept & Direction: Morgan Harary
Production: 1stAveMachine
Line Production: Ransom Films
Music: Amit Trivedi


"Carvaan is God's gift to us," was one of the comments we heard in Lucknow. People shared their videos experiencing the product with us. We simply wanted to bring this product experience alive for the masses.
Navin Talreja
Founding Partner, The Womb

We launched Carvaan last year, and the response from the market has been tremendous. In fact, Carvaan's early success has contributed to building our distribution infrastructure. Now that we are ready – both on the supply side, as well as on the sales side, we wanted to start building nationwide awareness for what our little beauty can do for tired souls.
Vikram Mehra
CEO, Saregama
Creative Agency: The Womb
Creative Team: Akshat Trivedi & Brijesh Parmar
Account Management: Heval Patel & Dhrupad Gokani
Creative Strategist: Rohit Sharma
Chrome Pictures: Director: Amit Sharma
Producer: Poonam Wahi


In the past, Allen Solly has redefined work wear. Carrying forward the same thought process, we cracked an idea that'll resonate with the workplace of the future and that's how #OpenWorkCulture was conceived.
Mahesh Gharat
Chief Creative Officer, Ogilvy & Mather, Bangalore

Allen Solly's Open Work Culture is a fashionable and functional take on the new age work environment and needs. The collection incorporates blends which provide comfort and mobility, enhancing a stress-free lifestyle.
Jayanth Gurumurthy
Creative Director, Allen Solly
Creative Agency: Ogilvy & Mather
Executive Chairman & Creative Director, South Asia: Piyush Pandey
Group Chief Creative Officer & Vice Chairman, Ogilvy India: Sonal Dabral
Chief Creative Officer, Ogilvy & Mather, South: Mahesh Gharat
Chief Creative Officer, Ogilvy & Mather, South: Azazul Haque
Senior Creative Director, Ogilvy & Mather, Bangalore: Varun Katyal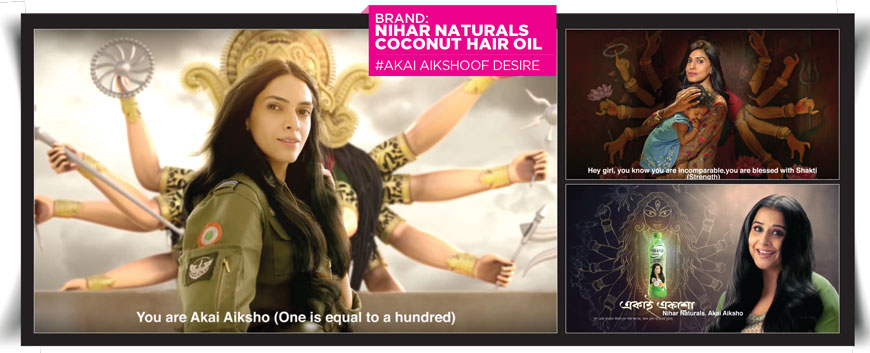 The idea is brought alive through small stories of strength displayed by women in their everyday lives and through the visual symbolism of these regular women juxtaposed as an avatar of Goddess Durga - the epitome of strength in a woman. Even the music is created using a contemporary rendition of a famous Durga chant, thus leaving women with a feeling of empowerment.
Shruti Das
Creative Director - Art, BBH

Over the years, Nihar Naturals through its campaigns has aimed to break all stereotypes against women, celebrating their courage and strength. Through this new campaign, the brand builds on this core belief to say that every woman is Akai Aiksho – she alone is enough to handle all the vicissitudes in life.
Anuradha Aggarwal
Chief Marketing Officer, Marico Limited
Creative Agency: BBH India
Chief Creative Officer & Managing Partner: Russell Barrett
Creative Director (Art): Shruti Das
Creative Partner (Copy): Shreyans Gupta
Production House: Electric Dreams Film Company
Director: Aniruddha Sen
Producer: Suparna Chatterjee