We felt that there needs to be a change in the cooking oil and oil consumption conversation and who better than Dhara to initiate this. While the communication ends with a bold message - an oil brand urging users to consume less oil, the 'Zara Sa Badlaav' campaign is all about change. And the one thing we know about change is that it best begin at home.
Brijesh Jacob
Chief Creative Technologist, DDB Mudra Group

Dhara has always been a conscious brand strongly advocating healthy living; in fact, we were amongst the first ones to carry a statutory message recommending consuming cooking oil in moderation, coupled with physical exercise. This new campaign is an attempt to promote a healthy lifestyle and encourage people to bring in small changes for larger health benefits.
Saugata Mitra
Director, Mother Dairy Fruit & Vegetable
CREATIVE AGENCY:
DDB MUDRA GROUP
CHIEF CREATIVE TECHNOLOGIST:
BRIJESH JACOB
HEAD OF OFFICE (NORTH):
RAJIV SABNIS
CREATIVE HEAD, NORTH:
SUBHASHISH DATTA, PREETA MATHUR
CREATIVE TEAM (COPY):
BRAJESH KUMAR
CREATIVE TEAM (ART): MANORANJAN KUMAR
ACCOUNT PLANNING:
SUMEER MATHUR
PRODUCTION HOUSE: RADHIKA
PRODUCES FILMS DIRECTOR:
SURESH TRIVENI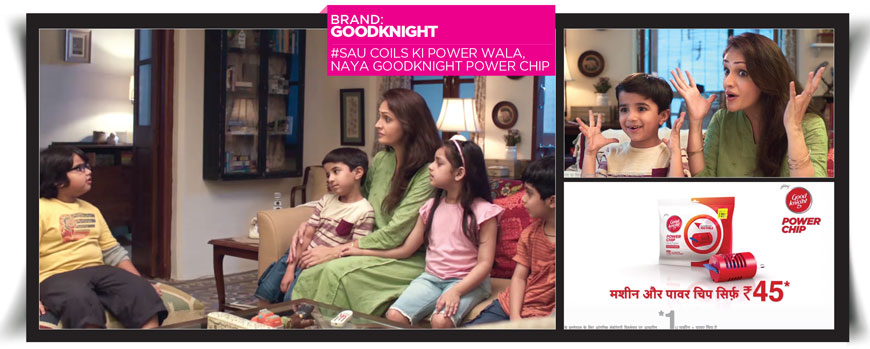 Power Chip is a breakthrough innovation created for the semiurban and rural consumers. Our biggest challenge was to build format relevance for these consumers by upgrading them from the 'burning' formats (i.e. coil) to an electric format. We strategically referenced coils to establish our new product superiority with the claim of 'Power of 100 coils'.
Tarun Rai
CEO, J. Walter Thompson South Asia (JWT)

Goodknight Power Chip is the new entrant to the Goodknight family. Brand Goodknight has always understood mothers and their struggle to protect their families from the mosquito menace and has always offered an effective solution to address their concerns. The new ad film has captured this emotion aptly.
Sunil Kataria
CEO – India and SAARC, Godrej Consumer Products
CREATIVE AGENCY:
J. WALTER THOMPSON
ACCOUNT MANAGEMENT VP & EBD:
SUJIT SANYAL, DIVYA GAUR, GEETANJALI SHARMA
CREATIVE VP & ECD:
STEVEPRIYA
CREATIVE TEAM:
ABHIJIT KALAN, NINAD NASHIKKAR, RAHUL CHANDWANI, GODWIN YESUDAS, ARJUN CHANDRAVANSHI, VIVEK PRABHU, ASHOK SALUNKHE
AGENCY PRODUCER:
ASMIT CHACHAD


We took a conscious decision not to use Kriti as a brand endorser, but as a young consumer who is surprised to see Bata in an all-new fashionable avatar. It was a bold step for an iconic brand like Bata to acknowledge current consumer perceptions and then come up with a campaign that convincingly conveys the same in a bold and authentic manner.
Ashish Chakravarty
Chief Creative Officer, Contract Advertising India

The Red Label-Kriti Sanon 360 campaign is aimed at inviting younger consumers into the refreshed Bata stores to shop from our latest fashion-forward collections. Kriti, being a strong youth role model, will drive home the message that our new collections are chic and stylish.
Anand Narang
Vice President – Marketing, Bata India
CREATIVE AGENCY:
CONTRACT ADVERTISING INDIA
CREATIVE TEAM:
ASHISH CHAKRAVARTY, MAYUR HOLA, VINEET MAHAJAN, MADHUMITA DEB, RUPESH SAHAY, NEHA SIDHRA, SUGATO ROY PLANNING: JAYANTH GOVINDRAJ, PARUL BUDHIRAJA
ACCOUNT MANAGEMENT:
SUBHO SENGUPTA, GEETIKA THAKUR, DIPTI SINHA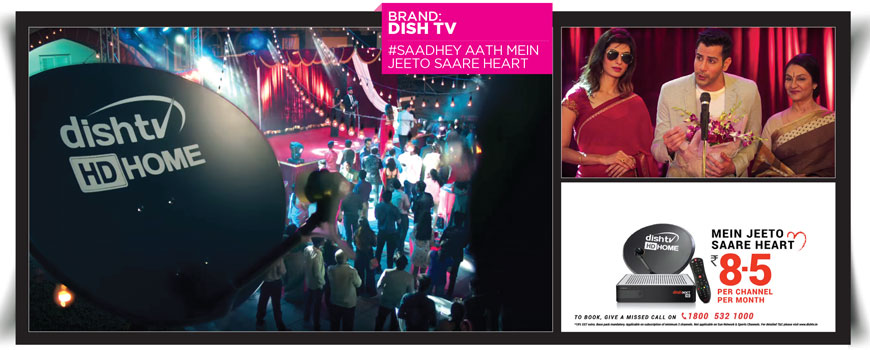 DishTV is known for bringing innovation within the DTH Category. 'Saadhey aath' is one such innovation in their pricing and product offering. Our endeavour is to make the brand more inclusive and charming. With this campaign we wanted to bring this promise alive in the context of families in a fun and enjoyable way.
Ashish Khazanchi
Managing Partner, Enormous Brands

Our product 'Mera Apna Pack' under the DishTV brand is aimed at offering value, affordability and customer empowerment. We have just launched its new campaign 'Jeeto saare heart' that is aimed at showcasing the benefits of providing customers with the choice of watching entertainment that they want. Dish TV will continue to enrich our brands with unique offerings and services in the months ahead.
Anil Dua
Group CEO – Dish TV India Limited
CREATIVE AGENCY:
ENORMOUS BRANDS
CREATIVE TEAM:
ASHISH KHAZANCHI, AJEET SHUKLA, SHUBHOJIT SENGUPTA
PLANNING TEAM:
SHIVI VERMA, ROHIT KUMAR, AMIT MURTHY
DIRECTOR (OF THE FILM):
SHLOK SHARMA
PRODUCER:
AMRITA MAHINDROO
PRODUCTION HOUSE:
ABSOLUTE PRODUCTIONS