We noticed that the mass hysteria that surrounded the launch of every new Redmi Note phone was similar to that which existed during the time of demonetization. We used a simple play on words to create a fun campaign that celebrated the anticipation around India's Naya Note.
ARUN IYER
Chairman & CCO, Lowe Lintas

Choosing the Naya Note idea was a conscious effort from our side to highlight Xiaomi's widespread popularity which Indians can relate to in their daily lives. We hope that our campaign can further elevate our consumers' intimate connection with Xiaomi as a brand.
MANU JAIN
Vice President, Xiaomi & Managing Director, Xiaomi India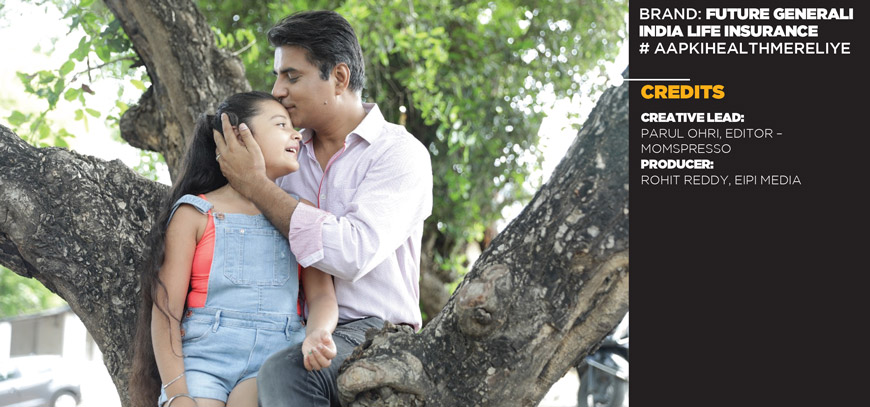 We wanted to bring out a situation that is prevalent universally in all homes - of a father who has no time to pay attention to his own health. We thought the message would be most effective coming from a child. Children these days are so aware, they realise what is good for health and what's not.
PARUL OHRI
Editor, Momspresso

When viewed from a child's perspective, fathers have this aura of invincibility around them. To their children they might be superheroes with powers to solve all the problems, but in reality they need to be reminded to attend to their own well-being and good health which often takes a backseat while catering to the needs of their family.
RAKESH WADHWA
CMO & EVP, Strategy & Retail Assurance, Future Generali India Life Insurance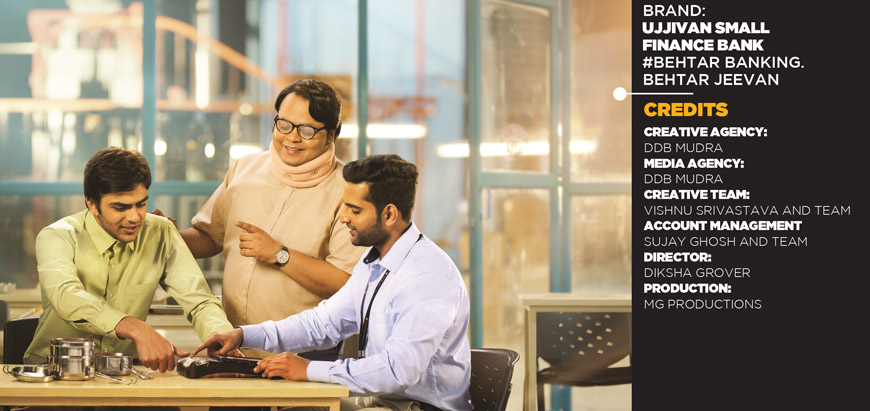 Ujjivan believes in changing banking for the better. With this objective, we have emphasized the products and unique services of the bank in the TVC. Service is one of the key foundations of banking and Ujjivan has taken it to the next level by staying true to its values.
VISHNU SRIVASTAVA
Creative Director, DDB Mudra Group, South

Our customer research and insights studies revealed five key brand drivers from our target audience: Simplicity, Convenience, Assistance, Trust and Security. Our brand campaign, while addressing these pivots head on, showcased them in real life situations which are very relevant and credible to our target audience.
VIJAY BALAKRISHNAN
Chief Marketing Officer, Ujjivan SFB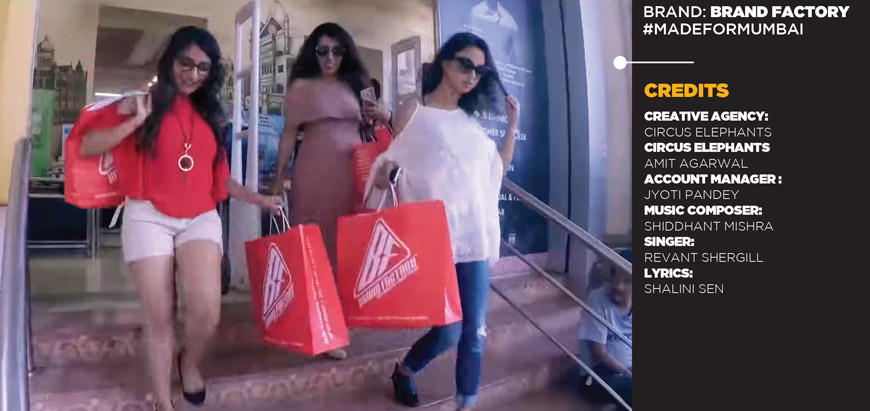 It's not often that brand custodians instruct the agency to focus on content and not on the brand. It was definitely a very important project for us since it was our first association with Brand Factory. But more than that, it was about celebrating the spirit of Mumbai. We couldn't have asked for anything better.
RITESH SHASTRI
Business Director, Circus Elephants

There are many similarities between Mumbai and Brand Factory. Just like cutting chai, Brand Factory is cutting prices 365 days with discounts! We wanted to celebrate many such similarities with a song that imbibed the true spirit of Mumbai, and that's how #MadeForMumbai came to life through this film.
ROCH D'SOUZA
CMO, Brand Factory