Jabong and the team seems to just push the experience of every piece of communication, every single time. A fresh take on what to expect and the excitement around it, is what makes the experience totally out of this world. All credit to the collaboration between client agency and director.
KARTIK IYER
CEO, Happy mcgarrybowen

The fourth edition of BBS - Jabong's flagship sale event is going to be bigger and better than ever before with innovations like 100% cash back, VIP slots and lightening deals. The campaign theme is based on the very essence of BBS which promises an extraordinary experience for our customers.
GUNJAN SONI
Head of Jabong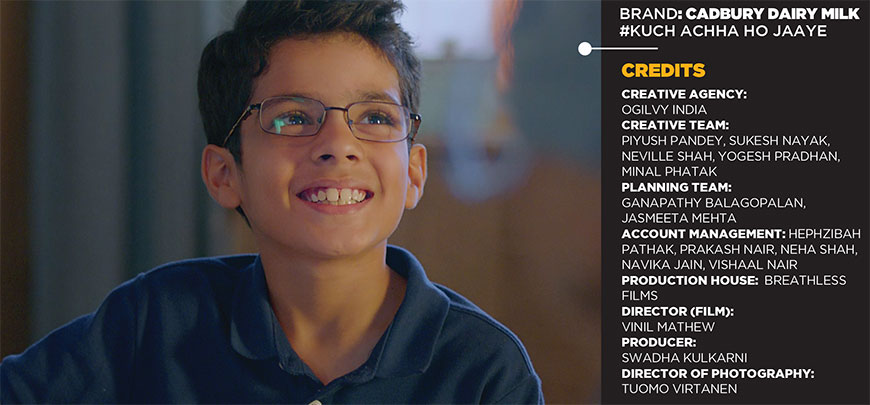 This film launches the new positioning of Cadbury. It's a beautiful story that lauds generosity. Something that I feel the world needs a lot these days. This story is a moment captured on a regular day between two brothers. Told with a simple human charm, straight from the heart. It is Cadbury's attempt to bring forth the inherent goodness in people.
SUKESH NAYAK
CCO, Ogilvy India

On the brand's 70th year in India, the new 'Kuch Accha Ho Jaaye, Kuch Meetha Ho Jaaye' campaign, will aim to recapture the Cadbury Dairy Milk spirit, strengthen connections with consumers and shine a spotlight on people that go the extra mile for others – the people that embody the Cadbury Dairy Milk spirit with little acts of kindness that bring people closer together.
ANIL VISWANATHAN
Director - Marketing (Chocolates), Mondelez India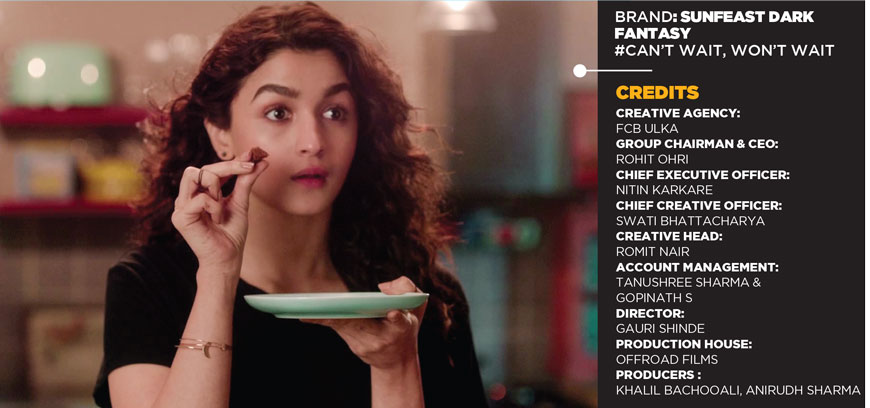 The association of Sunfeast Dark Fantasy and Alia Bhatt is a match made in heaven. In Alia we found the perfect fit as far as seamlessly bringing alive the irresistibility and spontaneity of consumption goes. This association is the perfect next step towards demonstrating the versatility of occasions that the brand can address.
NITIN KARKARE
Chief Executive Officer, FCB ULKA

Sunfeast Dark Fantasy is a true reflection of our commitment to delight consumers with unique and differentiated offerings. Irresistible indulgence, anytime-anywhere, has been our brand's promise to our consumers and the new campaign takes this forward effectively.
PARITOSH WALI
COO, ITC Foods- Confection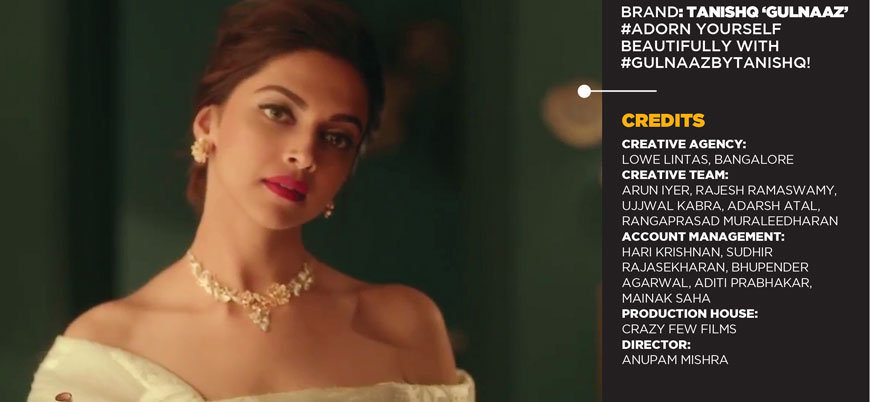 We wanted to portray the mind of a woman while she dresses up, and all the decisions that come with it. Some women take the art of dressing up to a whole new level. Deepika Padukone is one of them. She has qualities and instincts that have a very poetic way about them.
ARUN IYER
Chairman and Chief Creative Officer, Lowe Lintas

Dressing up is an integral part in a woman's life because it is the way she uniquely expresses herself. And jewellery is an integral part of dressing up. Gulnaaz by Tanishq provides an inspiration for this art of dressing up and how jewellery seamlessly is a part of various looks.
DEEPIKA TEWARI
AVP-Marketing, Tanishq