In this film, the idea was to showcase a strong relationship where the man and the woman are each other's support and strength, coupled with our insight of Ek Kadam Aagey, ek Kadam Picchey.
KAPIL MISHRA
Executive Vice President & Executive Creative Director, Contract Mumbai

The new campaign encourages consumers to incorporate Sugar Free in their daily routine. Parineeti Chopra, as the brand ambassador for Sugar Free helps us to cater to a wide array of consumers who are increasingly getting more and more conscious about their health and well-being.
TARUN ARORA
Chief Operating Officer & Director, Zydus Wellness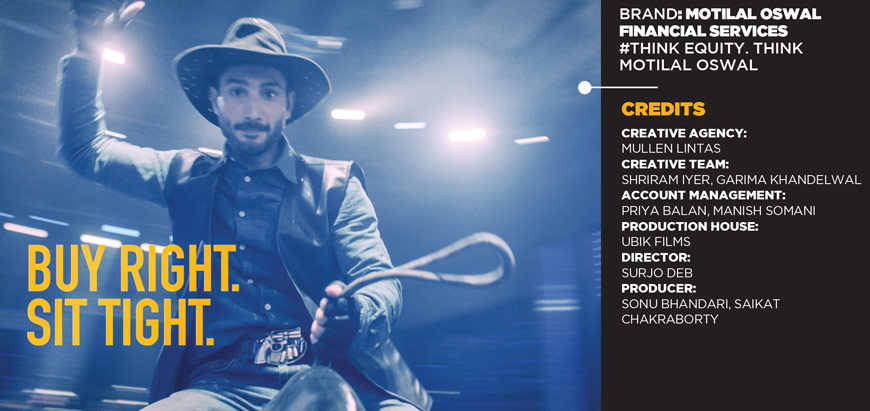 Motilal Oswal wanted to emphasize the point of staying invested when the market is rough. We wanted to continue the brand tonality of saying it laterally, thus the metaphor of a mechanical bull. Through this campaign, we have built some new properties for the brand.
GARIMA KHANDELWAL
Executive Creative Director, Mullen Lintas

Volatile markets test patience and reward conviction. In times like these, it is important to invest in quality stocks and hold onto them even during tough market conditions. This is what we focus on with our 'Buy Right: Sit Tight' investing philosophy.
RAMNIK CHHABRA
Director-Marketing, Motilal Oswal Financial Services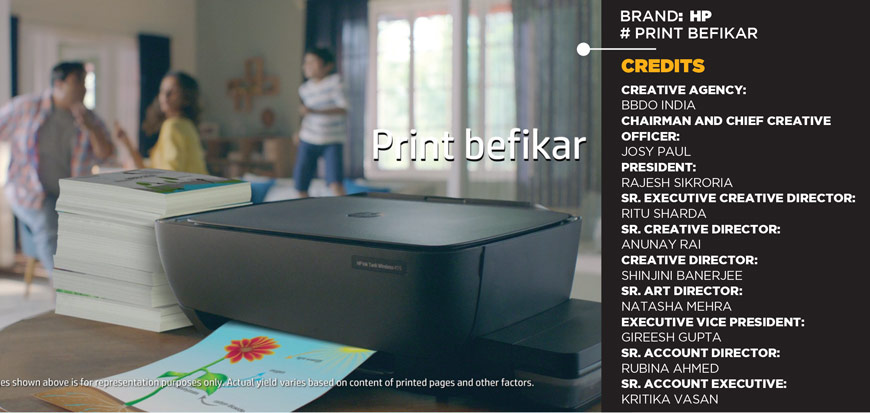 The brief was to create a narrative for today's youth by keeping Parle 20-20 core values at heart. We have incorporated both these elements with a humorous twist to showcase a progressive society and positioned Parle 20-20 cookies as a reward to those who adapt to positive change easily.
PRAMOD SHARMA
Executive Creative Director, Everest Brand Solutions

As we celebrate Parle 20-20's ten years of existence, we want to appreciate individuals who encounter these young adults and don't judge them for their choices. We also wanted to position 20-20 as a brand that supports this newage thought process which is free of prejudice and extremely inclusive of change.
MAYANK SHAH
Category Head, Parle Products

Our aim was to create a film that resonates with our target audience and makes 'ink tank printers' relevant. We did that by reminding our target audience- parents of school going children; in a fun way, of their own surreptitious behaviour in office when it comes to printing home work. This gave our 'affordability' proposition instant recognition and connection.
JOSY PAUL
Chairman and Chief Creative Officer, BBDO India

HP is committed to introducing technology that fulfils our customers' needs and requirements. Printing is extremely critical for parents of young children. With our campaign 'Print Befikar', we want to debunk the perception surrounding home printing and highlight how HP brings ease and affordability to printing.
NEELIMA BURRA
Country Marketing Director, HP India