We were asked for a clutter breaking film, high on energy, that ensured people wouldn't wait until Diwali to buy new furniture... check, check and check.
DELNA SETHNA
Chief Creative Officer, L&K Saatchi & Saatchi

We want to give consumers more reasons to shop by adding excitement to their furniture shopping experience with interesting designs, lots of variety and great value. Therefore, the tone and manner of our new commercial is vibrant, with a theatrical approach which is very different from Pepperfry's previous campaigns.
KASHYAP VADAPALLI
Chief Marketing Officer, Pepperfry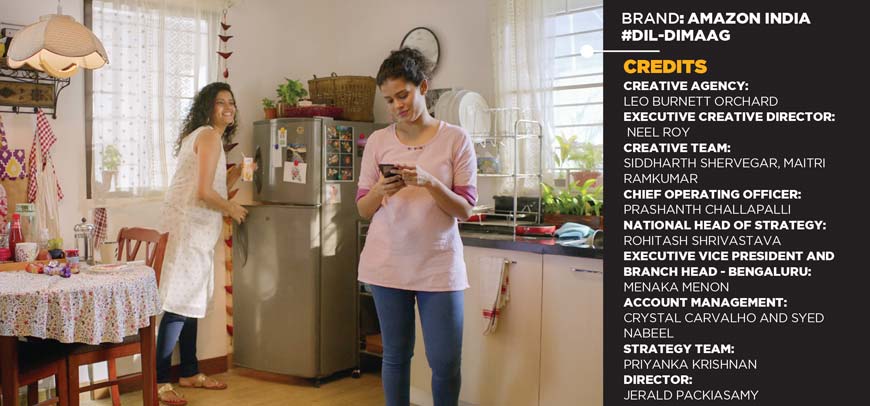 Each of the stories we chose to execute is based on insights into various concerns with online shopping. So we chose a simple storytelling format with a small twist, using twins. It was a fun way to execute 'Dil and Dimaag' which conveyed our intended message that when both mind and heart agree, your decision-making becomes a whole lot easier.
NEEL ROY
Executive Creative Director, Leo Burnett Orchard

The Dil-Dimaag campaign seeks to help customers understand our offerings better especially in categories where purchases are planned in advance. As a lead-up to the festive season, our campaign seeks to provide information and clear doubts as our customers prepare their shopping lists.
RAVI DESAI
Director Mass and Brand Marketing, Amazon India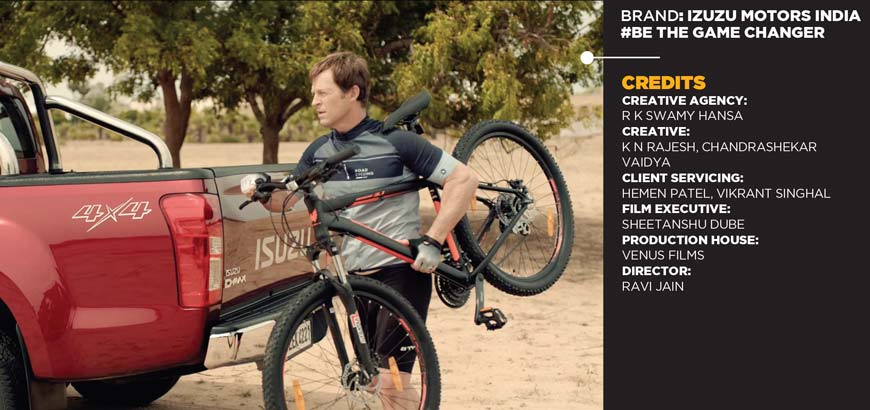 For us, Jonty Rhodes embodies the V-Cross spirit. Though retired, he is still a bundle of positive energy and constantly lifting his own game to a whole new level - working, coaching, cycling, surfing, travelling and exploring. Precisely the lifestyle which the V-Cross is best suited for, as India's first Adventure Utility Vehicle. Our TVC captures this connection and exhorts us to be game changers too.
S NARASIMHAN
Senior Vice President, R K Swamy Hansa

Jonty Rhodes, an internationally known sportsman, brings with him unique qualities that differentiated him as a 'game-changer' in international cricket. He continues to be an active adventurer, surfer and a traveller, endorsing many aspirational traits of the growing Indian population. In a similar fashion, the V-Cross lifestyle and adventure pickup, has been a catalyst in bringing about a new lease of life to adventure enthusiasts in India.
KEN TAKASHIMA
Deputy Managing Director, Isuzu Motors India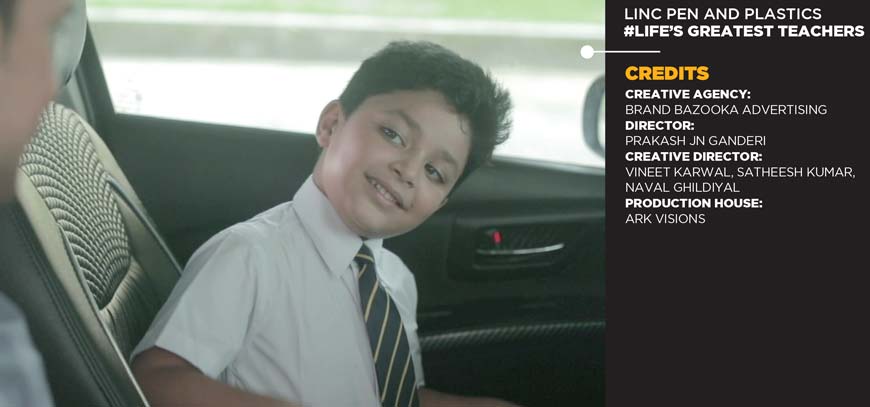 Your teachers are not just the people whom you meet in school. They are also those who teach you life's lessons, and they come from all social classes. Subtly the communication also promotes good behaviour and the importance of expressing gratitude to life's teachers, and those who occupy the lower rungs of the social ladder.
VINEET KARWAL
Founder & MD, Brand Bazooka Advertising

We have always looked up to teachers as a huge asset in our lives. In our opinion, some important and valuable lessons are learnt outside the classroom, too. Through this campaign, Linc Pens wants to express the gratitude towards all the teachers who have been a part of a students' journey.
ROHIT DEEPAK JALAN
Head – Marketing and International Business, Linc Pen and Plastics