From shooting sunrise in the highest tea estate in India to discovering local sweets we never knew existed, the film is a glorious, non-stop montage of these discoveries and experiences. Shot with a mixture of GoPro and a Mini Alexa, we've shot with natural light and minimal frills to keep the traveller experience authentic and inviting.
ROHIT MALKANI
National Creative Director, L&K Saatchi & Saatchi

Staying true to our new brand promise of #Holiday Differently, we have created our new brand film with larger-thanlife imagery driven by curated holiday experiences. One unique feature of this film is that it does not focus on resort features, but rather on experiences. I am sure that this campaign will drive consumer awareness and enhance brand perception, leading to improved business indices.
PESHWA ACHARYA
Chief Marketing Officer, Sterling Holiday Resorts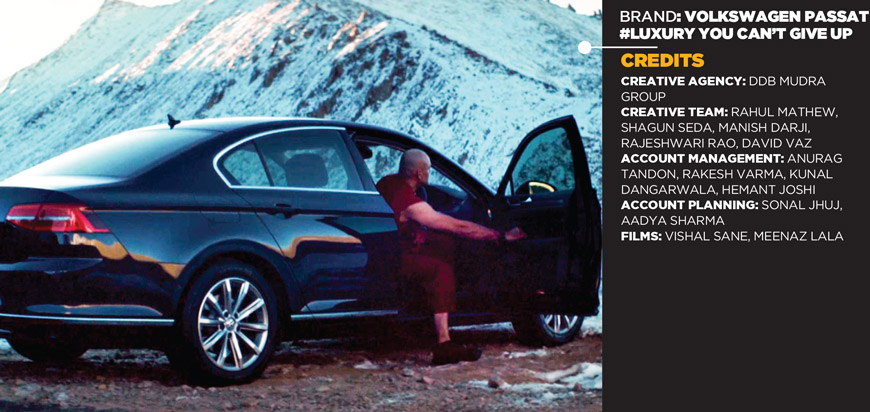 How do you break the conventions of luxury car advertising without really breaking them? Add an unconventional twist. The Passat is the perfect example of effortless luxury. We stayed true to the brand's style of communication by telling a simple and human story with a playful wink at the end.
SHAGUN SEDA
Executive Creative Director, DDB Mudra Group

The Volkswagen Passat is an iconic car known globally for its sheer design, performance, advanced technology and superior safety with an innovative vehicle assistance system. Rightly showcasing this sentiment, DDB Mudra has created an unexpected visual of a prospective Passat owner.
STEFFEN KNAPP
Director, Volkswagen Passenger Cars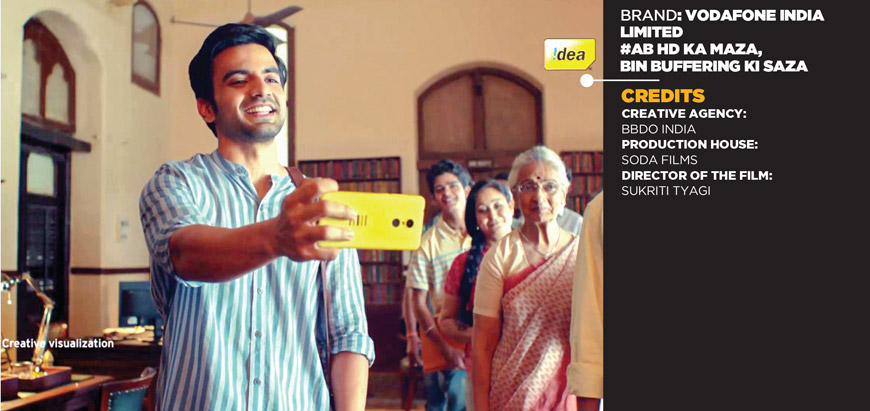 The campaign aims to reinforce Idea's 4G network quality perception by strengthening its association with a great LIVE video experience, and thereby driving preference for the brand. By owning LIVE video and leveraging it in a uniquely Idea manner, the campaign reinforces Idea 4G's network and technological credentials, and gives Idea users even more power to change their lives.
JOSY PAUL
Chairman and Chief Creative Officer, BBDO India

With live video streaming fast gaining popularity, especially amongst the youth, we are positioning it as a powerful tool to nudge positive changes in behaviour. With Idea 4G - India ka Live Network, we are encouraging people to use the power of our network and its live video streaming capabilities in HD to drive change, by creating positive outcomes from every negative situation.
SASHI SHANKAR
Chief Marketing Officer, Vodafone Idea Limited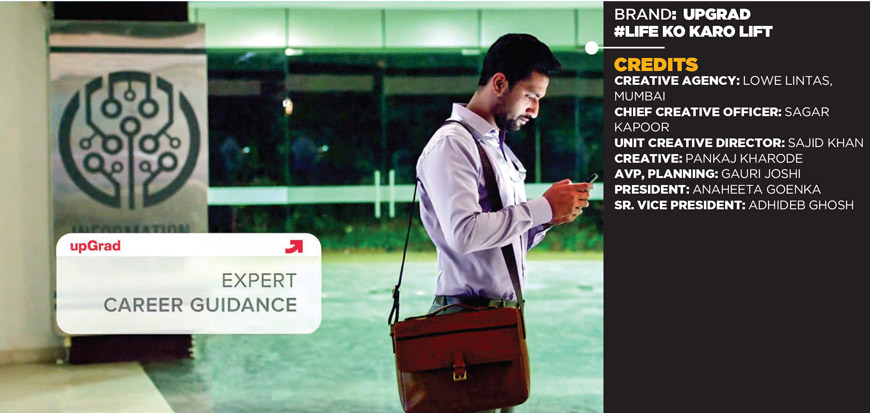 The brief we received actually spoke about what upGrad can do to lives, rather than just what upGrad is, and how continuous learning can ensure one keeps getting ahead in his or her career. Inspiring stories of how lakhs have already done this successfully spurred our creativity, keeping the message and tone of the communication sprightly and evolving. Hence the idea of "life ko karo lift!"
SAGAR KAPOOR
Chief Creative Officer, Lowe Lintas

Through this campaign we are trying to create awareness on how upGrad can help learners prepare for the future of work and help them thrive in their career. Online education for professionals is still at a nascent stage in India and to create awareness at a category level, we felt the necessity of a commercial that will change the consumer mindset while being relatable.
MAYANK KUMAR
Co-founder, upGrad