The IMPACT Person of the Year (IPOY) is a flagship property of the IMPACT Magazine, which is presented to one or more individuals who have made an everlasting impact on the advertising, media and marketing ecosystem. IPOY recognises and celebrates the best minds who have demonstrated extraordinary leadership qualities and have made outstanding contributions during their career.

The past winners include Sanjiv Mehta, the then CEO and MD of HUL (2021); Sanjiv Puri, Chairman & MD of ITC Ltd (2020); Byju Raveendran, Founder & CEO, Byju's (2019); Rajan Anandan, the then MD, Google India (2018); Baba Ramdev of Patanjali Ayurveda (2017); Vijay Shekhar Sharma, Founder and CEO of Paytm (2016); Arnab Goswami, former President & Editor-in-Chief, Times Now and ET Now (2015); Punit Goenka, MD & CEO, Zee Entertainment Enterprises Ltd (2014); Vineet Jain, MD, Times Group (2013); Ambika Soni, then Minister for Information & Broadcasting (2012), amongst others.

Talking about the property and the shortlist this year, Dr Annurag Batra, Founder, exchange4media & Editor-in Chief, BW Businessworld says, "Over the last 18 years, IPOY has become synonymous with excellence and impact at scale. It is always someone who makes a huge difference on Media, Advertising and Marketing ecosystem not just by building their own businesses, but also by being game-changers for their companies and the industry as a whole. This year's nominees have taken the scale and impact of excellence to a new level."
---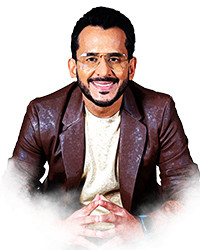 Aman Gupta
Co-founder & CMO, Boat Lifestyle
After working for companies such as Citi Bank and Harman, Aman Gupta decided to start Boat Lifestyle along with Sameer Mehta in 2016. Despite the initial challenges, Boat crossed 100 crores in national sales within two years and went on to become the most popular ear-wear brand in the country in 2019. Fast forward to 2023, Boat is clearly more than just floating, with the audio and wearable brand recording net sales of about Rs 4,000cr. in FY23. In 2022, Boat acquired the Singapore-based KaHa, and also managed to successfully raise around $60 million in funding. Aman's vision and ambition are contributing to the brand's fast-paced growth, and the brand aims to enter the unicorn list soon. Gupta, who accompanied PM Modi on a visit to France in July 2023, claimed that India is now standing strong alongside the world. Boat is a strong supporter of the Make-in-India campaign, and he recently shared that about 70% of the company's products are made in India.
---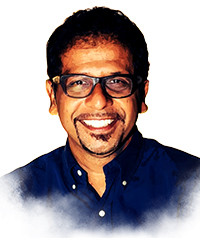 Darpan Sanghvi
Founder & CEO, Good Glamm Group
Founded in 2017 as MyGlamm, now called The Good Glamm Group, is making waves by paving the way for women's personal care issues, while addressing the latest trends. Darpan Sanghvi, the CEO and one of the co-founders, believes that The Good Glamm Group will be the first global beauty company out of India in the coming years. Sanghvi and his team are focusing on the content-to-commerce model, and their Digital assets consist of POPxo, ScoopWhoop, BabyChakra, and Plixxo. Big names like Bessemer Venture Partners, and L'Occitane en Provence are some of the investors who have shown faith in the group. The brand has been making headlines for its rampant acquisition spree, with it acquiring companies like Vidooly, Winkl, Organic Harvest, and Tweak India under Sanghvi's leadership. Last year, Sanghvi shared that the brand plans to restructure its business and further widen its international reach. The Good Glamm Group's revenue from operations surged 4.9 times to Rs 240cr during FY22. In March this year, the brand entered into a joint venture with Akshay Kumar to launch men's grooming products. His efforts have helped position the brand as a top gun in South Asia's content-creator-commerce segment in the beauty and personal care brand space.
---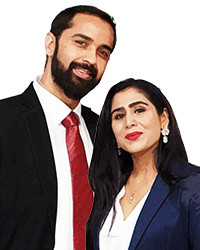 Ghazal Alagh
Co-founder & CIO, Mamaearth

Varun Alagh
Co-Founder & CEO, Mamaearth
A lack of toxin-free baby products in the market pushed Ghazal Alagh and Varun Alagh to start Mamaearth in 2016. What started out as a brand dedicated to baby care products, soon expanded into FMCG, beauty, and personal care under the leadership of the duo. Today, Mamaearth caters to over 5 million customers in some 500 cities. Ghazal believes that openness and willingness to change are major drivers for their brand. Before starting Mamaearth, Ghazal worked as a trainer and also did art, besides being the founder of dietexpert.in. On the other hand, Varun, worked with big brands such as Coca-Cola, Hindustan Unilever, and Smirnoff. Mamaearth made headlines after its parent company, Honasa Consumer, became the first unicorn of 2022. In the same year, the brand acquired BBlunt and Dr. Sheth's. Honasa Consumer also reported nearly Rs 1,000cr in revenues in FY22. Frugality, adopted by the co-founders, is one of the USPs of the brand, and it has successfully delivered three straight years of profit. Last year, Shilpa Shetty Kundra joined hands with the brand to invest Rs 6cr in the D2C unicorn. Ghazal and Varun's Mamaearth was also successful in launching 35 exclusive brand outlets in less than 12 months.
---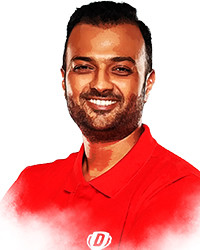 Harsh Jain
Co-founder & CEO, Dream Sports
Harsh Jain clubbed together his love for sports, technology, and gaming to launch Dream11 with co-founder Bhavit Sheth in 2008. A pioneer in the online fantasy sports scene in India, the company has a valuation of around $8 billion. Harsh's Dream11, which has a user base of over 150 million, is also the first Indian gaming company to enter the unicorn club. The unicorn made it to the news after it became a sponsor of the Indian Cricket Team. This year, the brand launched DreamX, a UPI payment application. In FY22, Dream11's revenue grew by 50% under Jain's leadership, and some of the investors who have placed a bet on him and his team are – RedBird Capital Partners, Tiger Global Management, and Falcon Edge India. In May 2023, the Internet and Mobile Association of India (IAMAI) elected Harsh Jain as its new chairperson. Jain, who initially got rejected multiple times for his ideas, is a perfect example of how hard work can turn dreams into reality.
---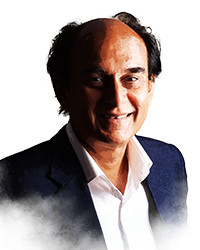 Harsh Mariwala
Chairman, Marico Limited
Harsh Mariwala leads Marico Limited as its Chairman, and holds the positions of Chairman and Managing Director at Kaya Limited. He has helped transform his family's trading business in spices and edible oils into a consumer goods giant, Marico. Over the last three decades, he has turned a traditional commodities-driven business into a leading consumer products and services company in the beauty and wellness domain. Under his leadership, Marico has bagged many accolades and received more than 100 recognitions. Mariwala a strong supporter of innovation, established the Marico Innovation Foundation in 2003 with the aim of fueling innovation in India. Harsh Mariwala and his team are also making efforts to safeguard the environment,. The brand unveiled Sustainability 2.0, laying out its long-term sustainability goals until 2030. In the same year, Marico also revealed that it is adopting sustainability processes in a bid to achieve net-zero emissions in global operations by 2040. For FY23, Marico reported a 6.3% YoY rise in consolidated net profit to Rs 1,302cr and around 3% growth in the topline to Rs 9,764cr. Mariwala has also written a book titled Harsh Realities: The Making of Marico, in which he has penned down his journey and shared his insights with the aim of helping aspiring entrepreneurs pursue their dreams.
---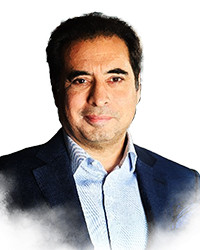 Mohit Burman
Chairman, Dabur Limited
Mohit Burman has played a crucial role in Dabur's venture into several high-growth and sunrise sectors of financial services, such as life insurance, pensions, annuities, and asset management, in addition to agriculture and retailing. The Richmond College graduate, before moving to Dabur Finance, worked with Welbeck Property Partnership in London. At Dabur Finance, he played a major role in expanding the group's financial services business into asset management, life insurance, and pensions by setting up an insurance company with the UK's largest insurance company, Aviva. Last year, Dabur acquired Badshah Masala under his leadership, and at the same time forayed into the feminine hygiene space, announcing its plans to launch a D2C portal. Burman intends to place the focus on their power brands as well as some newer product categories. Some changes in senior management have been made at Eveready, and the company is now focusing on the business over the next few years.
---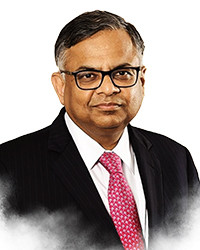 N. Chandrasekaran
Chairman, Tata Sons
Natarajan Chandrasekaran serves as the board chairman of Tata Sons, the holding company, and promoter of over 100 Tata operating companies with combined annual revenues of more than US $100 billion. In addition to this, he also chairs the boards of several group operating companies, including Tata Steel, Tata Motors, Tata Power, Tata Global Beverages, Indian Hotels Company, and Tata Consultancy Services (TCS), where he held the role of Chief Executive from 2009–17. 60-year-old Chandrasekaran is a supporter of Artificial Intelligence, and believes that AI will eventually end up creating more job opportunities. Under his leadership, Tata Sons plans to invest $90 billion in the next five years, attempting to strengthen existing as well as new business ventures. The company's revenue rose by 45% to touch Rs 35,058cr in FY23, while its profit rose by 29% to Rs 22,132cr during the same period.
---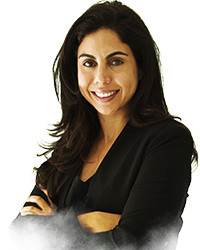 Nisaba Godrej
Executive Director, Godrej Consumer Products Ltd.
Nisaba Godrej is a Harvard graduate, who heads the innovation strategy of the company. She has been working with the company for more than 23 years, and is widely credited to have modernised the business. She is credited for expanding the product line, substantially increasing revenue, and turning the company into a female-friendly place. In addition to this, Godrej oversees the corporate strategy and human capital functions for Godrej Industries and Associate Companies. In April 2023, Godrej Consumer Products came into the limelight after it acquired Raymond Consumer Care. For FY23, the consolidated net profit of the company was Rs 1,702.5cr., while the revenue stood at Rs 13,316cr. Her prominent leadership trait is being inclusive and putting people first. She is also the Chairperson of Teach for India and sits on the boards of Godrej Agrovet, Bharti Airtel, Mahindra and Mahindra, and VIP Industries.
---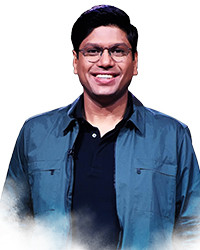 Peyush Bansal
Co-founder & CEO, Lenskart
Founded in 2010 by Peyush Bansal along with Amit Chaudhary and Sumeet Kapahi, Lenskart today has a valuation of around $4.5 billion. Ratan Tata, SoftBank Vision Fund, Premji Invest, Kedaara Capital, and the Abu Dhabi Investment Authority are some of the top investors of the company. The retail giant registered an operating income of Rs 1,503cr. in FY22, and also went on to acquire the Japanese brand, Owndays. Bansal never lost sight of his goals, making Lenskart India's largest eyewear company and a unicorn. Before creating waves in the eyewear segment, he worked at Microsoft. A strong advocate of innovation and technology, he is currently backing Artificial Intelligence. Lenskart already has more than 1,400 retail locations across the nation, and according to him, the company is laying eyewear optic fibre to make 400 million specs per year. Lenskart even partnered with RazorPay in 2022 to enable online transactions on its platform.
---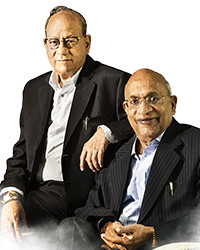 R. S. Agarwal
Co-founder & Chairman Emeritus, Emami Ltd.
R. S. Goenka
Co-founder & Non-Executive Chairman, Emami Ltd.
The Emami Group, a large business conglomerate with a significant leadership presence in diverse sectors, was founded by childhood friends RS Agarwal and RS Goenka in the 1970s. Emami Limited is the flagship company of the Emami Group, which is one of India's leading FMCG companies engaged in the manufacturing and marketing of personal care and healthcare products. With around 300 diverse products, Emami's portfolio includes trusted power brands like BoroPlus, Navratna, Fair and Handsome, Zandu Balm, Mentho Plus Balm, Sona Chandi Chyawanprash, and new brands like Emami 7 Oils in One, and HE Deodorant. R.S. Goenka holds expertise in taxation and is known for strategic planning, corporate affairs, and finance. He, along with co-founder R.S. Agarwal, are considered unparalleled achievers in modern business. RS Agarwal, a present-day management guru and administrator par excellence, is often praised for his consumer insights and farsightedness in business. In March 2022, Emami ended up acquiring Dermicool. The FMCG major also invested in startup companies such as Helios Lifestyle and Brillaire, attempting to accelerate the exploration of emerging ideas and strengthen in-house digital competencies.
---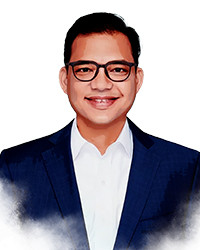 Sanket Ray
President, India and Southwest Asia, The Coca-Cola Company
Sanket Ray is a Xavier Institute of Management graduate, who worked for companies such as ACC, Bajaj Auto, and Saint-Gobain, before joining the Coca-Cola Company. Ray and his team are now coming up with a sharp-focused, contra-marketing strategy that aims to ensure that the main strengths of the company are well mixed for growth maximisation. Last year, two of Coca-Cola's brands, Thums Up and Sprite, touched the billion-dollar revenue mark, and even its mango drink Maaza is on its way to achieving that feat. The company also holds a 60 percent share of the Rs 50,000cr Indian carbonated soft drinks (CSD) market. Ray has also been instrumental in Coca-Cola becoming more agile and nimble in order to combat uncertainty and unfavourable conditions. Additionally, he has helped Coca-Cola move towards a work culture that promotes collaboration.
---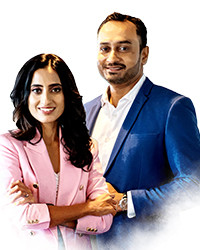 Vineeta Singh & Kaushik Mukherjee
Co-founders, Sugar Cosmetics
Sugar Cosmetics, which is among India's fastest-growing premium cosmetic companies, was founded in 2012 by the husband-wife duo – Vineeta Singh and Kaushik Mukherjee. Prior to their stint at Sugar, the duo was heading beauty subscription service Fab Bag. Their company started out as an online supplier of natural, paraben-free cosmetics and has since witnessed tremendous growth. In FY22, Sugar Cosmetics generated a total operating revenue of Rs. 210.9cr from India. The D2C company has raised a total of $87.5 million in funding over six rounds. As of today, Sugar has nine investors, with Ranveer Singh and A91 Partners being the most recent ones. With their partnership with Ranveer Singh, Vineeta and her team aim to create new pathways for customer acquisition and it is believed that this move will further enhance their reach among Millennials and Gen Z. Last year, Sugar also acquired ENN Beauty under the leadership of the power couple. Vineeta had previously shared that the D2C brand is aiming to turn profitable in FY24, and it might file DRHP in the next couple of years.