The Indian gaming industry is broadly divided with regards to three major devices- mobile, PC and console. Over 90% online gamers prefer mobile phones for gaming. Experts say, mobile phones are handy and its purchase value is low in India. Consoles on the other hand are still considered as a luxury product for many Indians. PC gaming is growing at a slower rate and is the second choice of device for gamers.
According to a study done by Dentsu gaming, age group for console gamers expanded to Males 18-34 as compared to 18-24 before the pandemic. Nishant Malsisaria, Product Strategy, Dentsu Data Sciences, APAC said, "The time spent on gaming apps increased by 21% during the initial national lockdown, with the total customer base crossing 300 million users. The year 2021, is when people in India started spending money on mobile games. A key reason for the trend is that the gaming habits of consumers are maturing. Consumers are moving beyond casual games to those that offer deeper experiences to socialize with friends and family. At least four to five games are making more than $100 million from in-app purchases in India, spearheaded by Battle Royale Games and excluding real money games."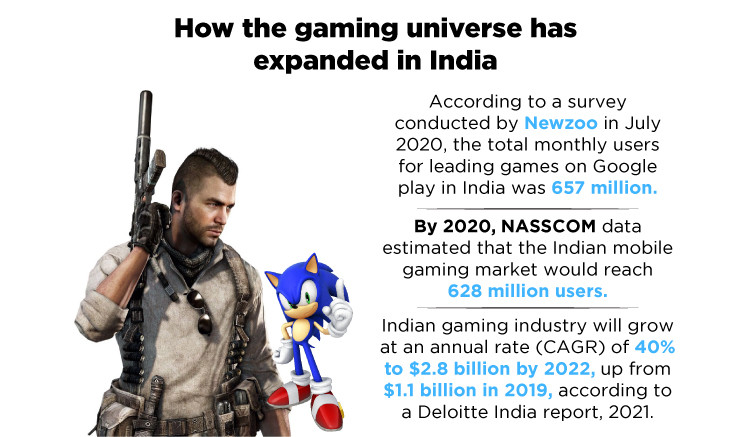 Mobile Gaming grabs major moolah
Mobile gaming increased tremendously in the past couple of years, cheap handsets and mobile data tariff plans gave birth to a gamer in almost every Indian household. According to the India Cellular & Electronics Association (ICEA) 2020 report, total number of smartphone users is expected to rise to almost 830 million by 2022.
For MX Player, gaming section turned out to be a mega hit for its existing 280 million users. With over 100 hyper casual games, MX Player offers an opportunity to earn real money by playing games on their platform. Nakul Kapur, head of international business and games at MX says, "We don't charge users anything for playing games on our platform. We monetize the game with the help of advertisements. A user can earn real money and can withdraw it too. We have managed to bring in 25% of the existing users for playing games. There is a huge scope now. From March 2020 till date, the platform has grown 4x in terms of growth. With 400 million monthly gameplays we have also seen a rise in the engagement on the platform."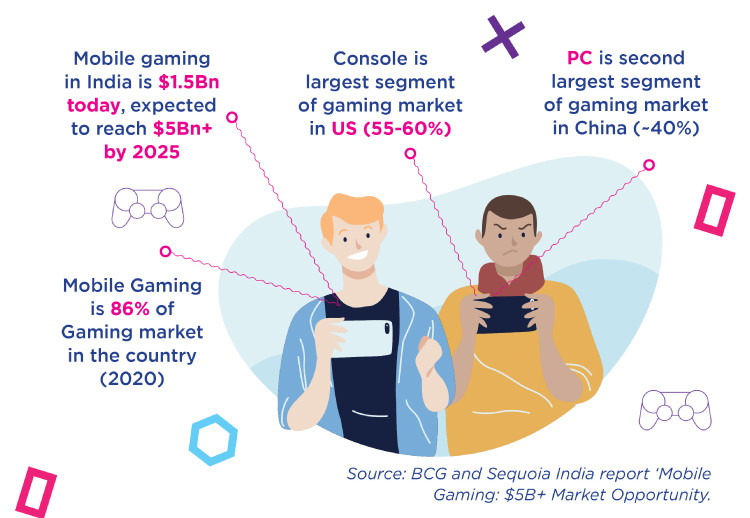 VIVO iQOO bagged the title sponsorship for Krafton's Battleground Mobile India Series (BGIS) 2021 of Battleground Mobile India (BGMI) tournament. Recently, they conducted a campaign 'Raid Nights' with popular YouTube influencers Tanmay Bhatt, Samay Raina and Anshu Bisht aka GamerFleet to hunt for future gaming influencers.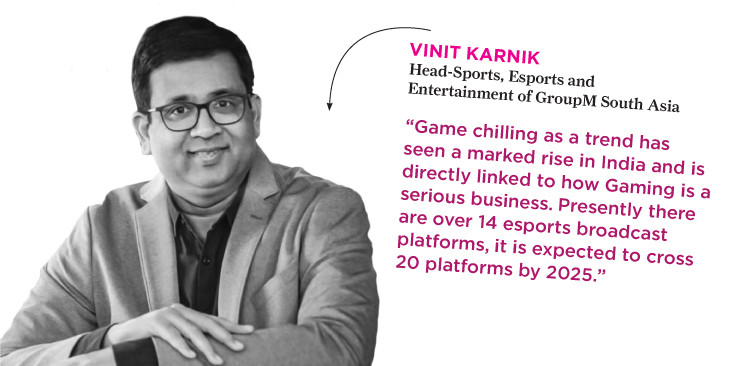 "Today, battle royal and action games are gaining a huge audience. We as a mobile brand are providing high performance handsets which suit the gamers. We have received good feedback from professional gamers and gaming streamers about our product's performance and user experience," says Nipun Marya, CEO, VIVO iQOO.
Marya says, "Our target audience which is young and dynamic is interested in gaming. Reaching out to gaming platforms thus comes naturally to us. We have seen positive results in our investments and we continue to connect with direct consumers through such platforms. Looking at the growth, the number of gaming enthusiasts will grow from 50 million to 80 million. The number of social gamers will rise from 88 million to 120million. Games like Battlegrounds Mobile India and Call of Duty Mobile will drive a huge growth in our segment."



Games24x7's fantasy sports platform, My11Circle has partnered with the Lucknow IPL team as title sponsors for the next three seasons. Games24x7 is one of the very few gaming companies in India, that has presence across diverse domains in online gaming including online 'skill' games (RummyCircle, My11Circle and Carrom) and casual games (U Games) with over 100 million registered users across platforms.



Rahul Tewari, Chief Financial Officer, Games 24x7 says. "The online skill gaming industry has been on an upward trajectory for the last 4-5 years, owing to the macroeconomic factors; young and vibrant population, ease of digital payments, access to internet. With the sector attracting an investment to the tune of over USD 2 billion in the last 6-7 years, it has grown at a CAGR of 25 percent."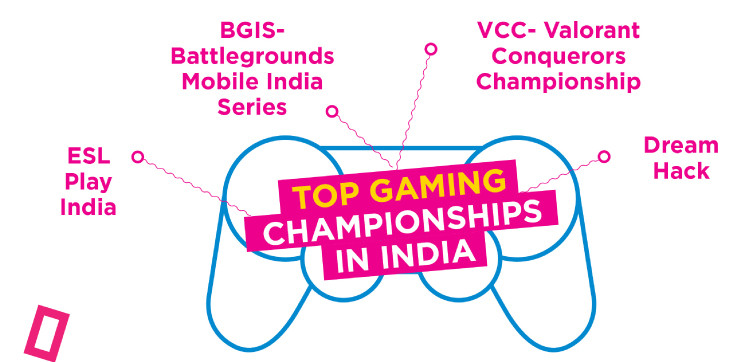 Tewari further says, "Technology is at the core of our business, and as we grow, our investment in Data Science & ML has also grown multi-folds with our teams building new models and creating industry benchmarks. Our team has grown 8X in the last four years, and we will continue the momentum in the coming years."



Recently listed under Forbes Asia top 100 Rising Brands, Gamezop is an online gaming arcade that aggregates about 300 games from more than 75 developers worldwide and publishes them on non-gaming websites/apps for a rise in engagement and revenue. Gaurav Agarwal, Co-founder of Gamezop says, "The number of brands that advertise on Gamezop went up by a whopping 250% and we expect this number to continue to grow. The brands that advertise on Gamezop and Quizzop have placed requests to target their ads on our titles like Ludo, Carrom, Rummy, 8 Ball Pool, Chess, Sudoku, Bowling, and Solitaire because of their mass appeal."



GreedyGame, a mobile-first native ads platform that helps app and game publishers monetize better with native ad formats talks about how advertising on gaming platforms has become mainstream today. The company has worked with over 600 apps and game developers including Amazon, ONEPLUS, Dream11, MPL, Zee5, RummyCircle and many more. Arpit Jain, Founder and CEO, GreedyGame says, "Earlier, we had noticed that there was a cross-platform advertising which was mostly done by app and game developers but now it has become a mainstream medium for various brands to advertise. Mobile advertising is mostly performance driven and today, programmatic advertising has made life much easier for advertisers to go after right target audience."
Talking about how advertisers are finding innovative techniques to make the mark, Ankur Singh, CEO and Founder, Witzeal, a gaming technology company says, "Digital marketing and advertisements are ramping up at an exponential rate. At the same time, the online gaming sector is booming at a breakneck speed. Currently, advertisements are designed in such a way that they are not Overwhelming but rather relate precisely with the users. All of these commercials not only magnify the brand's name or messages in the minds of the viewers, but also provide them with interesting and engaging material. At Big Cash, our app, the advertisement strategies are designed contemplating new ideas and tailored as per the preferences of the players which has made us stand out amidst the others in the industry."
Another online gaming app PlayerzPot has associated with cricketers Smriti Mandhana and Bhuvneshwar Kumar as brand ambassadors. Apart from fantasy sports, PlayerzPot offers an exclusive variety of casual games like Sheep Fight, Ludo, Snakes & Ladders, Chess, Housie and Quizzes. Talking about the growth in the Real Money and casual gaming category, Sunil Yadav, CEO, PlayerzPot says, "Being a skill gaming platform, in a span of two years we have reported a growth of 12x in revenue and in terms of user base we had 2.2 million users in 2020 and currently are at a seven million user base. As per the data, our major user growth was from tier II and tier III cities."
PC Gaming grows at a slower rate
In India, purchasing gaming computers and its peripherals leaves a huge hole in a consumer's pocket. This has pushed many gaming enthusiasts to take a step back from experiencing PC gaming. According to the HP India Gaming Landscape Report 2021, 89% of respondents believe that a PC offers a better gaming experience than a smartphone. Furthermore, 37% of mobile gamers are inclined towards migrating to a PC for gaming.



Prashant Jain, CMO, HP India says, "Customers have realized that gaming experience on PC is now super enhanced. Gaming is becoming more and more social. The interaction nowadays on gaming platforms has increased. When it comes to affordability, it will soon get breached. It has never kept the PC industry from blooming. Soon manufacturers will find a way to drive affordability and I don't think that will be a barrier."
He further says, "We see mobile phones as a complimentary gateway for gamers and they eventually move to PC gaming for a better experience."
Ankit Panth, RedBull esports athlete and a gaming streamer says, "Due to the recent ban on PUBG mobile, there was a huge boom in PC gaming audience on streaming platforms. It also witnessed a rise in the number of actual PC player base. After the PUBG mobile ban, several mobile gamers switched to playing Valorant- a 5v5 character-based tactical First Person Shooter (FPS) PC game."
ASUS's ROG initiatives like ROG Academy and ROG Showdown received a huge traction, Paramjeet Singh Mehta, Marketing Head, Consumer & ROG PC, System – Business Asus India says, "In the year 2020, the gaming laptop market grew by 90% YoY and is continuing to show signs of continued growth. This unprecedented growth can be largely attributed to the ever-growing popularity of Esports and PC gaming in India."
Mehta says, "One of the biggest shifts we have witnessed is that this industry is no longer just a boy's club. There has been a big spike in the number of female gamers in the industry. While there has been an influx of new games, equipment providers, we have seen many established brands foraying into esports or gaming through a dedicated business division."
Acer's Planet9 platform gives an opportunity to users to not only take coaching lessons onFNishant Malsisaria, Product Strategy, Dentsu Data Sciences, APAC gaming and esports but also provides a platform to host esports tournaments, Sooraj Balakrishnan, Head of Marketing, Acer India says, "We have been leaders for many years in the PC gaming industry. Our laptop product lines such as Predator, Nitro series and Aspire7 are topping the charts. Today, PC gaming in India has become a profession. Being a key leader in the gaming community, we host tournaments and give a platform to budding players."
Looking at the growth of Laptop sales as compared to desktops, Balakrishnan says, "The reason is that a Laptop offers flexibility and portability. More importantly due to technology the performance of Laptops has grown in terms of high power hardware components such as graphic cards, processors and cooling systems we provide, it gives desktop level performance with the portability of Laptop. This is the reason that there is a growth in sales of Laptops."
Lenovo is one of the top gaming PC brands in India, Ian Tan, Gaming Lead, Lenovo Asia Pacific, gives an insight on PC gaming market in the APAC region, "Gaming in India has been growing even before the pandemic. In 2019, the PC gaming market was growing at 65% and it continued at the same rate, in 2020 as well. We have seen that the growth of mobile and PC gaming has not stopped since the past decade. India is one of the largest gaming markets for Lenovo Asia Pacific region. We work with software publishers and there are several commonalities in the Asian market. For example, games like Valorant, Apex Legends and Mobile Legends are played heavily across Asia."
He further says, "Our Lenovo Legion business has grown twice in terms of growth rate. The market for gaming PC in India is growing at a very healthy rate. We will be introducing more new products and services in coming years and we intend to become a dominant brand in gaming. "