Q] What has helped the 116-year-old ice cream brand stand out and hold its own in a category dominated by MNC brands in the country? Can you shed some light on your brand journey, and how it has reinvented itself over the years to keep up with the times?
In 1907, Vadilal Gandhi started a soda fountain in Ahmedabad with a small hand-cranked ice-cream-making machine. That is the genesis of the brand Vadilal. He passed down the business to his son and my great-grandfather, Ranchod Lal Gandhi who started a small retail outlet in 1926, and since then, Vadilal has been guided by his imaginative ingenuity. Vadilal was the first brand to launch an ice cream parlour in pre-independent India. We were also the first ones to launch the Cassata ice cream, to come up with a one-plus-one party pack scheme, and an automated candy line in India. So, we have strong roots in India and we personify 'vocal for local.' Today, we have about 250 plus different SKUs in 150 different flavours, which is larger than what any ice cream company has to offer in the country, and we keep introducing technological innovations.
Additionally, Vadilal has the most extensive and elaborate distribution network in the country. We keep reinventing our branding strategies to stay updated on trends and have about 16% market share in the organised sector in the country. We have been exporting for the last 10 years to the USA, UAE, Australia, New Zealand, and Singapore.
Q] Vadilal chose to launch a music video, 'Dil Bole Waah Waah Waah', composed by Bollywood composer Kabeer Kathpalia for its Summer 2023 campaign. What prompted the brand to make this music video over a regular video campaign?
During our brainstorming session about the campaign, we talked to our trade partners and our consumers about Vadilal's USP and the brand legacy – the one thing that the brand brings to mind. We got to know that it brings a lot of emotions to our consumers' minds; every consumer today has some sort of memory attached to Vadilal ice creams. So, that is how we wanted to put across our USP and the emotion, encapsulated in that one word Wah. We also felt that music is a universal language. It transcends age, culture, and gender, and brings people together, just like our ice creams do.
Kabeer was the right person for this, given his recent hits for the movie 'Gehraiyaan', and his connection with our TG, which is 18 to 35. The casting for the campaign has been done in such a way that it showcases our premium ice creams being enjoyed by a diverse cast.
Q] You mentioned your TG is 18 to 35, which includes Gen Z and millennials. How do you plan to establish a connection and engage with them? What innovative marketing strategies are you looking to adopt?
How we approach media has really changed, because Digital has changed the ballgame in the last three to four years. This year we have tripled our Digital budget because we've realised the importance of Digital as a medium. So we are using music streaming platforms where the song will be played. Furthermore, we are using multiple shareable quick content platforms such as Moj, Josh, and Instagram where we'll be creating a hook-step challenge for the song.
We also have influencers who are musicians, and they are going to make their own renditions of the song. Because ice cream is such a universal product, we want to make sure that we are targeting every person. That is how we are going Digital, and these are strategies that will help us engage with younger audiences. Apart from that, we are doing a lot of radio interactions with RJs, and even flash mobs across multiple cities.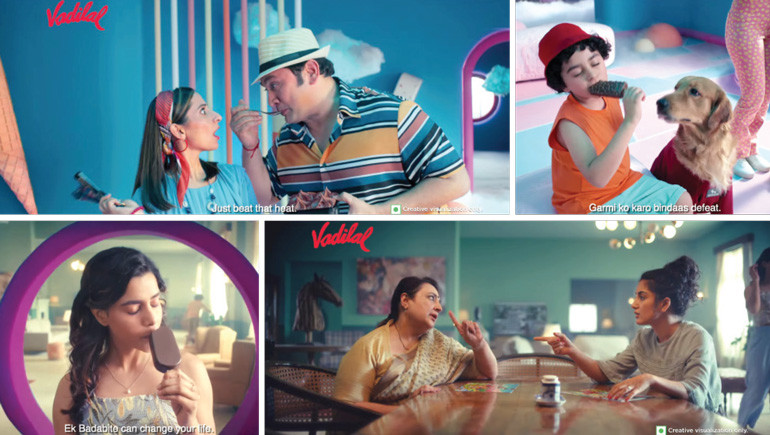 Q] Talking about reinventing, Vadilal came up with the idea of experiential cafes and launched its first one last year. How has that fared for the brand?
We have one experiential cafe right now, 'Vadilal Now Forever,' which was launched in Ahmedabad in February 2022. We are hoping to open another one in Delhi this year. The cafe was established to help us get closer to our TG, because our TG is always asking, 'what's new?' We have a hundred-year-old legacy, and want to connect with our TG. We want to revamp our products every three months to answer the 'what's new' question. We want to make sure that this is possible in multiple cities, however, we are going a little slow because we really want to get it right.
Q] How is the brand looking to further expand its reach? What are some of the challenges, if any, that you are facing in the hinterlands?
We are heavily present in tier-I, and tier-II cities, and have a presence in tier-III cities as well. What is challenging with the ice cream industry is that we operate in a cold chain network. We are not like other FMCG products where you can store your product anywhere. We need to have temperature-controlled environments, and these spaces have limited holding capacity. Something as common as a power cut can really damage our product, but I've seen a lot of improvement on this front. Two years ago we used to face a lot of power cuts in Bihar, but that has really improved this year.
Apart from strengthening the east, we are also looking to do the same in the northeast markets. Our target states will be West Bengal, Bihar, Assam, and the Seven Sisters. We are also increasing our dealer network from 1.5 lakh dealers to 1.75 lakh dealers.
This year we have crossed our target of a thousand crores in domestic sales, and next year we are hoping to touch 1250cr. So, that's nearly 68% growth there. Last year too we recorded a growth of 68% or 69%, which amounts to 600cr, and that's tremendous. Hopefully, after this campaign, everyone will resonate with Vadilal.