For Ashish Bhasin, 2019 is surely turning out to be a landmark year. The media veteran was promoted to CEO of Dentsu Aegis Network, Greater South in March. Barely five months into the role, he has now been promoted again; this time as the CEO of Dentsu Aegis Network APAC. With the elevation, Bhasin will join the Dentsu Aegis Network's Global Executive Team under Chairman Tim Andree. He will be the first and the only Indian ever to join this team.
Having joined the erstwhile Aegis Media almost 11 years ago, before it became the Dentsu Aegis Network in 2012, Bhasin has been instrumental in making the group one of the top players in the space. He is credited with driving the network into the digital space, seeing the growth prospects of the medium much before others in the industry. Over the years, Bhasin has carried out several important acquisitions for the group and led various high-profile pitches. He has seen Dentsu Aegis Network grow from a 50-employee organisation to a heavyweight company with more than 3,700 staff.
The new role will require Bhasin to shift base to Singapore. As the veteran gets ready to relocate, we catch up with him for a quick chat on his new role.
First thoughts on being promoted as APAC CEO
It's a big opportunity and I'm grateful to have got it. APAC CEO is a big position, and so is being in the Global Executive team. APAC, for most clients and agencies, is a very high interest, high focus and high growth area. I'm honoured to have got this opportunity. Of course I will also continue to retain my position as Chairman of India. I hope to spend significant time in India and will be accessible to all our clients, partners, media and everybody else at any time. In any case, I was travelling quite a bit in my Greater South role.
Key moves in new role as APAC CEO
There are many markets that I'm currently running in my role of Greater South CEO, but there are several others in APAC that I'm not directly involved in running. So I will have to get in and understand those markets better.
As a group, we have some inherent strength areas, one of which is our one P&L approach; One Dentsu, One DAN. Another is that we are digitally far ahead.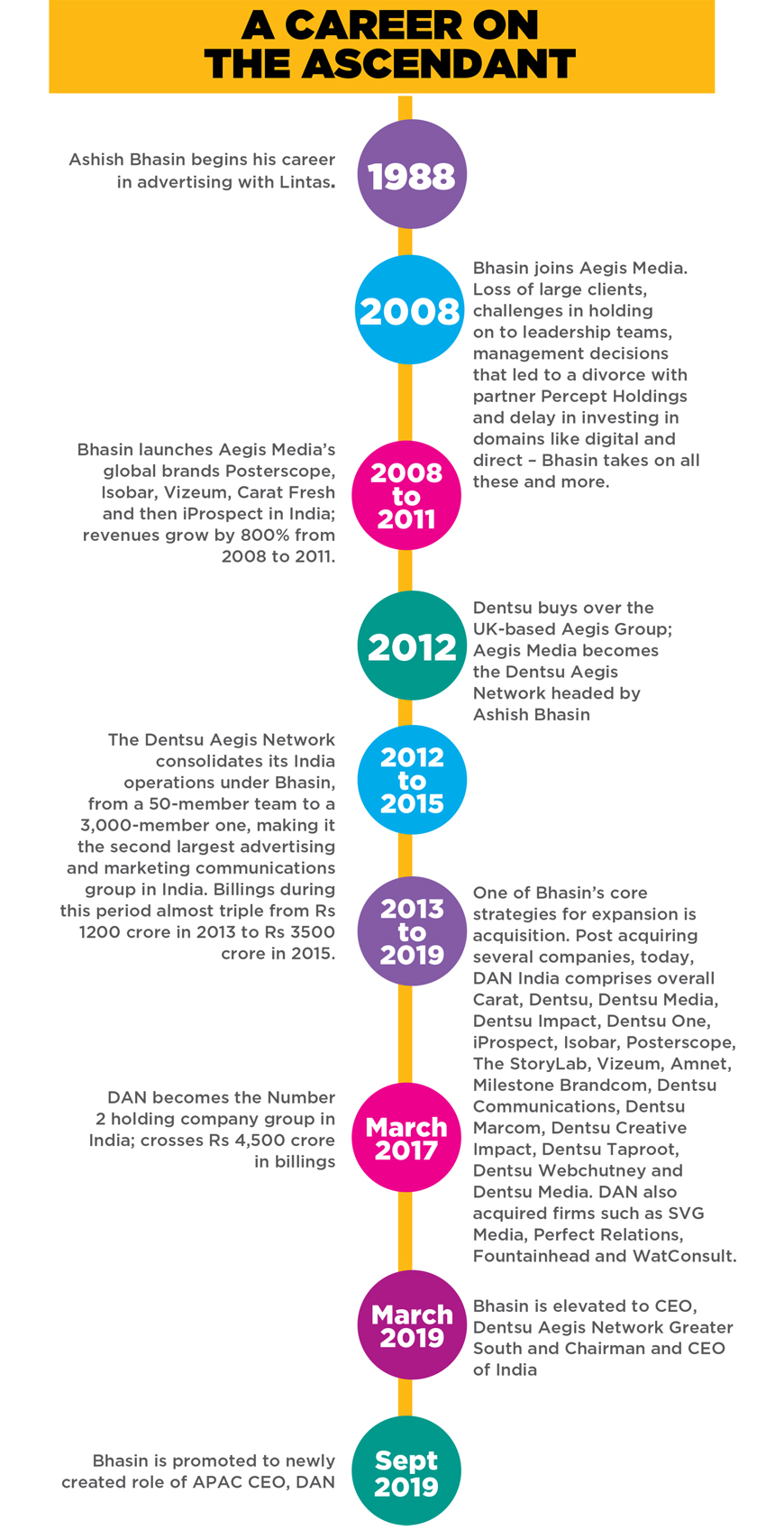 Indian moves that can be replicated in APAC
Every assignment, every solution, every country is different. It is not necessary that what works one time, in one circumstance, will work in all circumstances. The one common thing that we have in our company with respect to whichever country is that we believe in one P&L philosophy. We implemented that in India very successfully, and I would definitely like to make sure that it gets implemented across markets and across APAC.
New markets you are most excited about
There are some very large markets where I haven't been directly involved in the past, such as China, Taiwan, Australia, Hong Kong and Korea. So I am quite looking forward to learning about those markets. This would be a good learning experience for me.
On Anand Bhadkamkar as India CEO
We have a very good CEO in Anand (Bhadkamkar) who has worked with me for many years. The only difference is that he will now be running the country. I will be there to guide him on our clients, on media or industry or any other issue.
Shifting base to Singapore
I will be shifting base to Singapore. As the APAC CEO, you need to be in Singapore because a lot of regional clients sit there. The geography is pretty wide; there is Australia and New Zealand at one end, and China on the other, along with East Asia and India. Therefore, Singapore is the logical place for me to be.
Closing thoughts
I think this is all thanks to the fantastic leadership team and thanks to the 3,700 professionals we have in India who have been delivering an outstanding performance, and I'm lucky to get the credit for that. I'm very proud of the business that we have built in India and I'm sure Anand, together with me as the Chairman, will take it to a different height in years to come.