Before the controversy surrounding 'Jaa Simran Jaa' television commercial fades from the memories of viewers, cult.fit launched yet another television commercial (TVC). With the stated message of 'Fitness is not an option', the commercial, launched on YouTube and TV, revolves around pop culture in India. Prachita Pujari, Brand Marketing Head, cult.fit, talks about the company's experiment with AI- based fitness apps.
Q] cult.fit is known for propagating the message 'Fitness is not an option' through the remake of popular Bollywood movie scenes. Tell us how does cult.fit's next TVC look like?
Following 'Jaa Simran Jaa' and 'Mere Karan Arjun aayenge' television commercials (TVCs), the next one was planned on the lines of pop culture promoted in a popular Hindi film. The advertisement is based on iconic Bollywood movie 'Om Shanti Om'. The twist lies in the art of sending across the message that 'Fitness is not an option'. The TVC talks about how staying fit can help in life-risking situations.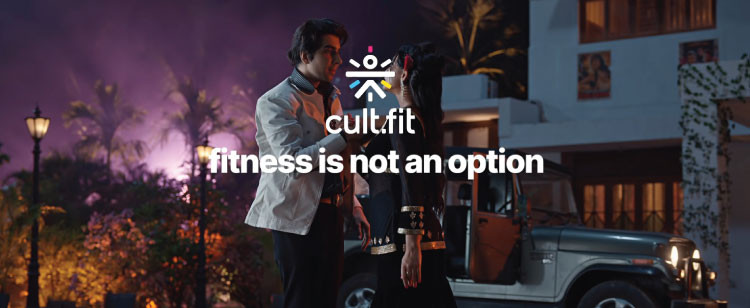 Q] 'Jaa Simran Jaa' TVC landed in trouble with Yash Raj Films, what was cult.fit's response?
We had a temporary glitch with Yash Raj Films when we released 'Jaa Simran Jaa' TVC. The issue was resolved with the production house and the ad was brought back on air. Currently, we have spoken to production houses to acquire rights of the respective films, and we have met all the legal requisites for using scenes from the films.
Q] Do you think Artificial Intelligence (AI)-based fitness apps are gaining a stronghold in India?
Cashing in on its popularity, we have hopped into the AI space. Earlier this year, we acquired Onyx, a California-based fitness company which specializes in body-tracking technology and personalization of workout feedback. We are experimenting to pilot AI-based workout options. We already have an AI-trainer facility, which provides personalized workout programmes.
Q] Do you consider AI-based fitness apps to be a strong competitor to cult.fit?
We have launched AI trainer on our app to integrate the technology with offline fitness, thereby piloting with the launch. With time, I believe, it will be an integration rather than a specialization.
Q] cult.fit being a new player in the fitness segment, how did it manage to survive the COVID era?
When the pandemic hit, following the government's COVID protocols, we shut down our centres and were quick enough to move to online workout. We approached a number of celebrities and influencers, insisting them to do classes from their respective homes, and streamed the videos online for millions of users. We didn't allow the pandemic to throw a spanner in our customers' fitness regime, and took care to meet their requirements by giving them access to online workouts. One of the business decisions was to launch online classes free of cost, and we later monetized it. During phased unlock, we opened all our gyms after ensuring that all our employees were vaccinated.
Q] How much is cult.fit spending on marketing and advertising to reach its target audience?
In a nutshell, post-normalization, we have done two big campaign launches — one in September and another in December. We intend to do two to three brand campaigns almost every two-three months in a year. We will also launch a 360-degree campaign.
Q] How does cult.fit allocate its marketing and advertising funds to strike a chord with potential customers?
We allot about 60-70 per cent of our ad spends for TV campaigns, 40 per cent for digital, which includes collaboration with influencers, to promote our brand story across all platforms. We have teamed up with celebrity endorsers like Hrithik Roshan and Nora Fatehi. We work with them for brand activations throughout the year. Our strong social media team has managed to build a community of over 800k followers, and we conduct campaigns and events regularly to maintain the connection.