In the span of less than a year, Zee Entertainment Enterprises Limited (ZEEL) is all set to take another leap forth in the English entertainment category with the launch of a new movie channel, &flix. This will be the third movie channel from the network, after the launch of &Prive in September 2017.
Entering the English movie genre worth Rs 500-600 crore, &flix will be available both in SD and HD feed. The channel will go live across all major DTH and digital cable platforms on June 3 at 1 pm with the premiere of Spider-Man: Homecoming. The channel has tied up with studios such as Sony, Paramount Pictures and Disney and has a library of more than 400 movies and 52 hit premieres.
&flix will be the fourth channel of the network in the English entertainment category. The network already has Zee Studio and &Prive (movie channels) and Zee Cafe (GEC). However, the network is planning to shut down Zee Studio.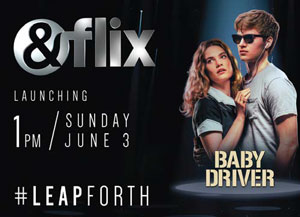 Talking about the category potential, Prathyusha Agarwal, CMO, ZEEL, says, "It is good to be in the English viewing category as it covers 52 million households. Of the total viewership, 60% comes from big cities while the rest 40% from others. This 60% segment has grown at 35% CAGR in the past three years. With &flix, we aim to enthral the audience that is persistent in its pursuit of new experiences and is not easily satiated. The brand proposition, Leap Forth, was created with the thought that you can have an extraordinary life with unlimited possibilities if you dare to take the leap."
Aparna Bhosle, Business Cluster Head- Premium Channels, ZEEL, says, "We have been working on this channel for a year now. To have a great line-up of movies, it's very important to have good output partners and movies. We have an output deal with Sony. Apart from that, we have output deals with Paramount Pictures and Disney Studios. We have also tied up with seven-eight independent studios that have great films."
She adds, "Through &flix, we wish to present a visual extravaganza while being infectiously inspiring and the champions of the unexplored. Our library of movies includes 52 premieres along with 400-plus celebrated titles just for flix. We want to take the audiences on a journey to a world of unlimited possibilities. From action and drama to comedy and animation, we have a compelling mix of genres for the viewers."
"Also, in terms of distribution, we cover 100% of the country. There are some analogue players in Chennai and they are slowly converting into digital, but we are not waiting for the conversion. We will also be available in analogue in Tamil Nadu," Bhosle explains.
On the advertising front, the network has roped in five brand partners so far - Fiama, Lloyd, 100 Pipers, Amazon Fire stick and Domino's Pizza.
ZEEL has planned a disruptive marketing plan for &flix, engaging audiences through numerous touchpoints.
The channel leveraged a Twitter-integrated initiative to unveil its first communication. Under the initiative, viewers tweeted using the channel hashtag, garnering 10,000 tweets and more than 52 million impressions within 24 hours of the launch of the campaign.
"We are marketing across six metros - Mumbai, Hyderabad, Chennai, Delhi, Bengaluru and Kolkata. The campaign will run for five-six weeks. We are going large on digital. A lot of awareness will be driven through digital. Apart from outdoor and other mediums, we are leveraging multiplexes where propositions can really come alive," informs Agarwal.
Both Bhosle and Agarwal hint that the focus will be on two movie channels, i.e, &Prive HD and &flix. "We are not looking at progressing Zee Studio further. These (&Prive and &flix) are a certain kind of offering and hence curated and put together that way. We will figure out about Zee Studio in some time," they say.
The packaging for &flix has been designed by Canadian design agency Zink which carried out the packaging for &Prive also. The campaign has been conceptualized by Publicis India along with the ZEEL in-house team.