Digital marketing agency, ibs, recently announced its new brand identity as Fulcro. The company, which has been working in the digital space for over 15 years, has serviced some of India's largest and the world's most renowned brands. Talking about the circumstances that drove the agency's rebranding, Sabyasachi Mitter, Managing Director, Fulcro says, "It started when Digital became the buzzword and a few IT consultancies like TCS and Deloitte started approaching the brand CXOs convincing them to go for digital transformation thereby offering them digital services through their digital arms. At that point, it was not only us but several other agencies started to lose clients to the Digital arms of the consultancies." He adds that in the process, many digital agencies were sold out due to the growing market pressure. While Digital has a huge spectrum starting from SEO and AI to machine learning, a great digital service provider is not always a great creative service provider, Mitter points out.
Mitter wanted to redefine his agency ibs as Fulcro and position it as a growth propeller for brands. Explaining the thought that went into the rebranding, Mitter says, "ibs at one point seemed not so relevant for the expanding digital space because it was tightly linked to be a traditional digital agency and had no brand story. With the help of an image consultant, we created a new brand which we named 'Fulcro' that comes from 'Fulcrum,' a Spanish word that means a propeller. The word truly defines our brand story. With start-ups looking at exponential growth, Fulcro delivers the 'fulcrum' for exponential growth to brands!"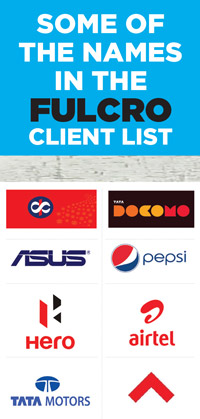 He also adds that brands today have a significant amount of money to invest, which was not the case in the past. Earlier brands would devote only 2-4%, but today they dedicate as much as 25-30% towards the Digital space. As the Digital medium becomes significant to the brand's business, the client expects the best agency across verticals. Taking these factors into account, Mitter points out that the agency has set up five different verticals. "Fulcro is not one company. We decided to create centres of excellence and five different verticals to be identified as independent business entities. So we gave up all our custom development and now we are into Adobe Implementation Partner, Microsoft Gold Certified Partner etc."
Fulcro Technology competes against tech companies and not against the digital agencies. The vertical is headed by Akhilesh Sabharwal, Senior VP, Fulcro Technology. Similarly, Fulcro Digital will compete against all digital agencies and Fulcro Communication will compete against mainline agencies, which are headed by Jugal Kathuria, VP, Fulcro Digital and Communication. The other two verticals are Fulcro Media and Fulcro Data, headed by Abhishek Mehta and Mitter respectively.
On Fulcro's rebranding proposition to clients, Mitter says, "We position ourselves under the umbrella of Fulcro which is a consulting business transformation vertical. We have a lot of senior CMOs under the consulting verticals like Sanjay Tripathi (former CMO, HDFC Life) who's working with us on a Tata Motors project. Under the consulting verticals we have these five verticals and we have structured ourselves like consultancies. However, we are working in a far more cost efficient business model of course."
On the agency's growth prospects, Mitter adds, "Our ambition is to double the size in three years. We are at Rs 50 crore today and want to reach Rs 100 crore and the profit target we are ambitiously chasing is Rs 10 crore before three financial years. I am often told that with double the growth you will double the manpower, but I believe that sometimes smarter deployment of resources and technologies can help you attain growth without having to hire people."
On the subject of future projects, Mitter threw light on the digital-first launch of Hero Motor Corp. The agency created an entire business plan for the brand in terms of how the vehicle would be launched at the showrooms while also engaging with consumers at a higher level. He adds that technology is always core to optimising business processes and generating data profit. The key lies in optimising technology. "AI on its own is a form of technology but you need to make use of it effectively. AI is mostly used in creating chatbots to answer consumer queries on how to use a product. AI is an enabling tool but you need to be realistic about what it can do and can't do. Building a voice based or a chat based AI is not a one-time process, so for our clients this is more of an ongoing process."
Talking about the change in the communication process for brands Mitter says," In the traditional world we used to create one or two messages and deploy them across multiple media but a lot of these youth-centric and new age campaigns are about identifying where they are and then tailoring your message to fit into each of these platforms. For example, Instagram filters or stickers that make you think more about how you can deliver a message on this platform versus a way of thinking that this is my message and where I should put it. This has fundamentally changed the communication process for the smarter brands where the most exciting and challenging thing is that the brand tells you that it wants to reach the consumer where he is."
The agency also does some offshore work in Singapore and has its sights set on the US especially on the Adobe cloud. "We are also looking forward to reaching the US for some of the back office work especially on the Adobe cloud, since there are a lot of Adobe implementations in the US that we intend to tap. We are not looking at digital and communication to go to the US since you need to know the native flavour of a market to create campaigns, and you need a native team there but at least technology works," Mitter says.
As far as the Digital world in India is concerned, Mitter believes the future looks bright with Prime Minister Narendra Modi voted into power for a second consecutive term. He opines, "I think it's going to be great for digital. That is evident from the way that the BJP has used Digital. I would have been proud to do those campaigns, the way they created the 'Main Bhi Chokidar campaign' and they distributed it without putting any money, only propagation done through Twitter, Instagram, Facebook and WhatsApp. The way the content was disseminated was a great success and it is not easy to do what they do in Digital without the use of Television. If you can deliver that kind of an impact to every village and see the results Modi did, that is a game-changer!"