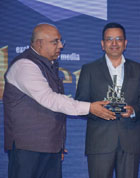 Sanjay Gupta, Country Manager, Star and Disney India, has been awarded this year's exchange4media Influencer Award, instituted to acknowledge and honour an individual who has been a trail-blazer in his/her sphere in the communication arena. The award was presented to him at the exchange4media Conclave 2019 in Mumbai. Sanjay Gupta is an outstanding leader, and architect of great success stories using technology to innovate in the media and entertainment domain. To him goes the credit for Star's unprecedented growth on the back of bullish risks, strategy and vision in entertainment, sports, digital and studios. With over 20 years of experience in the television industry, Gupta has taken traditional television content to digital platforms, with Hotstar being a path-breaker.
In its inaugural year in 2016, Raj Nayak, then COO, Viacom18 Media Pvt. Ltd, had won the exchange4media Influencer Award. Since then, CVL Srinivas, Country Manager, WPP India and CEO of GroupM South Asia at that time, won the award in 2017, followed by Virendra Gupta, Founder & CEO, Dailyhunt and Umang Bedi, President, Dailyhunt in 2018.

Uday Shankar
President, Walt Disney Company APAC and Chairman of Star & Disney India
'Sanjay is by far the best leader in the Indian M&E industry'
Sanjay is by far the best executive and leader that the Indian media and entertainment industry has currently got. But when it comes to Star, I don't think Sanjay gets enough credit for what he has done. Most of what I have achieved today, would have been impossible without Sanjay. The only way I can describe him and our relationship is like two batsmen playing together at two different ends, and they've had a great partnership over these long years.

CVL Srinivas
Country Manager-India, WPP
'He's worked silently to drive change and transformation @Star'
I'm delighted to hear that Sanjay Gupta has been chosen as 'Influencer of the Year'. Sanjay is a fantastic business professional and also a very dear friend. He has been working very silently behind the scenes, to drive change and transformation at Star. He is deeply rooted in his knowledge of the consumer or viewer and that has really benefited his organisation. Those of us who work closely with him realise that he is a professional who is extremely fair in all his dealings. It has been a real pleasure working with him all these years, and I look forward to many more.

Shashi Sinha
CEO, IPG Mediabrands India
'Sanjay has always done breakthrough work in the industry'
Sanjay has repeatedly done breakthrough work and always taken forward-looking steps. I really thought getting into IPL, both Hotstar and TV broadcast; was a big, bold, gutsy move.

Prashanth Kumar
CEO, GroupM-South Asia
'His sharpness and ability to challenge status quo stand out'
His sharpness and his ability to look at things from a lateral perspective, are two aspects which have always been interesting. Another interesting quality of his is that he always challenges the status quo.

Rahul Johri
CEO, Board of Control for Cricket in India
'I am proud to be known as one of Sanjay's friends'
The BCCI and Star India have an extremely strong relationship, and Sanjay is one of the pillars of that relationship. We are proud of our association with him and I am personally proud to be known as one of Sanjay's friends.

Gayatri Yadav
President, Consumer Strategy & Innovation, Star India
'He challenges all of us to think big & to think beyond'
I have a 'four S' framework for Sanjay. The first is 'Socratic'; Sanjay will challenge you on every assumption; he will begin every strategy discussion with "What are we solving for?" And it's through this challenge that you really get to the heart of the matter. At times it can be really tough, you can walk in and he can completely rubbish your plans, but through it you'll realise clarity and conviction. The second 'S' is Stamina, not just normal stamina, but super-human stamina. Sanjay is always the first to walk into the office and the last to leave. The third 'S' is Scale. Sanjay really challenges all of us to think big and to think beyond, and he is never excited unless it's dramatic impact, billion dollars, huge scale. The fourth 'S' is perhaps the one that is least known. Sanjay, beneath that challenging exterior, is quite a 'softy'. He has a sentimental heart that really cares for people and the society, and the impact we make as a media company.

Karan Johar
Film-maker, Dharma Productions
'Sanjay will play an integral role in the Star-Disney alliance'
Heartfelt congratulations to Sanjay Gupta on winning this most deserving 'Influencer of the Year' award. I have known Sanjay for many years and we've had a very successful and lucrative relationship. Sanjay is going to play an integral role in the Star-Disney alliance, where these two power houses come together, and he will of course be the fulcrum of that association.
'In a world of dramatic changes, either we disrupt ourselves or others will disrupt us'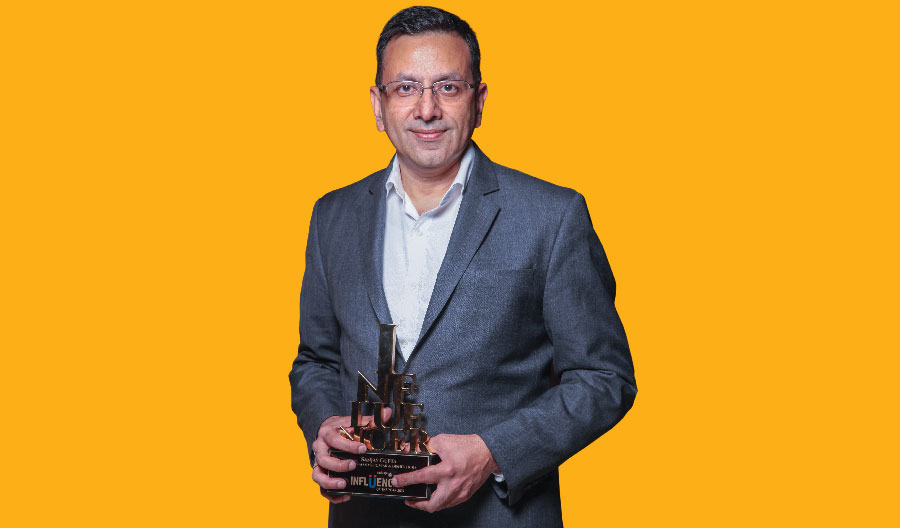 Most people think of Star as the country's largest broadcaster. Some associate us with our streaming service, Hotstar. Others talk about our films and studios business. However, I believe we are in the business of telling stories. I feel I am blessed to be in a business where with our stories, we have the power to challenge status quo, make people think about relevant social issues, encourage them to be agents of change and above all inspire a billion imaginations.

We have always believed that legacy is limiting, and disruption is liberating and enriching. Who would have thought that in a nation obsessed with cricket, a 'rustic' and rural sport like kabaddi could capture the imagination of millions of people? But Pro Kabaddi League did just that by becoming the second most watched sports content in the country. Even we did not imagine that in a country where smartphones were limited and data was expensive, 300 million fans in a month would come to Hotstar and enjoy their favourite game of IPL or World Cup; and Hotstar has been around only for four years.

The thoughts that string together all such bold moves is our desire to challenge the status quo. We believe that in a world where dramatic changes are happening at an unprecedented pace, either we disrupt ourselves or others will disrupt us. That belief, that commitment is what drives each one of us at Star. The achievements of Star are all on the back of a team which dreams big, executes brilliantly and is comfortable with the idea of disrupting itself. I feel proud to lead this talented and passionate team.