I plan two holidays every year – for a week or so each, and then about two to three weekend getaways. I am passionate about photography, so I use these travel opportunities to also work on my photo projects. To me, travel is a great way to explore the world, learn about new cultures, sample local cuisines, broaden my perspective and it is also a great destresser. Travel definitely builds several leadership traits – it takes us out of our comfort zone, broadens our perspective, makes us appreciate diversity, builds our situational adaptability and above all helps us connect better with people and with nature.
THE MAGIC OF UNEXPLORED TERRAINS
Over the years I have had several memorable trips – Kenya, Scandinavia, Bhutan, Ladakh, Spiti, Myanmar, Russia, Italy – to name a few. Each of them has been special in its own way. But if I had to pick one, it would probably be Myanmar. It is a relatively unexplored country, which has different experiences to offer. Yangon is a quaint city that takes you back in time with its cafes and markets. Bagan is the land of pagodas where we did an amazing early morning balloon ride. Inle is the water city where the hotels, houses, markets and restaurants are all accessed by boats. Myanmar truly provides a multi-sensorial experience for the mind, body and soul.
OF MOUNTAINS AND HIKING BOOTS
I have recently become a bit of an adventure junkie. I went on my first major trek in 2016 to the Everest Base Camp (EBC). I had to first fly into Kathmandu and then take a flight to Lukla, the world's most dangerous airport, which itself was quite an experience. The entire trek was 12 days long, and it got me out of my comfort zone in more ways than one. It was an amazing experience to be one with nature, cut off from the world, meet new people and stay at different places along the way – all of which made the journey as exciting as reaching EBC itself!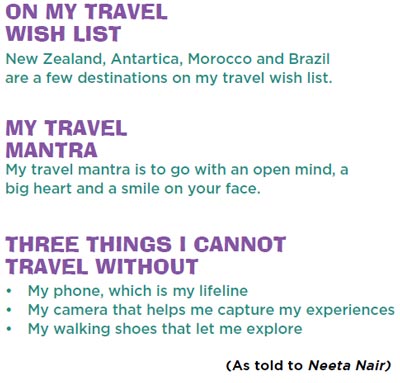 THAT UNEXPECTEDLY GOOD MEAL
When we were on the third day of our trek to Mount Kilimanjaro in 2017, the dinner that they served us was mashed potatoes, bread and salad. All of us groaned at the bland food and I said, 'I wish we could get to eat something nice like bread pakora or samosas'. And a friend of mine said that she could convert the dinner into bread rolls. She then took over the kitchen and taught the locals how to make bread rolls. It was the best and most fun dinner we had on that trek!
Another very interesting experience was having dinner at Noir – Dining in the Dark – in Ho Chi Minh City in Vietnam. As the name itself suggests, the entire dining experience happens in the restaurant, which is pitch dark. We were guided by the waiters, who are all visually challenged. They talk you through the three-course meal and it was a very fascinating experience to smell, feel and taste the food without being able to see it! At the end of the meal, they showed us what we had eaten, and it was interesting to see how many things we got right while we were eating them.