SUMIT MALHOTRA
Managing Director, Bajaj Corp

OF EDUCATIONAL TRAVEL EXPERIENCES
One of the things about being in a leadership role is that you become too involved in the problems or issues at hand. Vacations allow you to take a step back from everything and view things with a new, fresh perspective. Travelling allows me a lot more breathing space to think things through. So I travel with my family as often as my work allows me to, and these week-long holidays help me come back to my workplace refreshed. I have been working for close to 30 years now. For the first 11 years, I only focused on my career and did not take any vacation. I was left with so many unused vacation leaves, and I realized I was missing out on a lot while trying to climb the ladder of success at work. I barely spent much time with my family. That's when I decided it was time to start going out, travelling and seeing the world together. Over the last 18 to 19 years, I have taken my family on vacations to various places around the world. I truly believe that travelling to new places allows you to observe different cultures, ways of life and sample interesting cuisines. I have encouraged my son and daughter to view each travel experience as an education, instead of another holiday. They read up about the place well in advance, and have come away from their holidays enriched with new ideas and food for thought. Most importantly, these trips are often an eye-opening experience because they dispel whatever preconceived notions or stereotypes of cultures one may have.
LOVE FOR THE OCEAN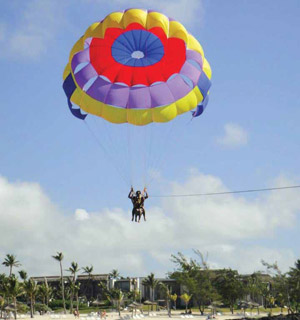 As a family, we have had many holidays together, but the one thing we all share is our love for the beach and the ocean. So if I had to pick one memorable trip, it would have to be our holiday in Koh Samui, a stunning island off Thailand. One of the things you might notice about this island is that unlike Thailand, not a lot of Indians frequent Koh Samui. We met tourists of various nationalities and cultures, and that was one of the things that made it a refreshing destination. The island is really small, so driving around is also fun. You can hire a car, and in an hour you've pretty much covered the entire place. It is not just the ocean and landscape that draws us to locations like Koh Samui, but also the peace they offer. They are especially ideal for those of us in Bombay, looking to get away from our hectic daily routines and from all the noise around us. Another really interesting thing about Koh Samui is the airport, which actually looks more like a playground. There are slides, delightful animal installations and a small fish pond within the premises, which makes it a really fun place for children. They even allow children to walk onto the tarmac!
NO FOOD LIKE THAI FOOD
On this trip, my family and I fell in love with Thai food. It is nothing like the kind of Thai food you get in India. Moreover, because we were surrounded by the ocean, we were fortunate to enjoy the freshest seafood! There were various seafood preparations, and we ate to our heart's content. My wife and mother are vegetarian, but the kind of food options available for vegetarians, too, are fantastic. We are a family of foodies, so we enjoy sampling new cuisines, but Thai has a special place in our hearts. We tried varieties of Thai curry that is served with jasmine or flavoured rice. The fish is also steamed and prepared in a manner that retains the freshness. It's incredible that these steamed fish preparations are way more delicious than the plate of fried 'bangda' you would eat in India. The locally grown fruits are also exceptional – I enjoyed the local bananas and mangoes, which are a lot more delicious than what you might find in India.