A TRAVELLER AT HEART
Before everything else, I am a traveler at heart. Travel can be a great teacher. It helps us connect with people at a deeper level, and gives us a fresh perspective, especially since we are usually so inward-driven all the time. Moreover for those of us who work close to 12 hours a day, and who are only thinking about our clients and the business, we often do not have an outside view. The other great thing about travelling of course, is that it provides that much needed 'me' time where I can just unwind. I enjoy seeing new places and learning about new cultures. I am also a mountain person, so I really enjoy trekking. My family and I go on a trek every year. These treks allow us to experience nature, while also driving us to push our limits, especially when we feel like giving up.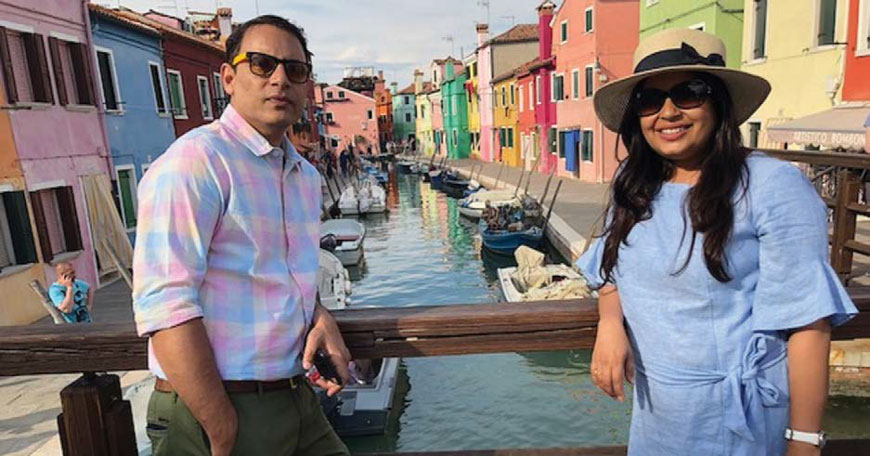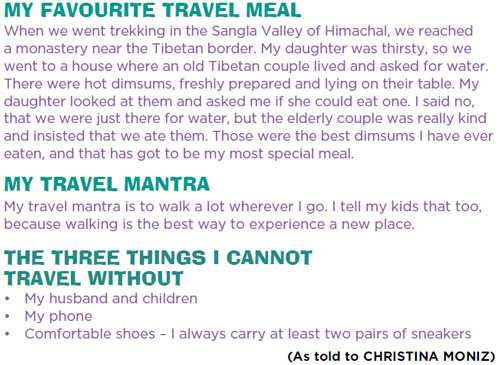 WHY VENICE IS SPECIAL
This year, we just returned from a holiday in Venice; our second visit to the place. Venice is one of my favourite holiday destinations for its rich history and for its colourful, vibrant culture. The story of Venice, how it was created by refugees from nothing, is inspirational. The island is so full of life and resounds with music, reminding us that there is so much more to our lives than we know! On this trip, we also visited other parts of Italy, but Venice will always have a special place in my heart. Usually when we visit a new place once, we don't really think of returning to it again because we want to see other destinarions. Venice is an exception, though. There is nothing swanky or fancy about it, like a Paris or Rome, but it's a different world altogether. There are several islands, and each island has a different story to tell. Life changes with every kilometre and you can spend every day discovering a new island. We covered about five islands during this trip – every island was so beautiful and magical. I would say Venice is almost like a fairyland for adults. There are no vehicles, and the only way to really get around the place is by walking, or by taking a boat or water taxi. In fact, since the islands are built on water, you will sometimes see water just spurt out onto the roads while you're walking. Each island has its own specialty – so for example, there is an island called Murano that is known for its expertise in making glass. Another island, Burano is known for excellent handmade laces. Burano also has pretty, brightly coloured houses in a row, which looks like something out of a painting. Their houses are vastly different from what you see in most other European cities. Even after two trips here, I want to return to Venice, explore more islands and learn to row a boat.
A CULTURE OF HAPPINESS
One of the things I noticed almost immediately in Venice, is that people have time for each other. They are not on their phones all the time. People are connected to the place, to the water and to each other. They look far happier than most people in large metropolitan cities. Maybe it's their pace of life that makes them happy. I don't know what it is honestly, but it just seems like they experience and appreciate life more fully than the rest of us. While their food is similar to most of the fare you would find in other parts of Italy, it is the Venetian warmth and hospitality that makes every meal special.