It has come to this. Despite living in a nation of over 1.3 billion, we are cut off and having to deal with life via the four walls of our house. The TV and Internet have become our only window to the outside world (only because there is no one actually outside the literal windows in our homes). Lockdown and curfew - words that honestly conjured up images of the world falling apart - are now trotted out with such regularity and ease.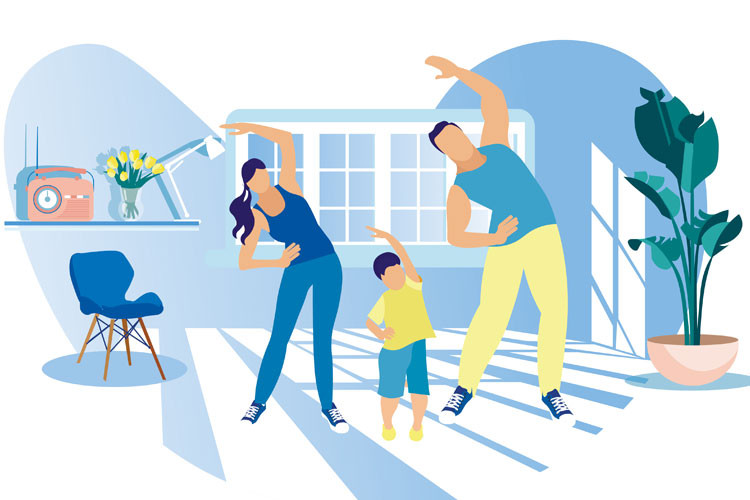 So how does one deal with all this doom and gloom? It's not like you can go to a bar or a club to blow off some steam! Heck, you can't even go to a gym or a movie! Whatever you need to do has to be within the four walls of your house. Here are a few handy tips that work for me in these new circumstances. I hope they help you too!
1. Get some exercise. No, you don't need to suddenly decide to get ripped or follow all those daft influencer videos where they are challenging you to do superhuman things. A simple workout routine with some stretches, sit-ups, push-ups and even running on the spot is enough to keep your mind fresh and body energised in these gloomy times.
2. Maintain a routine. Your workday probably had one and now that the routine has gone, things are uncertain and you might lie awake thinking - 'Oh no, what will I do tomorrow?' The simple answer is - make a new routine. When to work out, when to sit in front of your computer and do some work, when to conference call with family, when to watch your shows, everything. A routine brings order in this chaos and it will at least take away those nagging questions about tomorrow which hit you in the middle of the night.
3. Learn something new. We often make the excuse that we didn't get the time to do this or learn that. Well, guess what? Now you have all the time in the world and nowhere to be at 9 am. Learn that language, teach yourself the guitar, write that piece of code or like me - learn about Photoshop and a myriad creative programmes I have always wanted to learn more about. It gives you a sense of accomplishment, which is vital these days.
4. Make time for your family. I know this sounds silly. You are, after all, locked away with them indefinitely. But rather than being a sourpuss about it, use the valuable time to make some great memories. Play board games, cook together, talk and do plenty of daft things. My daughter practised her face painting on me. I looked like a clown but the look on her face is something I will never forget. It was truly priceless. Call your family far away. If it was once a week earlier, now call them every few days. They are going through the same thing as you, and it will help bring you together.
5. Be grateful. There is enough negativity around. You can see that on TV and on Twitter. But there is a silver lining. You are at home, you are healthy and are surrounded by your family. It could be far worse. Have gratitude for all this and remain grateful to the people who work in the essential services, so our world doesn't stop spinning completely. They need our support, not our self-imposed misery.
Right now, I am playing monopoly with my kids, learning Photoshop and Dream Weaver and watching 'Kingdom' and 'The Mandalorian' on TV. This all will pass and I am going to come out on the other side, an improved version of the guy who went into this, without a doubt. Hopefully we all will.