Centuary Mattress recently launched two TVC campaigns - 'Choice of Champions' with brand ambassador Sania Mirza to promote its flagship range My Power Matt and Ortho Active Mattress. Uttam Malani, Executive Director, Centuary Mattress shares insights on the brand's latest collection, brand campaign, marketing mix, geographical footprints and much more
Q] What was the thought behind Centuary Mattress' new campaign - Choice of Champions?
Our last year's campaign 'Awaken The Champion' asking people to use good sleep as a tool to awaken their inner champion was well received, so we built on it with the 'Choice Of Champions' using Sania Mirza and her status as a champion, not just in the field of tennis, but as a woman athlete and a youth icon to further extend the connect with the consumers while leveraging some of our new product ranges and innovations. This campaign is more product centric, and speaks about individual product attributes of our new spring collection - My Power-Matt, and also our orthopedic mattress range - Ortho Active.
Q] What marketing mix and budget have you allocated for the overall campaign?
It's a predominantly a video driven campaign across all media -TV, OTT, YouTube, social media, etc. 80% is going to be video led while 20% will be supported by on ground and BTL. We've invested about 20 crores last year on our marketing spends and are planning to up that by about 20%-25% this year, the allocation for it will happen in the August to December season.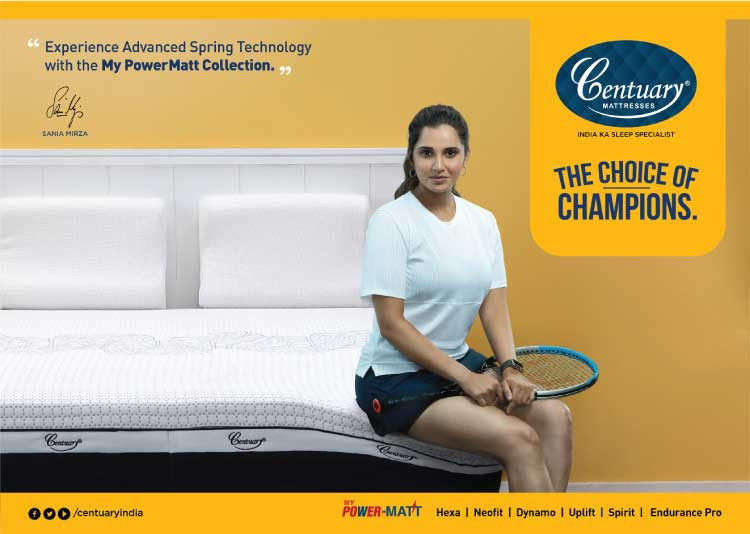 ABOUT THE BRAND
With a legacy spanning over three decades, Centuary Mattress is a mattress and bedding brand with its roots in Hyderabad. The brand offers a comprehensive range of sleep solutions such as spring mattresses, foam mattresses, coir mattresses, memory foam mattresses, orthopaedic mattresses, and accessories. Centuary Mattresses has established a strong presence in the country across 18 states with 4500+ dealers and 450+ exclusive brand stores.
FACTS
Creative Agency: Blacksheep
Social media agency: Blacksheep
Digital Agency: Wavemaker
PR Agency: Value 360 Communications
PROFILE
Uttam Malani is the Executive Director at Centuary Fibre Plate Pvt. Ltd. In his role, Malani is responsible for the company's overall strategic roadmap and operations. He started his career with Capgemini, Atlanta before joining his family business with Centuary in 2007. He has played an instrumental role in the evolution of the brand; its products and its marketing strategy over the last decade.
MARKETING TIP
Whatever marketing you do, the foundation of a good solid product has to be there because the product always stands out. Also, each brand has to find its core marketing proposition and stay true to that.



Q] The key markets for this campaign are mostly south Indian states, any specific reason behind it?
Barring the far north, we are present in most parts of the country like south, west, central and eastern India. But the predominant focus for this campaign is the south, which is our strongest market and also because Sania has a great connect there. Our product innovations get lapped up the fastest here. Our strategy is to get a good grip in the southern markets through the 'My Power-Matt' campaign and then use the learnings from there to scale it up to other markets. So the south has always been a happy hunting ground for us. The other Hindi speaking markets tend to take off a little later, around Dussehra and Diwali which is when we'll be scaling up the campaign to the Hindi speaking belt as well.
Q] Centuary Mattress has added a few new products – My Power Matt Collection, Centuary Protect etc to its portfolio. What kind of response did you get?
Centuary Protect caters to an increased propensity of consumers to choose offerings which have a better health quotient. Essentially Protect is our antimicrobial treatment, every single Centuary Mattress which comes out of our factory comes with an antimicrobial treatment and we are the only brand in the space with such a unique differentiator. Our My Power Matt is our new range of spring mattresses, the response for it has been overwhelming so far. We've had a good utilization of our capacity with these new ranges and anticipate that they will drive the growth of the brand in the coming year.
Q] Since the pandemic struck, there has been a rise in orthopedic issues among people, what kind of impact did it have on the mattress industry? Have you seen any substantial increase in demand for your wellness collection?
There has been a physiological and mental impact of the pandemic. And both have led to an increased preference for wellness related products. We all know that people have been working from home, but not everyone has had proper workstations or desks, so they would sit on the mattress instead. So all this has had a physiological impact on them. At the same time, there has been a lot of stress, people have been worried about their income sources, health and well-being of their family. But everyone has realised that good sleep helps you to recuperate from all of these things, whether it is boosting immunity, getting rid of stress, getting rid of body pain, which tends to happen because of working long hours or slouching long hours. So the category has definitely had a booster shot since COVID. It has been growing in multiple double digits so to speak. And Centuary in particular has seen a 2x growth in our wellness offerings.
Q] Many new players with unique offerings have entered the mattress segment especially during the pandemic, how are you positioning your brand against them?
It's a very exciting time to be in this category. On the demand side, there has been a lot of increase in awareness and demand for the product. But even on the supply side there has been a lot of innovation. And this is going to benefit the category tremendously in the long run. Centuary has always prided itself on being a product leader within the category. We always welcome any product innovation which comes in the category because it helps the category stand out and also helps the consumers gain access to better products, and in turn motivates us to perform better and take the category to a higher level. So the whole innovation cycle which the category sees still has some way to go if we are to catch up with the western or the more developed countries.