Q] Give us an insight into the latest ad campaign that accentuates the term – Science meets Ayurveda.
You will find this term, Science meets Ayurveda, in several advertisements of Dabur, and we have been using it for a long time. The message that we put across through it is that Dabur stands for scientific Ayurveda. At Dabur Research Foundation, we have the wealth of Ayurveda and the knowledge of the Granthas. We also have a very strong and fundamental understanding of the science of health care, personal care, and other segments where Dabur operates in.

In the past few years there has been an increased consumer demand, they want to go back to Mother Nature. They want to go back to the roots, but not blindly. Therefore, for the past several years we have been telling consumers through our communications that Ayurveda is not mumbo jumbo, and that there is a science behind it. Through our research we validate what the Granthas say. Now with Mr. Amitabh Bachchan as our brand ambassador, we just wanted to take this message far more strongly and widely, so that if there is still an iota of doubt among people, then that could be taken care of.

Q] Why did you rope in Amitabh Bachchan as your brand ambassador?
Dabur red paste is the largest Ayurvedic toothpaste brand, not only in India but also in the world. We also have some pockets of strength. We do very well across India, and in certain markets (such as Tamil Nadu, Andhra Pradesh, Orissa etc.) we are the leader. Our performance in the Hindi belt is also good, but as a company we are not very happy with our growth rates in those regions. So, we thought that Mr. Bachchan is the right person for north, central and western India, where Hindi is the lead language. Of course, he has a Pan-India presence, and we will run the campaigns across the country.

Also, Mr. Bachchan is a modern man, young at heart. For example, he beautifully mashes up the poetry of his father and new technologies. He is an epitome of the the union between modern and old India, and thus, fits well into our scientific Ayurveda concept.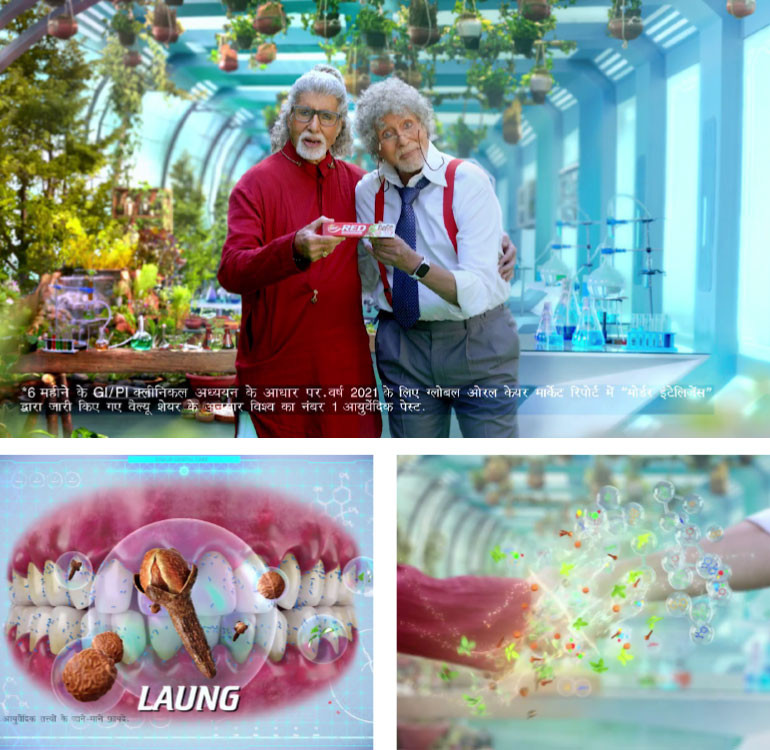 Q] As per media reports, Dabur Red Paste's sales touched Rs 1,000 crore in the last fiscal in India. What are the factors that made it possible?
I will have to talk about three factors. First is the product, which is unique in taste and colour. It is also clinically proven and effective. Anyone who uses it for the first time will have a good opinion about it. It has been observed that several other companies have launched their versions of red toothpaste by imitating this product. The imitations of other brands prove that this product is loved by millions of people. This fact talks not just about the numbers that it clocks for the company, but also about the consumer base that we have. The second factor is marketing. Brands that are consistent in their messaging over a period of time, build brand loyalty. That's what our marketing team has done over the years. We have been very consistent in our communications and marketing approaches. We refresh the way of delivering the messaging every year or in every six months, but the core of the communication has been consistent. Third, our sales and distribution network is at par with anyone, if not the best in India. That also comes to our advantage. We are able to reach every nook and corner of this country, and that has played a very critical role in our growth.
Q] In the oral care business, who do you look at as competitors in India?
Any company that is into oral hygiene products such as toothpaste, tooth powder, mouthwashes, are our competitors. To give an overview, five big companies (including Dabur) put together occupy 90% of the market. There are several small companies too, but they are channel-specific and very niche.
Q] What does your marketing mix look like?
When it comes to marketing mix, we follow the IMC (integrated marketing campaign/communication) approach. We try to do 360-degree kind of campaigns, but that also depends on the type of communication and time of the year. During certain times (like the festive seasons), we are far more aggressive in the market, and you will find us across multiple mediums, such as TV, Digital, Print, Outdoor, etc. We also do ground level activation, sampling exercise, and visibility at the points of sale. Now that the pandemic is over, we will soon get back into interactions at schools and other places. Our digital spends have increased manifold as compared to the pre-pandemic time. But that does not mean that we have reduced our spend on the other traditional media. It is just that the kitty is expanding.
In rural areas we use something as traditional as a van to reach out to the masses. Our teams go to those areas in a van, do a tamasha or some kind of entertainment to educate people, and create brand awareness.
---
PROFILE
Harkawal Singh is Marketing Head-Oral Care, Dabur India Ltd. He is a seasoned marketing professional with over 20+ years of experience in various sectors. Through strong marketing Initiatives he has helped build equity of several brands, which are now regular household names amongst Indians. Under his leadership the oral care business of Dabur has delivered double digit growths, apart from gaining significant market shares.
About Dabur India Ltd
Dabur India Ltd. is one of India's leading FMCG Companies. Building on a legacy of quality and experience for 138 years, Dabur is today India's most trusted name and the world's largest Ayurvedic and Natural Health Care Company. Dabur India's FMCG portfolio includes nine power brands, Dabur Chyawanprash, Dabur Honey, Dabur Honitus, Dabur Lal Tail, and Dabur Pudin Hara in the Healthcare category; Dabur Amla, Vatika and Dabur Red Paste in the Personal care space; and Réal in the Foods category.
Facts
Creative Agency: Ogilvy Gurgaon
Digital agency: DentsuX
PR agency: Virtual Communications & Bingo Media
---