Q] How did you conceive this idea?
The arranged marriage setup in India is plagued with inefficiencies and women particularly go through a lot in the process of finding their suitor. It is unwarranted pressure that does not translate into better outcomes. Shaadi.com brought the concept of 'Planned Marriages' to India and the world. We empowered women to find a life partner of their choice and emphasized on compatibility as a pathway to commitment. We took away the unnecessary pressure women otherwise face. 'The Pressure Hatao' campaign is a condensed reflection of this journey Indians around the world have taken in the last two decades. A study conducted by Shaadi.com revealed that 80% of the women expressed that they would like to be in control of this journey, with limited intervention from extended family.
Q] What is your media mix? Will you be looking at a digital-led campaign largely?
Keeping the current scenario & context in mind, our media mix is a combination of TV & Digital. We're also doing some fun stuff with influencers and sketch artists, considering that the idea inherently belongs to their genre of content creation and their TG (target group) is very relevant to us.
Q] How much did the pandemic affect growth considering marriages came to a standstill during the lockdown?
Considering the virtual nature of Shaadi.com, we saw limited impact on the business and we are grateful for that. We also launched some critical initiatives such as Shaadi Meet, our video calling feature and 'Weddings from home' to alleviate user concerns and improve their matchmaking experience amidst the pandemic. We are slated to have our best year ever. The engagement on Shaadi.com is up 30-50% year on year, depending on the metrics you look at. We've also seen a 35-40% uptick in new members signing up. So, we really aren't complaining.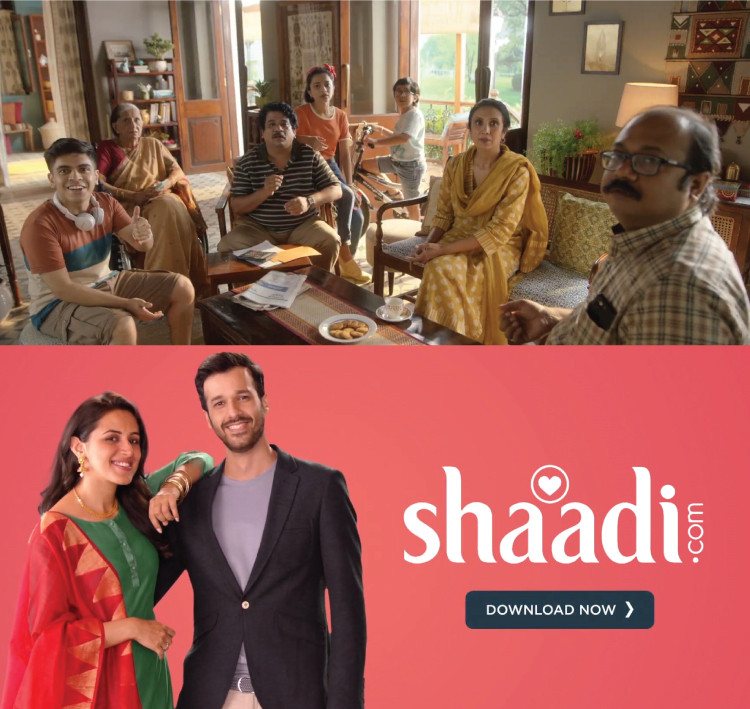 ABOUT THE BRAND
Shaadi.com was founded with a simple objective— to help people find togetherness. The company pioneered online matrimony in 1996 and continues to lead the category even today by going beyond matrimonial and investing in understanding its users continually. Shaadi.com has created a world-renowned service that has touched over 40 million lives by redefining the way Indian brides and grooms meet for marriage.
FACTS
Creative Agency: Leo Burnett
Media Agency: Madison
PR Agency: Genesis BCW
PROFILE
Adhish Zaveri is the Senior Marketing Director, at Shaadi.com and a marketer with over 10 years of experience across sectors. He has helped cement Shaadi.com's leadership position in the Indian matchmaking industry and is responsible for initiatives such as #WeddingsFromHome and the launch of 'shaadi meet'. Prior to joining Shaadi.com, Zaveri was working in the consumer healthcare space for about two years before which he spent four years in the BFSI space.



Q] What are the changes this year has ushered in terms of people, especially women, looking for their suitors?
While preferences in terms of what one is seeking hasn't changed as much, the overall trend points to the fact that women are looking for a matchmaking experience that is private and respects their preferences. A study conducted by us revealed that 54% women experience lack of privacy when it comes to choosing their life partner through a traditional setup.
The other interesting trend we've seen build up over the years and really take-off this year is that more than 75% of the women do not want to relocate outside India and are happier finding their suitor within the country. This is primarily on account of women not wanting to give up on their careers and to some extent on account of India being relatively less affected by the pandemic as compared to say USA or UK
Q] What are some of the differences you've observed in the Indian market when it comes to marriage versus other markets that the brand operates in?
The primary difference is the involvement from parents or the lack of it. In India, while the singles are in the drivers' seat, parents are actively involved in the matchmaking journey. For our international markets, we play the role of a serious dating platform that allows an exclusive space for Indians and South Asians to connect. Identity-driven conversations take centre stage in the international markets.
Q] What are the factors driving growth for your brand and the category? What are the kind of trends you've observed in the category during this year?
More time at hand, more time on Shaadi.com - With travel time cut down and work coming to a pause for a bit, we saw a surge in new members and overall engagement on the platform during the initial phase. Connecting virtually, we launched Shaadi Meet, our video calling service during the lockdown and saw about 50,000 calls being made on Day 1 and a few hundred thousand calls being made every week since then. People naturally started connecting virtually and were on the lookout for a safe and secure environment to connect with their suitors virtually. We also saw increased traction in our registrations and engagement from Tier II & III towns which grew at twice the rate as compared to Tier I cities.
Q] What can customers expect from Shaadi.com in 2021?
More fun, relatable work that drives positive business outcomes. The widespread use of internet is very new to India and as market leaders, the onus is on us to grow the category, which is still under-penetrated.