Meghna Apparao, Chief Marketing Officer, Godrej Consumer Products (GCPL) talks about the brand's latest campaign, its most popular brand Cinthol that continues to maintain its stronghold in the South, and the factors driving the company's growth despite the economic slowdown
Q] Tell us about the insight behind the latest campaign for Godrej Expert Rich Crème with brand ambassador Anushka Sharma…
Our Godrej Professional range is a separate product line. We don't operate in the segment of products where people buy just once. We noticed two interesting trends in hair colour – the first trend is that people in the age group of 25-30 years are greying twice as fast than they would previously. The consciousness of people greying at a younger age is much more than those greying at 50 years, since the latter is prepared to colour their hair for a few years more. Younger people greying think of the damage they would do to their hair, since they will need to colour for a longer duration. We built 'Naturals' with '10X Aloe Vera', building around the premise that people believe natural ingredients to be less harmful. It's important for the brand to modernize itself and remain relevant to a diversified set of audience. We want the younger greying audiences to experience our product. We used Anushka Sharma, since she's not only beautiful, but also a warm and approachable girl-next-door, which fits the right bill for our product.
Q] What are the various marketing initiatives undertaken by GCPL?
We have focused heavily on micro marketing this year because we believe that doing things which are targeted and customized will give us better results. We wanted to stay closer to our consumers in the rural markets, and so we did something with Cinthol Lime, which is very big for us in Andhra Pradesh. We came up with these virtual reality games and it worked fabulously and also increased our sales. The other part about an initiative like this is that it's also fantastically scalable and does not compromise your brand. Cinthol Original has a very strong brand loyalty, especially in Tamil Nadu and so we try something on it and if it works well, we take that idea and deploy it on all our other brands which have a strong Tamil Nadu footprint. This approach has become a way of life for us. For our brand Hit, we created an audio, which mimicked the sound of a mosquito, along with vocals like 'here is Hit, kill that mosquito.' We wanted an irritable reaction from consumers who then see 'Hit' as the solution. It has perfect synergy in the role of the brand and is quite disruptive, since this one actually leaves you thinking about the brand. There is a body of companies who have come together to create a public awareness campaign, funded by GCPL, to make people aware about the harmful effects of using unorganized incense sticks. We used Cinema to show this ad and timed it around Diwali. Through this, we have invested in creating advertising for the entire industry and not just for GoodKnight.
Q] How big a focus area is Digital and how are your media budgets allocated? Which mediums have worked best for you in the past?
Digital is a massive focus area for everyone including us and we are finding the right mixes that work for our brands. We are consumer-centric and since digital consumption is a part of our consumer's lifestyle, that's how we see ourselves. Our model, the test-learn-do, is all about trying newer things, while also monitoring the pilots' dynamically. We park small budgets, try them out and if it works, we then go ahead and splurge. Traditional TV advertising has its role to play and Print works very well on some opportunities. We tailor-make what we want based on the specific market and we constantly go back to where the consumer is and target them.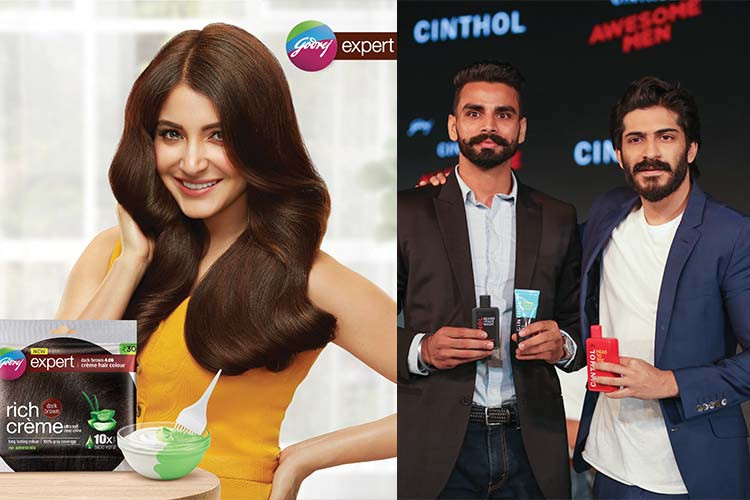 ABOUT THE BRAND
Godrej Consumer Products (GCPL) is an emerging markets company enjoying the patronage of 1.15 billion consumers globally, across different businesses. The company portfolio includes a host of household favourites, hair care and personal care product ranges. The brand is building its presence in three emerging markets, including Asia, Africa and Latin America across three categories i.e., home care, personal care and hair care.
FACTS
MEDIA AGENCY: MADISON AND MINDSHARE
CREATIVE AGENCY: CREATIVELAND ASIA AND WUNDERMAN THOMPSON
DIGITAL AGENCY: DIGITAS INDIA, CREATIVELAND ASIA
PR AGENCY: ADFACTORS AND MSL
Q] Which products from the GCPL stable bring in maximum sales and what are your strongest growth markets?
We have strong market leadership positions in the women grooming category. GoodKnight is a household name, in addition to the liquid vapourizers category in which we've operated for a very long time. We have innovations like fabric roll-on and incense sticks, which is a mass market product across India with fantastic traction. Hit is absolutely the number one brand in the flying insect as well as cockroach killer category. Godrej Rich Crème has a strong role to play in the hair colour segment. In soaps, both Cinthol and Godrej No 1 are big. Ezee bags the medal for liquid detergents. Matic in general has done very well in the gifting season because of its uniqueness. Andhra Pradesh is one of our strongest markets, although our strongest growth markets differ according to the various brand segments, since our mixes are also targeted in.
Q] Cinthol, one of Godrej's most loved products, forayed into the male grooming market last year. What was the kind of consumer response and are there any other new product launches in the pipeline?
A very important segment under Cinthol after Cinthol Original, Cinthol Lime and Cinthol Cool is the male grooming segment, which is still growing. Cinthol is well positioned and has a good male equity. Our entire product range philosophy was built around multifunctional products. We've got a good response on e-commerce platforms as well as on direct-to-consumer, which is a platform that we are building albeit the set is still quite small and requires a 'category creation of building'. We will keep learning, innovating and adding. We have launched tech enabled versions of Matic, but the more enhanced range of Matic, the 'Godrej Aer Smart Matic' will be out soon as part of our premium range. We are looking at positioning it as a gifting option during Diwali.
Q] How are you meeting competition from other FMCG majors?
It is important to see what competition is doing, because you can get good ideas from anywhere. However, our focus is completely on the consumer, which we as a leading FMCG company, with a leading market share position have to create. We are focused on spends. Once we see our competition doing something, we immediately check whether bringing that offering in is of any relevance to our consumer and assess our capabilities to enter that segment.
Q] What were the factors that contributed to the India business growth volume of 7% as compared to 5% in the June quarter, even with the current economic slowdown?
Identifying the right pack sizes and price points by target consumer and region is our magic formula. Understanding the consumer, the market and what they're buying is crucial. Giving a 10% discount on an entire soap range is lazy marketing. The success story for our volume growth is being data-oriented and identifying which product makes what price. Secondly, doing something like the virtual reality experiment piece we did around Cinthol lime and Cinthol Cool will keep the brand relevant. We have one of the top scores on doctor's recommendations for Cinthol Original and we relate that to our consumer purchases, by tracking that as a metric.
PROFILE
Meghna Apparao is the Chief Marketing Officer at Godrej Consumer Products and devises consumer driven marketing strategies for the brand. She has been credited with transforming the business' perception among consumers for the entire portfolio of GCPL. Before Godrej, she was with Amazon India and brings more than a decade of experience with Hindustan Unilever, in the FMCG category.
MARKETING TIP
Be the voice of the consumer even when you are not the consumer