Sunil Narula, Vice President, Marketing, Panasonic Life Solutions talks about the brand's latest campaign, shift in focus of advertising spends from BTL to ATL, growth of the premium category, challenges faced by the brand and more
PROFILE
Sunil Narula is a marketing professional with over 20 years of experience. Before Panasonic Life Solutions, Narula served as a Product Manager Expert at Philips and later moved to Morphy Richards BU. At Panasonic Life Solutions, he holds the position of Vice President, Marketing, where he is responsible for planning and executing product development, category management, consumer & market research and
team-building.
MARKETING TIP
A marketer should be closest to the consumer and keep him at the centre of whatever he does
Q] Tell us about your latest campaign 'Naye India ke badhte load ke liye'… did the response from the campaign meet your expectations?
It actually did. We brought our new creative agency Leo Burnett on board last year, with a very clear mandate. We saw the way consumption of appliances in India was going up and the way the Indian consumer apes the West. This puts immense load on the overall consumption, which was a very good story to build upon. That's when we started to tell the consumer that we're ready to take the load of his increasing aspirations through our ongoing campaign. We tried to relate not only to the consumer's load of appliance consumption, but also to the load today's generation takes in terms of how famous they can get. It was a seamless extension and the response has been very positive. The campaign has been noticed by a lot of people and we have also got into OOH. We featured Karan Talwar for his right usage of expressions and good influencer base and will surely be achieving the numbers.
Q] Where do you want to extend your consumer base and which were the specific markets you wanted to tap with this campaign?
Anchor always spoke to a slightly older audience. We wanted to connect with the younger audience, which has more money to spend. However, the other brands happen to take a slightly higher mind-share for this kind of audience. That's where we wanted to consolidate our position and sell products that many people are unaware of.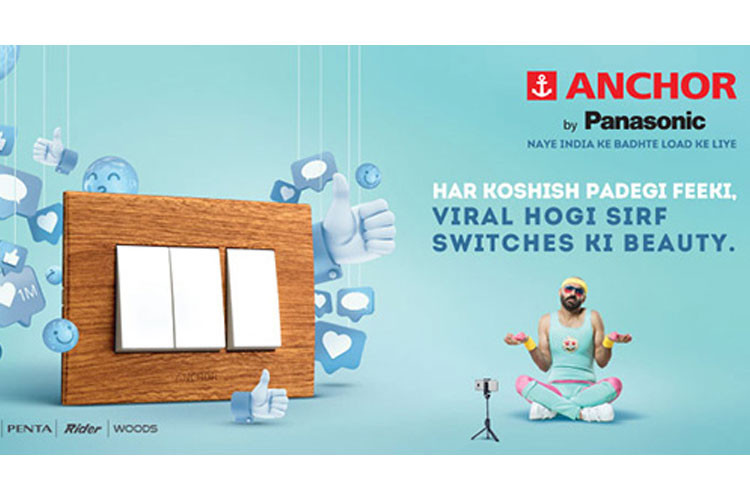 ABOUT THE BRAND
Established in 1963, Panasonic Life Solutions India, formerly known as Anchor by Panasonic, is a wholly-owned subsidiary of the Panasonic Corporation and manufactures electrical construction materials. It has a global presence, with about 34 domestic offices and 9000 employees and offers electrical solutions in consumer products ranging from Wires & Cables, Lighting, Solar power, Wiring Devices, Switchgears, Infrastructure and Indoor Air Quality (IAQ).
FACTS
Media agency: Initiative Media India
Creative agency: Leo Burnett India
Digital agency: Interface Business Solutions India
PR Agency: MSL India
Q] Your advertising focus has mostly been on retail level and BTL, but 70% of your spends are now being focussed on ATL advertising. Can you tell us why you've shifted focus?
We've always focused on the dealer base, which has helped us to a certain level. We as a brand had never been talking to consumers directly. In the last 10 years, our spends on ATL have not been much in comparison to our competitors. Now, we're trying to improve our connect with consumers, while also maintaining our strength which lies in our network, dealers and in our distributors. We've not reduced spends as far as BTL is concerned, but are trying to prioritize spends towards ATL, to premiumize our overall offering. We're also using Digital to ensure that the turnaround reach time is much shorter.
Q] TV has been a primary focus in your media mix, with Digital and influencer marketing now being a priority too. Which mediums do you see maximum growth from and which markets have performed extremely well?
TV is going to lead, whereas Digital is something we are trying to improve our focus on, along with influencer marketing. We're not pushing Print too much, unless it's required. As a brand, we are very strong in markets like UP and Bihar. We are growing rapidly in markets like Haryana and Andhra Pradesh and are doing well in the rest of Maharashtra. Tier III has also been pretty strong. We are trying to consolidate our position in the larger markets.
Q] Any specific reason why Radio is not a part of your marketing mix?
We have tried Radio twice in our past two campaigns, but it has not materialized as expected. You can't really track Radio the way you track television. With Radio, there's also a concern in terms of delivering the message. TV or any other visual medium works best for the kind of message we have. We are not completely eliminating it from our media mix, but won't be using it for our ongoing campaign.
Q] Your aggregate market-share is about 36-38%. What is the target market-share you're looking at?
Our market-share in the switches segment is 50%, which is also defined to low, medium, premium and luxury. We are slightly less in terms of our market-share in the premium and luxury category. Nevertheless, in the low segment, our markets are even up to 50%. For us, the market-share should go up by 1.5% to 2% every year.
Q] Home automation and developing products for the low-income housing segment have been primary focus areas for you. How is that coming along?
The place where we need to consolidate our position and improve, is the premium switches. We have our brand Panasonic, as far as home automation is concerned, but the market is still nascent at this point in time. However, the kind of penetration and reach we have with regard to architects and builders is really going to help us reach our objective. We are also in the process of creating IoT-based products.
Q] What are the key challenges you face in the electrical construction materials segment and who is your biggest competition?
Defining a positioning itself is a big challenge. It was easy for us to build campaigns in the wires and switchgear space, but building a campaign and positioning ourselves in the switches segment took us a good amount of time. That was the big challenge in terms of communication. The other challenge is the selling of a premium product, which is what we're trying to achieve by premiumizing the brand. The idea of doing it is to ensure that consumers not only pay for our value for money range of products, but also for our premium products. Competition like Crabtree or Schneider operate at a slightly better price point level as compared to us, whereas the kind of product offerings which we have is much better than what they offer.
Q] How do see the wiring segment category five years down the line?
The value for money segment would probably grow with the way urbanization is growing in the country. There has been a lot of focus from the Government in increasing the overall real estate spends, with growing properties especially in the lower housing space, where we see ourselves doing pretty well. If premiumization in the space takes place as planned, we are certain about more shares there as well. In the next five years, especially in the Tier I markets, you will see a lot of conversion happening from mechanical switches to home automation and further moving towards IoT.
Q] Do you incorporate the use of Japanese technology for products even under the 'Anchor by Panasonic' label?
Yes. If you visit our factories, you will see the use of a lot of robotics. A lot of machines have been Indianized using Japanese technology, which has saved us cost in terms of labour and quality output achieved without any human intervention. The speed of production is much faster and the overall finish is much better. However, we also have a skilled school in Haridwar, where we train workers who work in our factory.
Q] Tell us more about your new factory, the eighth unit, which will be set up in Andhra Pradesh…
That's something which is still in the pipeline. Discussions are on with the Government and we are working towards it. Looking at
the way the market is going to grow, we will have factories which will enhance the overall production of switches and other categories as well.