BY TEAM IMPACT
(Inputs from Samarpita Banerjee, Dipali Banka and Eularie Saldanha)
Ad wars have hottened up all around us. While ambush advertising has gone from covert references to a rival brand to overt, from subtle to full-blown spoofs with brands openly hitting out at a rival in the same space, many brands are taking their competitors to court on allegations of misleading claims or for coming up with disparaging communication.
Take for instance what happened in the last few weeks. Herbal beauty products brand Lotus took Hindustan Unilever (HUL) to court for the latter's ad 'meant for internal consumption' leaked on WhatsApp that implies that a Lotus sunscreen is of inferior quality than one of HUL's brands and that it leads to sunburn. Airconditioner manufacturer Voltas filed a court case against Chinese home appliances and consumer electronics company Haier as one of its recent ad campaigns spoofs the former, implying that its product is of inferior quality. Or telecom major Reliance Jio dragging rival Bharti Airtel to court on allegations that the latter's IPL communication is misleading consumers.
Whether comparative advertising is effective for a brand – i.e., whether it helps in making any kind of impact in terms of sales is debatable. What it does manage to do is get people talking about the brands, and this leads to an increase in overall brand recall, especially in the era of social media where anything remotely catchy or controversial gets widely shared.
However, ethically is it right for a brand to make a deliberate overt attack on its competitor? Where should a brand draw the line while degrading its competition? What are the Advertising Standards Council of India (ASCI) regulations to protect brands at the receiving end of these campaigns and how effective are these rules?
COMPARATIVE ADS THROUGH THE YEARS
Ambush or comparative advertising is hardly a new marketing trick. The earliest court case concerning comparative advertising in the US, the Saxlehner v Wagner case dates back to 1910. Closer home, who can forget the good old days of the Cola wars or when Rin openly declared that its product gave more whiteness than Tide Naturals?
Studies on the marketing strategy of comparative advertising divide it into two parts – implicit advertising, where a brand is not named as such, but subtly referred to, and explicit where a product is directly compared to its competitor by openly stating its name. Indian advertising has seen a lot of both kinds of comparative advertising over the years. (See Potshots)
WHAT COMPARATIVE ADVERTISING ACHIEVES
The primary objective of ambush advertising, most experts believe, is to create a contrast between their own offerings and the offerings of a rival brand. By establishing this contrast, brands try to influence the buying decisions of consumers.
An example of this is the Patanjali campaign for its honey brand in 2016. Patanjali's TV advertisement claimed that its honey is safer and cheaper compared to other brands in the market, while displaying a bottle that resembled Dabur honey. The ad blatantly pointed out that the Patanjali product, priced at Rs 70, is of course a better deal than the Dabur price point of Rs 122 for the same product.
The ad sparked off a reaction from Dabur, which released a TVC indicating that its product is safe and certified by the government's Food Safety and Standards Authority of India (FSSAI). The communication stopped short of actually naming Patanjali, but Dabur had made its point.
So what is it that brands achieve by hitting out at each other in their communication? Says Jaideep Shergill, Founding Partner, Pitchfork Partners, "Brands see it as a way of showcasing their superiority on performance, looks, etc. It's a way of hijacking the rival's agenda and neutralizing its campaign. In my view, it shows spitefulness and lack of imagination."
"Comparative advertising is one of the ways for brands to communicate their relative superiority vis-à-vis the competition. However, to achieve desired response, the benefit should be conveyed in a manner that is relevant to the consumers and consistent with the brand personality," says Kapil GroverCMO, Burger King India.
LK Gupta, Founder, CMOnow and Marketing Consulting
says there are three primary reasons why brands might resort to coming out with communication deriding one another. "Firstly, it might be done by a brand that doesn't have a built equity or heritage in the minds of consumers and this becomes a shortcut to getting recognition. It's basically a way of riding on the coat-tails of a successful competitor. Brands might also do it to reposition an established successful brand on a new parameter of product differentiation. Thus, they seek to distract consumers from a wellfollowed paradigm. Finally, I believe it is done by creative guys who are plain lazy and self-indulgent marketing managers."
Commenting on the Haier-Voltas controversy, Gupta adds, "Most often it's the third reason, where the marketing and creative people cannot see beyond their competition rather than focusing on how to communicate their own proposition in unadulterated terms.
In this case, Haier had not accounted for the fact that its ad would reinforce Voltas' Mr Murthy and what he stands for even more for the consumer."
FROM THE VICTIM BRAND'S VIEWPOINT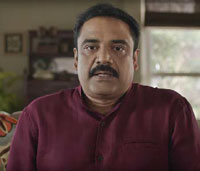 The controversial Haier TVC showcases its newly launched self-cleaning technology airconditioners, a technology patented by the brand. The TVC comprises what looks like a doctor and a nurse meeting characters in three different situations, and using different ACs, and telling them that the product they are using is thanda but ganda. It doesn't take the average consumer long to recognize that the three different situations used in the Haier ads including the sets, characters and even the clothes worn by the characters are almost identical to ads by competing AC brands Voltas, Godrej and Blue Star. During the campaign launch, Eric Braganza, President, Haier India had said that the TVC intends to reinforce and strengthen the brand connect with consumers and familiarize them with the concept of self-cleaning technology. However, a month after the ad film's release, Voltas sued Haier for the campaign that is alleged to be disparaging to their product. The other brands, however, have chosen not to take any action against Haier. Reacting to the Haier ad and speaking about their course of action, Kamal Nandi, Business Head, Godrej Appliances says, "Godrej Appliances does not believe in being derogatory to competition and would expect other brands to have similar principles when promoting themselves. Having said this, we are not evaluating a direct legal action. We feel that Indian customers are wise enough to see through such gimmicks and it is for Haier's brand custodians to introspect and think about how they wish to project themselves. We have, however, raised it with ASCI as it lays down guidelines around advertising, so the brand stands warned for future."
B Thiagarajan, Joint Managing Director, Blue Star echoes Nandi's opinion but the brand is not considering legal options. "The ad by Haier is unethical. As a brand, Haier is new to India and the idea for the ad was probably suggested by their agency. Haier has good products, and a rich legacy. They did not need to take this route.
Comparative advertising does not really work in today's day and age. Years ago, when consumers did not have the Internet and access to product-related information, you could still make such ads work.
That age is over now. The ad has hardly made an impact and Haier lost an opportunity because this money could have been used on building the brand's equity in the right way. I do not have any ground for taking the legal route because the ad only shows a couple in a bedroom using an AC," Thiagarajan says. Haier India spokespersons refused to comment since the matter is sub judice.
So when a brand finds itself targeted in cases such as the Voltas-Haier example, what should be the course of action for crisis management? Shergill says, "It is advisable for brands to strongly stick to their own story, a story they will be able to back up with proof points. I don't advocate a direct response because all that does is shift attention to the fight rather than the brand or product."
ASCI GUIDELINES ON COMPARATIVE ADVERTISING

The ASCI code of conduct says that comparative advertising is allowed if:• Advertisements are substantial and based on facts
• Advertisements do not mislead consumers
• There should not be any unfair disparaging of competing product

The incidence of misleading advertisements is high in the AYUSH sector as well as Food and Beverages Sector. ASCI inked MOUs with the Food Safety and Standards Authority of India (FSSAI) in June 2016 and the Ministry of AYUSH in January 2017. In addition to processing complaints received by ASCI, both the regulators have given a mandate to ASCI to conduct suo moto surveillance of Print and TV media. The two MOUs are expected to strengthen ASCI's role in ensuring better self-regulation and receiving prompt compliance from advertisers and media.
In December 2016, ASCI deposed before the Parliamentary Standing Committee on Food, Consumer Affairs and Public Distribution, which examined the Consumer Protection Bill, 2015. This Bill has recommended stringent provisions to tackle misleading advertisements, as well as to fix liability on endorsers/ celebrities.

"To achieve desired response, comparative advertising needs to be rooted strongly in the core proposition of the brand. Sometimes, it focuses too much on the weakness of the competition rather than its own strength. That is where it becomes ineffective."
KAPIL GROVER
CMO, Burger King India

"In this case, Haier had not accounted for the fact that its ad would reinforce Voltas' Mr Murthy, and what he stands for, even more for the consumer."
LK GUPTA
Founder, CMOnow &Marketing Consulting

"It is advisable for brands to strongly stick to their own story, a story they will be able to back up with proof points. I don't advocate a direct response (to comparative advertising) because all that does is shift attention to the fight rather than the brand or product."
JAIDEEP SHERGILL
Founding Partner, Pitchfork Partners
Advertisements Complained Against – 5 Year Trend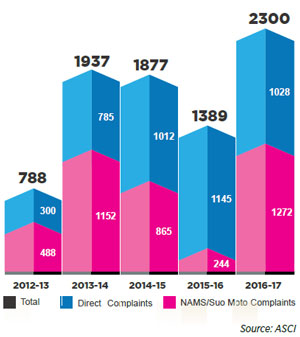 Fast-track resolution of complaints to ASCI

In 2016- 2017, for complaints against the following advertisements, the advertisers assured compliance within five business days of having received the complaint/s.

Brand: Godrej Consumer Products Ltd for Ezee Liquid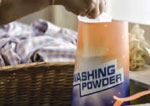 The TVC for Godrej Ezee Liquid showed a product very similar to HUL's Surf Excel and implied in the communication that the use of the detergent would harm woollen garments as the product is harsh on them.

Brand: Zee Rajasthan News
In its complaint, ETV Rajasthan said that the Zee Rajasthan News claim of being the No. 1 channel was a violation of BARC's 'Fair Usage Guidelines' as neither the ad provided any data to substantiate its claims, nor did it meet BARC's standards.

Brand: GCPL for Good Knight Active+ Neem
The complaint stated that a TVC talking about GCPL's offering Good Knight Active+ Neem misled consumers into believing that the product had Neem as an important ingredient in it. However, disclaimers on the back of the pack mentioned that there was no natural Neem present in the product.

Brand: TV 18 Broadcast for CNN News18
The complaint by Times Now stated that CNN-News18's claim of being No.1 was deceptive and misleading as it was based on only one week of BARC's data. The complaint also claimed that the data pertaining to the four preceding weeks showed that Times Now was the leader of the English News genre.

General Trend of Complaints from Sectors 2016-2017