In 1996, Microsoft founder Bill Gates wrote an essay titled 'Content is King'. Fast forward 22 years, and it is still one of the most popularly used catchphrases, especially in today's digitally-driven world, where it could not have been more apt.
In his essay, Gates wrote, 'Content is where I expect much of the real money will be made on the Internet, just as it was in broadcasting.' And while it is true that marketers understand the critical role that content can play, not just in terms of dollars, but also to build brand loyalty and customer engagement, the scope of content marketing has increased manifold, prompting the question of whether it is actually set to become an industry game-changer.
Indeed, today marketers understand the role of content in the overall media mix much better and are willing to take more risks to reach audiences in the right context with the right kind of content. There is also more trust in the ecosystem, as creators and brands have come to understand each other's strengths better. Moreover, as the consumer's focus and time spent shifts to consuming more and more varied content, marketers have to keep pace with increasingly innovative content marketing solutions, deployed to engage a largely advertising-averse millennial audience.
"Content marketing has gone from being the last quadrant on the last slide of a marketing presentation to being the 'du jour' tactic for brands today. With more creators, more avenues, and more proof of success, content marketing has evolved right from brief to solutions to execution," remarks Vineet Kanabar, Marketing Director, The Viral Fever (TVF).
So what has changed in terms of the content marketing of yesteryears to what it is today? And just what are the factors which have sparked the transition?
TRANSFORMATION OF CONTENT MARKETING
In India, the biggest and most important change has been digital transformation of the economy, sparked by cheap data access being made available to consumers across the length and breadth of the country. This has had a far-reaching impact on the amount of time consumers now spend on digital screens and has in turn led to marketers having to mould their content marketing strategy to reach consumers through various digital touch points, apart from the traditional mediums of Print, TV, Radio and OOH.
"For years we used to do content marketing and activations in various places, but only those who had seen the activity would know about it. Today, however, I can do a relevant activation for my brand and proposition, and it can go viral on social media, with millions getting to know about it. So, it's both, an advantage because of the ability to reach a larger TA digitally, as well as a challenge, in terms of the excessive content available today," remarks Sujit Ganguli, Head of Brand & Communications, ICICI Bank.
"Brands and advertisers have increasingly started combining data and technology with impeccable story-telling; not just to buy loyalty from consumers, but to earn it every single time. Fortunately or unfortunately the only way you can win is to be strategically focused on the sweet spot where data, technology, audience and content meet," adds Akash Banerji, Senior VP, Head of Marketing, Partnerships, Sales Strategy, Growth & Licensing, Voot.
OTT platforms like Voot, Zee5, Hotstar, Amazon Prime Video, Netflix and others have all realized the growing consumer appetite for original content and are investing in it in a big way, even as marketers and brands have realized that contextual advertising during these shows, or brands embedded into the show's script is a great way to create awareness and attract eyeballs. For example, TVF's recent show, 'Yeh Meri Family' partnered with Association of Mutual Funds of India (AMFI) to showcase the father in the show as an investment advisor.
"The way we use OTT platforms and the rate at which people are consuming data because of the low data cost, among other factors, is making content consumption a very easy and almost required day-to-day activity. Digital content marketing has thus come into the limelight mainly because of the amount of digital content being consumed every day," Karan Gupta, Managing Director, Zirca Digital Solutions contends.
The second most important factor in the transition journey would have to be the rise of vernacular and regional content. According to a recent presentation by Shemaroo Entertainment, today, 97% of 'millennials' do not live in Tier 1 cities and only 7% of the time spent on videos is in English in India. Moreover, in the next five years, 75% of new Internet users are expected to consume in local languages and by 2021, rural Internet consumers are expected to grow from 38% to 52%. This has in turn led to more regional content being offered on video platforms which attract maximum viewership within Digital, as well as brand partnerships with local content providers, emergence of regional digital creatives - in terms of freelancers and small creative shops, and quality user-generated content.
Sunil Kataria, CEO - India & SAARC, Godrej Consumer Products Limited (GCPL FMCG Business) concurs. "The rise of Indie content consumption holds the key to a good marketing strategy. Within that, duration of the content in video or audio format doesn't matter much if the content is compelling enough to engage with audiences. Indeed, it is no longer about just dubbing in regional languages, but tailor-making content to connect and engage with audiences in the local and native language," he explains.
Yet another change has been the evolution of media around consumption habits and the convergence of mediums to reach consumers at various touch points 24/7. "Digital plays a huge role, and that's where the media consumption habits also have changed so dramatically. This provides both, an opportunity, as well as a challenge in terms of which media to engage, which consumers, and at what point in time, given that consumers today have far more choices of content they want to consume," remarks Anantha Nayak, CEO, Cipla Health.
Indeed, consumers today have become far more discerning and demand customized content. This, when combined with reduced attention spans, has put pressure on marketers to better engage with consumers with content that is relevant, exciting, informative, entertaining, empowering, inspiring and adds value to their lives. Many a time, in fact, it is the consumers who create content today, defining their expectations from a brand.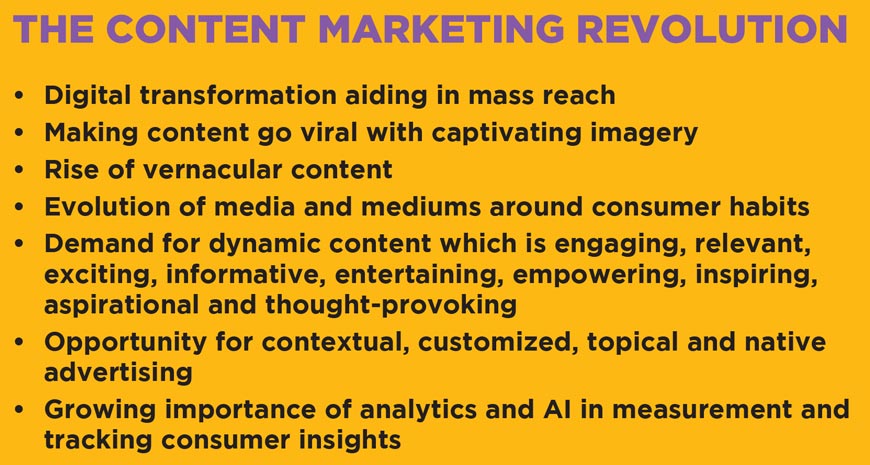 "The single best transition in the space of content is that more power has shifted from the brands to the consumers. With that comes a challenge from the brands' perspective, as to how to develop content which can be consumed by different audiences. Consumers, today are creating content on their own and thus the way we create content and the context has undergone a sea change," Sachin Killawala, Marketing Director, Nivea India, tells us.
Today, there is also a lot more advertising and creative freedom afforded to brands to experiment, innovate, think out of the box, surprise and delight audiences, through various platforms and content formats. In fact, influencers as a medium of broadcast for brands is yet another shift in content marketing, as well. "Advertisers are actually venturing into unchartered territories, looking at new ways to leverage the right message in a big way, across all mediums. We have seen our average number of projects actually increasing by 50%-60% year on year, as a result," reveals Devendra Deshpande, Head-Content+, Mindshare India.
CREATING CONTENT THAT BREAKS CLUTTER
Sindoor Khela #NoConditionsApply, a campaign created for The Times of India by FCB Ulka went on to create a mass-media flutter, not only winning prestigious awards, including a Cannes Gold Lion, but also winning hearts with its message of inclusivity and celebration of womankind, cutting across age-old barriers which left the likes of widows, transgenders and sex workers, among others, out of the prominent Bengali festival. Of course, with the much-talked about and celebrated campaign, Times of India was also able to achieve its brand objective of breaking the monopoly which The Telegraph had in West Bengal, and connect with Bengalis as a people and not just readers, by becoming a catalyst of positive and progressive change.
This is just one example of the game-changing role content can play in reaching out to the right target audience, and the power marketers wield to create clutter-breaking campaigns with a clearly defined purpose and brand proposition.
"The best content marketing strategy is one that should not look like marketing. It should look like an integral piece of the content and it should be a meaningful story or proposition which attracts the consumer," says Kranti Gada, Chief Operating Officer, Shemaroo Entertainment.
For example, ICICI uses humour for clutter-breaking campaigns to reach out to audiences and gain shareability in a serious category like BFSI.
So just what does it take to create consumer stickiness through engaging content? Understanding the consumer and then customizing content based on his or her needs and viewing trends, is the fundamental starting point to a sound content marketing strategy. Here, the role of technology like data analytics and artificial intelligence, as well as media evolution plays a key role in tracking consumer behaviour and viewing habits, shares, likes, viewing time, and key search words. "Basically, being able to provide the right content at the right time in the right place, depending on the individual customer need, is what really makes a difference for a brand and creativity and content needs to be validated by precise consumer insights," remarks Amitabh Pande, Strategic Planner, IKEA India.
Then again, when it comes to customization of content, depending on the medium or the touch point, it needs to be integrated with the overall brand proposition, believes Zoya Pandey, Head- Marketing Excellence, Abbott Healthcare.
To cite an example, on World Shorts Day, fbb decided to launch a campaign using influencers to create noise about shorts as a product for consumers of all ages – be it a kid or a 40-year-old. Thus, the campaign had to have relevance to audiences of all ages. "The content was created in such a way and the medium chosen was so sharp that it reached out to the TG perfectly, with numbers that spoke for themselves. We witnessed approximately a 120% sales jump week-on-week after the campaign release with a huge buzz created. This is how data insights can help provide a synchronized approach to develop and customize content that is relevant to your consumer and achieves business objectives, as well," Prachi Mohapatra, Chief Marketing Officer, fbb tells us.
So whether it is about promoting social good or making customers get out of their comfort zone, a brand should aim to influence, be authentic and tell a story or sell an experience through relevant content, all the while keeping the brand marketability in mind. This aids in creating a long-standing customer relationship and brand loyalty.
This is also where the role of topicality and agility to tap into existing trends makes a big impact. For example, Zomato has made it a part of the brand's DNA to comment on something that is topical, while Amul has used topical commentary as a long-term branding strategy. Again, Pringles India used teen sensation, Priya Varrier to feature in its 'Single as a Pringle' Valentine's Day campaign which went viral, creating great brand visibility as well.
Remarks Rajesh Ramakrishnan, Managing Director, Perfetti Van Melle India, "There are many ways in which content can either engage, educate, inspire, add value, make people rethink or re-evaluate things, and content marketing is a great way to do that. Red Bull is one brand which constantly pushes boundaries, while Dove consistently attempts to make consumers re-evaluate the notion of beauty and how it keeps changing. That said, dabbling in topicality cannot be a one-time thing; to embrace it, a brand must develop the capabilities of a content creator/publisher, with the full understanding of the ethos of the medium being used."
Talking about how content is all about creating ideas and influencing or impacting people with them, Sunil Lulla, Group Chief Executive Officer, Balaji Telefilms says, "Where there is relevance, marketers will find a way of getting brands and content together, but the notion of content marketing is the way content reaches audiences. Today there is a great push on the digital platform to get content to reach people, and influence people through a social process versus a mass media process."
HOW TO EXECUTE A WINNING STRATEGY
Post conceptualization, execution is the next important step in a successful content marketing strategy. This is where contextual advertising and native advertising play a key role in monetization of content or a winning strategy which leads to brand awareness, recall, uplift and intent to buy.
In the current day and age, brands have to be a lot smarter and move beyond just views, shares and likes to predict consumer trends. "When it comes to execution, questions such as, 'Who should feature in this content?', 'Where should it be deployed?', 'Where should it be distributed?' must be thought through. According to me, featuring a digital star for content on a digital platform is key to higher engagement levels and brand message recall. For example, 'Comedy Nights with Kapil' is more popular for the host Kapil Sharma than for the channel which hosts it. What that tells me is that while the brand value and economic value of a broadcaster or a channel or a brand is much more than the content, consumer loyalty is actually with the creator and the content. Therefore, the distribution strategy for organic connect online must be the creator channel if that can be achieved," states Samir Bangara, Co-founder and Managing Director, Qyuki Digital Media.
In-video ads and branded content is going to be a very important part of marketing strategy going forward, marketers believe. However, it has to be non-intrusive, with quick turnaround time and contextual enough for consumers not to skip the ads.
Neha Warrier, Vice President - Sales, Mirriad India comments, "AI and machine learning help brands integrate content very contextually, without ruining the disruptive experience. This non-manual intervention thus makes brands happy, producers and directors happy because the storyline is not touched and viewers happy because they get an uninterrupted viewing experience. Platforms are also happy because they get to monetize content, which is otherwise a challenge."
Thus, for content creators this is a great time, believes Kanika Saxena, Vice President - Digital Content Services, Vodafone Idea Limited. "I perceive this as a bubble which may last for maybe three years, after which the point will come where one will be able to ascertain those players who are there to stay and those who will fold, because content making is not easy; it's a very expensive proposition, and one has to be able to monetize it at some point of time. Is the consumer willing to pay? The answer is yes and no. It all depends on what stage of the journey a consumer is at – if he likes it, he may be willing to pay for it, and we are seeing early success with the likes of Netflix, Amazon Prime Video, ALTBalaji, and other platforms offering premium differentiated original content," she says.
Native advertising is yet another important factor in terms of execution, as it provides brands with the unique ability to continue telling their stories between campaigns. The key to capitalize on native content or advertising is to thoroughly understand the consumer's mindset when they are engaged with a certain platform and target them accordingly, believe industry experts.
Native ads are created based on multiple parameters of what the user is browsing. Thus, it creates an opportunity for brands to be part of the creative content, rather than just purely an ad which becomes intrusive, believes Hitesh Chawla, Co-founder and Chief Executive Officer, SilverPush.
"Native advertising can be used to drive branded content with greater user engagement. This can be pushed through various platforms. Thus, branded content and native advertising go hand in hand and enhance each other's value," adds Gurmit Singh, Former Vice President and Managing Director of Yahoo! India and Oath.
MEASURING SUCCESS
Measurement is one area which marketers are still trying to perfect in order to ascertain effectiveness and impact of content marketing. While analytics helps in developing content and tracking its viewership to a large extent, there is still a long way to go for accurate pinpointing of impact on the media plan.
"What we can do today in terms of measurement, social listening, applying neuroscience to content effectiveness, applying brand lift to content effectiveness, all of that has significantly changed," remarks Karthik Nagarajan, Chief Content Officer, Wavemaker India.
At a time when buying likes and views is commonplace, however, measurability of a campaign's effectiveness can be that much more difficult.
"View completion rate which lets you know what percentage of your video your TG watches is a cheap commodity metric which is easy to buy and it is basically a function of how much money you want to put in. For example, we just produced a web-series, and the first three episodes got a million-plus views. However, despite having the money, we decided not to promote it anymore. Predictably, the next three episodes saw a 20% drop in views. However, we are okay with that because we just wanted to gauge whether the content was good. Going forward, however, we need to figure out the right model to measure how many times the brand has been exposed, the impact it has created and more," explains Arnab Mitra, Managing Director, Liqvd Asia.
Still, for content creators like TVF, every decision is data-driven and based on various metrics to measure the ROI of content marketing and the long-term impact of content marketing on a brand. This includes reach and engagement, semantic analysis of comments to help take a decision on whether or not to scale up a pilot into a full blown web-series, or understanding what the barriers of viewership for a video that didn't seem to work were.
Measurability aside, however, this is the perfect time to create solid, lasting, relevant and sustainable content, backed by technology which can provide immersive experiences.
"Technology will continue challenging all of us and giving us multiple and disruptive opportunities to reach out to audiences in a very personalized way," concludes Kataria.
#NoConditionsApply Sindoor Khela
By: Times of India
Agency: FCB Ulka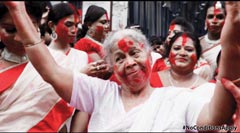 In West Bengal, The Times of India (TOI) was unable to topple The Telegraph for close to a decade. TOI decided to counter competition with a cutting-edge campaign that would connect with Bengalis, with FCB Ulka being chosen to execute the iconic #NoConditionsApply Sindoor Khela campaign. Challenging a 400-year-old tradition of a sacred national festival which brings thousands of married women wearing a red vermillion dot or 'sindoor' symbolic of their marital status to the streets in song and dance, and which is forbidden for unmarried women, the #NoConditionsApply Sindoor Khela campaign broke barriers by inviting transgenders, widows, divorcees, and sex workers to also be part of the festival for the first time, along with married women, turning a symbol of rejection into a celebration of acceptance. The campaign also urged all the women to sport two dots of 'sindoor', instead of a single dot, as a symbol of sisterhood between them. The campaign not only picked up prestigious awards at all major advertising festivals, including Cannes, but also became a catalyst of positive and progressive change and helped establish TOI's leadership status in the West Bengal market.

"FCB's campaign for TOI is now one of the most awarded Indian campaigns globally. This is a testimony to our deep belief that behaviour change lies at the very foundation of advertising effectiveness. Through this campaign we changed a 400-year-old tradition of discrimination into a new tradition of sisterhood."
Rohit Ohri
Group Chairman & CEO, FCB India
#PowerlessQueen


By: NGO Nanhi Kali
Agency: WATConsult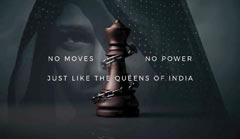 In the game of chess, which originated in India, the queen is the most powerful piece. Ironically, in Indian society, a large majority of the 'queens' or women are rendered powerless, denied their basic right to education. With an objective to create awareness about the plight of women in our country and generate donations for the education of underprivileged girls by NGO Nanhi Kali, WATConsult created the #PowerlessQueen online chess game. The game was launched via a campaign website and a campaign video with India's No.2 ranked chess grandmaster, Tania Sachdev. She shared the same via social platforms (Twitter, Facebook and YouTube) in which she challenged people and fellow chess players to play the game on the website. People who lost could take two actions - share their experience on Twitter and Facebook, and donate to the cause of Nanhi Kali for the education of the girl child. Right from the day of launch, the campaign was supported by eminent national and international influencers from the chess fraternity. The campaign garnered 1.1. million video views, 52,000+ game plays, 300 million organic impressions with DD news and NDTV covering it and a chess club in France also hosted a #PowerlessQueen challenge. Moreover, Nanhi Kali received donations of 40,000 hours of education for underprivileged girls. #PowerlessQueen will soon be rolled out as a gender-equality teaching tool across schools in India.

"We thought of utilizing the game of chess to let people realise how in the 6th century we made the Queen the most powerful and yet in the 21st century we fail to empower women. The campaign garnered some amazing numbers and won some prestigious international awards, including a Grand Prix at Prague International Advertising Festival, a shortlist at Cannes Lions 2018 and a Crystal Award at AdStars, along with a lot of national awards too."
Rajiv Dingra
Founder, WATConsult
#JumpForHealth


By: Aditya Birla Health Insurance
Agency: Dentsu Webchutney, Mumbai

Based on a study that jumping 10 times, twice a day, keeps your bones healthy, Aditya Birla Health Insurance launched the #JumpForHealth campaign on World Health Day last year. The objective was to make its consumers imbibe healthy living as a part of their daily lifestyle without making major changes to their existing routines. Consumers were asked to jump to improve their health and put out their videos on social platforms with the hashtag #JumpForHealth. Every jump was tracked through the hashtag and for every 10,000 jumps clocked, the brand donated a prosthetic leg to a person in need. The campaign cumulatively received over 57 lakh jumps or 57,21,532 jumps in total, which in turn helped more than 572 people to walk again.

"We are committed to ensuring that people live a healthy lifestyle. The #JumpForHealth campaign aims to educate people on the importance of living an active life by making exercise a part of their daily routine. It is our endeavour to promote healthy living amongst individuals to lead a successful life and to make this a real movement."
Mayank Bathwal
CEO, ABHICL

More and more brands are starting to take a stance on social issues. These brands have immense power to reach out to consumers and they are trying to make a difference to their lives, while at the same time weaving in their brand message.
Abhishek Desai
Director - Marketing Operations, P&G India

The walls have been broken around digital, social and technology and brands are now actually going across multiple spaces to create an impact. However, we need to come together, become braver, really push the boundaries and work together to find a way of measurement for content marketing, with actual data points.
Aditya Swamy
Head of Agency Partnerships, Google India
#Noise
By: Kalki Koechlin
Digital media company: Culture Machine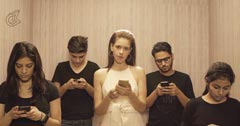 On International Music Day last year, Culture Machine's digital channel Blush released a digital video, 'Noise', as part of its 'Unblushed' series, featuring Bollywood actor Kalki Koechlin. In the video, Koechlin, who penned the script raises the point of the importance of listening to social issues, lending an ear to silence and inner thoughts, and rising above the noise surrounding us – be it the traffic or the religious, political and social noise, enslaving individual opinion.
, "We were delighted to partner with Kalki, for 'Noise'. This rap-poetry conjured up all the sounds an Indian ear has heard in its lifetime – the streets and traffic, the fish market and honks, the temples and mosques, the clicks and claps, the radio and playlists, the critiques and lauds – and how among the rush to be heard and the desperation to hear, we forget to listen…to the conviction of our own ideas, or perhaps to our own silence."
Team Blush of Culture MachineRexBot
By: Durex
Agency: Interactive Avenues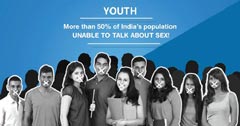 Based on the insight that Indians do not talk about sex openly, Durex launched a chatbot on sex education which could be accessed through a secure private chat window in Facebook Messenger. The focus of RexBot was to address the information needs of young women and men, its key audience. The gender-specific content delivery was articulated through two animated characters - Rex and Roxy - who keep popping up through the conversation thread. RexBot went live for Facebook's Messenger audience in mid-September last year. In less than three months, audience size grew to over 1,00,000 unique users, with around 4,000 users conversing with RexBot on a daily basis. The bot is currently hosted on Facebook Messenger and post its launch in September 2017, Durex owned 5% of the conversation on sex and 50% of its users wanted to engage with the bot over multiple chat sessions.

"Durex has always been bold and innovative in its communications. The idea of creating the RexBot, Reckitt Benckiser's first chatbot ever, germinated from the need of a viable, secure and private source of information for the youth of the country on sex. RexBot was developed with an eye on the future and hence it can be integrated to almost all existing digital brand assets."
Amardeep Singh
Co-founder & CEO, Interactive Avenues