News like any other industry is constantly evolving, adding more businesses under its umbrella and discovering new distribution models and marketing techniques to stay ahead of competition. In the last few years however, mastering the digital game has been the primary focus for news brands to drive growth, diversify business models and explore new revenue channels. But in the course of this journey to grow their business in newer areas, publishers are faced with challenges like revenue generation and the fact that readers in India are not willing to pay for the news they consume. This is where Google News Showcase and its $1 billion commitment to support the news industry comes in. This new news experience launched by Google in India is here to deepen the relationship between a reader and publisher with what also looks like a promise of encouraging the subscription model.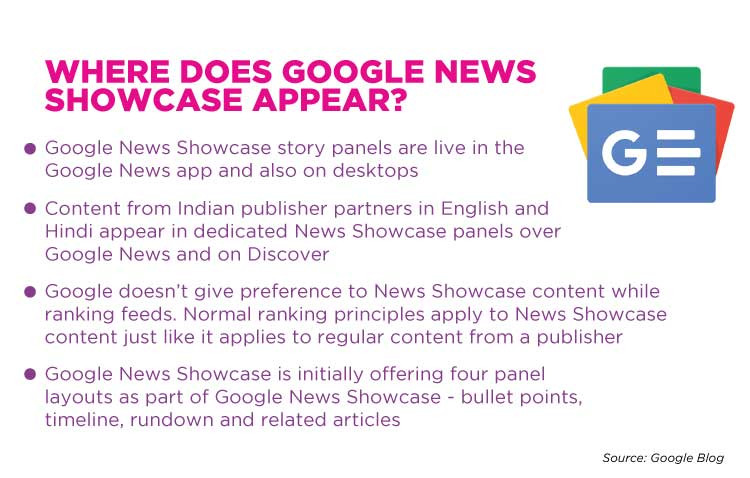 While there are no details available on the deal size of the partnerships with Google, sources in the industry confirm that the money offered to the publishers is based on their popularity and reach. The first 30 beneficiaries of this initiative include names like Amar Ujala, Deccan Herald, Punjab Kesari, Dainik Jagran, The Telegraph India, IANS, The Hindu Group, HT Digital Streams Ltd, Indian Express Group, ABP LIVE, India TV and others.



Some prominent brands who have not yet partnered Google in this endeavour are complaining about how the remuneration offered is too little, some others are adopting a wait and watch approach to see how this deal pans out with the first set of brands. There are also some big players in the publishing fraternity who are still skeptical about being a part of the News Showcase fearing it would take the traffic off their own apps, and yet more partnership arrangement with brands are underway, says Google.
Interestingly, there is also a lot being said about 30 being a small number to start with in a vast and vibrant news ecosystem like that of India but the publishers who have cracked the deal with the tech giant are excited about what the promise of Google News Showcase has in store for the future of their brands.
So after engaging with 700 news publications in over 12 countries like Germany, Brazil, Canada, France, Japan, the U.K. Australia, Italy and Argentina, when Google News Showcase program is beginning to incentivize and support news publishers here in India, media houses have more than one reason to celebrate.
Why is Google investing in News in India?
According to Google in the past year, news-related queries accounted for under 2% of total queries on Google Search globally. However in India, news is on a growth spree and hence experts call this a timely move by Google. As they say 'News is back in news'. According to a Google report published in March for the India market, there was an 80% YoY increase in searches for 'local news". It is thus no wonder that news is trending.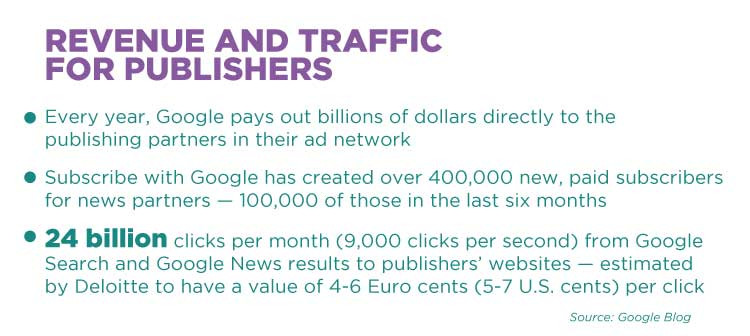 Shradha Agarwal - COO & Strategy Head - Grapes Digital says, "Around four years ago, when we did media planning for our clients, we would park some money on platforms like First Post, Indian Express or the others in the category. But post that the digital platforms kept growing and we started putting all the money first on Social then on Youtube, Search and OTT while News became the last option as a digital category. Then came COVID-19, and in the past year and a half the genre saw phenomenal growth bringing back the advertiser interest in news. This new project from Google is an attempt to create a business opportunity for them and serve the readers what they are looking for in a customized fashion." According to Agarwal the initiative helps Google grow more on their 'search specialization' alongside incentivizing news publishers for content production and serving readers a tailor made reading list.
Do readers benefit?
Though it is early days, Gaurav Kohli, AVP, Performics thinks that the move will push readers more towards paying for the news they consume. "In the near future, Google could also position The Showcase as a destination for discovery and sampling of pay-walled content that otherwise through an organic visit (via Google Search or Discover) may have led to an underwhelming user experience. Having gotten off the ground with a select set of publishers, it also reflects intent to steer news consumers towards authoritative voices in the news industry," he says.
Simply put according to their company blog, "Users of News Showcase get a richer news experience from trusted news organizations and can discover publications covering their interests and the places they care about. News Showcase panels allow readers to dive deeper into a story and see a list of important articles updated multiple times per day by their favourite publishers."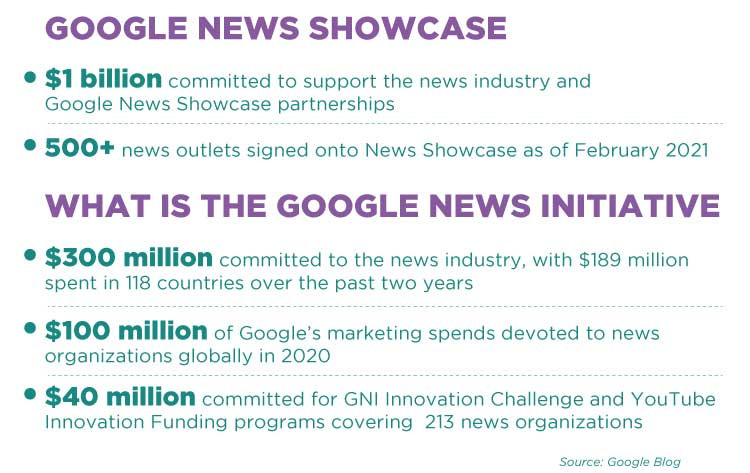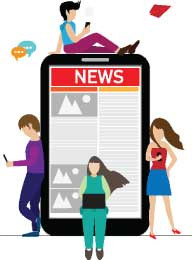 Revenue, traffic or both?
The big question is, what's in it for the publisher, is he getting a raw or a satisfactory deal through Google News Showcase, and whether it will help up their revenues in the long run. The Google Blog explains, "It is about sustainability of news businesses where News Showcase partners receive a fixed monthly fee for curating their articles on News Showcase, and in some cases providing access to articles behind their paywall so that readers can see the value of becoming subscribers and publishers can build a relationship with readers. In addition to the fee Google pays to the publisher partners, News Showcase helps publishers grow their audience and their business by directing readers to their site where they can monetize by showing ads and offers to subscribe."
Experts also suggest that the partnership would work wonders for the language media. "Two in three searches in India come outside of the top six metros, there is a 10x growth in local languages, making Google News Showcase a great platform for natural and regional publishers to engage with their users," says Abhinay Bhasin, Vice President (Asia Pacific), Data Sciences, Dentsu.
The initiative also shares the burden of monetization especially for the smaller news outfits who struggle to get advertisers on board. "News Publishers have had to compromise their editorial and rely predominantly on advertising to run their businesses. Google News Showcase allows news publishers to have a revenue stream that can bring a renewed focus to subscription based news consumption as opposed to the free model that currently challenges the industry," says Preetham Venkky, President, 22feet Tribal Worldwide and Chief Digital Officer, DDB Mudra Group.

What's in it for advertisers?
From an advertiser's perspective, while a visitor from the News Showcase is likely to be a more discerning news consumer, it is yet to be determined whether visitors from this channel stay longer, browse further, engage more and return frequently.
"At Performics, we attempt to answer these questions with our layer-2 analytics and data science capabilities blended with a managed content solution that allows publishers to execute their content strategy at scale. We're looking forward to shifts in the content landscape driven by the new capabilities that the Showcase empowers our clients with, in order to achieve their goals for sustained engagement and content monetization," says Kohli.
After years of underlying tension between the Publishers and Google, with the former claiming that they are getting a raw deal while Google got an unfair advantage out of their content, this move by Google to introduce News Showcase appears like an olive branch with a promise for more in the long run.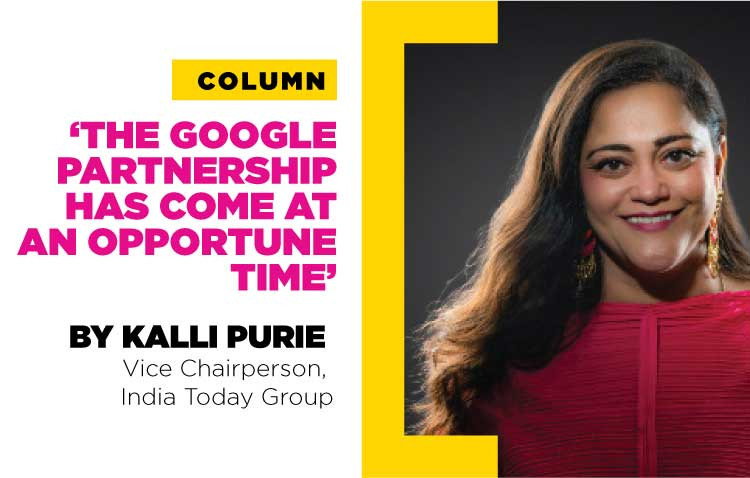 India Today Group is constantly evolving & innovating in the way people consume news. Known for its impartial coverage, real-time ground reporting, and well-researched stories, it has always shown both sides of the story.
India Today's clear & concise reporting from the ground has always played a crucial role in informing the audiences about the most critical national issues. We have always believed in thoughtful & thought-provoking coverage and our most in-depth and inclusive national news coverage has helped our audiences to make well-informed decisions. Accuracy, transparency, and nonconformist viewpoint have been at the core of our principles.
India Today Group has always embraced new technologies to reach out to its audience. We have always been platform agnostic. Starting with one English news magazine in 1975 to the multi media conglomerate we are today!
So when Google recently launched Google News Showcase, we were a natural partner. Our goal is to stay true to our audiences and be available to them on the platform of their choice. The nation is grappling with two types of virus at this time - Covid and misinformation. So this partnership comes at an opportune time as now more than ever people need trusted and credible information. Being one of the leading news media groups in both Hindi & English, we can provide this service better and to a broader audience.
Over 45 years, The India Today Group has created a deep legacy of credibility, excellence, trust, and bipartisanship. We want to be constantly innovating in the ways that we approach how our content is featured across the web. We look forward to working closely with Google and reaching a much wider audience for our brand of journalism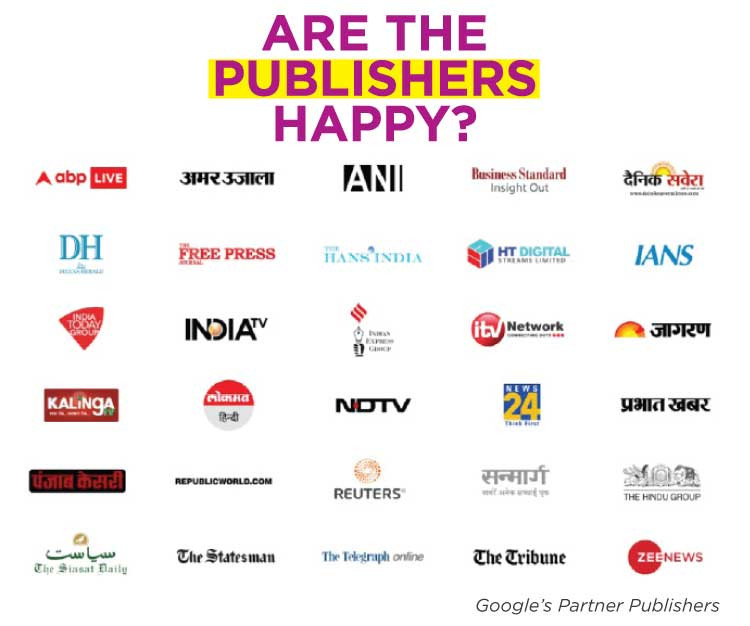 Clearly this move by Google seems like one in the right direction to many in the industry, and clearly something to start with. But are those publishers who were relentlessly pushing for a fair revenue share model with Google for using their original content truly happy with the deal.
Vikas Handu, Vice President, Digital, India TV explains, "Google has launched News Showcase at a time when people are looking for quality journalism and publishers are finding new ways to engage with readers. This interesting new partnership with Google will give an opportunity to the publishers to showcase the best of their content in a specially designed window apart from getting it discovered through the traditional search engine approach. Publishers get an opportunity to find new audiences for their premium content and users get an enhanced news experience from trusted news organizations and can discover publications covering their interests. News Showcase panels allow readers to dive deeper into a story and see a list of important articles updated multiple times per day by their preferred publishers. Thus I feel the Showcase is a mutually beneficial product for publishers and users."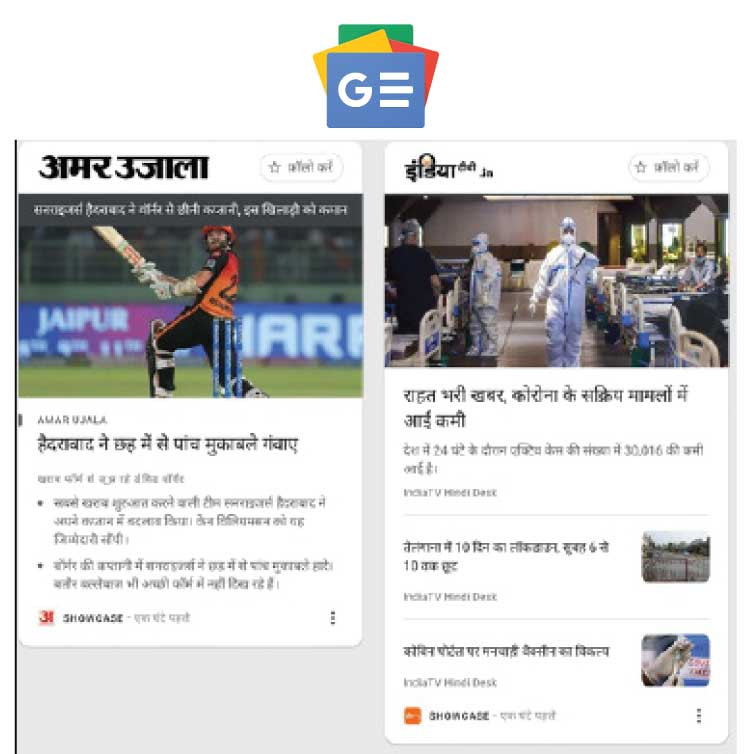 Like most other brands, Digital is a huge focus area for India TV. According to them with this initiative, for the first time the publisher will truly be in control of what they want to showcase on the Google platform and will not be dependent on getting discovered through search.
For Sitaraman Shankar, Chief Executive Officer, The Printers (Mysore) Pvt. Ltd., the news showcase will be adding a different dimension to their brand. The Printers (Mysore) Pvt Ltd., publishers of Deccan Herald, is a media brand more than seven decades old. They were fairly early adopters of digital story-telling. "The partnership will enable us to actively curate our best content for Google products, ensuring quality and greater reach at one go. Our editors will be proactively updating the Showcase, so a lot of journalistic judgment will go into it," added Shankar.
According to Vikas Khanchandani, Group CEO, Republic Media Network, the showcase offering from Google will be a distinctive experience for the consumers and bring heterogeneity in the offering of news stories from the publishers on the Google platform. "It will give a diverse point of view and deeper understanding to the consumers breaking the monotony of similar looking content experience. The publishers will also get an opportunity to drive visibility towards their big stories, bring newer users and offer a native experience through their panels."
Rana Yashwant, Managing Editor, India News adds to that, "At ITV Network we always work on innovative ideas to reach out to new audiences. Google News Showcase is an excellence initiative. This is giving us an opportunity to connect with the larger audience and allows us to share quality content."