Where words fail, music speaks." These words immortalised by Danish author Hans Christian Andersen pay tribute to the power of music that unites people across the world and has come to be an integral part of advertising over time too.
Currently, World Cup anthems by a plethora of brands including Uber, Ola, Oppo, American Tourister, TikTok, Syska, Bingo and more have become the order of the day, as have branded music videos using artistes who are hot on the music scene, like the recent Axe hip-hop video featuring Ayushmann Khurrana, Naezy, Sunil Chhetri, Dharmesh Yelande and Shashank Arora.
Indeed, the role of music in ad films has moved away from being used solely by alcohol brands which cannot advertise in mainstream media, to being a central part of every brand film today. In fact, a music promo before a film launch has become par for the course now.
The underlying factor giving a boost to the Indian music ecosystem is Digital, even as more Indians consume content online through mobiles or OTT platforms on the go, or on multiple screens. This presents a vital opportunity for advertisers to go beyond jingles to building consumer engagement using music as a marketing tool on various music platforms.

BRIDGING THE DIGITAL DIVIDE THROUGH MUSIC
About 15-18 years ago, the first digital disruption in India took place on the back of a music-driven service called Napster. Before Apple launched the iPhone, it unveiled the iTunes store in 2002. These pioneers led the way for a plethora of music services including YouTube, Apple Music, Spotify, TikTok, SoundCloud, Amazon Prime Music – and closer home Gaana, JioSaavn, Wynk, Hungama and more recently Red FM's ad model-driven digital radio app. While YouTube Music and Spotify recently launched in India, Amazon has plans to bring its Audible digital audio entertainment platform to the country as well.

Audio and video streaming making waves: So what is driving the flourishing growth of music streaming platforms in India? Faster and cheaper 4G data bandwidth, especially on the back of Jio's disruption, a proliferation of smartphones, more people consuming content on the go, especially during commute time, as well as the plethora of differentiated content available today across genres and artistes, which was not the case until a few years ago. Music streaming apps and OTT platforms, as well as voice-enabled services like Alexa, Siri and Google Now Assistant, are driving the growth of digital music consumption in India.
According to the International Federation of the Phonographic Industry (IFPI), 96% of smartphone users in India are using their devices to listen to music, the highest rate in the world. Again, according to IMI's Digital Music Study 2018 report, streaming revenue accounted for 66.8% of the overall market and digital sales contributed to 78.5% of all sales revenues in India. Income from subscription audio streams tripled to Rs 220 crore while video stream revenues contributed Rs 170 crore or 29.8% of total streaming.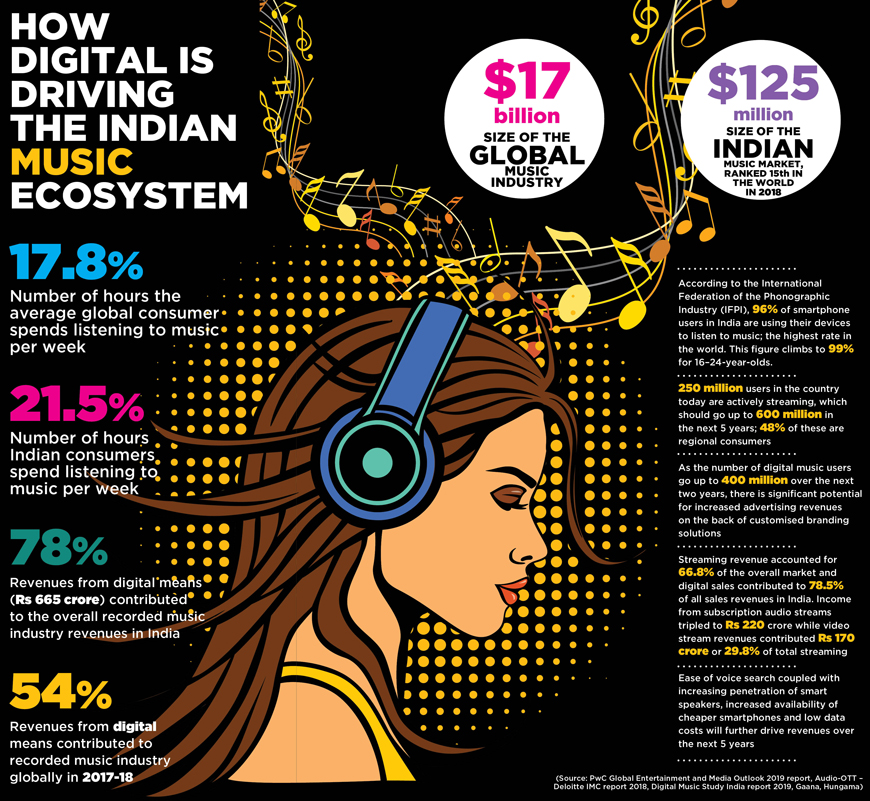 "Today, 250 million users are actively streaming, a number which is set to go up to about 600 million in the next five years. Music is the highest consumed category on digital platforms, with consumers spending five-six hours monthly on streaming services in India, which is set to multiply to 20 hours in the next four-five years," remarks Neeraj Roy, Managing Director, Hungama Digital Media Entertainment, adding that regional content accounts for 48% of the total consumption currently.
Music streaming has witnessed a 3X growth in the past two years and the addressable market is expected to more than double in the coming year, with Punjabi and regional music being the biggest beneficiaries of this increased online music consumption, as is clearly visible from the 25X growth in regional music consumption on Gaana in the last two years, says Prashan Agarwal, CEO, Gaana.
So how can brands benefit from this? Given that digital audio and video streaming provides personalisation, discovery and engagement, brands have a chance to tap into each of these areas to reach their consumers. "If music can map the mood of the brand and is topical to the mood of the consumer, there is a confluence point between the consumer and the brand that can add a lot of value. Thus brands need to go beyond making very product-centric music to music which caters to consumer tastes, and which also includes the brand attributes," explains Tarun Katial, CEO, ZEE5 India.
From the concept of streaming being non-existent about a decade ago, to making up 75% of the total revenues of the Indian music industry today, as per various industry reports, the opportunities to tap into this segment, for both brands and OTT platforms, are immense. One of the biggest changes that streaming has brought about is the discovery of upcoming independent artistes who now no longer have to go to a music label or music producer for opportunities to go mainstream, as they can directly reach out to listeners by uploading their videos online on these music streaming apps and social media platforms. "This has paved the way for greater brand-independent artiste collaboration as well," says Sandip Tarkas, Director, Songdew, who is set to partner with two OTT platforms, which he hopes will help Songdew reach 100 million homes by the end of this year, as compared to eight million OTT users currently.
Podcasts coming of age: According to PwC's Global Entertainment and Media Outlook 2019 report, while OTT video will be the fastest growing digital service at approximately 22% CAGR from 2018-2023 in India, music, radio and podcasts are expected to grow at 13.8% CAGR to surpass US$1.5 billion by 2023 – the highest in the world. Backed by rapid growth in Internet and smartphone penetration, India is set to be the second fastest growing Internet advertising market globally, after Indonesia, as per the report.
After streaming, podcasts are indeed the next frontier of growth in the digital music ecosystem, despite still being at a nascent stage today. Podcasts and videos are a great way to drive user retention, and offer music streaming players a platform to build consumer loyalty over time amongst a niche audience. While this space demands frontloaded investment, the returns are significantly higher over time. Gaana, for example, launched 'Gaana Exclusives' and 'Gaana Videos' to engage with more users and promote non-film music at the same scale of distribution as popular Bollywood songs. This also means there is significant potential for increased advertising revenues on the back of customised branding solutions.
"While video consumption has definitely increased as bandwidth costs reduce, audio consumption is also growing significantly and brands which offer curated and specialised content to meet consumers' needs will be rewarded because consumers are willing to pay for podcasts that add value to their lives," observes Harvinder Singh Bhatia, CEO & Co-Founder, Radiowalla Network.
Apart from niche music genres and the discovery of new artistes, podcasts also provide a platform for discussion on hot topics within the community, which may not always be featured in mainstream media. The fact that a number of OTT platforms are investing in podcasts today with brands hosting certain shows, only proves its rapidly growing popularity. "I started Maed in India as an Indie music podcast to address a gap in discovery of niche regional music and artistes, who were given a platform to perform live on the podcast. However, I also have a podcast around women's health called 'She Says She's Fine', which addresses issues that mainstream media isn't comfortable talking about. I firmly believe that this helps people connect and support each other," Mae Mariyam Thomas, Founder, Maed in India tells us.
Most popular podcasts today are video-based, however, or a combination of audio and video in a talk show format which is definitely a rapidly emerging digital segment though owing to a small user base, the scale has not arrived yet, feels Samir Bangara, Co-founder and MD, Qyuki Digital Media.
Technology at the intersection of music: Today, the popularity of playlists stem from the algorithm and machine learning data tracking usage. However, there are a lot more technology tools available to brands to identify what content to curate for a particular consumer subset, what music to play in a store which will boost sales or immersive experiences that can be created to delight consumers through music. For example, Intel has worked with music artiste and director AR Rahman recently on 'Le Musk', the first Indian movie to be shot entirely using virtual reality (VR). Again, on the 40th anniversary of the movie Grease, Intel worked with the original director to create a massive VR rendition of the title track using volumetrics which had 130 different cameras in a massive dome, giving audiences an experience of almost being part of the ensemble.
Avenues for music monetization: Revenues from digital means contributed nearly 78% (Rs 665 crore) to the overall recorded music industry revenues in India and 54% globally in 2017-18, according to the Equirius – Indian Radio Sector Thematic 2019 report. On a standalone basis, the music ecosystem and its ability to drive more consumers to subscription in the Indian context is going to be a little more challenging as the average Indian consumer will look at a lump sum of a wallet like Rs 50 or Rs 100 a month, and within that they would want a bouquet of services which could include a range of video services and perhaps a couple of music services, states Roy of Hungama.
That said, Katial of ZEE5 believes that consumers are willing to pay top dollars for content that appeals to them, as can be seen from the case of subscription-based OTT platforms. However, the key to monetizing the music ecosystem is for artistes and platforms to go behind the paywall and offer only limited content for free, as is the case globally. This is the only way people will see value in music content on OTT platforms, like music-specific shows, musician biopics or even music-centred documentaries, which brands will also see potential in investing in through advertising or co-curation of such content, he adds.
"The number of music-based long form shows have suddenly increased. Earlier, when people thought of long form music content, it would either be an unplugged kind of session, or some collaboration, but now we are seeing a spurt in music reality shows and there is so much more in this space, and we are only just getting started here in India," remarks Mandar Thakur, CEO, Times Music.
GOING THE EXTRA MILE THROUGH LIVE
The journey from experiencing music through streaming to attending a concert and then going to a music festival is a natural progression for most music fans today. For this reason, music industry experts believe that the live music space is growing as fast as the digital music space, which of course is an opportunity which brands must capitalise on.
"The first music festival which really captured people's attention was Sunburn way back in 2007. Today, there are at least 10 major music festivals including Bacardi NH7 Weekender, Vh1 Supersonic and Mahindra Blues. The big growth going forward is taking these festivals to smaller towns which have never seen a music festival, and there is a lot of scope there. Our responsibility will be to ensure discovery of these events and smoothen the overall event-going experience," comments Shreyas Srinivasan, Founder and CEO, Insider.in.
Today, fans plan their calendars, travel and holidays around concerts and music festivals and for brands, this is a great opportunity to not only sponsor such festivals, but curate content for them and even support a music artiste's brand journey, believes Lydia Buthello, EVP Brand Experience & Events, Star India.
Besides helping music lovers discover new music through the support of niche genres and independent artistes, brands can also create a new identity for themselves through these festivals like many alcobev brands have successfully done. Besides, they can also support causes that the brand stands for through such festivals such as gender equality, sustainability and CSR, among others.
"Bacardi NH7 Weekender is a great example of a sustainable business model for the brand which has become more of a cultural festival today, apart from just having great artistes and good music. The festival today has 20-25 brands invested in each edition," Nirmika Singh, Executive Editor, Rolling Stone India points out.
The sheer increase in the music artiste ecosystem, the fact that it has become easier to bring global musicians to India and the increase in the number of venues for live events, has also boosted the space. Even regular restaurants and pubs today have live performances on a weekly basis. This is a huge chunk of any brand's target audience and so it only makes sense to tap into this space to reach consumers where they are by helping them experience a brand, rather than traditional advertising, which is often intrusive.
Infrastructural challenges, of course, still exist and there is a lot more scope for Indian music festivals to integrate technology like augmented reality, virtual reality and more immersive experiences into music festivals in India, as is the case globally. Merchandising is another revenue stream for brands at live events which is still at a relatively nascent stage. "Brands also need to identify their purpose of partnering with a live event -is it pure marketing, sales or just CSR? However, what I do believe is music has the largest resonance as a performing art or as an indulgence with the consumer, and I think there is always a way to link it to the brand-consumer experience," Brian Tellis, Founder & Group CEO, Fountainhead MKTG tells us.
So what are the biggest music festivals in the country currently and how are brands integrating with them? Let's take a look.
Bacardi House Party Sessions and NH7 Weekender: What began with Bacardi Blast, a live open-air music festival which brought several international DJs to India in 1999, later progressed to India's first multi-artiste, multi-stage music festival called Bacardi NH7 Weekender, which is now in its 10th year, and Bacardí House Party Sessions (BHPS), a platform for independent artistes to create, develop and promote their music with the benefit of unlimited resources and mentorship. The winners of BHPS also get to perform alongside big artistes at the NH7 Weekender, boosting their brand value. "When we look at the benefits from campaigns such as BHPS, we see the rise in brand uplift scores and based on our brand surveys, over 80% of Bacardí NH7 Weekender attendees have a strong brand recall and resonate with the fact that Bacardí stands for great musical experiences," notes Anshuman Goenka, Head of Marketing, Bacardí India.
BudX and Boiler Room: BudX, the music festival by Budweiser, introduced its Street Wear collection at the Delhi edition of the festival earlier this year, while its Boiler Room music festival will see two editions in October this year. According to Kartikeya Sharma, Vice President Marketing - South Asia, AB InBev, "These properties help us to exercise creative freedom to the kind of audiences we would like to cater to, which include diversified communities like LGBT, women and a focus on sustainability and niche music genres. Besides, these festivals give us a chance to reach out to people who may be tee-totallers or consumers from towns and cities where we do not yet have product distribution." BudX plans to expand the scope of the festival beyond music to fashion, culture, lifestyle and art to make it a one-stop cultural destination reaching out to even non-music lovers. The next thing that Budweiser is working on is a set of long format documentaries, four of which will be released by the year-end, focused on various music genres and will also include a track jointly created by a global artiste and upcoming Indian musician. Budweiser is in talks with several OTT players, including Amazon Prime Video, as a distribution platform for this. The popularity of BudX and Boiler Room as well as several other associations with other music events that Budweiser routinely enters into, have resulted in strong brand scores for brand love, trendsetter brand and more, according to brand metrics.
Mahindra Blues and Kabira festival: Mahindra Blues, one of Asia's biggest Blues festivals which is now in its 10th year, was curated as an emotional link to support the tractor consumer and the Mississippi Delta where the Blues was born. Despite the niche genre, the festival has grown significantly over the years, going on to connect with consumers across age groups and geographies. The Kabira festival in Banaras is yet another property of Mahindra which goes beyond music to drive home the message of communal harmony between communities and sees attendance from patrons across the globe. "For a brand today, it is vital to go beyond the product or service to be an influencer and investor in the community and emotionally connect with the consumer and shape cultural norms. This definitely aids brand appeal much more than anything else," believes Jay Shah, Head, Cultural Outreach, Mahindra & Mahindra Ltd.
Vh1 Supersonic and MTV Beats: Today, music festivals are more about unique experiences and clearly defined themes and multiple genres which resonate with fans and mirror their beliefs and mindset. For the recently concluded World Music Day, MTV Beats and Vh1 came together to create India's first 24-hour Facebook Live music festival, #LongLiveMusic, featuring 40-plus distinguished artistes.
While Vh1 Supersonic annual multi-genre live music festival hosts a slew of electronic, hip-hop and indie rock artistes, MTV Beats spans movie promotions, festivals and commercial performances. Another extension of the brand offering is MTV Beats Swag Nights-weekly curated Bollywood nights across 15-plus cities. Besides, MTV Beats also has touch-points in Tier II and Tier III cities where several associations are forged. Moreover, MTV Beats and Vh1 partner with 8-10 gigs per week and around 600-650 events in a year. Apart from on-ground visibility, these festivals and associations have fetched huge traction for both the brands on social media.
"Vh1 isn't limited to music anymore and has branched out into a lot of lifestyle events as well. While our core is music, we see ourselves as a brand that reflects pop culture and lifestyle. We associate with food festivals, fashion shows and sports events because no celebration is complete without music," Sameet Sharma, VP, Integrated Network Solutions, Viacom18 elucidates.
Levi's 501 Friday: Denim brand Levi's, which has had a long association with music, started Levi's 501 Friday seven years ago, wherein upcoming artiste performances take place on the last Friday of every month at select venues across Mumbai, Delhi and Bangalore. This not only helped bring lesser known artistes to the forefront, but also gave music fans a chance to discover new music for free and of course it became synonymous with the Levi's brand name, as its popularity grew. "Today, the event has expanded to include a Levi's lounge in Todi Mills in Lower Parel, which is a co-working/performance space and also has a recording studio and a Levi's tailoring shop. Thus the brand was able to go beyond music and engage with the community at a much larger level," explains Gunjan Arya, Director, Managing Partner, OML, who helped curate the event.
As Blaise Fernandes, President and CEO, Indian Music Industry puts it, "A vibrant live music ecosystem can contribute over US$ 500 million to the city's economy. Vancouver, which is a designated music city, gets US$520 million from revenues; Glasgow earns around US$200 million from its music festival, in terms of economic contributions. We are hopeful that Indian state governments encourage a performing centre as part of their smart city rollout."
MOGO FOR MUSICAL IDENTITY
What is that one non-intrusive piece of advertising that brings about instant brand recall and connects people across ages, languages and geographies? It has to be a mogo or a brand's musical logo or sonic identity, which is slowly gaining as much importance as a brand's logo or visual identity.
HDFC Life, Vistara, Raymond's, Titan, Gaana, MG Motors, Tata Salt and CNBC TV18 are just a few examples of brands that have harnessed the power of the mogo, such that consumers, wherever they are, or whatever they are doing, hear the familiar notes and immediately recognise the brand behind it.
"Today, brands are recognising the importance of 'ear-points', just as much as touch-points, to provide consumers with a multi-sensory brand experience. These ear-points essentially capture brand attributes and musical notes are composed accordingly for a mogoscape, which is a 90-second master composition for a brand, and a mogo, which is shorter. Brands can buy the rights to the mogo to own their sonic identity, or they can go in for a licensing model for a specific period," Rajeev Raja, Co-founder, Brandmusiq explains.
Brandmusiq has been a pioneer in the mogo space in India, helped by the fact that the founders all came from a background in both music and advertising, which helped them develop a deep understanding of individual brands' sonic identity needs. In fact, a pitch is never a part of a client meeting, because sonic identity is all about the experience and brands are thus given a chance to experience the power of sound and how it can evoke emotions during a presentation, Raja says.
"Sonic identity is a valuable marketing tool. Secondly, it also works primarily, it doesn't take much attention. You are driving your car, you are busy at work, but suddenly you hear a particular tune, it sends you back to a particular memory. Specifically as Indians, music has always been part of our culture and so the concept of sonic identity truly has huge potential as it makes the whole brand experience far more real and provides much bigger recall," believes Lloyd Mathias, business strategist and angel investor.
So how big is the sonic identity space in India currently? While there may not be concrete numbers, Raja feels that awareness has definitely gone up in the last three years, with talk of sonic branding even at the Cannes advertising festival, and in the last 5-6 months, Brandmusiq has seen 90% of its projects as client call-ins, as compared to the early days when they had to make the calls and educate brands to realise the significance of a sonic identity.
Going forward, podcasts and OTT platforms can also provide opportunities for sonic branding which can be integrated into content seamlessly, without interrupting the ongoing experience for the consumer.
TO SING OR SYNC
When it comes to brand-music integration in a brand film, the choices are largely two-fold – working with independent artistes to create a brand new piece of music for the ad or going in for sync licensing which involves using licensed music tracks of established artistes within the ad film.
"While earlier music directors used to compose music for ad films, today there are music labels like us who acquire rights to use licensed tracks which we market to brands for use in their ad films and we even have various tools to pin-point what track will work for a particular brand film," Kiran D'cruz, Director Brand Partnerships, Sony Music India tells us.
He continues, "However, despite the integral role of music in a brand film, it is usually the last port of call when the film is in its final stages, at which point getting clearances for licensed tracks in time or catering to the meagre budget left over in the brand film for music becomes a challenge." This invariably leads to studio compositions being added to the ad film, which is also probably why very few ad films today actually use well-known music tracks.
Essentially, there are two types of sync licenses – one is a master license for using the original track as it is and the other is a publisher license for modifying the lyrics or music composition for reuse. This is another constant debate between the music label and film producers who do not wish to spend on multiple licensing rights fees.
That said, the sync business has grown by about 18% over last year for Sony Music India and the company has been creating awareness about sync and licensing in terms of seminars, workshops, etc., to champion licensing and how it helps brands create more fan loyalty. Over the last five years, the label has worked with 70-80 clients and on an average it syncs seven-eight tracks on a monthly basis.
According to D'Cruz, a hit track with massive recall value and nostalgia can provide more than a fair share of return on investment for a brand film. Case in point is the Blue Star ad which featured the 'Daddy Cool' track or the Pepsi ad with Dr. Alban's 'It's my life' or the Tresemme ad which integrated Ed Sheeran's 'Shape of You' soundtrack – all of which made the respective ads more relatable and resulted in higher brand recall.
Artistes whose licensed tracks are used also stand to benefit from the brand exposure, even as the brand benefits from the artiste's influencer quotient; artistes often being brands in themselves. Besides, sync licensing can also lead to deeper brand-artiste integration beyond just that one ad film.
"There is definitely a shift that has taken place from just syncing a track and that goes way beyond pure licensing costs. For example, the song 'One Love' from Blue was used in the Bollywood film Rakht with Hindi notes added to it. Not only did the remixed track go on to become a hit, but it also helped the original band 'Blue' sell half a million CDs in India at a time when awareness of boy bands was largely restricted to Backstreet Boys and Boyzone," explains Shamir Tandon, Composer and Curator, Jet Content Boutique.
So where does one draw the line between sync licensing and original music creations with independent artistes?
Sony Music, which has a large independent artiste ecosystem, offers brands a choice to collaborate with them in case a licensed track doesn't fit into the brand's film budget or the desired track license doesn't see the light of day for whatever reason.
According to Arya of OML, "Sync and licensed music and independent artistes and brand collaborations have both come of age. In essence, to drive recognition, sync and licensing works very well for a brand, but co-creating music with independent artistes drives remembrance. At the end of the day, it all depends on what the brand stands for, who they want to reach out to and what is the mode they see fit for reaching out to their set target audience."
2019: HOW BRANDS CELEBRATED WORLD MUSIC DAY

Gaana gave users an opportunity to browse and listen to trending music from more than 50 countries, by tapping on the 'Music Day' option on the home screen and selecting the country within the interactive map to enjoy popular native music from the region. Rich media cards featuring trivia about the origin of indigenous music in each of these places, as well as popular genres and artistes, also popped up as part of the selection

Vh1 India and MTV Beats organised a 24-hour Facebook Live music festival #LongLiveMusic, featuring over 40 top artistes across genres performing live on Facebook
BookASmile, the charity initiative of BookMyShow organized a drum circle in partnership with NGOs BOSCO and Dream A Dream, wherein 100-plus underprivileged children in Bengaluru got a chance to play their favourite tunes
Tinder unveiled India's top 10 Spotify anthems on user profiles, allowing all its Indian user profiles linked to Spotify accounts to play previews of potential matches' top songs via Spotify, view artistes in common and pick a personality-defining Spotify anthem for one's profile
KFC India unveiled an Instagram-led digital innovation conceptualised by digital agency Blink Digital in which KFC's iconic red and white stripes were turned into piano keys on Instagram, giving viewers a chance to record their signature tunes simply by pressing and holding all notes, each of which had a word synonymous with KFC attached to it
9X Media created a unique Smashup of Indian and global music, with the songs aired across all its five music television channels and promoted across its 24 million-plus digital communities