Purpose. Technology. Inclusivity. Integrated Media and Creative. Short form creative. Marketers, Marketers, Marketers. These are the buzzwords that ruled conversations at the 66th Cannes Lions International Festival of Creativity that ended last week. The festival saw a significantly larger turnout of marketers compared to earlier years, and their refrain was integrated services in one place – media, creative and digital all put together.
Read what senior industry leaders had to say when we asked them to tell us about the trends they spotted this year…
'A lot of our conversations are about the integrated offering'

MICHAEL ROTH
Chairman and CEO, Interpublic Group
Obviously the presence of tech and data analytics are important conversations that we are having. Frankly, a lot of our conversations with our clients are about the integrated offering. I believe clients are now looking to the extent we can have a single source provider for all their marketing and communication needs, and we can do it on a client-centric basis, on an efficient basis, on a global basis. That's what they want to hear, at the same time they want to hear innovation. And so we have a number of our agencies working on innovation, on design changes, on consulting capabilities, and of course bringing in our creative, digital and media capabilities all in one place.
'Over 25% of this year's festival attendees @Cannes are clients'


JOHN SEIFERT
Worldwide CEO, Ogilvy
Cannes has turned a corner. Over the last couple of years, some debates have been about 'Is it too expensive?', 'Is it relevant?', 'Does it matter in terms of clients and what they cared about?' Over 25% of attendees are now clients; the diversity of our industry has never been broader, and Cannes is getting back to celebrating creativity in its broadest sense, whether it's creativity in data or technology or story-telling or brand experience or user experience through technology. I think it is going to find a way to bring these different areas of expertise together, so that people are beginning to see the whole rather than the sum of the parts. They have also been responsive to the concerns that many of us have had about it being too long, too expensive, and they worked very hard to make it more cost-efficient and inclusive. Cannes is really going to go from strength to strength in the days ahead.
'Including the older consumer, who has the money to spend'


SONAL DABRAL
CCO, South and South East Asia, Ogilvy & Vice-Chairman, India
Tech is playing a really big part now and use of data; there is more impending conversation about AR and VR. Another key conversation was on diversity and not in terms of gender, race, etc., but in terms of including the older consumer. Many brands are talking about millennials but there is a big chunk out there from the brand and business point of view, as they have the money to spend. Most brands exclude that consumer. Inclusivity in terms of age. Another thing is brands communicating with authenticity, finding their purpose and communicating.
'A lot more is happening outside the Palais rather than inside it'


SAURABH VERMA
CEO, Publicis Communications, India
Some trends are macro and some of them are micro. The macro trends are that a lot of the work is becoming very purpose-driven; if you really look at some of the big winners, it is largely work which can result in this purpose. The second big trend is that a lot more is happening outside the Palais than inside it. There was the time when the Palais itself used to be the place where everything would happen. Now, there is a lot more, from a Google workshop outside to a Facebook to Spotify to Twitter beach or space, they have all taken the place of the brands and are actually creating engagement. They are actually showcasing their tools; they are showcasing their work, technologies in these places. The third big trend is the huge focus on technology delivery. So, how do I use AI? How do I use machine learning? How do I use some of the things? Fundamentally alter, change the game and use that technology to have a massive delivery for an idea. Creating a great idea is one thing but scaling that idea, making that idea bigger using technology is again a very big thing.
One thing I noticed is that the festival was much less attended than it used to be in the past. Of course, the number of clients is going up. I am sure every third or fourth person I met was a client. So, there are a lot more clients attending, which is good overall. But, at one point I know that the festival used to have 12,000 people attending, that was two or three years back. I am not so sure it's still the case. Many agencies are under pressure to cut budgets and therefore lower the number of people who are at the festival here.
'Media and creative should never have been separated'


JOSY PAUL
Chairman & CCO, BBDO India
Firstly, the work is purpose-related, specially the Grand Prix winners, but the difference is that they are not just talking about it, but doing something about it. It's all about the action behind that work. The second part is that they are creating products to stand and commit to that work. The second thing I have noticed is cheeky competition which is very interesting – for example, the kind of thing Burger King has been doing and the kind of applause and recognition it is getting. The third thing I am seeing is the rise and rise of short form creative. I have been at YouTube and Facebook seminars and everyone is talking about the 5-seconders and the 6-seconders and even the 1-seconder. It is also about the randomness of the work. Many of it is just stuff that's done for fun. Nobody really knows why they suddenly become memes. But YouTube's watching and it's interesting to know that there's no real strategy behind it and human beings have now become the medium of that message. Another thing is what Nick Law said at the opening of the festival – the media and creative departments should never have been separated, because now, more than ever, it is the guy who understands the medium who will get the message.
Droga dominates @Cannes


A conversation between David Droga, Founder and Creative Chairman of Droga5 and Brian Whipple, CEO of Accenture Interactive – titled 'When Worlds Collide: The Evolution of Creativity' - turned out to be one of the most sought after sessions at the Cannes Lions. Droga had made headlines just a couple of months earlier, when his highly awarded agency was acquired by digi-tech giant Accenture Interactive. The tension was palpable between the two as they talked of merging cultures, yet staying independent of each other. Meanwhile, New York-based independent creative agency Terri & Sandy added drama to the situation by launching a 'GoFundMe' drive to buy Droga5 back from Accenture Interactive. It staged a real protest and flew in a helicopter too, trying to raise $475 million to buy Droga5 back! #freedroga banners also appeared on buildings opposite the Palais des Festivals at Cannes.
APNA TIME AAYEGA!
It turned out to be one of India's leanest years, with 18 metals across categories, and just one Gold Lion among them. But that's not to say the enthusiasm is waning – it is alive, kicking and well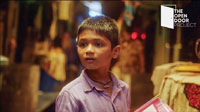 The Open Door Project by FCB India for The Millennium Schools is an initiative to induce more private schools to create space for underprivileged kids, giving them an education they would otherwise miss. The film sensitively portrays the hunger for learning in the child of a sex worker. It won India's only Gold this year.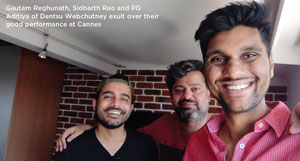 India's performance this year was short of expectations, to say the least. After two preceding high performance years, and despite India sending 1,053 entries – the sixth highest number of entries this year among all countries participating at Cannes – the conversion rate was just 1.7 with 18 metals, including a solitary Gold Lion. The theories that did the rounds included questioning the competency of jurors in the online round of judging – talk was that many entries were not understood in the right cultural context and hence did not get past the first stage itself. Ditto for the shortlists. Of course, it brings back the refrain that Indian admen have great ideas, but still don't know how to present them better. "You have to understand that when you are a juror, you are put in a dark room from 8.30 am to midnight and you are going through hundreds of pieces of work every day. So if a presentation is not able to catch the juror's attention immediately, then it will suffer. There has been some improvement over the past few years, but by and large we do suffer because of our presentation," says Ashish Bhasin, Chairman, CEO Greater South, Dentsu Aegis Network and Chairman & CEO India. The other argument is that the campaigns were executed well, but got overpowered by stronger campaigns from around the world. For example, in India's traditional stronghold, the Glass Lions, the Hamam Waterproof Saree campaign from Ogilvy was a strong contender, but the Grand Prix in the category went to 'The Last Ever Issue' created by VMLY&R Poland for its audacious success in closing down Poland's longest-running erotic magazine, with a last issue that focused on matters such as sex education (there is no formal sex education in Poland), equal rights, gender representation, etc. Meanwhile, there is a sunshine story in the way Dentsu Webchutney, the creatively-led digital agency from the house of Dentsu Aegis Network, has won awards at Cannes Lions 2019. It has emerged as one of the most successful agencies from India at the festival, with the highest number of shortlists, five Bronzes and one Silver Lion.
GOLD: FCB India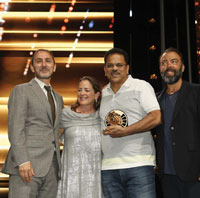 David Droga, Founder and Creative Chairman, Droga5, and President of the Jury, Sustainable Development Goals Lions with Susan Credle, CCO FCB Global, Rohit Ohri, Group Chairman and CEO, FCB India and Fred Leveron, Global Creative Partner, FCB on the Cannes Lions stage. FCB India's campaign 'Open Door Project' for The Millenium School won a Gold in the category. The same campaign also won a Bronze in the Brand Activation and Experience Lions category.

Rohit Ohri
Group Chairman & CEO, FCB India
Open Door is a breakthrough project that seeks to help solve for the education crisis that India is facing. This Gold Lion is true testimony to FCB's creative transformation journey. I'm proud and humbled to have the honour to win India's only Gold Lion of Cannes 2019. WARC Creative 100 named us the No. 1 creative agency in India. It was a flaming debut for FCB. This Gold Lion win reaffirms that we deserve to be there and will stay there, hopefully, for a long, long time to come."

Sandipan Bhattacharyya
Chief Creative Officer, Grey Group India
It is very satisfying to win on one of our biggest brands for Barbershop Girls, and with work that's making our world an equal one. This win is also significant because the Entertainment category is truly a new frontier of advertising and moves beyond the traditional in every sense. We're privileged to work with clients of the calibre of Karthik and Omkar at P&G and kudos to the incredible creative team at Grey."

Govind Pandey
CEO, TBWA\India
We are absolutely delighted to draw the first runs for India at Cannes this year. We seemed to make a habit. The win for One Mindful Mind is especially gratifying as it is perhaps the most compelling and immediate of issues of today - mental health of our children. We are also very happy to have NeuroGen feature again amongst winners after last year's stellar show."

Khalil Bachooali
Founder & Executive Producer, Offroad Films
This film transcends traditional advertising and paves the way to create content which builds true and invaluable 'brand-love and respect'. It was this 'idea' that inspired us to hone our craft and customise a unique and breathtakingly powerful film-making culture. This is the only Film Craft Cannes Lion from India in nine years!"

Rajdeepak Das
MD India and Chief Creative Officer, Leo Burnett, South Asia
We are extremely excited on winning this award. At Leo Burnett we believe in creating Acts not Ads. We believe that The #StopMithani campaign won this award as 'we did a blood donation drive to stop someone from giving blood.' This campaign is a perfect reflection of our HumanKind philosophy where we united the entire nation to come together and help Mr Mithani who has been a regular blood donor, having donated blood 151 times; but he has just turned 65 – an age post which donating blood could be fatal. We took his story to the audience and got the entire country to save him by donating blood in his place where more than 3,60,0000 people came together and pledged to donate blood. This was a bold initiative and we are grateful for the support from the HDFC marketing team."

M A ParthasarAthy
CEO, Mindshare South Asia
It feels great to win across categories for this campaign. It really underscores the potential of data combining with media to drive business impact. Congratulations to the teams at Hindustan Unilever & Mindshare who made this happen."

Senthil Kumar
Chief Creative Officer, Wunderman Thompson India
It is a huge honour to win an Industry Craft Lion for Blink Test AR innovation+Blink Off Posters. It only reiterates our creative leadership and will to raise the bar higher in craft, content and of course our ideas for each and every one of our esteemed clients in India."

Rahul Mathew
National Creative Director, DDB Mudra Group
Since 2018, we've been working on making Project Free Period a more sustainable initiative. And we believe we now have an executable blueprint that can be replicated anywhere. We're glad the jury could see the larger impact that we have managed."

Sidharth Rao
CEO and Co-Founder, Dentsu Webchutney
It's surreal to us at Dentsu Webchutney, but there's much that has gone on behind the scenes in terms of building the right set of teams across locations, striving hard to win the client roster that we have today. I believe all of that has come together now. For now, we will continue to double down on what we've been doing, and look forward to even more killer solutions to bring to the table here next year. An area of incredible focus is telling our research and strategy story even better. We lead the business in terms of our thinking and our clients know this, but the ecosystem still looks at Dentsu Webchutney at a pure-play creative agency. We're ready for brands with outlandish ambitions for what's possible. Stay tuned."

Sagar Kapoor
Chief Creative Officer, Lowe Lintas
It's tremendously encouraging to win on the largest and one of the most authentic hand washing programmes in the world. 'Help A Child Reach 5' is much beyond just communication. It is a behaviour change mission. Built on awareness, advocacy and on ground activations."