With India becoming a mega market for online food and grocery platforms, the fight to garner active users has triggered strategic marketing innovations. The Mukesh Ambani led JioMart is now in the run up to getting access to 487 million WhatsApp users in India, who are potential customers for the brand. Thanks to its collaboration with the instant messaging platform WhatsApp. This is the first end-to-end shopping experience on WhatsApp, where consumers can simply order groceries over chat.
The latest collaboration is evidence of the current mood in the Indian market. E-grocery platforms are to some extent the go-to shopping destinations for a large part of India already. From 10 minute delivery proposition, to fresh and chemical free products, these platforms are making customer-centric approach gain traction in this tight market situation.

India is the world's fastest growing grocery market, with the market size likely to increase to 852 billion U.S. dollars in 2025, according to Statista. On the other hand, the online grocery market in India was over 100 billion Indian rupees in 2019, and its market value is expected to reach 1170 billion Indian rupees in 2024. The Whatsapp- JioMart collaboration sets up the stage for what may turn out to be the most brutal battle between online grocery platforms in India. Meanwhile, in China, Tencent's WeChat app has made people dependent on their services, from listing of businesses to shopping, WeChat records over 100 million transactions daily. Can India follow suit? And if yes, then would the marketing plank of such brands --which have been smarting each other on the time taken for the delivery of such household items --change from '10 minutes only' to convenience of ordering?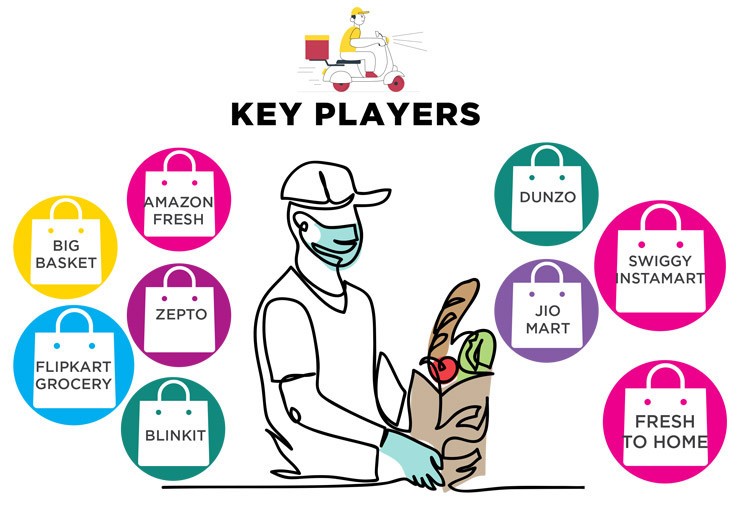 "This is a great example of how technology works to create customer-centric experiences. With this collaboration, JioMart has been able to reach out to WhatsApp's customer base and offer meaningful value on the world's most popular communication platform. This partnership enables JioMart to reach customers quickly, interact with them, and engage them in a direct, personal, and targeted manner with the objective - SHOP, PAY, & STAY CONNECTED" says Umesh Bopche, CEO, Experience Commerce, a Cheil Company.



However, few believe that the JioMart-Meta collaboration is a wait and watch game for the Indian e-grocery market. Shankar Shinde, Chief Commercial Officer, VMLY&R India said, "This may be a game-changer because WhatsApp's overall reach grants JioMart immense distribution. But most conversations about product-market fit focus a lot more on the product, and less on the market. In fact, the market is taken for granted, waiting for the right product to come and claim it."


He further says, "Also, when it comes to the product, I think expecting users to start buying stuff on WhatsApp is not as straightforward as it looks. Just because it is there doesn't mean that people will start using it. Distribution is not a reason for new behavior. And nobody knows this better than WhatsApp. The local grocery retailers have been selling and delivering through WhatsApp as an additional service since the pandemic."
Changing proposition to convenience?
A crisis is a great time to offer solutions, and that is what happened when the pandemic hit us. Several e-grocery players came up with the promise of delivering groceries at the doorstep in 10 minutes, and all you had to do was place your orders through an app. With Zepto and Dunzo at the forefront, these quick delivery services did impress Indian consumers, and continues to do so. However, after JioMart's collaboration with Whatsapp, IMPACT examines if other e-grocery platforms will take the same approach.



When asked whether Zepto will initiate Whatsapp chat feature for its consumers, Amritansu Nanda, Chief Marketing Officer, Zepto said, "It is one of the many initiatives that we will certainly consider. We are largely about convenience, by keeping everything else at hygiene levels, in terms of quality, pricing and the assortment that we have. The largest offering is convenience. So, anything that makes the purchase frictionless and seamless is something that we're going to focus on for sure."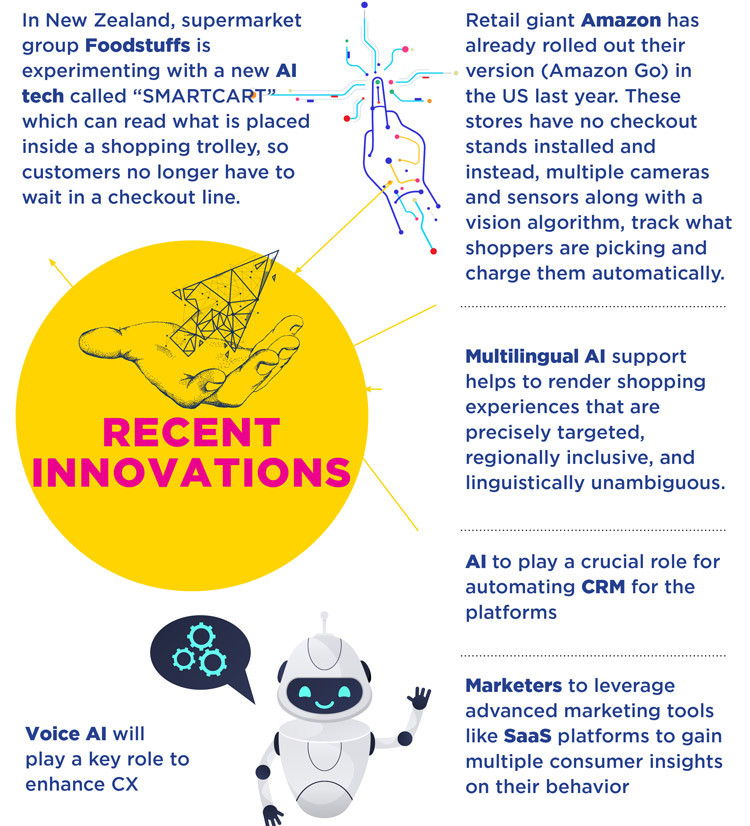 He further said, "We are a tech enabled platform, and are only less than 14 months old. Our tech has been outstanding, the kind of tools and platforms that we have been able to bring in has been absolutely phenomenal. Tech is going to remain a key differentiator for us as we grow as well."



However, Shashank Rathore, Head of E-Commerce, Interactive Avenues – a Reprise Network Company, believes that consumers would continue to bank on discounts and offers, he says," "General e-commerce in India was always driven by discounting and offers. While it was assumed initially that this is applicable for groceries too, the COVID situation helped users get acquainted with the platforms and over the years this acquaintance got translated into convenience. However, India and Bharat are two different countries. Unlocking Bharat would be slightly tricky where value is going to dominate over convenience."

With a completely different perspective on convenience versus quick delivery debate, Vanda Ferrao, CMO of Fresh To Home says, "There are different consumers and each of them seek different things. There are different figures for a person to buy, and I always believe that there is an interplay of all of them happening parallely. Having a good purchase, a good flow and having an easy purchase decision making process is actually critical. That being said, if you get the entire thing quickly to your home, who will say no."



She explains, "We understand people also think of a recipe and they want to buy a product. So, we actually have express delivery where you can order it. And from 60 to 90 minutes, you can get it at your house. So, we believe it's good to have an easy shopping decision, and also have quicker delivery."
Boost to Conversational Commerce
JioMart's collaboration with Whatsapp has initiated a mega trend of conversational commerce in India. A consumer today can have an end-to-end shopping experience on Whatsapp and add products from the catalogue. A consumer can pay directly from the chat box. Armed with high-tech Artificial Intelligence (AI), consumers can initiate the purchase journey by simply sending a Hi in the chat box. While we have seen similar services being offered by the banking sector, among others, this collaboration is a game-changer as it is an end-to-end shopping experience. When speaking of convenience, the JioMart and WhatsApp collaboration is, quite honestly, the most advanced stage of it, at least for now, and technology is the bedrock of this entire operation.



Chirag Bhatia, Senior Vice President - Media, DDB Mudra Group, pointed out that globally the conversational commerce market was about USD 41Bn and marching strongly towards USD 300Bn by 2025. A Study by Forrester for Google found 68% of shoppers prefer brands which offer convenient communications like chat.

Bhatia says, "India is somewhat late on these initiatives and the primary reason is that OTT chat apps here have been slow to open Application Programming Interface (API) to develop such solutions. Also OTT messaging Chatbots have been there for a while and have proven valuable for brands at large. Chatbot commerce is what JioMart and Whatsapp's integration is all about, but definitely at a larger scale with the depth of the bot being a lot more."



Several experts believe that Chatbots and AI will benefit upcoming e-grocery apps with less staff strength and marketing spends. Abhishek Punia, CEO and Co-founder of #armCommerce said, "Conversational commerce offers evident advantages, such as providing customers with real-time responses to their concerns, and increasing brand interaction with customers. It is also crucial in giving clients an exceptional post-purchase experience. Conversational commerce may play an important part in reaching out to a bigger network of prospective consumers for D2C firms that don't have a significant marketing budget or staff to oversee such product offerings."

Explaining the importance of convenience and user experience, Vanda Ferrao, Chief Marketing Officer, Fresh To Home foods private limited said, "The use case is relevant for tier II and tier III cities in India, where the penetration of social media is far more pronounced and affords us direct reach to these consumers over a Metro consumer. It is far more easy to actually use your app. So, we use conversational messaging in these cities. So, yes, I would believe that there's a huge opportunity given that Fresh To Home is now in 180 cities. Tier II and III cities in India are far more comfortable using these apps, and I think if we can actually use them to be able to ride commerce, it'd be a huge win."



Today several dot com businesses rely heavily on Chatbots and AI to communicate with customers on their websites and mobile applications. In a country where internet usage rose to nearly 47 percent in 2021, from just about four percent in 2007, dot com businesses are increasingly required to step up their game. The scope of innovation is truly endless. Lenskart, Pharmeasy, MakeMyTrip, and Policy Bazaar are a few companies that have extensively pivoted towards tech to provide better consumer experience.



For Shveta Singh, Chief Digital Officer, Motivator, GroupM, conversational commerce in India is still at a very nascent stage, she says "Conversational commerce has been around for a while in various forms. However, no one has been able to leverage it at scale before. It is a win-win for both. JioMart, trying to compete with global e-commerce giants, and Meta, wanting to monetize WhatsApp in an increasingly UPI-driven ecosystem. It is indeed the right move. But this may not have been possible if the partners were not behemoths like JioMart or WhatsApp.

"This development could force the other players to focus on assisted, conversational commerce opportunities seriously. The new mantra could be – 'take the store where the consumer is comfortable' versus 'spend money to get the consumer to download your app.' "



Sujoy Golan, Chief Business Officer - Vizury, An Affle Platform, has an interesting take on e-commerce platforms collaborating with Whatsapp to sell their products, he says, "Most brands still haven't moved beyond using WhatsApp as a promotional broadcast channel. Consumer complaints are increasing and there is a risk that WhatsApp will go the way of SMS, if things don't change. Offering the full catalog and shopping experience on WhatsApp, also doesn't usually work because WhatsApp isn't designed for extensive shopping. It can't compare with a shopping app, for example."

Golan cites few examples of brands that have gained an extra edge by using Whatsapp as a medium to connect with consumers, "Brands that today offer a highly personalized and curated experience on a channel like WhatsApp, are finding success. Zayn & Myza recently helped users take a Skin Analyzer Test on WhatsApp, and specifically recommended 5 products which they could also purchase on WhatsApp itself. FOSSIL's WhatsApp commerce channel helped its customers find and reserve-to-try a handbag that they'd been looking for, which was available at a specific FOSSIL store. Tata Neu recently helped customers gain access to their loyalty points across multiple Tata brands via WhatsApp, and then shop to redeem them."
Innovation- key to leap ahead in the race
While these new-age services continue to make our lives easier, it is only through innovation that one can really expect to make a difference. The competition in the e-grocery space is rising with each passing year, and there is no denying of its importance for the modern man.

Haptik, a conversation AI enabler on multiple social media platforms was acquired by Reliance Industries Limited in 2019. Haptik played a crucial role in turning JioMart and Whatsapp collaboration a success. Haptik spokesperson said, "With the collaboration of JioMart and WhatsApp, the AI will have large volumes of data on buyer behavior, workflows, session duration, and more to analyze, glean insights from and help in designing a cutting-edge UX."

The spokesperson said, "The role of AI in UX design is paramount and with the explosive growth of users on the JioMart WhatsApp platform, the potential for UX improvements and AI-powered insights is virtually limitless."



Explaining about how AI plays a crucial role in a consumer's purchase journey, Amyn Ghadiali, President - Business & Integration, GOZOOP Group says "AI is the backbone ensuring that customers are not only enjoying the experience of transacting on a particular app but also the experience is seamless. One of the examples is when a customer is placing the order, the delivery time communicated is usually accounted for considering traffic, mode of travel, and speed. AI makes it possible for the application to give real time information to the customer, and ensure that it is fulfilled."

Today brands are indeed benefiting from the high-end tech. Ghadiali says, "Brands are leveraging this to not only enhance the delivery experience, but also to personalize the customer journey. The industry can foresee personalization becoming extremely crucial with minimized human interaction, making sure that consumer preferences or rather objectives are preempted, which would be difficult to achieve with technology."

Mrunmayi Oke - Vice President, Category and Growth, Dunzo explains how the Q-commerce platform innovatively provides customized services to its customers, she says, "We have integrated systems which work in sync with sufficient feedback loops to allow for information flow, and which can also be nimble enough to allow for micro customisations in an ongoing manner. We have made micro customisations at geo and user levels for assortment discoverability and offer visibility."

Explaining further, Oke said, "Additionally, we're creating user app interventions so that our users can see customized pages for the festival based on the city that they're in. For example, if we want to create a specific section for festive offers and bundles, we'll be able to do it. These assortments vary from city to city and according to the festival."

To enhance consumer experience, Flipkart Supermarket has introduced the app in multiple Indian languages, Smrithi Ravichandran, Vice President, Head of Grocery at Flipkart says, "As part of the new design, there is a separate and more visible tab available for grocery on the homepage. As Flipkart Grocery continues to attract and serve the majority of its consumers hailing from tier 2 cities and beyond, the introduction of the Grocery tab on the homepage enables seamless and easy navigation to a category that is very important in our consumers' daily lives. Additionally, to enable greater inclusivity and reach out to the heterogeneous consumers, Flipkart has made its app available in 11 Indian languages so far, including Odia, Bengali, and Assamese."



Amazon Fresh, which was launched in India in November 2021, is now available in 300+ cities across the country. Speaking of innovations by the brand, Srikant Sree Ram, Director, Amazon Fresh, said, "We are laser-focused on providing customers the best online shopping experience, coupled with quick and safe delivery. We know fully well that customers will shop with us only until they find a better experience elsewhere, so we strive hard to meet their standards. The shopping experience for groceries has been simplified for our customers via our dedicated Amazon Fresh app-in-app experience, and has set us up to deliver many new features. Apart from offering great savings, Amazon Fresh has reduced barriers to grocery shopping and minimum order value to INR 199. For Prime members, we have introduced free shipping, i.e., free delivery on all orders above INR 199."

The spokesperson further added, "Clicking on the Amazon Fresh icon on the homepage takes the user to the dedicated grocery shopping store, where they'll find features that help them build their weekly/monthly basket in a few minutes. Shopping for groceries online has become more rewarding, fast, safe and convenient with Amazon Fresh. We will continue to listen to our customers and provide the best online shopping experience with wide selection of products at great value, convenience and safely deliver at their doorsteps."

It is safe to say that e-groceries are here to stay. With JioMart and WhatsApp raising the stakes, it would be interesting to see the next major steps in this business. In this great mix of things, consumers are the clear winners.