A fter an all-time high haul of 40 metals in 2017, India won 21 metals at the Cannes Lions International Festival of Creativity 2018 last week, bringing the accent on quality of wins over quantity, topped by an hitherto unprecedented win – that of admen Piyush and Prasoon Pandey being crowned with the highest accolade in creativity, the Lion of St Mark award. For this reason, the year 2018 will go down in the history of Indian advertising as an extraordinary year.
Throughout the festival, Indian agencies bagged two Grand Prix awards – Ogilvy India won a Grand Prix in the Creative Effectiveness category for ITC's Savlon Healthy Hands Chalk Sticks and TBWA\India won a Grand Prix for Good (Health) for its Blink to Speak campaign for Asha Ek Hope Foundation. India also continued its winning streak in the Glass Lions category, with Gold, Silver and Bronze Lions – won respectively by FCB India for Sindoor Khela 'No Conditions Apply' (for Times of India), Cheil WW India for Samsung Technical School - Seema Nagar (for Samsung India Electronics) and BBDO India for #StandByToughMoms (for All Out from SC Johnson) - keeping up the tradition of winning Glass Lions every year since the category was introduced in 2015. McCann Worldgroup won a Gold Lion and a Silver in the newly introduced Creative e-commerce category for the Sweet Change campaign created for Paytm e-wallet.
Though the number of metals won this year is roughly half of last year's metal count, India's performance is not to be judged on numbers alone. The all-new Cannes Lions has a revised format and categories, with the number of categories to enter one campaign limited to six, drastically impacting the chances for a single campaign to sweep the awards. In fact, the total number of entries dropped by a fifth this year because of the restructuring of the festival and the Publicis Groupe's selfimposed exile from award festivals. At the end of the festival, India's conversion rate in 2018 stood at 2.15% with a total of 979 entries, in comparison to a conversion rate of 3.26 in 2017 with 1,227 entries.
A BIG WIN YEAR, ANYWAY
Commenting on India's performance in 2018, Prasoon Joshi, Chairman McCann Worldgroup Asia Pacific, said, "I wished and hoped that some of the ideas would do better, but you can only work hard. I think we are working hard. Yes, it has not been as big a year."
Considering the size of the country, India should be performing better, he felt. "We keep trying and we have come a long way. If you see earlier, we had very little to show in our performance. The year when I won two Gold Lions here, suddenly we said India is winning. Then I think we kept on winning. Cut to last year and we saw McCann winning 16 Lions. We have come a long way from no performance to performance of this sort. I think we are doing well, and I think the culture is very important for that. We push people to excel in the ideas of the craft and in India over the years, I've tried to work hard to build a culture of excellence," Joshi stated.
India may not have won in numbers like last year, but India won big anyway. Parixit Bhattacharya, CCO, TBWA\India said, "I am not thinking about the numbers. I feel that this is a very special year for India as the Pandey brothers have got such an honour."
Josy Paul, Chairman and CCO, BBDO India felt that it was a year of unpredictability, both at the football World Cup and Cannes Lions 2018. "That's what made the awards this week so exciting. India won 21 Lions. The big ones! What a great show! True contribution and influence for our world," he said.
Some say that one of the reasons Indian ideas do not win at global platforms is because a lot of the meaning is lost in translation.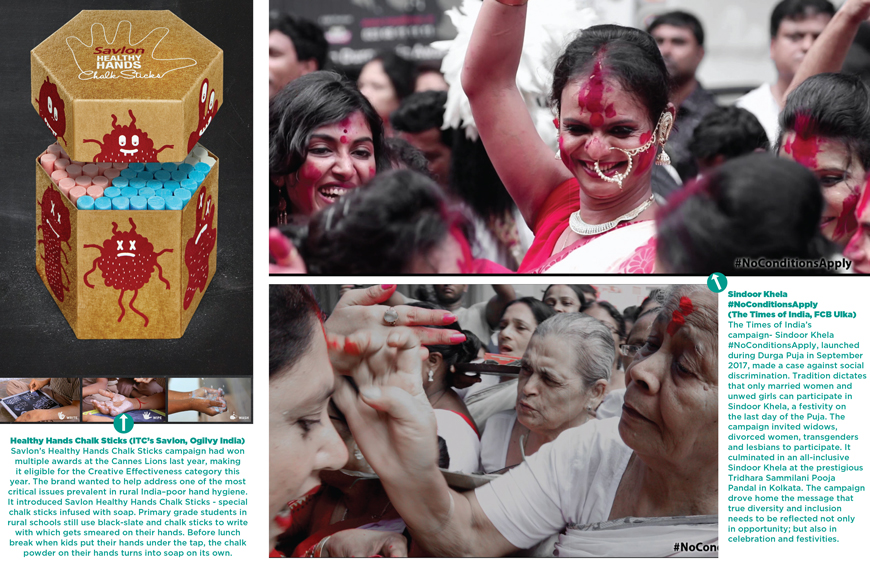 THE WEEK THAT WAS

India opened its account with TBWA\India winning the Lions Health Grand Prix for Good and a Gold in Pharma Lions on Day 1. It was one of the most talked about campaigns from India. Grey India's Sehat Ka Batua for Mahindra Rise, DDB Mudra's Project Free Period for Stayfree and McCann Health's Noon Assembly for Kwality that won in the Health & Wellness category reaffirmed Indian agencies' prowess in the category.
FCB India's Sindoor Khela which was one of the big winners this year brought home two Gold Lions and two Bronze Lions including a Gold in the Glass Lions category. The wins this year ended FCB India's long metal drought at the Cannes Lions. "The Lions we've won for our campaign for TOI stands testimony to the creative transformation at FCB India. This transformation has energized the entire agency, creating a momentum and a new winning culture," said Rohit Ohri, Group Chairman & CEO, FCB India, when the agency bagged its first metal, a Bronze on Day 3. Ogilvy India won a Grand Prix in the Creative Effectiveness category for the Savlon Healthy Hands Chalk Sticks initiative, proving once again that if an advertiser pursues a simple idea, one can win more than just awards - one can solve big problems. Ogilvy also won a Silver for the World's Most Honest Tourism Film made for the Madhya Pradesh Tourism Development Corporation.
McCann Worldgroup India won a Gold and a Silver for the Paytm Sweet Change campaign in the newlyintroduced Creative e-commerce category. Under the campaign, customers who were often given candies instead of change by shop-keepers were given the Paytm candy which could be redeemed for their real worth in Paytm cash. The objective was to nudge Indians to inculcate the habit of making payments through their mobile phones. The category seemed just perfect for the Paytm campaign. It celebrates creative, commercial e-commerce, payment solutions and innovation. Entries were judged on innovation and optimization of the customer journey, resulting in increased consumer engagement and commercial success.
Citing an example on how this could happen, Joshi said, "I remember there was the Eunuch campaign we did about the Kinnar community in India. Most of them go to sing, dance and celebrate in a home when a baby boy is born. The idea was to make them understand that the girl child is also important and so they should also dance and celebrate the birth of a girl. We wrote a few songs for them which gave examples of great women in the world and how beautiful it is to have a girl child. The thing is, it didn't reach where it should have reached globally, because understanding this culture of the Kinnar community in India and their role in the celebration of the birth of a baby is an alien idea to outsiders. Indians praised the campaign, but I don't think it had gotten its due in terms of recognition." This year FCB India's Sindoor Khela succeeded in beating the cultural disconnect. The campaign, which is unique to the Indian social context and specific to the Hindu Bengali custom of allowing only married women to participate in the ritual of Sindoor Khela during Durga Puja, broke barriers and won the hearts of jury members.
WHERE CAN INDIA IMPROVE?
Bhattacharya felt that creatives need to grow out of basing creativity on what has worked in the past. "Creative people have such a good pulse in their pocket but I think we rely on history - on how we have usually been doing things and we use that understanding and logic to inform. All our systems, all our guidelines, everything you know comes from the past. It doesn't work always. You have to figure how to revive it. I feel that a lot of people are doing it," he said.
He also laid emphasis on a healthy relationship between agencies and marketers. "There are so many smart marketers. Perhaps a bit more faith and a better relationship is all that is required between clients and large agencies because they are doing their work and they can value it. We need to merge the creative with strategy," he explained.
The creative community often complains that marketers are holding them back. Joshi said that excuse is not valid. "I consider that to be absolutely incorrect. In my experience, all the great work that I have been able to produce is because of great clients who have really partnered with us. Yes, you do need more clients who believe in you and who are willing to partner you, but the excuse that clients don't allow us to do great work is just an excuse, it is not the reality."
WHERE INDIA FAILED, YET AGAIN
The win in the Creative e-commerce Lions category notwithstanding, India once again failed to make a mark in the Digital Craft and Creative Data categories. The number of entries from India in each of these categories tell a story. Creative Data had a total of seven entries from India, while Digital Craft had eight entries. None of these entries made it to the shortlist stage.
In the Mobile Lions category, where India had a total of 31 entries, only one secured a shortlist which did not convert to a win. India also did not impress jurors in the newly introduced Social and Influencer Lions category, which is based on the old Cyber Lions category. Two of the 76 entries made it to the shortlist but did not make the cut in the final outcome.
The other categories where India drew a blank are: PR, Media, Sustainable Goals Development, Entertainment for Music, Design Lions, Industry Craft, Film Lions, Entertainment Lions, Radio & Audio and the ultimate Titanium Lions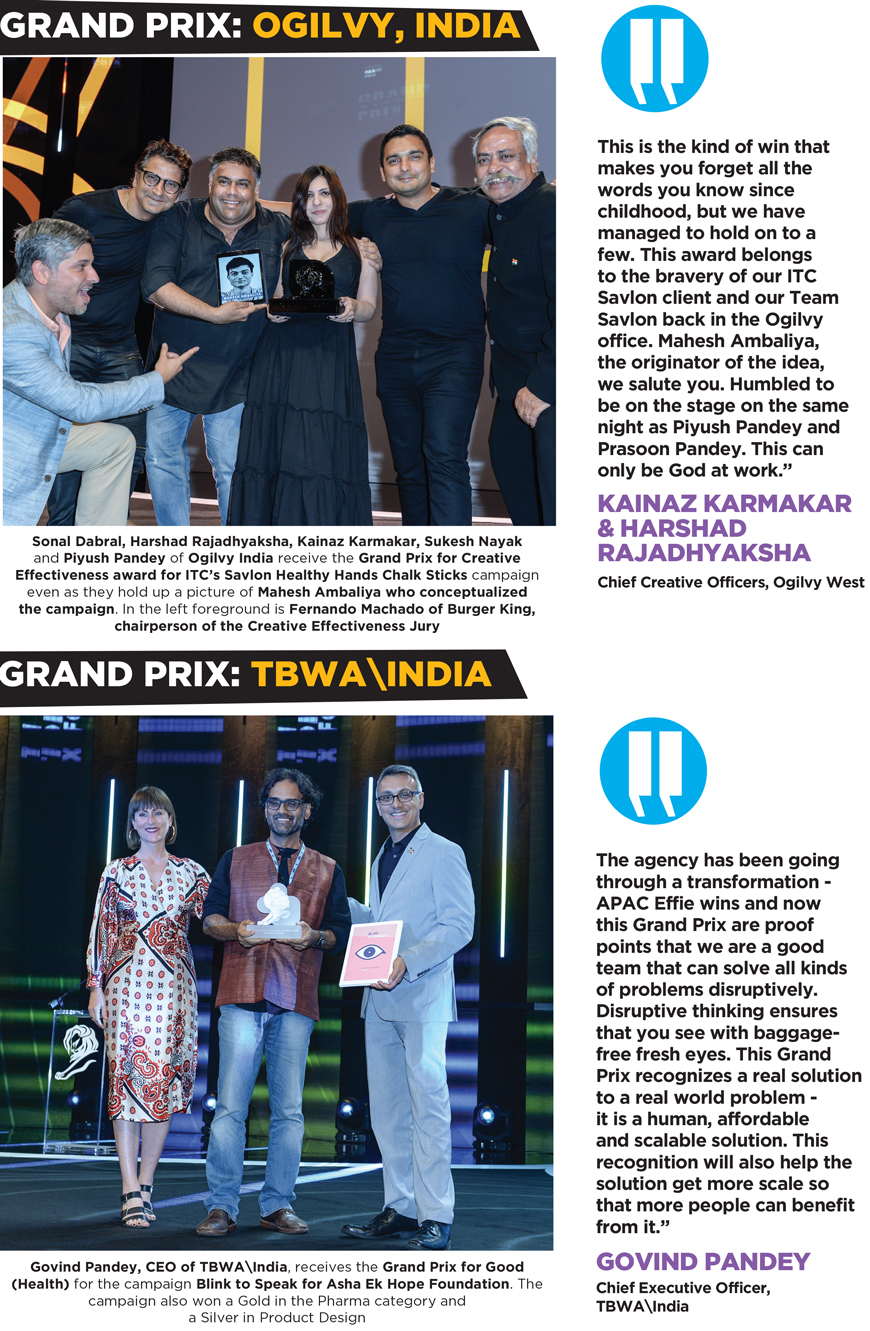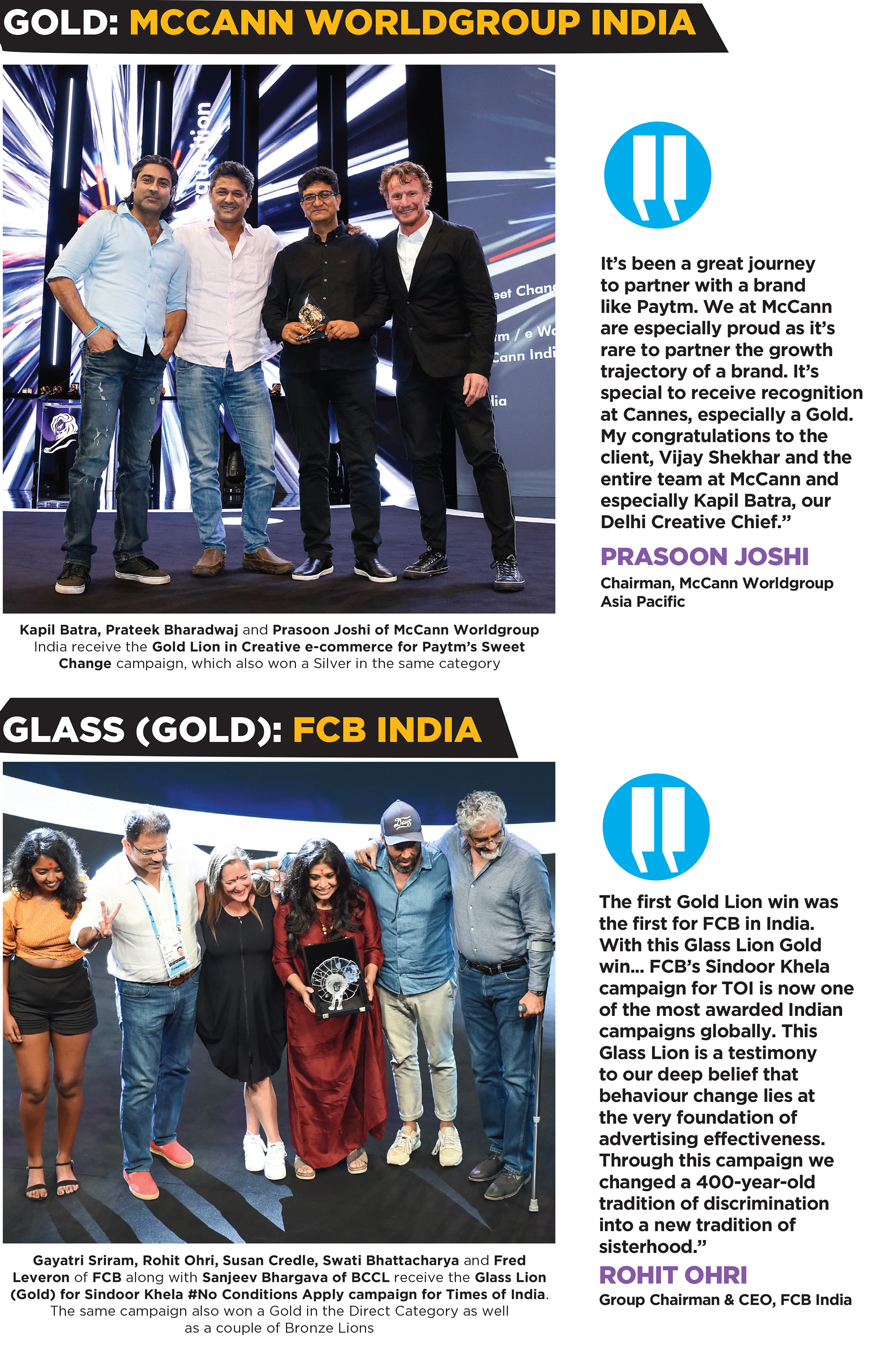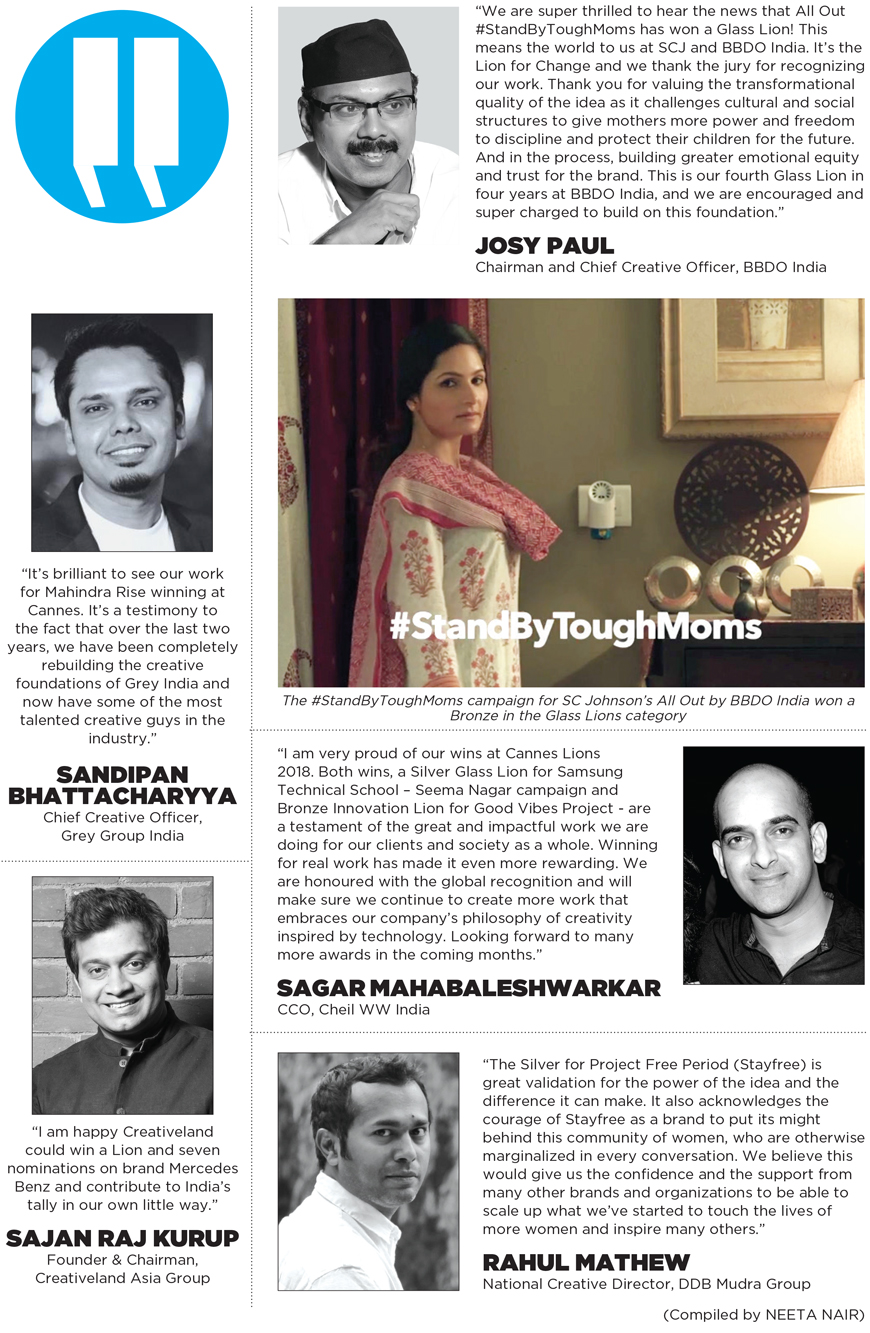 A DELIGHTFUL DICHOTOMYBy MEERA SHARATH CHANDRA

If you are a regular at Cannes Lions, then you get hit by the fantastic juxtaposition of the known and the unknown every year. But this time it was so much more mind-altering. It was a new format and a new way of serving up content to delegates across a whole new set of venues – and yet there were the familiar benchmarks of trend-spotting, curating the best from the industry and giving us a panoramic preview of the future. And you could have an energy workout or a self-defence class at the beach with pros – or exercise your mind and get that adrenaline rush inside just listening to the gurus. You could totally customize your Cannes experience and get the best package of what you were looking for. Different stages, same standards.
David Droga began proceedings with an inspiring session on being true to who you are – with every word, you began to see the extremely simple, creative, committed man behind the hero who has won the most Lions. And from then on, we saw the industry flip pretty much everything on its head.
Technology players came out to say that they were becoming more human. Apple summed it up as "We may be the largest technology company, but we are in the human business". And this was showcased at its stores with the success story of 'Today at Apple'. Samsung spoke of the sweet spot between brand, technology and people. YouTube talked of being direct-to-consumer
and being part of cultural movements and discovery. Pinterest outlined its mantra of being open and creative to connect with "the inside world of yourself". Tencent believed that ultimately those who win the hearts of people will win the world. Google looked to the human heart and human imagination for a better future. Even the Dentsu AI robot, Totto, was at her friendliest!
Amazing jugalbandis in terms of content made the week one of deep learning and deeper emotion. Laughter with Conan and Shaq… fact and feeling with James Marsh. Calling out gender inequalities with Ellen Pompeo… having a chuckle at politics with Michael Wolff. Buzz on augmented reality as an investment by large tech firms… factual reality of today's industry by Sir Martin Sorrell. Olympic podium heroes, Ibtihaj Muhammad and Abby Wambach… and powerful life-saving heroes Corinne Woods and HRH Princess Sarah Zeid of Jordan of the UN World Food Programme.
Big corporations were lifting up small entrepreneurs. Sport, entertainment and music celebs were in turn shifting the spotlight to real and present issues.
Diversity stopped being a discussion and started becoming a mandate. There was a distinct outward focus – and the industry was collectively talking up values like purpose, trust and authenticity.
As a juror in earlier years, I have always loved the way the jury chairs sum up the way we decide on what makes the cut. This year's head-of-jury speeches were some of my best take-aways – they too spotted exciting emerging alchemies. They captured the startling shifts in thinking in each medium, the way fresh ideas embraced change, the direction the genre itself was taking, the sheer engagement and impact of creativity bursting out and beyond its category…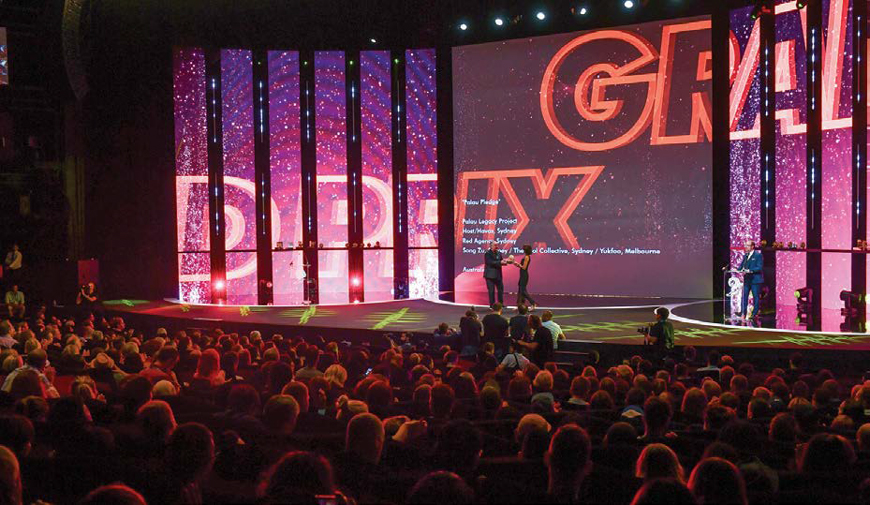 Networking with clients and alliance partners (and hanging with jury buddies) aside, the focus has always been to take in every piece of information, every nugget of intellectual wealth and every stream of inspiration that's out there. And, of course as an Indian, there were special moments. Of felicitating Piyush and Prasoon Pandey at the IAA event for their prestigious Lion of St Mark. Of congratulating Ogilvy for the Creative Effectiveness Grand Prix and Prasoon Joshi for yet another gold. Of chatting up Govind Pandey, CEO of TBWA\India on their fabulous Grand Prix for Good. Blinktospeak.com is a classic example of a simple, scalable, sustainable solution that makes a real difference to humanity, Govind told me. And then, of cheering for FCB/Times of India for the Gold and Glass for Sindoor Khela "No conditions apply" - which got over 50 temples joining in to give widowed and single women equal rights to celebrate their lives. Again, a reflection of the shape-shifting moments and inflection points I am talking about.
And talking of delightful dichotomy… what's a tigress been doing roaming freely at the Lions for the past 15 years? Getting my one week of inspiration, knowledge, trends, insights and digital domain smarts that keeps me ahead-of-the-curve for a whole year. Until Cannes 2019!
(The author is Founder, CEO & CCO of Tigress Tigress and 3-time Cannes Lions juror. Her blog different-stripes.com champions inclusion and diversity. On Twitter: @meerasc)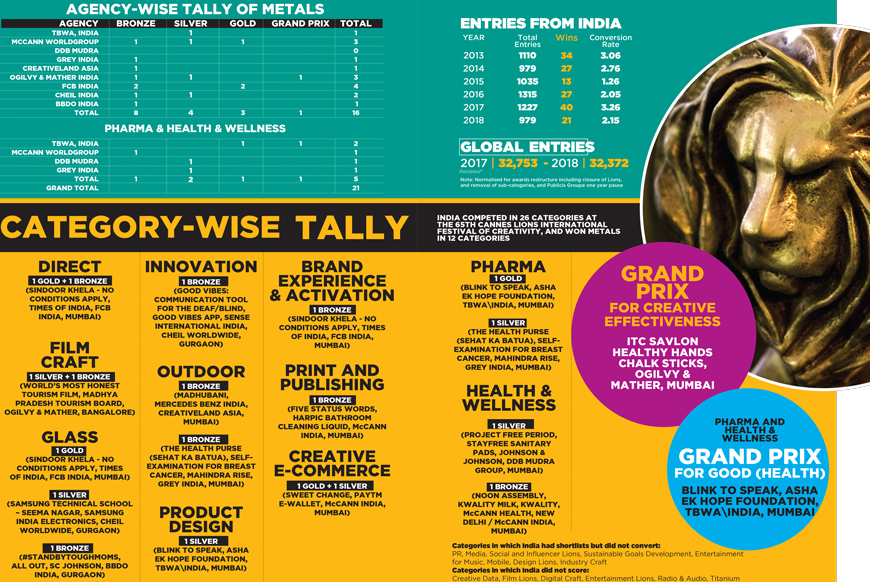 'DON'T STOP, KEEP RUNNING'
Piyush and Prasoon Pandey hold the flag of Indian creativity high as they receive the prestigious Lion of St Mark award at Cannes
BY NAZIYA ALVI RAHMAN
At the grand finale of the 65th Cannes Lions International Festival of Creativity 2018 on Friday, June 22, 2018, the moment that the entire Indian advertising industry had been patiently waiting for, for five months, finally arrived. Brothers Piyush and Prasoon Pandey were jointly awarded the prestigious Lion of St Mark at the mecca of global creativity, in recognition of a lifetime of creative excellence and a fabulous body of award-winning work between them.
Dressed in similar black jackets and wearing the flag of India brooch on their lapels, the Pandeys, who have been winning the hearts of millions of consumers through their outstanding ads, made short yet powerful speeches.
Piyush Pandey, Executive Director and Creative Chairman of South Asia, Ogilvy, who compared his life to a dream, said, "If I were to shut my eyes and rewind that dream, what would I see? I would see my parents and my sister flagging me off on this run, and as I started running, I would see millions of Indians cheering me on in 16 different languages. As I went along, I would see a lot of wonderful clients who would be handing me over bottles of water and lemonade. As I continued to run, I would see my family again – this time all grown up. My sisters would have married and have their own children and grandchildren. I would also see my wife with her six dogs wagging their tails, while she asked me to keep running. And I would keep running. Along the line, I would see somebody running alongside. And as I looked from the side, I would see my brother. We would rub shoulders and keep running. And as we ran along, I would see a lot of people from Ogilvy's Indian and global team waving Ogilvy flags and telling me not to stop. And there would also be competitors, who would have wonderful expressions on their faces. They wouldn't look like rivals; they would in fact also cheer me on. At the end of the day, I still feel like running. My heart is pumping and as I look up to the sky, I see my parents and my two sisters whom I lost saying, don't stop, keep running." The ace advertiser took social media by storm by concluding his speech with an observation that earned him good wishes and accolades from across the world. "So before I go, I must add one thing; I'd love to see a Lioness on this stage very shortly."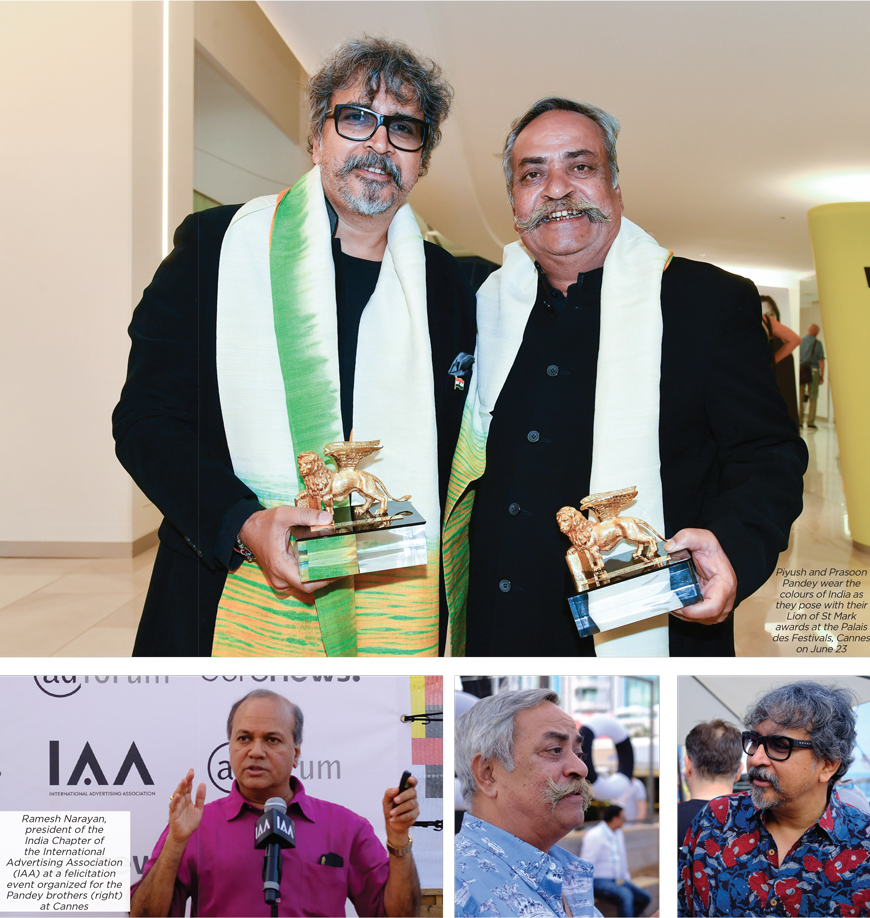 His younger brother Prasoon Pandey, director of his own production house venture, Corcoise Films, attributed a large part of his success story to the fact that he was born in a large family and a house that looked like a 'cramped art school'.

"By the time Piyush and I came in, all the four corners of the house were taken up by our sisters. One was learning classical dance; another one was learning music or rehearsing lines for a theatre performance. In another corner, my father was teaching someone how to recite poetry, while my mum was discussing powerful female characters in literature. It was like one cramped art school where one could just not escape the learning," said the younger Pandey brother. He then went on to thank his institute, the National Institute of Design, which apart from teaching him design, also acted as a match-maker for him, as it was there that he found the love of his life. "My wife is my best buddy and also my best critic," he said.
BROTHERS IN CONVERSATION
Earlier in the day, the duo had a conversation with Philip Thomas, CEO of Ascential Events, the parent company of the Cannes Lions International Festival of Creativity. The fun-filled session saw Thomas ask the two brothers about working together, as well as their ability to add humour to everything they do. When asked by Thomas about who between the two is more creative, Piyush said while he would ideate, it is Prasoon who would pursue and shape the idea and provide the final outcome. "Also, sometimes I am kind to him as he is the youngest in the family," said Piyush teasingly. However, for Prasoon, it's the elder brother who is undisputedly the more creative of the two. "There have been times when my team and I would sit and think about an idea for hours, and Piyush would solve it in minutes. For example, when we were doing the Fevikwik ad, my team and I sat from Saturday morning to noon, thinking of possible ideas. Around noon, Piyush came in and asked us what were we working on, and within minutes gave the idea of a fisherman using Fevikwik, which later went on to become the ad of the year," he said.
Indeed, it is this complementing talent and creativity, coupled with hard work and a sprinkling of luck, that has led the brothers to become the iconic admen that they are today.
And with the Lion of St Mark, the highest advertising honour at Cannes, the Pandey brothers have truly put Indian advertising on the global map.
(Transcription credit: Sudha Joshi)
REVISED FORMAT OF CANNES LIONS MORE FOCUSED, SAY REGULARS
A 30-40% dip in turnout estimated, compared to previous years

BY NAZIYA ALVI RAHMAN
This year, the Cannes Lions International Festival of Creativity saw several sweeping changes. To begin with, the duration of the event was reduced to five days. Secondly, new awards and sub-categories were introduced, with the number of categories an entry can compete for restricted to a maximum of six Lions. Thirdly, a revised points system to reward creativity was also introduced, along with larger rewards for winning the Creative Effectiveness and Titanium Grand Prix. Moreover, charity and NGO work were separated from brand-led communication over a two-year 'transitional' period.
Regulars at the festival estimated that the turnout this year witnessed a drop of almost 30-40% compared to previous years. To some extent, the decrease in footfalls was also attributed to the absence of the Publicis Groupe at the festival.
Commenting on the new event format, Jose Papa, Managing Director, Cannes Lions said, "The changes we have made are a new phase for the festival and we're excited to focus on creativity at the heart of everything we do. Just as the industry has to innovate, so does the event, and it has to make changes that the industry wants. The new structural changes represent a big difference in our presentation and thinking about the Lions, but it was important to do this for the festival to remain relevant. The new tracks are a way of organizing the awards and the festival to reflect the way agencies and marketers approach their day-to-day work."
As the sun officially set on the 65th Cannes Lions International Festival of Creativity, we spoke to some of the delegates and participants about their views on the newer version of the festival.
'The glass is half full, not half empty'

"With due respect to the people here and to Cannes, this may not be the best place for the industry to be seen and heard. I know the organizers are continuously thinking about where the best place is to be and what the best timing is. While the industry is facing a lot of challenges, there are also big opportunities. The glass is half full, not half empty. I do think we have to re-examine how we do this; attendance was down by 25% this year, and I'm told that creative attendance was down even more sharply. If that is true, that's even more regrettable. There is a place for awards with clients and without clients. Our clients are always very proud of our awards and our people are proud of our awards and I think this is something that must be maintained. I think we can achieve the same pride but in a different way."
SIR MARTIN SORRELL
Executive Chairman, S4 Capital
'The new format allows more interaction'

"It was necessary to reduce the number of days of the festival. The event should be tighter and clearly define what it stands for. I'm a purist; you cannot want to be everything for everyone. With the new format, there is more interaction and cohesiveness."
PRASOON JOSHI
Chairman McCann Worldgroup, Asia Pacific
'Everything feels a bit more accessible'

"I like the new format a lot and I hope it continues. I like the fact that it is a bit smaller and less crowded. Everything feels a bit more accessible. it's healthy that Cannes Lions is re-focussing on the most important thing, which is being a 'Festival of Creativity'. A couple of years ago I felt like questioning what it was. Is it a festival of creativity, technology, or consultancy? Is it like a version of CES? The renewed focus has made the event much better. Everybody needs to remember that it is agencies which produce the product; they are the ones that build transformational, innovative solutions for clients. That's what is important, and Cannes Lions is about celebrating that innovation and creativity. Anything that gets us back to that place is a good thing."
MIKE COOPER
Global CEO, PHD
'People are doing more real work'

"It's a good thing that the festival has been a bit downplayed this year. Given the changes within the industry and WPP, it feels less pressured this way. People are doing more real work. I certainly get the sense that people are having more business meetings and there is less emphasis on social networking, giving the impression that people are getting more value from the event this year."
STUART BOWDEN
Global Chief Strategy Officer, Wavemaker
'Excess is unnecessary in today's scenario'

"Smaller is sometimes better. Although this year the festival still doesn't seem that small, there is definitely a difference from previous years. This is a good thing, as that level of excess is unnecessary in today's scenario. Ogilvy has had more events with our clients this year, on the sidelines of the festival. We also did more this time to benefit our business at the festival, and to let our people see that they can learn and grow here."
JENNIFER RISI
Worldwide Chief Communications Officer & MD, Ogilvy Media Influence - Ogilvy
S4 CAPITAL A PEANUT IN COMPARISON TO WPP, BUT YES, PEOPLE HAVE PEANUT ALLERGIES: SORRELL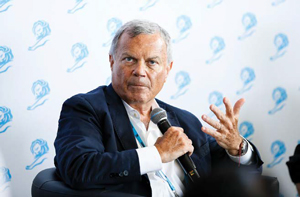 Despite all the controversies surrounding him, when Sir Martin Sorrell speaks, everyone listens. A case in point is his recent conversation at Cannes with writer and author Ken Auletta, which saw huge queues to get into an already crowded Lumiere Theatre.

Declaring that the need for him to start a new company comes from client demand, Sorrell said, "I say it on the basis of what I hear from clients. For example, if you and I were starting a company, you listen to the most prominent CMOs that you've mentioned in your book - Mark Pritchard of Procter and Gamble, or Keith Weed of Unilever - and you listen carefully to what they say, and what the people who work with them say. They want agencies that are much more flexible, faster, cheaper; agencies more global, local, who can relocate with them and agencies that can deal with local clients, as well as the millennial influencers."

When asked that with all the knowledge and experience that he has, whether he is starting his new company called S4 Capital to take on WPP, Sorrell called his new company a 'peanut' in comparison to WPP. "S4 Capital of which I am Executive Chairman, is a peanut in comparison, but I do have to admit that some people have peanut allergies," said Sorrell, leaving the audience in splits.

During a session filled with Sorrell's sharp wit, there were also a few moments of serious silence when the media guru was confronted with all kinds of allegations against him. Auletta asked him to explain the circumstances under which he was compelled to leave WPP. He was also confronted with allegations of being 'verbally abusive and cruel to people in the office'. "Am I an easy person to deal with? No. Am I demanding? Yes. I don't think that was fair. I think I demanded high standards. I don't know who The Financial Times spoke to. They claim they spoke to 20- 25 people, maybe they spoke to the wrong 20 or 25 people. I said over the last six or seven weeks, I received numerous emails (from WPP colleagues) and maybe one of the things I should do is publish those emails that I received which would contradict what you just said," Sorrell responded.

Countering most of the allegations against him including that of financial and personal misconduct, Sorrell said he has responded formally to all of them.