The dose of digital penetration in India has turned into a bitter pill for celebrities and brands, with not just films but ads too being attacked by keyboard warriors. Zomato and Amazon India became the most recent names to face boycott on Twitter under the 'cancel culture'. While most of the time it results in just noise with no impact on the company's fortunes, one can't discount the fact that on other occasions brands have gone on to face immense losses because of the online outrage. The question is what extent of due diligence is really enough while making an ad and does a section of society somehow end up getting offended regardless of how careful the brand and the agency have been in their communication?

Industry leaders told IMPACT that due to such boycotts, several creative agencies have started hiring an anthropologist to ensure no section of the society gets offended. While on one hand creative expression is at stake, the brand needs to be careful about a communication and the resultant outrage not creating a negative impression on the consumer's subconscious mind.

Commenting on the Zomato controversy, Aalap Desai, CCO, Isobar India and Taproot Dentsu said, "Sometimes there are human mistakes and I think this was one such mistake. We are overreacting. I think we have become oversensitive on such topics. There is due diligence done by agencies. But there can be sensibilities that can be managed better. We should not crucify and make an example of everything that we feel has gone wrong."

The case in question used deepfake and Artificial Intelligence to create personalized ads based on restaurants closer to the viewer's location, like the Mondelez commercial in the past. The advertisement featuring Hrithik Roshan referenced thalis at 'Mahakal Restaurant' in Ujjain, and not the revered Mahakaleshwar Temple, but it was accused of 'hurting religious sentiments'. Zomato went on to pull down the ad and also tendered an apology. But it did raise questions on how a well-meaning technological twist to making ads can also have a loophole because at the end of the day we are dealing with human beings here of varied sensibilities. The agency, Enormous Brands which conceptualised the ad, perhaps never thought that a case of mistaken identity between a deity and a restaurant would haunt the ad, when a food joint by the same name has survived many years in Ujjain. The agency and the brand were not available for comment when approached.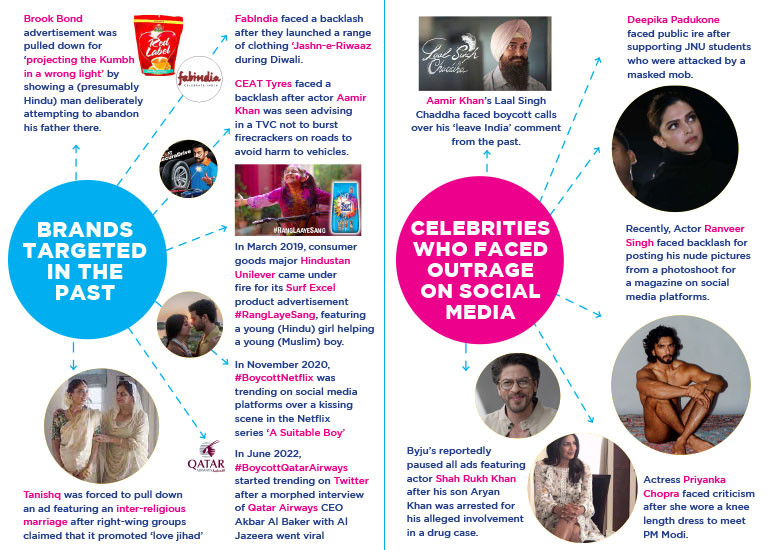 While #BoycottZomato was trending on Twitter, the Advertising Standard Council of India revealed that the advertising watchdog did not receive any complaint on the ad. When contacted, Manisha Kapoor, CEO and Secretary General, ASCI said, "Not all the advertisements against which boycott calls have been issued violate the ASCI code. A recent study by ASCI titled 'What India Takes Offence To' uncovered some key points that triggered people. The ASCI code is clear about what's kosher and what isn't. So long as ads adhere to that, they are not in violation of any norms."She went on to add, "Brands need to do their due diligence before publishing an ad. They also need to keep in mind what an average, reasonable consumer might interpret. Beyond this, the response to trolling cannot be generalised, as it depends on the specific issue and the brand's conviction in its advertising," said Kapoor.

But Zomato is not new to controversies, says Naresh Gupta, Co-founder of Bang In The Middle, "One can debate whether Zomato was right or wrong in doing what it did, but when you put a name like 'Mahakal', you know, you are bordering on a bit of a problem. So, to be fair, Zomato is not a brand that walks away from controversy. Earlier, they have deliberately punned on bad words while wanting to set off a storm."

He further explains, "There is no way you don't know that you are igniting a controversy, especially when you have already done it in the past. And I am sure they thought they can deal with the controversy no matter what shape it takes."

On the other side there was a call for boycotting Amazon India which was recently trending on microblogging platform Twitter after it came to light that some objectionable paintings of Hindu deities were being sold on the marketplace during Janmashtami. Amazon spokesperson remained unavailable to comment on the incident.

The process of shaming a person or a brand has reached unmatched heights in the past few months and is showing no signs of slowing down. Ankur Pujari, Co-Founder & Growth Lead, Hyper Connect Asia says, "People have become little more sensitive towards content in general. And, when we say content, it includes movies. It includes content that is created on social media by content creators, and even for the brands and ads. So, there have been many instances where we feel that, the issue is not actually that big and it's just a very polarized view towards certain things. Unless you are outright insensitive towards a particular person or religion or anything specific then it is fine. There are some keyboard warriors sitting in some corner of the country, trying to add fuel to the fire which is not significant in any way."

In a case which suggests that cancel culture can also be motivated in some instances, some influencers received legal notices from an ecommerce platform Meesho over an alleged smear campaign against the site. The company in June this year spoke about how a Twitter user 'exposed a concerted campaign against Meesho' in which several influencers put out a series of tweets tagging the company's investors. Meesho claimed that their aim was to malign its reputation by spreading lies and added that following the exposé, some influencers acknowledged that said tweets were paid promotions while others deleted their posts.

How are brands fighting cancel culture
In the recent past, several brands and platforms took mega hits due to boycott/ cancel culture in India. Actor Aamir Khan's TVC promoting CEAT Tyre's premium SecuraDrive range of tyres by urging people to not burst firecrackers on the road had led to an uproar. Similarly, an NGO had filed a complaint against fashion e-tailer, Myntra claiming that its logo was offensive and derogatory towards women.

Arnab Banerjee, COO, CEAT Ltd while responding to IMPACT'S query on the criticism faced by the TVC featuring Aamir Khan said, "We believe in staying true to our brand purpose of Making Mobility Safer and Smarter for our consumers. We do not fuel controversies but believe in addressing consumer concerns or issues they might be facing around our products or services. Our conviction in catering to our consumer needs is reflected in the fact that we never delete any negative comment received from them."

Another classic case of brand Maggi noodles being boycotted in India had a major impact on products sold by Nestle in India and across the world. Maggi noodles in 2015 was a Rs 2000 crore brand before the ban, the recall exercise during the crisis cost Nestle Rs 320 crore and another Rs 1,270 crore in brand loss according to global valuation consultancy Brand Finance. But now it is back to its market leader position in India.

Recalling how Nestle India managed to put the controversy behind them and take Maggi to its former glory, Suresh Narayanan, Chairman and Managing Director, Nestle India said, "I think a lot of people are involved in it-- my team, our stakeholders, ultimately it is a question of having the right kind of ethics, the right kind of principles and transparency and above all respecting the laws of the land and respectfully putting across your point of view to the numerous stakeholders that we have in the country. The ultimate analysis is the love of the consumer. It is because of the millions of consumers that Maggi came back. We would not have been successful if the consumer didn't want us. So, consumer choice is probably the biggest reason why Maggi came back."

Hina Nagarajan, MD and CEO of Diageo India explains how a brand should avoid such a situation by being true to its consumer, she says, "Being a purposeful brand, having more meaningful connections with the consumer and being very transparent and authentic is the strategy which a brand should have today. Consumers are very demanding. They're looking for authenticity. Brands should be able to resolve their problems if they can connect with them, really understand what they're saying and be able to deal with things in a very transparent, high-integrity manner."

Several marketers argued that the cancel culture and boycott of brands based on advertisements curbs creativity. Sunil Kataria, CEO of Raymond Limited and Chairman of Indian Society of Advertisers (ISA) said, "Freedom of expression is a very important piece of any democracy, individuals and brands have to have the freedom of engaging with consumers. At the same time, with such freedom also comes great responsibility."

He further said, "The brands also need to make sure that they are communicating in a socially responsible way with their consumers. There will always be cases where you still get trolled despite being the most responsible brand and that holds true for most businesses, there can always be some things you can't control."

Suggesting how brands can tackle #CancelCulture, Suresh Narayanan said, "If brands are true to their purpose and values, they should never find themselves in a position like this. It's only when you try and be cleverer or try to deviate from some of the principles that you have lived with through the history of the brand that it creates problems. I think, it's a question of living your purpose, living your values and living the spirit of the brand at all points in time and being very cognizant and sensitive about it."

Banerjee of CEAT says even criticism that emerges from #CancelCulture can be taken positively, "Brands receiving criticism is not a new phenomenon, with the proliferation of social media this has become amplified as people have access to platforms to voice their opinions. Brands should know who their core consumers are, their beliefs, needs and be focused on how they can make life easier and better for their consumers. It is important for a brand to be purpose led & deal with these opinions in a professional manner accepting both the good and the bad and taking it as an opportunity to gain valuable insights."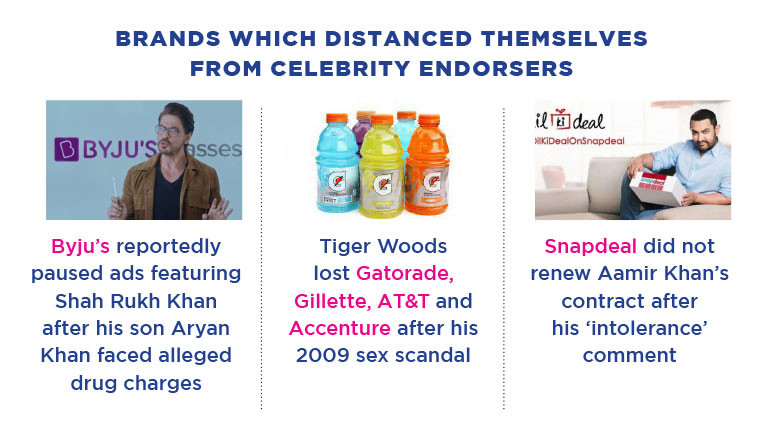 Ranjan Das, MD, Apppl Combine says the bounce back after facing such an outrage depends a lot on the brand pull, "Impact on the brand largely depends on how deep rooted it is in the market, its competitive landscape and current position in the demand and supply. There are several cases where the boycott in the long run did not affect the brand much, for example, Maggi bounced back really quickly because of its loyal consumer base, also the competitive landscape was not very strong. It was truly the leader with regards to the market share, taste and brand equity. In comparison to that, Cadbury after the 'worm' crisis took a long time to return to normalcy and needed much marketing and investment and also the personal brand equity of Amitabh Bachchan to see a strong comeback. Because there were many competitor brands back then which were doing well."

Explaining the impact on the brand, Das says, "Certainly the bottom line is impacted, market share goes down depending on the geographic landscape of ban or the boycott and its duration. But it is definitely minimized by marketing to a great extent."
Meanwhile, agencies are of the opinion that the consumer of today is 'oversensitive'. Pujari of Hyper Connect Asia explains, "Calling for a boycott is by itself a forced conversation that is being driven in a very negative sense. As a creative agency we do a lot of due diligence, for example, whenever we craft a communication, we run it through the lens of whether it's insensitive towards any gender, religion, person or even a competing brand. Being brand custodians, everything is at stake for us as well. Just to be mischievous we would not like to put the brand into a compromised space."

Rahul Mathew, Chief Creative Officer, DDB Mudra Group said, "The cancel culture isn't just about sensitivities, at times it's about sensationalism. And that's where it gets tricky for marketers and agencies.Because, unfortunately, sensationalism is loud enough to drown all reason and can be mistaken to be voice of the society. And at times, it reflects on the brand's image and the sales."
He further says, "Some of this also happens, because brands are saying things that sound progressive, but not necessarily authentic to them. If you truly believe in something, you find it easier to stand for it; even in the face of adversity."

Desai of Dentsu says, "I think due diligence is a much-needed thing. When boycott and cancel culture started, it was a correction that we all needed. Some things are very, very offensive, I would say after 2012-13, many checks came in which are much needed. Now they are shaping the industry. The generation today is more aware and open about things. A lot of brands take that openness for a want for controversy and such due diligence stops us from going ahead with that."

Claiming that most of the problematic advertisements are being generated by the internal creative team of a brand, Gupta of Bang In The Middle says, "Most of the works that are coming out of agencies are hardly problematic, the issue is when the brand's internal creative teams work on an ad. The problematic Layer'r Shot commercials were not made by an agency. It was made by the internal creative team of the brand which may not have the perspective that a creative agency does. If you work in an agency, you work with multiple clients and you know, what kind of thing can be a problem because you've seen that happen to somebody else."

Sanya Afreen, Creative Director, Admatazz gave an example of how Nike managed to firmly stand its ground during the Black Lives Matter controversy, she says, "Nike supported the Black Lives Matter movement by supporting what Kaepernick and other NFL players did in 2018. Nike is known for its bold stance and its unafraid advertising, however, the type of outcry they received was unprecedented. But being true to their brand persona, they stood for what they believed in and they got the support they needed. Today Nike has positioned itself as a brand that will stand for what's right no matter what happens and people respect that, that is how you deal with cancel culture."

She further says, "Cancel culture is any brand's worst nightmare but it is also a litmus test to understand the emotions and sentiments of the society as a whole. In terms of sales, there are a ton of variables that affect the final number, cancel culture might be one minor part of them but it's not all of it."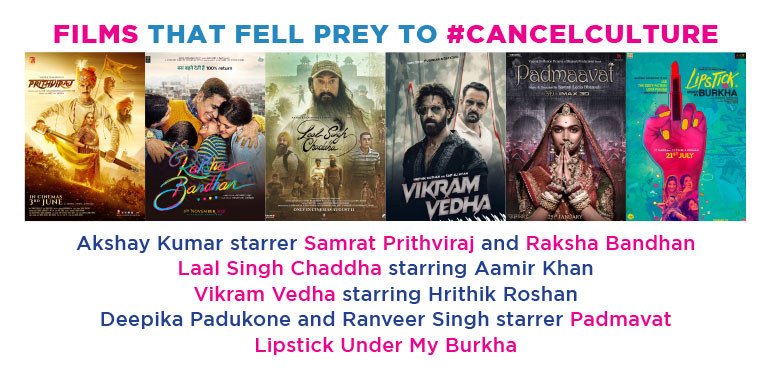 Spillover effect of 'Cancelled' Celebrities
In these times of social media explosion, the primary target of troll army and keyboard warriors are the B-town celebrities and sports personalities. Be it a statement from the past or their recent brand engagements, celebrities are scrutinized and are being 'cancelled' on the internet, at times affecting the brands they endorse too.
In the recent past, celebrities like Aamir Khan, Deepika Padukone, Karan Johar, Anurag Kashyap, Shah Rukh Khan, Priyanka Chopra Jonas among others were heavily trolled. Experts say that certain A listed celebrities now haunt several brands over their stand on certain social issues which could impact the brand image.

Anish Varghese, Chief Creative Officer, Liqvd Asia explains, "Brands would definitely get affected by what the celebrities do in their social space because these celebrities are the spokespersons or the ambassadors of a brand. Actor Ayushman Khurana's comment on how 'one scoop of protein powder takes three years to digest' continues to haunt him. People are picking up those comments and are reacting to it. The point is that celebrities have to be doubly sure, before posting anything on social media. Not every post may affect them immediately, some may have an impact in future."

Narayanan of Nestle India says, "Ultimately the choice of celebrities and the choice of whom you use is a question of not only the brand promise but also the commercial expectations that you have got. So yes, if somebody gets into a serious controversy, it does have some impact on the brand, but brands should then be careful before they use numerous celebrities. In fact, they must evaluate whether they need a celebrity to endorse their brand or whether the brand is strong enough to support itself."
Barring some instances where the social media outrage was justified, today cancel culture has gone too far, it transgresses logic at times and borders on simply humiliating a brand or a celebrity. For e.g. from boycotting the film, Laal Singh Chaddha to attacking actor Kareena Kapoor's personal choices in life to now calling for a boycott of the ads she endorses, the hate is spreading rather fast. What started off on social media as a voice of the unheard has become a weapon of destruction of personalities and brand images with one stroke. After having forcibly plastered itself as a 'cause of concern' in the world of advertising the question is will #CancelCulture have a far more damaging impact on creativity and advertising in the days to come.