If Prashant Panday, MD & CEO of Entertainment Network India Limited (ENIL) had his way, Mumbai would have at least 45 radio stations compared to the current nine. What bothers the Radio veteran is that the medium has immense potential, but is suppressed under government regulations that not only restrict growth by not opening up available spectrum, but also impose curbs on the kind of content that can go on the airwaves, giving it a distinct disadvantage, compared to any other medium. "Somebody should ask why aren't there 45 radio stations in Mumbai," asserts Panday, "There is so much spectrum and we have only nine stations in Mumbai, whereas in a city like New York, there are 45 stations. The Government doesn't understand that it is sitting on spectrum which is going to become useless in another 10-15 years. So, it might as well put it out and make some money. TRAI made the recommendation, but the Government doesn't move."

To take his argument further, he points out that the city of Mumbai – with at least 10 lakh Tamilian residents - has no Tamil radio station, while even Singapore has a radio station for its much smaller Tamil population. Mumbai also has only one radio station that plays English. "This country and city has moved forward, but there's only one radio station in English. So, it's frustrating that this beautiful medium of Radio is being wasted when it could have been 3-4 times bigger, had the Government bothered to open it up," Panday adds.
Insisting that the Government should have a more open mind on supply, make more spectrum available to broadcasters and open up news, as well as sports, for Radio, Panday says, "You have 80,000 newspapers or publications. You have 250-300 news channels which you can't control. You have a few million websites, 25 million Twitter handles you can't control, but you want to control only Radio. I don't know where this comes from." Radio has never abused its power, Panday declares, adding that it is Radio networks that the Government turns to for help whenever there is an emergency, like a flood or a riot, as only Radio stations remain operational. "Also, Sports rights are sold off worldwide but you can't do it in India. If somebody is on the road and they want to listen to cricket, why not give it to them on private Radio? The worst thing is, you can't understand the logic for some of these things. Is it that you are reserving it for TV, which doesn't care?" Panday asks.
GROWING THE NETWORK
Last month, ENIL, the holding company of Radio Mirchi, reported a 50% profit after tax (PAT) and revenues of Rs 122.5 crore for the quarter ended September 30, 2018. This follows Radio Mirchi's positive growth trajectory, which has led to its emergence as the number one FM broadcaster in Delhi and Mumbai, as well as in the top eight metros taken together, as per IRS data for 2017. Over the years, since its launch in 2002, Radio Mirchi has continuously sought to reinvent itself, going beyond plain vanilla music offerings to offer listeners much more; be it through Mirchi Love, a station dedicated to romantic melodies in various languages, the multimedia solutions business, which includes concerts like the recent Bryan Adams The Ultimate Tour; pioneering short snackable audio content series produced in-house which has helped in it being consumed on the same lines as All India Bakchod (AIB), Only Much Louder (OML) and TVF Pitchers, among others; entering new markets post Phase 3 auctions and more – all of which have been key contributors to Radio Mirchi's success.
Here, in a freewheeling conversation with IMPACT, Prashant Panday talks about expectations from the new Phase 3 stations, how the Times Group heritage has had a large role to play in the network's success, right from the ability to attract the best managerial and creative talent to leveraging client relationships of the Times of India Print business for revenue generation; getting listed in 2006, expanding its offerings into new business platforms beyond FCT, which today accounts for 25-30% of overall revenues, increased focus on advertising on the Digital medium, the acquisition of Ishq 104.8 FM and more…
Q]

What expectations do you have from the network post the Radio Phase 3 auctions?
There have been two batches in Phase 3, in which we acquired 17 stations in the first batch and 21 in the second. That makes it 38 stations in Phase 3, in places like Akola, Amravati, Asansol, Bharuch, Bhavnagar, Durg, Jamnagar, Jhansi, Junagarh, Mysuru, Puducherry, Siliguri, Ujjain and Warangal among others. Our expectation is more from the station Mirchi Love. Most people look at music as being either in English, Hindi, Tamil or any other language. They either look at contemporary or 90s or retro. When we looked at the market, we knew that there was a different need which was not defined only by the age or language of music. We knew that you can actually develop on the back of an emotion, and that's how Mirchi Love was launched.

Q]

What is the one differentiator for Mirchi Love?
Mirchi Love's objective is that when you consume it, you will look at the world through rose-tinted glasses. It is bound to make you cheerful and feel like you are in love. So, the choice of music is more melodious and better for long duration listening, unlike Radio Mirchi, which is necessarily noisier because it is built on the premise of being contemporary. If you can consume Mirchi for an hour, you can consume this for three hours, as it is much smoother and premium as a genre. This is the third year for Mirchi Love with 50% of the talk in English, which was a gutsy call that we held on to, as there is no advertising beyond 10 minutes.
Q]

It was indeed a very bold decision to cut the number of ads played on Radio Mirchi as well as Mirchi Love, based on listener feedback… How has that worked out?
For all the new stations of Mirchi like Chandigarh, Guwahati, Cochin, Srinagar and Jammu, which came in Batch 1 of Phase 3 – we curbed advertising to 10 minutes per hour. Even during the Diwali month, when the business volumes go through the roof, Mirchi was at 24 minutes, while Red FM was at 30 minutes and Big FM at 35 minutes. But Mirchi Love is firmly capped at 10 minutes and we are in the process of acquiring Ishq, which will hopefully be approved by the Ministry soon. This has been a great reason why the brands have built up very well.
Q]

But how did you address the challenge of increasing revenues without increasing ads?
The proposition to the client is that even if half their spots are wasted, they are effectively paying Rs 2000 to Red FM in Mumbai, or Rs 2,500 to Radio Mirchi whereas, we are offering Ishq at Rs 1000 in Mumbai and saying that it will be in a two or 2.5 minute ad break, which won't let a single ad of theirs be wasted. It's not the easiest thing to convince clients because we don't always meet them; we meet agencies who tend to bargain. But over a period of time, one needs to be patient and hold the storyline to make it work. We are now running full up on ad inventory in Bangalore, Hyderabad, Chandigarh, and are starting to run full up on Ishq in Mumbai and Delhi as well. The market takes 2-3 years, but you have to have the patience, and fortunately for me, we are working in the right environment, where we're not under too much revenue pressure, be it from the Board or the Chairman.
Q]

How have Radio ad revenues recovered post the effects of GST, demonetization, RERA which affected advertising by real estate companies?
After demonetization, came in RERA somewhere in July 2017. The market got really badly butchered. However, Mumbai has recovered, but Delhi, Noida, Gurgaon, Pune and Jaipur are in very bad shape whereas Kolkata is better. So, it varies from market to market. When we cut 15% of ad volume in Radio Mirchi, our mother brand, last year, everybody else was growing ad volumes to get price increases as the market was down. I don't know how to evaluate it, because obviously we lost revenues and reported a de-growth last year. Nevertheless, in the research that followed, we came out on top. We believe that all of these things have a beneficial impact on listenership eventually. We have not increased the ad volume now, but are not taking any further dip. We recovered in our pricing, which grew by about 6-7% last year.
So we are in an investment phase where we made a lot of investments in picking up frequencies in Phase 3. All the costs are upfront but the revenue build-up happened slowly. Secondly, we cut volumes last year as a response to listener feedback. Thirdly, we as a strategy over-invest in marketing and build less volumes. It is a combination of the three.
Q]

How are you betting on political advertising ahead of the upcoming elections?
Political advertising is very often misunderstood in our country as it varies State by State. All the money that comes to political advertising for a brand like us are not incremental revenues. If we get five minutes of political advertising in an hour, we have to throw out five minutes of other advertising as we have capped it at 24 minutes. So, all the extra earnings is the incremental pricing on that 5 minutes. Political advertising is very important because the pricing is higher. But it is uncertain and we don't know how much we will get.
Q]

What is the reason behind shifting the network's marketing strategy to television advertising for new and existing radio stations?
It all depends on your needs of the year. Before we launched Mirchi Love, which was our second frequency network, and before we launched our new stations in Chandigarh, Cochin and others, we did television advertising. And the reason was, we wanted to make sure that we were entering the new cities, which already had a lot of brand pull. Subsequently, we moved out of television and have been doing more digital and local advertising nowadays.
Q]

How do you see the year panning out for Radio Mirchi and what can we expect? Where do you see growth coming from, and what are the new growth areas that can materialize?
There is a certain softness in the media and consumer markets. Therefore, I think that the year will remain relatively softer than we would have liked it to be. It can do much better, and may be because of the political advertising that will follow towards the end of the financial year, it will actually lift. But, it's more likely to end up softer than it is to end up stronger. Growth will come from traditional media. Our second frequency network has become more mature and has actually been received well by listeners. That is an area that promises fast growth. About 70% of our revenue is from Radio and 30% is from what we call solutions businesses. So, for instance, we have a very strong activations business. We have a strong television content business. We have something called 'multimedia solutions business'. Concerts are a growing business for us and we have a lot of other businesses from which I see a lot of growth happening as brands are increasingly looking at touch-points by going beyond mass media. We expect a lot of growth to come from the solutions business, and of course from the second frequencies on the radio side.

Q]

Talking of brands, which categories of advertisers have shown positive trends in Radio advertising over the last few years?
There is not one single category of advertiser that does not advertise on Radio, which is why there is no one category which is particularly big on Radio. The biggest, of course, would be the Government, making up 12% to 13% of our total ad revenues. But, there are a whole lot of other categories all in the 6% to 10%-12% range. There is FMCG which is about 10%-12%. There is Auto and Education which are pretty big. There is Real Estate which used to be bigger earlier, but still pretty decent. There is e-commerce which is again becoming very big after a bit of a slump two years back. Telecom used to be big earlier but now it has gone into a slump. But, there are at least half a dozen categories which are between 6% and 10% each.
Q]

Radio Mirchi's 'Mat Aao India' campaign was taken down after a backlash and the 'Mitron' segment has also been scrapped after complaints from senior BJP leaders. What is your view of Government interference in content on media platforms?
There has been Government interference for many years. The speaker in the previous government had a very nasal way of speaking. So, we did a fun capsule on that and got a complaint from her office asking us to put it down. So, let's be honest, it's not that it has not always happened. It has certainly increased of late. The 'Mitron' campaign was a very innocuous campaign which ran for more than six months. Although some sections of the Government took offence, it had already run its course and we didn't feel so badly hit by it.
However, the 'Mat Aao India' campaign was an unnecessary controversy that we got into. There was a molestation that happened in Fatehpur Sikri which made my team make a promo which jokingly said, you know 'just don't come to India', which we put out on our Kanpur station, Lucknow station, in UP and in 5-6 other cities. It played for a couple of days, but nothing happened until our regional programming head put it on Twitter sometime in the night. I woke up in the morning, flooded with messages and phone calls asking us what we've done and calling us anti-national as we were supposedly urging tourists not to come to India. We explained to them that foreigners wouldn't understand Hindi and that it wasn't playing abroad and was just a satire.
Q]

In that context, do you think the Government has come down too heavily on people and did you get a notice for this?
In today's world, it's not the Government which does anything, but the trolls. We got badly trolled and therefore came under pressure. The trolls have taken over. Every media brand goes through it. But, to be honest, the Government has never called us for a meeting. Somebody tagged the I&B Minister, Smriti Irani, at that time. But nothing happened at the Government level officially, except for the troll level. So, they will say 'Don't listen to Mirchi'. These are mostly all hollow threats, but we are a happy brand and just have fun all the time. We don't want to get into this controversy, we are not a political brand, which is why we avoid all that.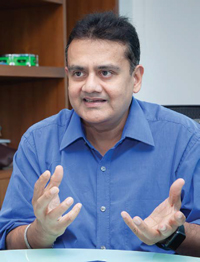 Q]

With regard to a person's social media posts, should it be considered the professional opinion of a CEO and therefore represent the company or the personal opinion of an individual?
In India you are the brand and the brand is you, which is the reason why every head honcho in India, when they go on TV, or talk in Print, they always say good things about the Government. It is not about this Government, but every government. So, a big businessman will say India is the best, but will go and invest abroad. Globally, the institutions are much stronger. The institutional framework in those countries is very strong but in our country it is not. We are a relatively younger democracy and every Government exploits it that way.
Q]

What do you think of the level of creativity in Radio ads today?
Unfortunately, it's limited, and I don't think that the Radio industry itself has done a great job building creativity, but overall, Radio doesn't get the kind of ads that it should get. If it did, advertisers would benefit tremendously. If you go abroad, you see really classy ads. In India, it appears to be more functional ads. The message is delivered in the most crisp and simple manner.
Q]

Are you looking to do something about it… perhaps collaborate with the creative folk or marketers?
Every advertiser is on Radio. It is an important part of every media plan today. Unfortunately, Radio has become a very busy medium, and a very hard-working medium. There is no time to pause and make it look beautiful. I don't think it's going to happen very quickly.
Q]

We recently saw Radio Mirchi and Red FM join hands in the 'Power of 2' campaign for Quaker Oats + Milk… what made you decide to associate with a competitor?
There was an idea that we had created for Quaker….and as part of the "Power of 2", we worked with Red FM to deliver the solution. We are very comfortable working with other radio brands in creative ways.
Q]

What is the official conversation around a unified measurement body for Radio on the lines of BARC for TV?
TRAI had suggested something along these lines…I think the research is stalled because there is no consensus on the measurement methodology, costs etc.
Q]

The Radio AdEx still stands at 3.5%-4% of the overall advertising pie. So, how do you see it growing?
Radio could be three times bigger than it is, if only the Government opened up more frequencies, more licenses, allowed news, mergers and acquisitions to take place. The potential in India is very high and we believe it's about 4.5%, but this number could be easily about 8% or 9%. It's an underexplored market and a wasted opportunity.
THE VIDEO GAME FOR RADIO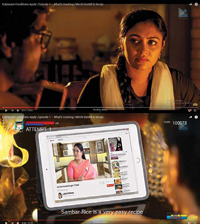 How big a game is video for Radio Mirchi? And why hasn't digital radio taken off the way it was expected to? Put these questions to Prashant Panday, and he says, "India is largely a video country. For instance, music is not audio as much here as it is video. Everybody watches music on YouTube or wherever, but they don't consume as much on the music OTT apps as they would probably in the US and other places. For Mirchi, it is a great opportunity to do more video but we are not in the business of serious video or long format video. What we have are 300 creative people under one roof called 'Radio Mirchi' who produce great audio content for Radio. But, if these are creative guys, and they are not just audio guys, then why can't they express themselves in the video format? We are tapping into our talent pool. We have now hired writers who write great scripts keeping our RJs in mind. Typically, these are all small episodes of 5, 7 and 10 minutes and we make 5-6 episodes into a series. These are what we call snackable content. We use our in-house talent, and there is a huge demand for this in the market. No other radio broadcaster does this. Our competition ends up being players like AIB, OML and TVF, and some of the guys in the South. Particularly in regional content, there is a huge opportunity. We did this thing in Tamil with Kalyanam and got 10 million plus views organically and the brand which was integrated was very happy. That led to our second season coming up. We are hoping to do at least 20 hours of video content this year. It's small right now but it can be a viable and profitable business."