The amplified advertisements featuring megastars like Shahrukh Khan, MS Dhoni, Virat Kohli, and Hrithik Roshan endorsing Real Money Gaming (RMG) brands have grabbed major eyeballs of late, this despite the fact that several states in India have over time disapproved of this sector, some of them even attempting to ban it in the past. The question is, whether Real Money Gaming is simply old wine in a new bottle whose popularity has hit the roof because of great packaging and wider use of smartphones and apps. The debate over its legality may have caused some hurdles for the sector but despite that, does it have the potential to be a real game-changer for the gaming industry as well as the advertising industry?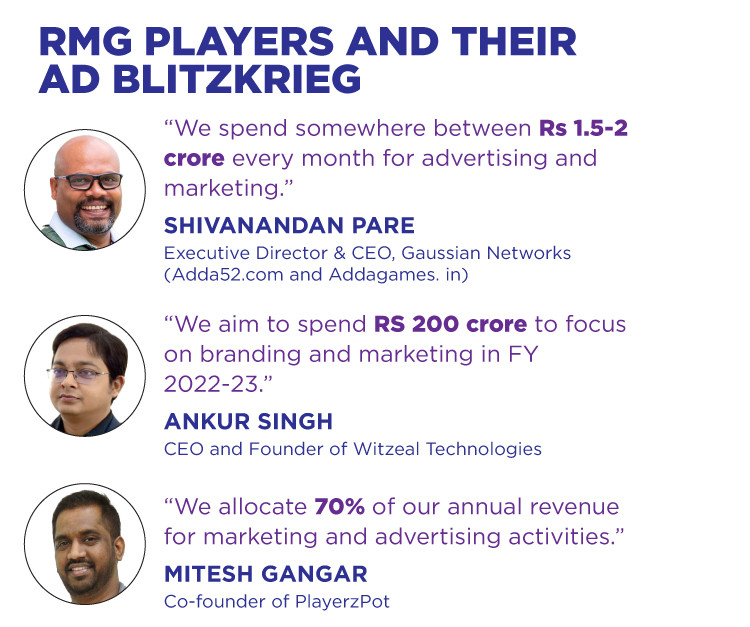 Indian Gaming companies have spent close to Rs 1500 crores on advertising expenditure alone in 2021, 90% of which is from RMG players, and that number is just set to grow this year, say experts. India has become a hub for online gaming with over 92 gaming companies. A number of them are registered in Bangalore attracting Rs 3000 crore in investments for the state in the last three years as per the Internet and Mobile Association of India (IMAI). Despite Real Money Gaming (RMG) being clamped down in some states like Andhra Pradesh and Telangana, the FICCI-EY Media and Entertainment Report 2022 states that the transaction-based game revenues grew 26% on the back of fantasy sports and card games. According to a 2021 report by the All India Gaming Federation (AIGF) and EY, the online gaming industry is expected to grow from 360 million gamers to 510 million by 2022. However, the growth of RMG industry was hindered due to multiple legal hiccups.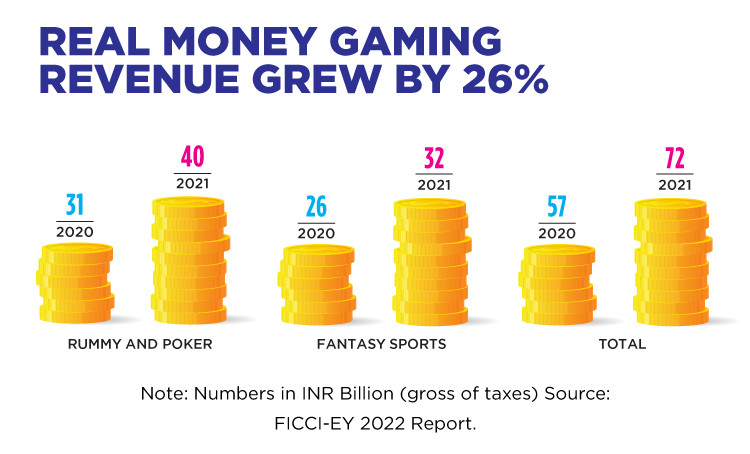 Why are RMG brands aggressive on ad spends?
But the obstacles notwithstanding, in the past few years, real-money gaming apps have not only increased its user base, but also increased its reach through multiple media platforms. According to the FICCI-EY 2022 report, advertisement revenue on gaming platforms grew by 20% due to digital advertising picking up pace. Also, 85% of games by Indian publishers included advertisements on their platforms, as compared to an average of 73% for global games.


While describing their latest ad campaign during the Indian Premier League, Mitesh Gangar, Co-founder of PlayerzPot says, "We allocate 70% of our annual revenue for marketing and advertising activities. We were also very excited about this IPL 15 season, and had come up with a novel and exciting new campaign for our players and fans. #CricketKaBhoot captures this excitement perfectly with the statement- 'Apna Time Shuru' – which is live on all our social media channels. We have also collaborated with popular short-format video platforms such as Moj, MX TakaTak, and Josh. For this campaign, we roped in the very talented Kiku Sharda alongside our brand ambassador Bhuvneshwar Kumar, who will be seen donning an all-new avatar in these videos."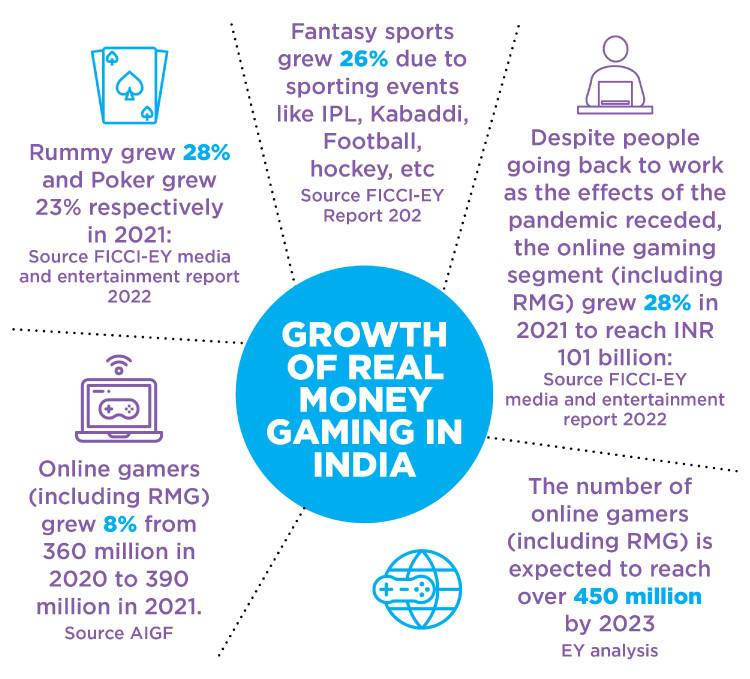 He further said that as a fantasy gaming platform, they need to be aggressive in advertising to stand out. Through ads and marketing efforts, they tend to educate users

on skill based online gaming, and reach out to new users/gamers. The company also keeps the gamers engaged through fun and innovative campaigns.
Talking about the aggressive stand taken by RMG brands on advertising spends, Ankur Singh, CEO and Founder of Witzeal Technologies says, "The online gaming industry across the globe is on an upward trajectory, and especially in India the industry seems to hold immense potential. Today, there are over 400 start-ups already in the industry with an increasing number of players every day."
Singh further said, "However, given the absence of central regulation, there is a need to spread awareness regarding a few aspects of gaming. Therefore, it becomes quite crucial for operators to have the utmost focus on marketing and advertising in order to get top-of-mind recall, and so that the existing and potential users have top of mind awareness about the brand. Having said that, we aim to spend INR 200 crore to focus on branding and marketing in FY 2022-23."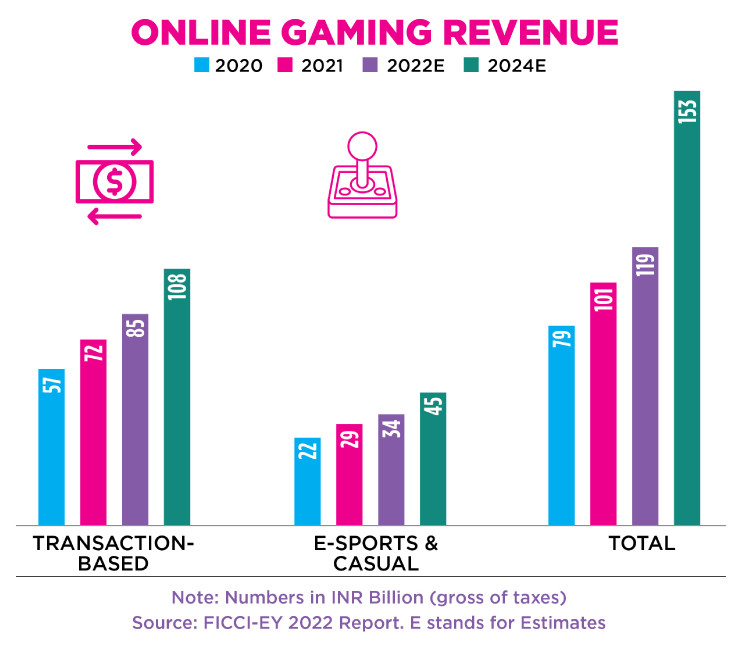 Shivanandan Pare, Executive Director & CEO, Gaussian Networks (Adda52.com and Addagames. in), stressed on the importance of advertising and marketing strategies by the RMG brands. "We spend somewhere between Rs 1.5-2 crore every month for advertising and marketing. The idea is to reach out to a larger audience, and spread awareness about skill-based gaming. Today, several RMG brands take an aggressive stand to make a stronger appeal to the audience. 80% of our advertisement spends are dedicated to Digital mediums. Our consumers are mostly on Digital platforms, and it makes sense to reach out to them on such platforms."


Describing the aggressive stand taken by the RMG brands in advertising, Rachana Monteiro, Senior Vice President, Starcom, gave an insight on consumer behaviour and said, "The headroom to grow in this space is massive. Most gamers would eventually play on 2-3 apps only while he may end up downloading 5-6 of them. There are currently 25+ apps already present, and this number is ever growing. Hence the competition is aggressive. The challenge is that the tech and UX across most apps are undifferentiated. The large advertising investments realises a dual goal. First, it is about getting a new audience. Second, it is all about building recall for the user to choose the advertiser's app as one of the 2-3 apps he plays on."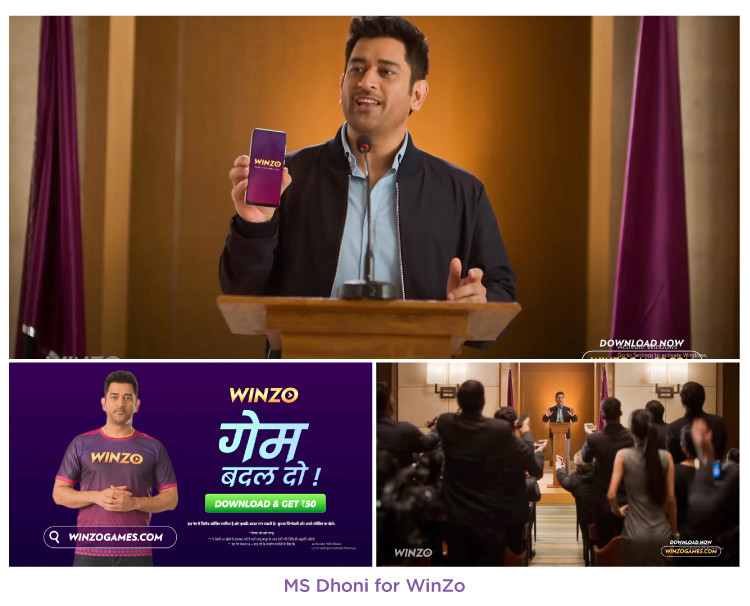 Narrating the detailed effectiveness of multiple mediums to reach the desired ROI, Deep Singh, Vice President, Strategy, PHD India said, "On Television, the news genre is the most preferred medium for e-commerce-gaming advertisements, as it accounts for more than 30% of the sector's ad volume share on Television. This is followed by the movie genre with over 25% share, general entertainment channels (GEC) and sports genres accounting for 14% and 11% share, respectively, with music genres below 10% share."
Talking about the aggressive strategy in detail, Deep Singh said that a robust framework comprising all genres, combined with digital visibility through a pre-planned strategy, may seem aggressive, but in reality, it works effectively and leads to a better ROI. Singh believes that a comprehensive approach like this can not only help gaming brands reach a wider audience, but also possibly eliminate preconceived notions around gaming that involves real money.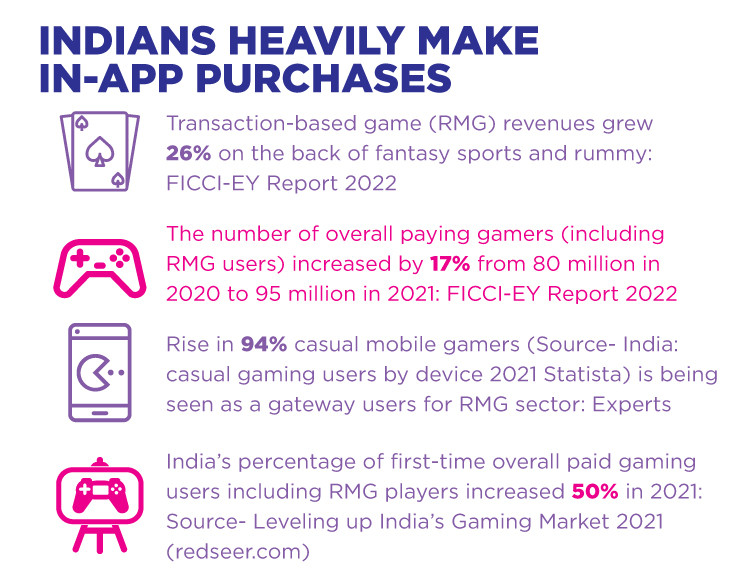 Celebrities delivering the right message?
Today both Bollywood actors, and Indian sports stars are featured in several Real Money Gaming advertisements. Shahrukh Khan for A23; Virat Kohli for Mobile Premier League (MPL); MS Dhoni for WinZO; Hrithik Roshan for Games 24x7, among others, are endorsing these skill-based gaming apps.
While on the other hand, former Indian cricketer, Sachin Tendulkar, had recently issued a statement after his morphed photo was used to promote an online casino brand. "It has come to my notice that there are multiple ads being shown on social media platforms, with a morphed photo showing me endorsing a casino. I have never endorsed gambling, tobacco, or alcohol - directly or indirectly, in an individual capacity. It pains (me) to see that my images are being used to mislead people."


The statement further read, "While my legal team will be taking the required action, I felt it was important for me to share this information with everyone."
Anup Sharma, Independent PR and Communications Strategy Consultant says, "Celebrities need to be responsible while promoting any brand which risks health, financial stability, and addiction. While we talk about RMG brands, skill-based gaming is not illegal in India, but it has the risk of addiction, and then there is the financial risks."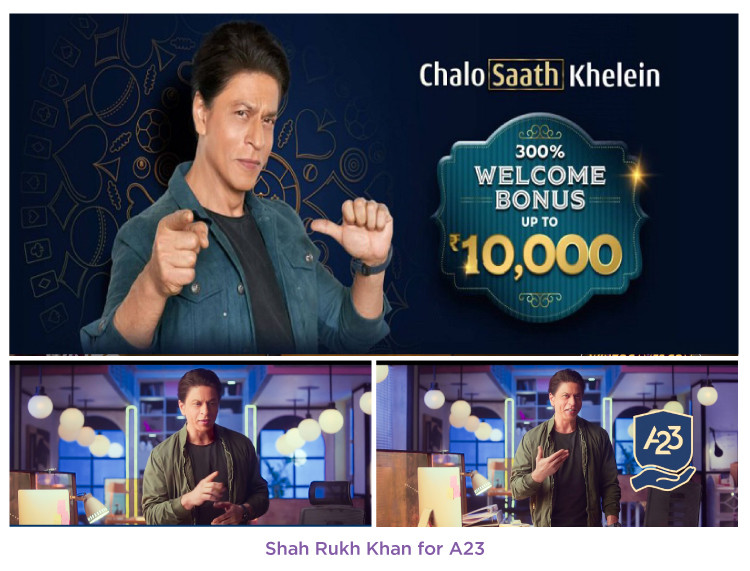 Sharma says, "Celebrities should ensure that they also spread awareness about the risks involved while playing such games, which may be addictive, and ask consumers to make an 'informed choice' - rest depends on the consumers if they still want to indulge in such activities."


While on the other hand, macro and micro influencers/streamers on social media platforms are refraining from promoting RMG brands. Rohit Agarwal, Founder of Alpha Zegus, a Mumbai based influencer management company said, "Two of my creators received warnings for promoting RMG brands on their YouTube channels. The community guidelines of YouTube are very strict. Moreover, the content creators or influencers themselves refuse to promote RMG brands which are more into card games with the fear of community strikes, and also because the younger audience is not well accustomed to card games and the rules involved. I have noticed that several streamers are promoting niche fantasy gaming brands such as Fan Clash, which focuses mainly on mobile PC games and tournaments, MPL, etc."
"Several international brands involved in betting and gambling are making a move in India. We deny promoting such games or brands. Today, influencers are more careful in promoting products so as to protect the community and to send the right message across," said Agarwal.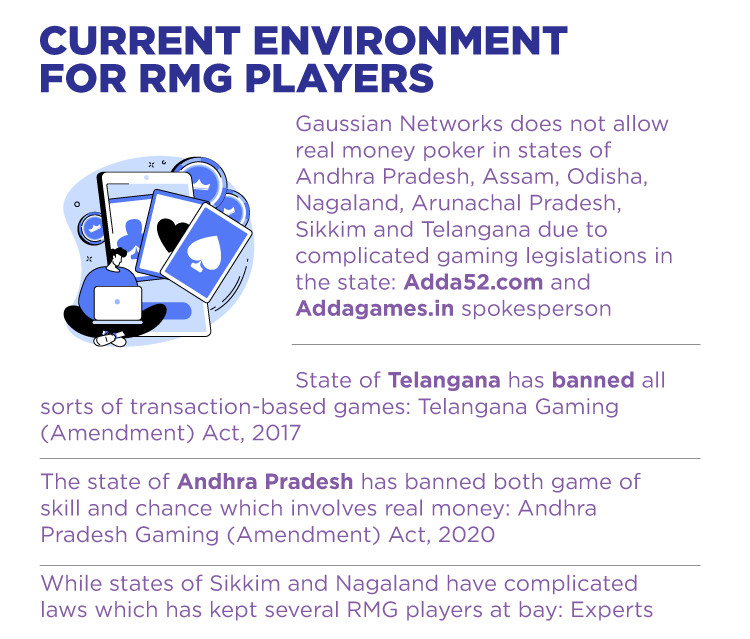 ASCI also has in a way attempted to make advertising by such real money gaming platforms more responsible, while describing the 'Endorser Due Diligence' service initiated, Subhash Kamath, Chairman of ASCI said, "ASCI cannot judge the morals or the ethics of any endorser promoting real money gaming and fantasy gaming brands. However, we already have a code in place when it comes to advertising in the sector. As far as the Endorser Due Diligence service is concerned, the Consumer Protection Act (2019) makes it mandatory for brand ambassadors to undertake due diligence for advertisements they appear in."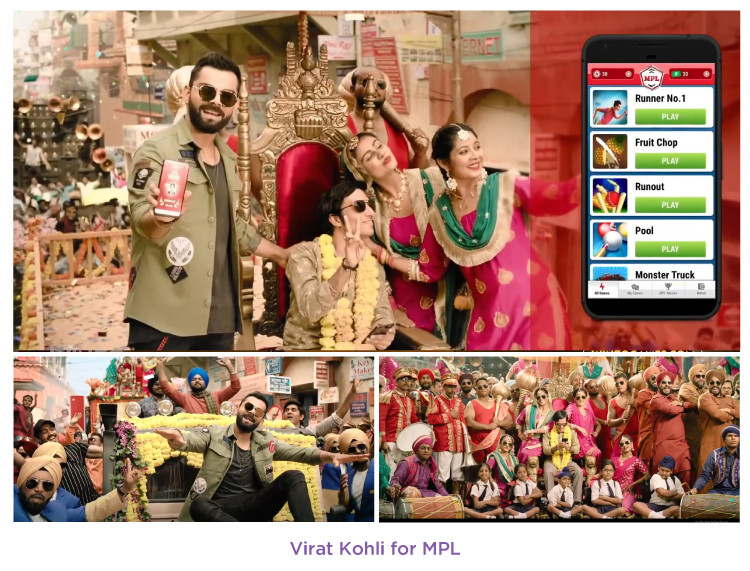 Stressing on the importance of sending out the right message through advertisements, Kamath said that if the ads they feature in are making false or misleading claims, there are financial penalties that they may face or even suspensions. ASCI's service helps endorsers to assess the claims made in advertisements across a range of sectors, and whether there is evidence in support of the claim where necessary. He further said that both, the Consumer Protection Act (2019), and the ASCI code require brand endorsers to ensure that representations made by them in ads do not mislead consumers.


Meanwhile, the positioning of RMG brands as esports and skill-based gaming has left many esports organisations and companies fuming. Lokesh Suji, Esports Federation of India said, "I think today esports should be considered as a proper sport just like cricket or hockey. Several Fantasy Sport apps and websites accommodate e-sport tournaments where users form their teams and speculate results. But these apps and websites cannot be called as esports. Similarly, if we look at the global perspective, no one calls Fantasy sport as an esport. Just as one cannot call a person playing a game of Fruit Ninja an esport player. There are several international bodies that have a detailed definition on esports."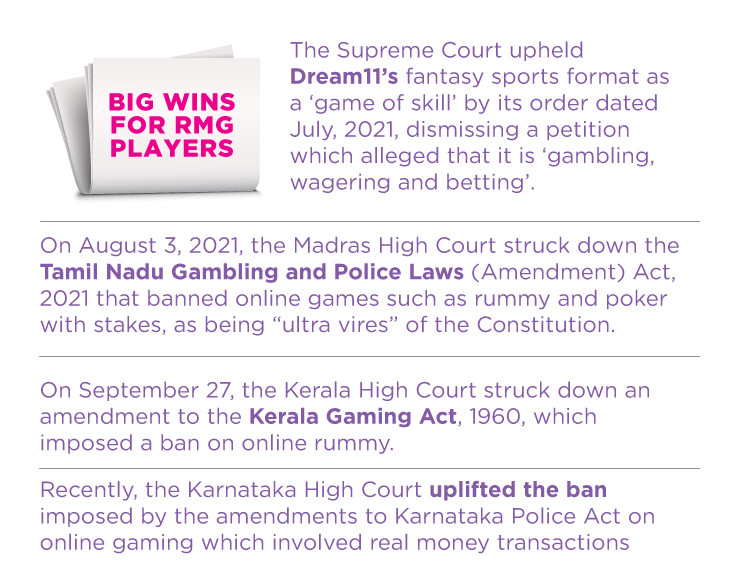 Giving a deeper clarity on the difference between esports and RMG, Suji said, "Today, people count us all in one category of online gaming, which also includes RMG. But to make it clear, all online games are not RMG. Esports is a different category altogether. Several media houses often make mistakes while reporting on esports as they often

end up using pictures of RMG brands with esports articles and vice versa. We are spreading awareness about such misunderstandings as well."
Meanwhile MPL has a different take on esports in India, Namratha Swamy, Country Head- India of MPL said, "We have been a skill gaming and esports platform right from our inception, offering multiple games across categories. We ensure that all our games and genres meet the test of 'Game of skill' through a stringent vetting by CERE (Credible External Regulatory Experts) comprising former judges, reputed law firms, and gaming litigators. Additionally, there are half a dozen legal precedents from the Supreme Court and various High Courts in the past couple of years, holding that pay to play formats are games of skill, and charging an entry fee does not change the nature of the skill games."
She further said, "Recently, the Government on the floor of the Parliament has also acknowledged the legal jurisprudence. Moreover, as stated above, esports are competitive skill game competitions. The games classified as esports on MPL adhere to generally accepted definitions of esports. Access to esports has long been very restricted due to exorbitant costs associated with consoles, high spec PCs, costs of games. Our objective at MPL is to bridge the divide between physical and digital sports, and democratise esports to make it more inclusive, diverse, and accessible to anyone who wants to play, and become an esports player if they wish."
The right messaging


When asked about the technicalities to be kept in mind while planning any ad campaigns for RMG brands, Harsh Shah, Managing Partner of Dentsu Webchutney said, "As exciting as RMG sounds, promoting it comes with its set of thrills and cautions. Primary due diligence includes parameters like age, geography, which type of game we are promoting; how is the creative positioned, if the disclaimer is clearly mentioned or not. The basic nuances are taken care of, it is very important to understand the impact that RMG has on the consumer."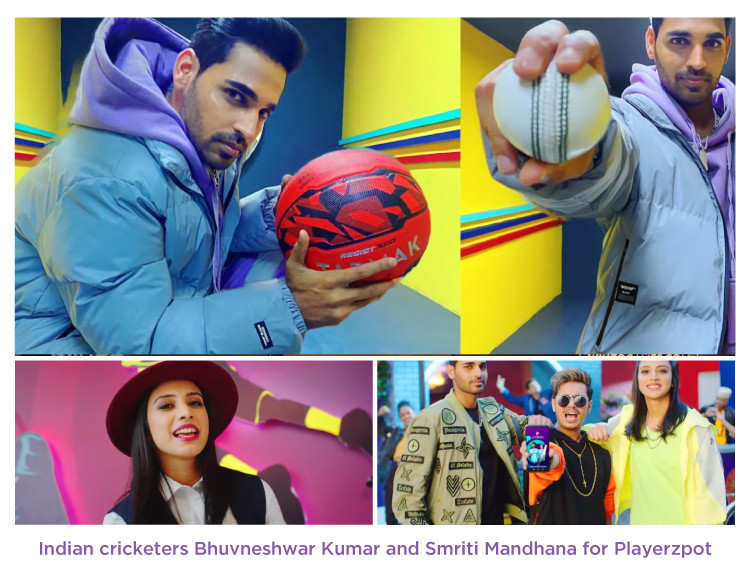 Shah further says, "Media agencies have to understand that for such brands there is real money involved. As soon as there is real money involved with a factor of luck,

conversions are tricky. Hence, consumer insights to understand behaviour and the time when the consumer likes to play/unwind becomes very important."
Rajesh Sikroria, Founder, Pontem Integrated, and former president of BBDO India has a different perspective on celebrities endorsing such brands. Sikroria said, "India does not have clear cut regulations on RMG. These games eventually take you to invest money. Also, people have become smarter in understanding that a superstar will often refrain from wearing a certain product but he endorses that particular brand for merely grabbing more eyeballs.
"When we talk about morality, few celebrities are okay endorsing such brands, while few might refrain from endorsing such brands. According to me, the lure of apps which gives false hopes of getting richer or earning a stable income by playing games is wrong and immoral. Advertisements which send across the message that, 'Hey, I have earned a certain amount by playing a game' are fundamentally wrong," said Sikroria.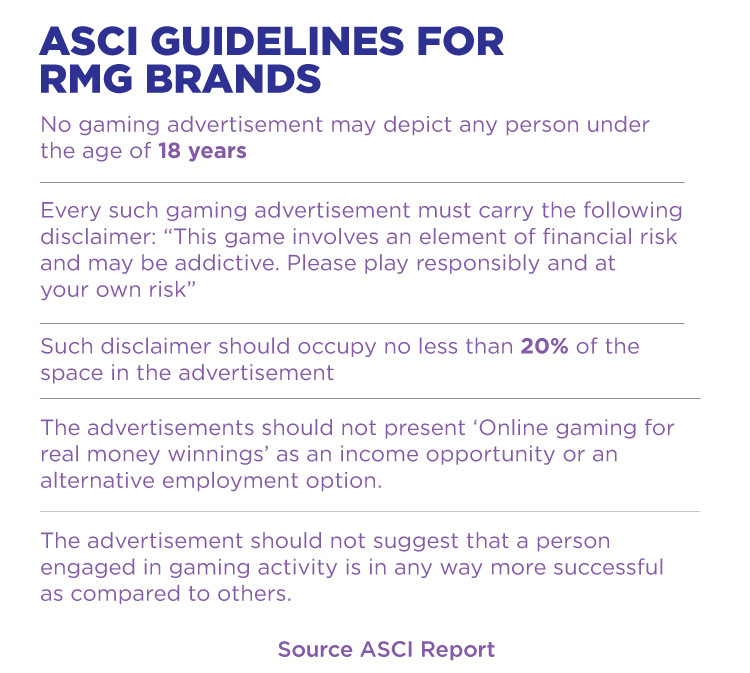 RMG brands under scanner?


Recently, the Advertising Standards Council of India cracked its whip against Real Money Gaming brands for allegedly violating the ASCI code. Manisha Kapoor, CEO and Secretary General, ASCI said, "ASCI is concerned to note that, despite clear guidelines, some online real-money gaming firms are attempting a shortcut. For an industry that is under significant regulatory scrutiny, such acts by some companies paint the entire industry as irresponsible. IPL, being a massive platform, requires responsible behaviour from all parties – including gaming firms, broadcasters, celebrities and ad creators. We hope that all parties play their roles to ensure that consumers are not exposed to misleading advertising." ASCI also released a list of violators and sent notices to several RMG brands.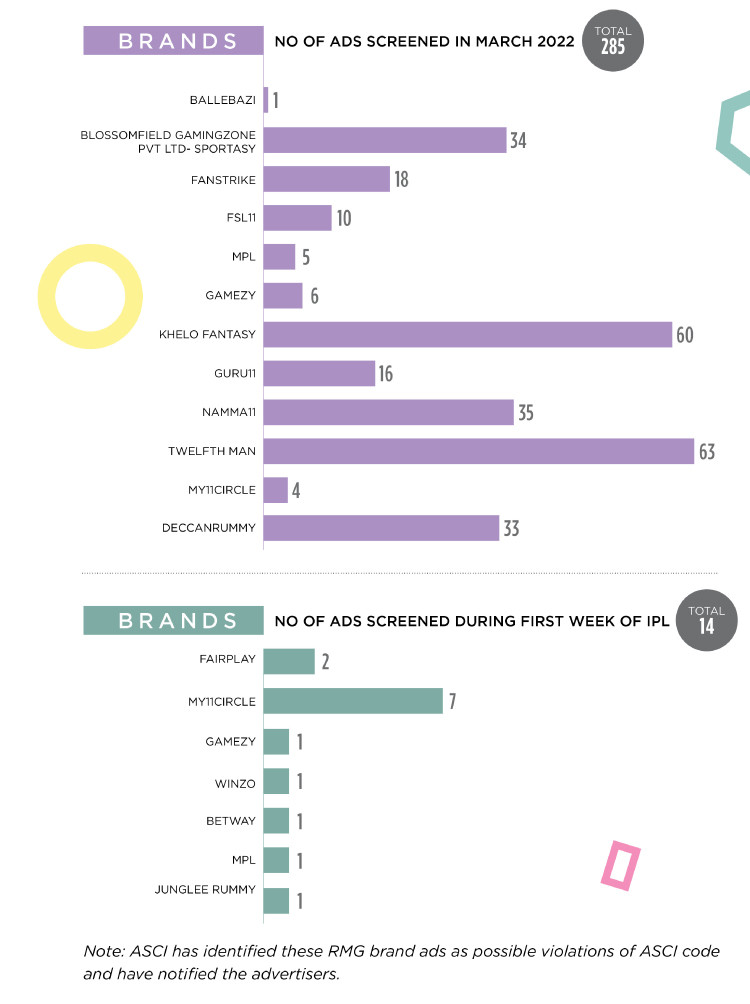 Moreover, Anurag Singh Thakur, Minister of Information and Broadcasting, stated in Lok Sabha that the government received 117 complaints in 2020-2021 against RMG brands for alleged misleading advertisements. The aggressive stance of RMG brands while advertising is being monitored closely by the Advertising Standards Council Of India (ASCI), and the Ministry of Information & Broadcasting (MIB).
Describing the nature of complaints received by ASCI, Subhash Kamath, Chairman of ASCI said, "The majority of complaints that ASCI receives around advertising on real money gaming and fantasy gaming brands are about the disclaimer that they are supposed to carry. If advertising by brands in these categories does not carry a proper disclaimer, it violates the ASCI code."
Kamath explained, "The ASCI guidelines were introduced to make advertising in real money gaming safer, and more responsible, considering that a large number of consumers are subjected to these ads. We want to ensure that such advertising makes users aware of the financial and other risks that are associated with playing online games with real money winnings."
When asked if it is ethical to advertise RMG in states that have banned it, Kamath said, "ASCI's main concern is consumer protection when it comes to advertising. As far as states where these businesses are prohibited, the law will dictate what action needs to be taken against the companies, as it is a legal and regulatory question. ASCI's primary concern is with protecting the interest of millions of consumers who are subjected to these ads."


But experts say the messaging of the RMG platforms has changed drastically over the years. Skandaram Vasudevan, Partner- Digital of Mudramax elaborates on this, "When brands first started entering the market, it was more geared towards convincing consumers of the validity of the platform - the fact that they could win real money on the platform. From then till now, as the category has matured, it has ranged from talking about the wide range of features available on the platform to talking about prize money. Consumers are now convinced about the category, the game now lies in getting more and more users to try and be present on the platforms."


Give us central regulatory framework: RMG Brands
Top crypto exchanges in India uniformly decided to stay away from advertising during the Indian Premier League. Blockchain and Crypto Assets Council (BACC) had released a statement saying, "As an industry, we are working to ensure that we have strict guidelines for responsible advertisement before we get into IPL ads again." Experts suggest, RMG brands too should wait for central regulatory framework for sending out the brand messaging on multiple mediums.
Telangana, and Andhra Pradesh prohibit all forms of online gaming regardless of whether they are based on skill or chance under their law. Several states have tried to lay a blanket ban on the transaction-based games. Nagaland and Sikkim have complicated laws for real money games, which has kept players at bay.
Similarly, the RMG industry in India is seeking Central legislation, which should be applicable in every state of the country. IMPACT contacted a top executive overseeing public policies and government affairs in the renowned technology industry to understand the rules and regulations pertaining to this industry.
The executive said, "There are no uniform central legislation that exists and regulates online skill-based gaming and fantasy sports in India currently. When laws set by various state governments have been contested in courts, most of the verdicts have placed heavy reliance on the 1996 Supreme Court decision in Dr. K.R. Lakshmanan v. State of Tamil Nadu wherein it was held that a game of skill is distinct from a game of chance, and if there is preponderance of the skill element involved, then the concerned activity would be protected by Article 19(1)(g) of the Constitution, and that competitions involving games of skill must be regarded as business activities."
Shivanandan Pare, Executive Director & CEO- Gaussian Networks (Adda52.com and Addagames. in) said, "We industry players would like to see clarity in government regulations. So that all the stakeholders in the ecosystem are aware while promoting the game. The Central government should bring a single regulatory framework like it is for different industries. If this regulatory framework is introduced, the RMG industry will be benefitted."
Similarly, the top executive of another RMG company said, "Once the regulatory framework is introduced, there will be no more confusion. The courts in India have struck down previous state orders in banning RMG. The industry will not only grow, but will also create thousands of job opportunities. The government should invite all stakeholders and form specific laws which would bring clarity in operations of the RMG industry."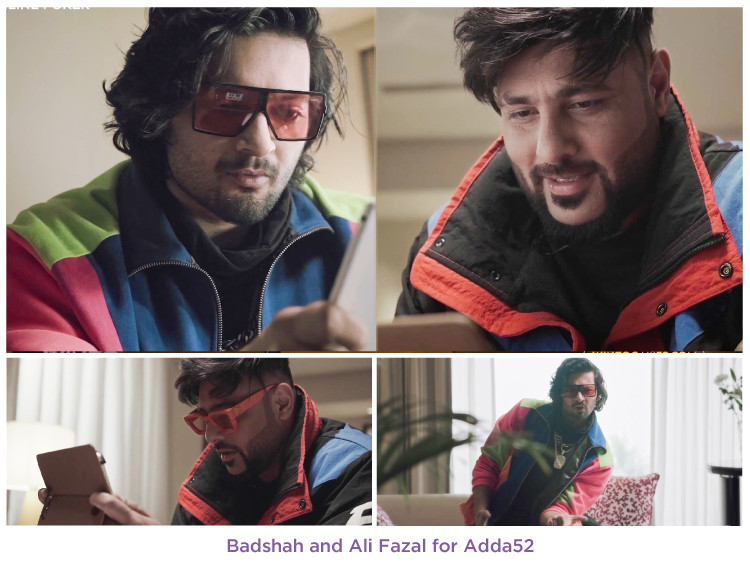 However, the RMG industry is applauding the government after Finance Minister Nirmala Sitharaman announced developmental decisions for the Animation, Visual Effects, Gaming and Comics (AVGC) Sector. Namratha Swamy, Country Head - India, MPL said, "The setting up of the dedicated task force for the AVGC sector, a watershed moment for the Indian gaming industry, will provide a further impetus. We foresee a big opportunity for indigenous game developers, and made-in-India online games that put the spotlight on Indian culture to make a mark on the global stage."