BY CHRISTINA MONIZ

Much has been written about influencer marketing, and the rise of the micro influencers, in particular. Several decades ago, when a brand approached a PR or advertising agency for a product launch, the agency would propose a robust marketing and communications campaign – advertising across Print, Television and Outdoor media backed with an equally compelling PR campaign. Today, when a brand approaches a PR or advertising firm, it is presented with the limitless possibilities of Digital and at the heart of every proposal is the influencer community. According to a recent survey by influencer marketing platform Zefmo, nearly 92% marketers will turn to influencer marketing campaigns this year. Who is the influencer, though? And just how much value does the influencer bring to a brand?
SEPARATING THOUGHT LEADERS FROM INFLUENCERS
Marketers and agencies alike agree that digital marketing and social media management are critical for any brand. However, a lot depends on the kind of influencer a brand associates with. Anupriya Acharya, CEO, Publicis Media India, is of the opinion that the influencer community was never, in fact, created for brands. "Influencers have always been an important community, though this community was not created for brands. Brands, of course, can leverage them to create powerful communication that resonates with consumers. Today, with social media at its peak, there are numerous influencers across any sector. What makes them influential is the passion and expertise on a specific subject matter or sector. You can also tell a true influencer from his or her messaging and content. They stick with the subject matter they have knowledge in, and avoid trifling around with any other subjects," says Acharya.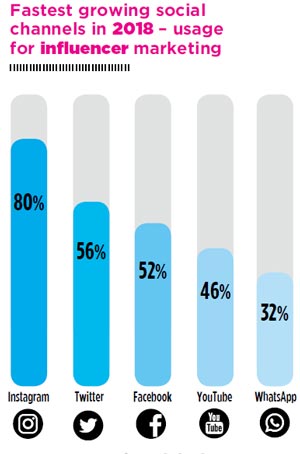 A lot depends on the kind of association the brand has with the influencer. There is a lot at stake for the influencer also, explains Anita Kotwani, Senior VP, New Business, Mindshare. Consumers on the Internet are savvy enough to recognize sponsored content, she says, adding, "Influencers are powerful personalities who play an important role in enabling consumers to make choices. Consumer trust can only be built when there is an ideal balance between subject matter knowledge, powerful content and a subtle brand push. When there is too strong a brand push or too much selling, the credibility of an influencer is lost. The context in which the influencer is being used and the kind of content the association creates finally, determine the outcome of an influencer association."
The recent mushrooming of influencers with bot followers has made some sceptical of influencer marketing as a whole. True influencers are passionate about a subject, believes Sapangeet Rajwant, Digital & Marketing Head, Colors. "A couple of years ago, influencer marketing had a purpose and it was merited. But today, influencer marketing is really abused in a big way so it is still debatable whether influencer associations are adding any value to the brand. A true influencer speaks about a brand on his/ her own, out of conviction and because she or he believes in it," Rajwant explains. While these influencers are definitely cause for concern, they also make it critical for brands to understand the type of influencers they are working with to extract the best possible outcome. It is, therefore, essential that brands move beyond numbers and sales and instead look at developing genuine added value in the long-term.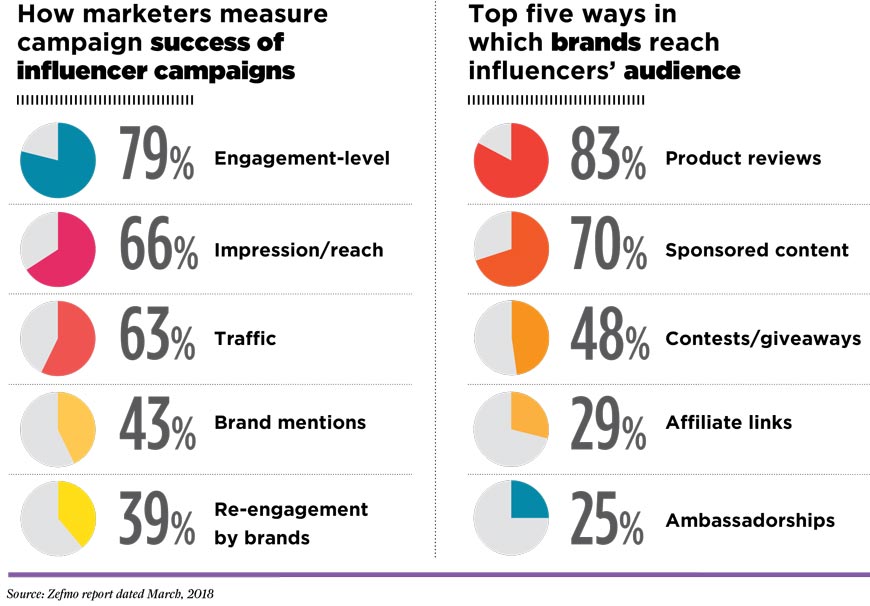 Vijay Subramaniam, founding partner & Co-CEO at Kwan Entertainment, says that online content demands authenticity, and people respond better to content that they can relate to. "Influencer marketing needs engaging content woven into a context that the target audience finds relatable and believable. Audience backlash arises when the content seems inauthentic," he adds. Kwan owns and operates an entire digital influencer ecosystem, comprising well known influencers such as Mallika Dua, Bhuvan Bam, Anupama Chopra and Vir Das, to name a few.
THE CASE FOR MICRO INFLUENCERS
Today's consumers are exposed to a lot more information on a daily basis. Consumers are, therefore, looking to find credible people, thereby making micro influencers more relevant than ever. Salil Murthy, Country Head, General Mills India, elaborates, "There are a lot of macro influencers who have mass followings, and consumers are beginning to wonder if they can really trust them. The waters are further muddied by some bad apples artificially inflating their follower counts/likes and other metrics using automated bots. The bigger influencers are also courted by more brands which leads to dilution of any one brand message and potentially the influencers' believability." Micro influencers have a smaller but more dedicated following, making them more credible. "The lack of brand clutter also helps in making micro influencers more authentic – they only endorse brands they really believe in," Murthy says.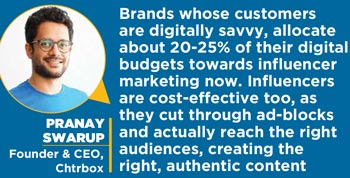 The success and effectiveness of associations with micro influencers also varies according to the category, as Shalini Raghavan, CMO, L'Oreal India, points out. For instance, a category like beauty and fashion benefits greatly from influencer association. If you want to perfect the smoky-eyed look or get the right blend of foundation, an influencer video works better than a celebrity ad film. Raghavan explains, "We use micro influencers who have a really high impact on their followers. The idea is to create the right kind of content in influencer marketing because in a category like beauty, consumers need to see the product, know how it works and see the kind of results it can produce. So influencer marketing is at the core of our communication."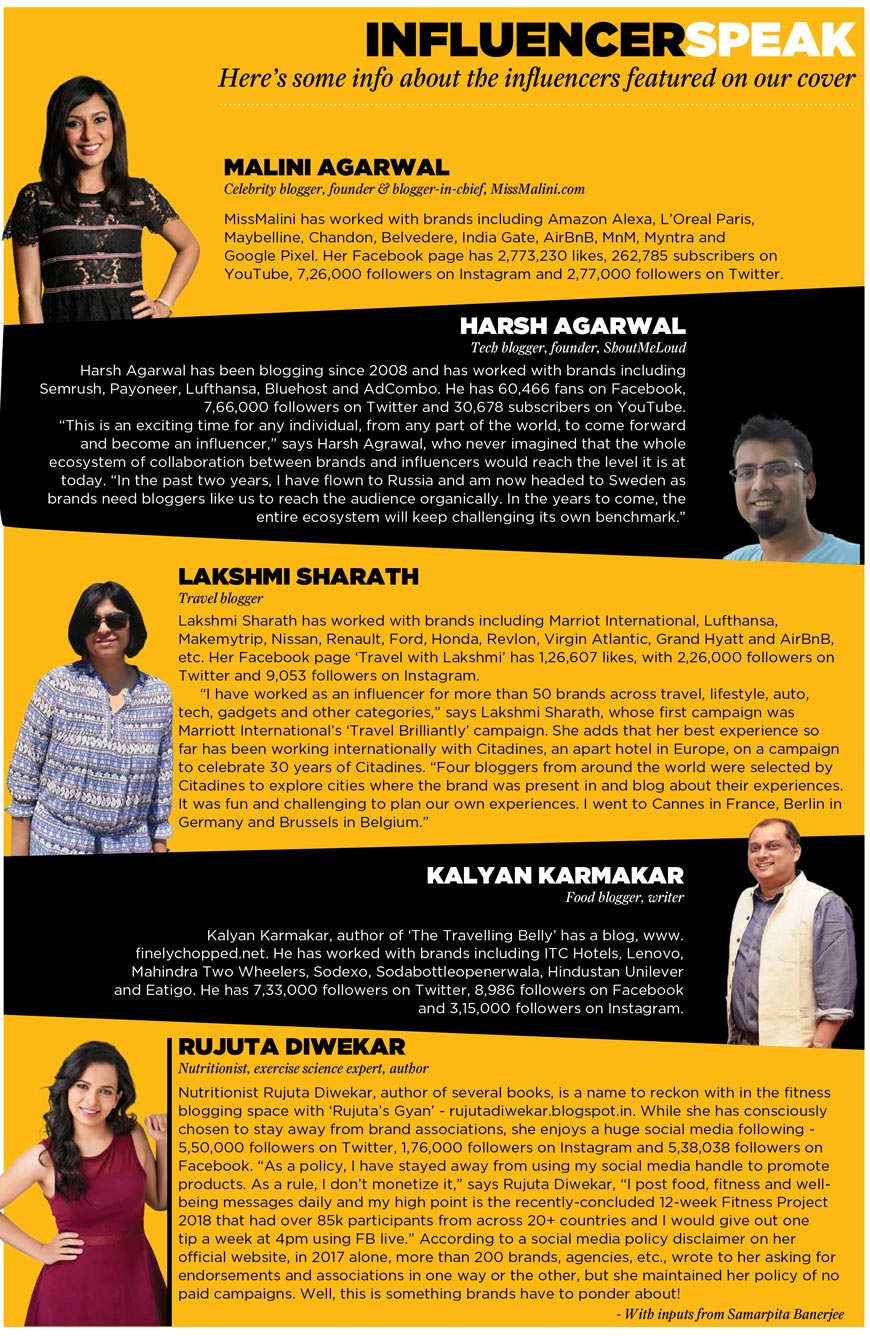 What also works well for micro influencers is that they review products and are willing to respond to consumer queries, which makes them more credible and relatable vis-à-vis macro influencers such as movie stars. As the industry matures in India, businesses are increasingly engaging influencers who drive higher engagement in the form of likes and comments, rather than just their follower count, and have started investing in longterm partnerships. Irfan Khan, CEO, Zefmo, says, "Influencers are also finding out the hard way that they will lose out on their followers (read influence) if they don't do a healthy mix of organic and sponsored content. We have already witnessed that leading influencers today are endorsing brands ethically and are true to the brand they are associating with. In the influencer marketing space, things are moving in the right direction as the community matures into a viable marketing channel, rather than just the hype that was seen a year ago."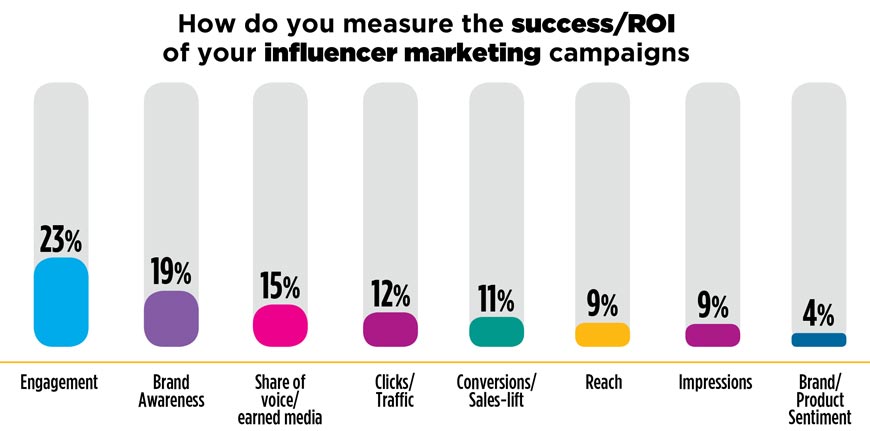 The rise of micro influencers has also seen a shift, particularly in terms of advertising budgets, according to Pranay Swarup, Founder & CEO, Chtrbox, a platform that brings together influencers and brands. "A little over two years ago, most brands had to be educated about what influencer marketing is, and how it could benefit them, but now the conversation has moved to how we can maximize and optimize influencer marketing for brands. These are all great signs, and brands whose customers are digitally savvy, allocate about 20-25% of their digital budgets towards influencer marketing now. Influencers are becoming cost-effective too, not just by cutting through ad-blocks and actually reaching the right audiences, but more importantly by creating the right authentic content and story-telling."
AUTHENTICITY IS KEY
One of the earliest influencers in the country who saw merit in influencer marketing was Malini Agarwal, founder and bloggerin-chief of MissMalini.com, a blog she created way back in 2008. Today, 10 years down the line, hers is one of the most sought-after platforms, but Agarwal is clear that she will not create content that is inauthentic. "Back when brands had initially begun associating with bloggers and influencers, I recall that we turned down almost 90% of the campaigns that came our way simply because they were not authentic enough," she says. "Our readers are consumers too, and they trust us, so we will not endorse or promote a product if we know it is not good or if we do not believe in it. For example, we are very clear that we will not endorse fairness products. Today, brands too recognize that their influencers need to feel passionately about the content they are creating. That's why brands today are also learning to trust content creators more and are now willing to give up more creative control too."

General Mills' Murthy also believes the key to extracting the best out of influencer associations eventually lies first in knowing who your consumer is, instead of seeking out the most popular influencers. "A lot of brands start by choosing someone who has a million followers on Instagram and, in the process, don't really talk to their target consumer in a way that drives engagement and share growth. Brands need to identify who their target customer is, who they are following and which influencers they trust. General Mills in India has partnered with very specific, credible influencers particularly for brands such as Nature Valley and Haagen-Dazs, and we are seeing strong engagement, loyalty and brand growth as a result," Murthy says.
Kalyan Karmakar, owner of TheFinelyChopped.net blog and well-known food blogger, believes it is essential for influencers to work with brands whose values they share. "It is important for influencers to start by creating a consistent and distinct voice for themselves through the content they produce. This would attract brands that share the same vision. Transparency is key too," he says.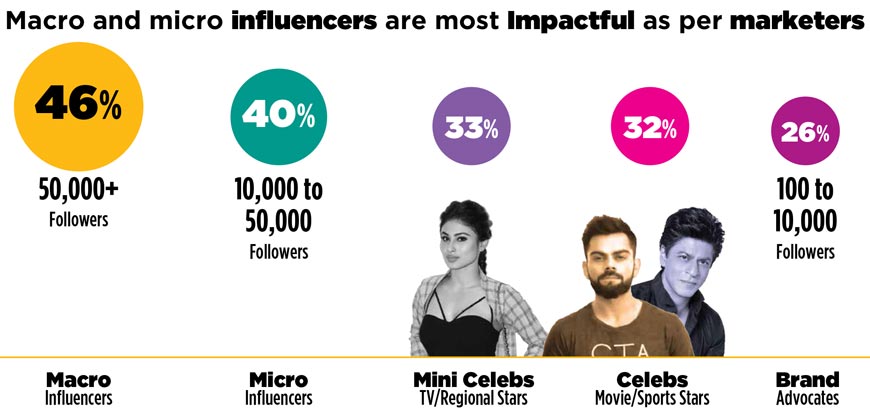 A large follower count doesn't necessarily lead to engagement for the brand, especially when buying likes and followers has become fairly commonplace. Even if an influencer has over 5,00,000 followers, those may either be bots or far from the target consumer. Anita Nayyar, CEO, Havas Media Group, India and South, therefore, offers a word of caution: "A lot depends on who the influencer is, and his or her credibility. Ultimately, the synergies between the influencer and the brand are also important, because that is what will ensure more impactful messaging and greater engagement."
According to Shruti Tupe - VP, Eikona PR Measurement and Audit, "Using fake or genuine followers is a matter of ethics and policies. This needs to be debated between the brand custodians and the industry bodies. Having said that, there are many ways in which brands can maximise influencer module through intelligent data analytics."
THE ROI CONUNDRUM
Most brands, while zeroing in on the right influencers, use market insights, consumer affinity, digital tools and dashboards to analyse their reach, engagement and effectiveness of content. One of the biggest hurdles to influencer marketing is that there is no real brand strategy followed for influencer marketing and zero tracking methodology, leading to poor RoI calculation. RoI is typically calculated by a host of metrics – reach, engagement, impressions and conversions. Nandini Dias, CEO, Lodestar UM, explains that brands today have various tools and metrics to evaluate the impact of an influencer marketing campaign. "At Lodestar, we have started looking at influencers with an index and a score to see what kind of 'influence index' she/he brings to the table. We evaluate the influence index on the basis of various parameters – followers, the subjects they are talking or writing about, brands they usually work with, etc. These criteria and the influence index help us quantify and measure impact and effectiveness."
The measurement of RoI also depends on the brand's overall objectives and the category it is in. For a brand like Mattel, for example, ROI can be a tricky thing since they evaluate with a lens that goes beyond likes and conversions. Loyalty to the brand and emotional connect is critical for the brand, believes Lokesh Kataria, Head Marketing, Mattel India. "My biggest question to people who have been reached by our communication is – will they call themselves my fans or my customers? If they are my fans, then that's a win because it means I have their loyalty. Fans will not switch over to competing brands and they will even buy your product at a premium," he explains, adding that Mattel has a quarterly evaluation in place to assess the positive emotion from consumers.
Karmakar further adds that for brands to really extract the most out of their associations with influencers, they must cultivate long-term relationships. "Sure, there are statistical metrics such as impressions and hits, but one also needs to look at qualitative metrics in areas such as recommendations sought by an influencer in the relevant spheres and whether the brand stands to gain by associating with the overall brand of the influencer. Long-term relationships can be helpful in ensuring better outcomes for the brand."
The Zefmo report also points out that social channels and platforms may determine the effectiveness of an influencer association. Khan elaborates, "Facebook that was once the preferred platform for brands, has now made way for platforms such as Instagram and YouTube, with photo and video-sharing emerging as the fastest growing form of media. Whether it is beauty vloggers sharing tips on YouTube, or brand-based video campaigns, these platforms will continue to dominate influencer marketing." Therefore, brands need to be paying attention to who their consumers are, and which platforms they're seeking information from.
A recent report from influencer marketing platform Buzzoka indicates that as many as 96% of marketers today choose YouTubers as influencers. About 70% marketers plan to spend more of their budget on influencer marketing, though 55% see RoI as the biggest challenge. The future definitely looks positive for influencer marketing and the industry looks poised to reach an impressive $ 2 billion size by the end of 2020, according to Chtrbox's Swarup. If the RoI conundrum can be addressed, who knows, we could be looking at a far bigger number!
@ FEEDBACK
christina.moniz@exchange4media.com