We live in a world where consumers are bombarded with an overload of information and content wherever they go. In such a scenario, marketers and agencies are grappling with new ways to create campaigns and messaging that catches the consumers' attention. In a situation where consumers are simply waiting to hit the 'skip' button or are looking for ways to avoid branded content, marketers are mastering the art of moment marketing to capture the consumer's attention. Broadly, moment marketing or moment based marketing is where a marketer leverages an event or a trending subject or situation to deliver relevant and related, often spontaneous and creative, brief interactions with consumers in real time. With consumers becoming fatigued with the usual onslaught of ads, moment marketing becomes a refreshing way for brands to connect using relatable and relevant content.
Picking the right moment
We live in an interconnected world today, thanks to the advent of social media leading to a confluence of events from all over the world. A meme which originates in America goes viral in South Asia simultaneously. There are Days of the year which mark a cause or a special occasion such as Earth Day and World Health Day. Events and occasions like these present brands an opportunity to initiate conversations that could be relevant to their consumers. Ashish Bajaj, Head of Marketing, Partnerships and PR, MediBuddy says that embracing moment marketing gives you an edge to be a part of an ongoing conversation that is interesting to your users. He explains,
"Choosing the right moment can be confusing. There is a very thin line between effortless moment marketing and the kind that looks like a brand's lame attempt to be cool or relevant. The entire idea is to create messaging that strikes a chord with the customer while keeping your brand's ethos in line. So, it is essential to choose moments that allow you to do the same."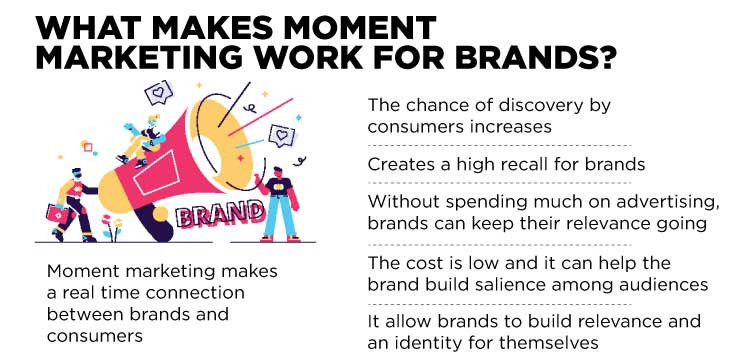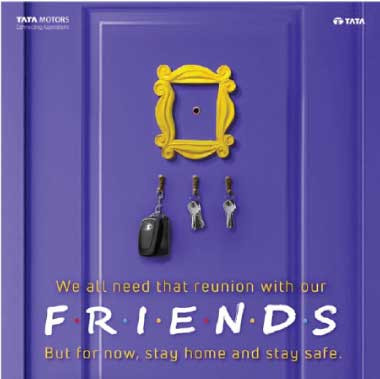 Another brand that has capitalised on the potential of moment marketing is Reckitt's condom brand, Durex. Explaining how the brand has often creatively used this route to normalise conversations about sex in India, Dilen Gandhi, Director Marketing, Reckitt South Asia Health, says, "Our endeavour is to find creative ways to normalise conversations around sex while retaining Durex's brand essence. Moment marketing has emerged as an effective marketing tool based on our understanding of behaviours and opinions of the digital brand audience. We strategically filter moments based on audience affinity and conversation volumes. While we see numerous trends, we've got a robust social listening engine that keeps pruning the noise to filter out those moments that are most relevant to our consumers."
Picking the right moment is crucial for brands that do not want to come off as trying too hard. The last thing a marketer wants to do is force fitting his or her brand into a trending conversation. Vineet Sethi, Chief Marketing Officer, Niyo remarks, "The truth of moment marketing is that not all trends are for every brand. As a financial product, we are cognisant of this and don't aim to go after every trend. The idea is to carefully choose which trend resonates the most with your brand's proposition, relevance and target and give that a go. Two key rules of moment marketing are— 1. Relevance and timing. 2. It is better to go with the less is more guide stick."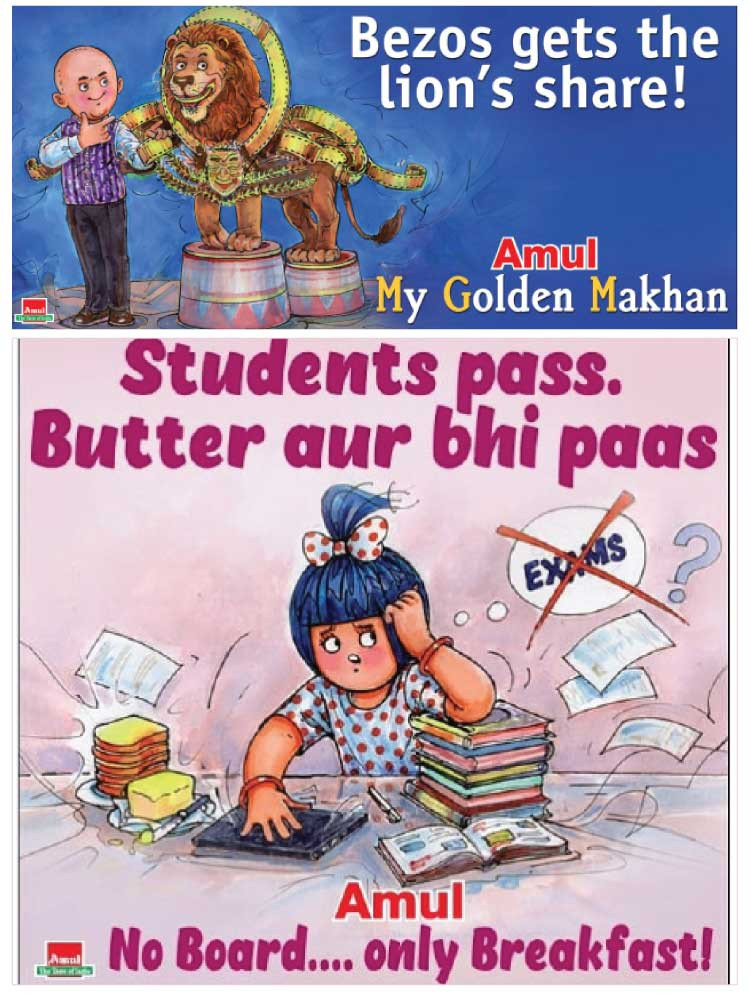 Brand Salience and Significance
The growing relevance of social media has also enabled brands to find new, creative routes in striking up conversations with consumers and cashing in on relevant moments. Joy Chatterjee, General Manager, Mankind Pharma says, "Social media has taken centre stage in our personal lives and has helped brands to connect with audiences widely. With this, moment marketing is catching the attention of brands and agencies because it manages to make people stop, acknowledge and laugh and that's how a particular creative/post turn into a viral content." He further adds how the brand earmarks a certain proportion of its budget to relevant days for its condom brand, Manforce. "We have identified certain days like Father's Day, Aids day for Manforce where we park 10% in totality of our overall budget and we keep a minuscule amount to create some engagement on the rest of the days," he explains.



Tournaments like the IPL that are hugely popular and see tremendous social media chatter are also important events that brands leverage through moment marketing. Arvind RP, Director – Marketing & Communications, McDonald's India (West and South), says: "Our belief system is if you get moment marketing right, you will end up generating a lot of organic stories. If we leverage the current trends and conversations among consumers, we don't end up spending a lot of money. Once you get the creative right, get the tone right, and if you get the timing right, you get a lot of buzz. It is the objective of moment marketing for us." He explains that the brand measures buzz using social media and social listening tools where it can gauge trending topics through which the association with the brand's input and activity can be established.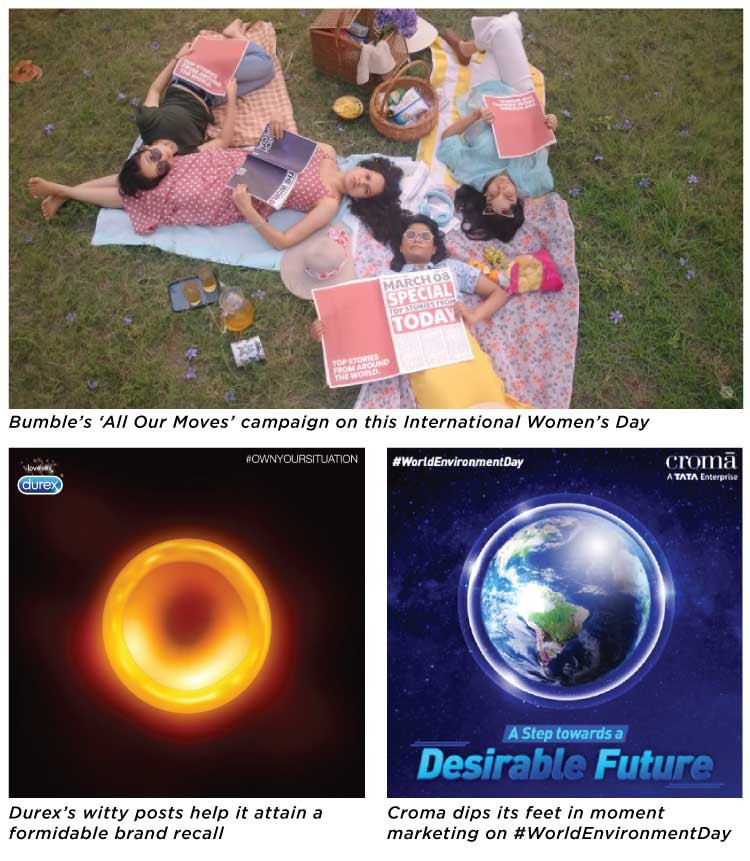 Another big plus point for moment marketing is that it requires minimal spending, so marketers can actually generate a lot of traction with smaller budgets. Abhinav Kumar, Vice President Marketing, Paytm, observes, "The best part about moment marketing is that it only requires good content. In such cases, the expenses matter less. In today's world, if your content is really on point and creative, it will grab eyeballs and perform well organically. We have been using moment marketing in our communications for quite some time now and have allocated less than 0.2% of the total marketing budget." He adds that the brand also ensures its messages reflect empathy while staying meaningful so that it resonates with the maximum number of consumers.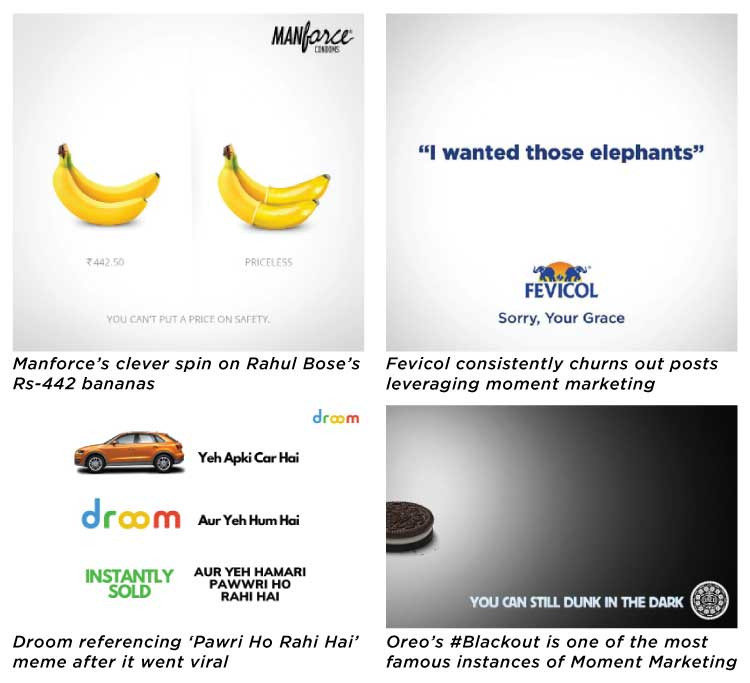 At MediBuddy, Bajaj explains that the brand earmarks 20% of its marketing budgets for moment marketing. He adds that the spending has increased manifold in comparison with the years before. "As our user base and usage is increasing, we are putting a lot of effort and time into building the brand which does require some spend," he notes.
On the other hand, Sethi at Niyo asserts that moment marketing cannot and should not be approached the same way as traditional marketing. "Moment marketing is about being instant, it is a dynamic process. It also tied with how agile and flexible your marketing structure is. So the first step is to identify the opportunity and then allocate a budget for it," says Sethi, adding that the company allocates between 4-5% of a month's budget to moment marketing.
Identifying the risks
One brand that seems to have mastered the art of moment marketing is Amul, which is why its ads and hoardings have paved the way for other brands to leverage current issues and topics that are uppermost in consumers' minds. But there is always an element of risk that consumers might call out your ad as trying too hard or perhaps being too frivolous about something important. For a brand like Durex, share-worthy content immediately strikes a chord with the target consumer, points out Reckitt's Gandhi. Speaking about the element of risk, he explains, "Like any disruptive marketing initiative, moment marketing does come with its fair share of risks. It is imperative that as a brand we leverage this medium responsibly. It is important to ensure our content doesn't trigger any negative connotations, associations or beliefs."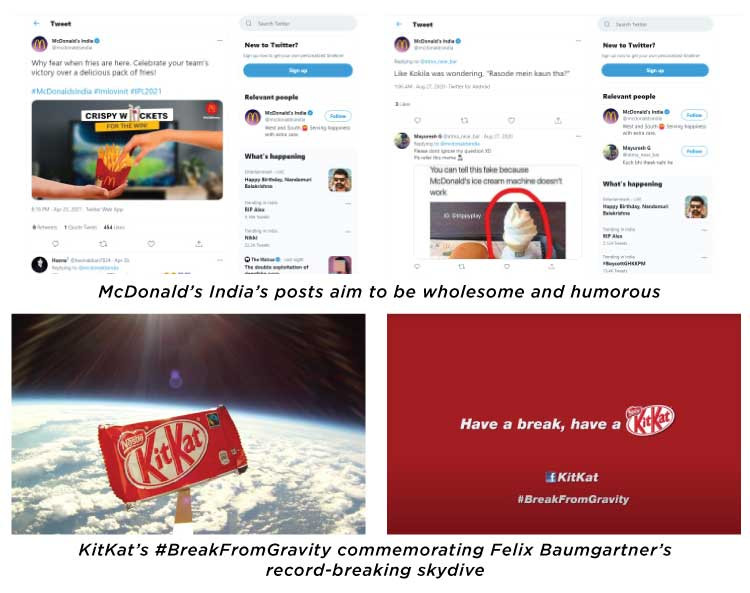 To be sure, there is a fair amount of risk in making your way into a conversation among consumers. It is important to make your messaging and communication seamless, without being intrusive. Paytm's Abhinav Kumar elaborates, "One needs to be careful about which trend to pick and not let the trend overshadow the brand. As we said earlier, we are extremely careful of the sentiments of our users, so we choose our conversations after studying them with a fine tooth comb."
McDonald's as a brand tries to keep the conversations light and fun in its moment marketing initiatives and its collaborations with other brands. "We are a welcoming democratic brand, a bubble of happiness in consumer's life so the work we do with other brands has to be in that space. We don't change our playbook just because we are working with some other brand. Most brands realise the importance of moment marketing and organic stories. Collaborations are easier today than a few years back," notes Arvind RP.


For brands like the online marketplace Meesho, the focus is on driving conversations with the target audience at critical moments like the festive season. Vidit Aatrey, Founder & CEO, Meesho, explains, "We are in retail and retail habits are seasonal. People end up buying a lot more before Diwali and Holi compared to other months. We definitely reach out to people at those junctures a lot more." Aatrey adds that it is less about whether the brand wants to leverage moment marketing than it is about solving problems of people at a relevant time.
Explaining how his brand leverages moment marketing, Sandeep Aggarwal, Founder & CEO, Droom says, "It is a part of our marketing mix. Our brand logo allows us to add a lot of twists based on the theme or the trend. We latched on to the whole fever of 'Yeh hum hain, yeh humari car hain' to cash in on its virality. For now, it is using in-house talent for cashing in on a trend and it is opportunistic marketing but we have not started allocating any budget to it or hiring third-party agencies to do the work for us."
Role of the agency


Creative and digital agencies too are well placed to identify the right moments for brands to capitalise on. Their role has become increasingly critical in terms of creating the right messaging and turning around creatives in real time. Explaining how agencies and brands are working to create the right kind of moment marketing campaigns, Binaifer Dulani, Creative Director, Dentsu Webchutney, says: "It's a spontaneous and engaging way to put your brand values and personality in front of the audience and embed yourself in culture. When bitcoin crashed and became a trending topic on twitter, Netflix was quick to promote its show on the back of it – and find a cheeky way to join the conversation – building salience for its personality and irreverent tone of voice."


Providing perspective in terms of marketing spends, Manika Juneja, Executive Vice President – Operations, WATConsult, points out that moment marketing holds the upper side of 10-12% of the total marketing budgets of brands. She explains, "Grabbing and holding consumer's attention is everything in a cluttered space. Successful moment marketing creates those attention-grabbing opportunities and increases brand recall. Storytelling and authenticity backed by strong planning helps in making these campaigns memorable and leaves a lasting impact on the consumers."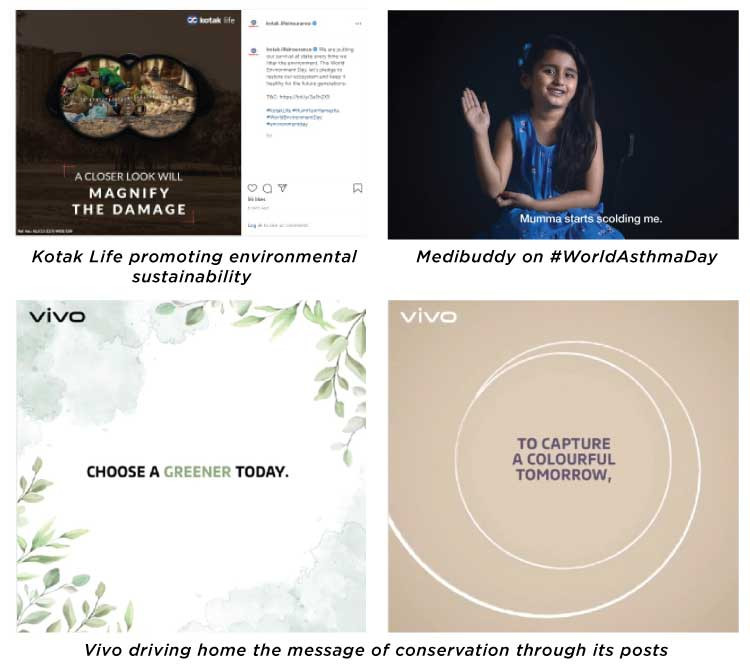 Harikrishnan Pillai, CEO and Co-founder, TheSmallBigIdea, also notes the role that moment marketing plays in reinforcing brand relevance. "Most of the efforts on moment marketing today is more brand play than sales. The brand aims at driving affinity amongst its audience by being a social commentator on the moments that matter to a nation or the community at large. If the brand gets it right, the anticipation for the brand's stance on a social event becomes an issue of audience interest."
Are all brands happy to jump on to the moment marketing bandwagon? A lot depends on the brand's identity, says Prachi Bali, National Head-Client

Partnerships & Business Head North, FoxyMoron. "The brand identity has to be defined. If the brand identity allows for that kind of a conversation with its audience. Brands have to be open to that exchange in the sense that consumers may not like what you did, and consumers can appreciate and love you for what you did as well. It is about getting ready for the dialogue." She adds that if you do not have the brand voice and cannot engage in a certain dialogue with your audience, then the brand falls short of people's expectations. According to Bali, the one question that persists is, "Is it something that can come back to haunt us or harm us in any way?"
Moment marketing across platforms
Most brands understand the value of social media today and they have their presence on nearly every platform. The delivery mechanism of most moment marketing campaigns has been streamlined in a manner which brings the cost down significantly. Although social media remains the playground for most moment marketing campaigns, TV is emerging as a serious contender for new experiments given the constraints imposed by the pandemic. Juneja reveals, "What started as a trend a few years ago has taken a prominent place in the overall marketing mix and has also become an important point of discussion in the boardroom meetings. COVID has made moment marketing more relevant as it was one of the core content pieces on Digital media for brands to establish a deeper consumer connection with their immediate and larger TG."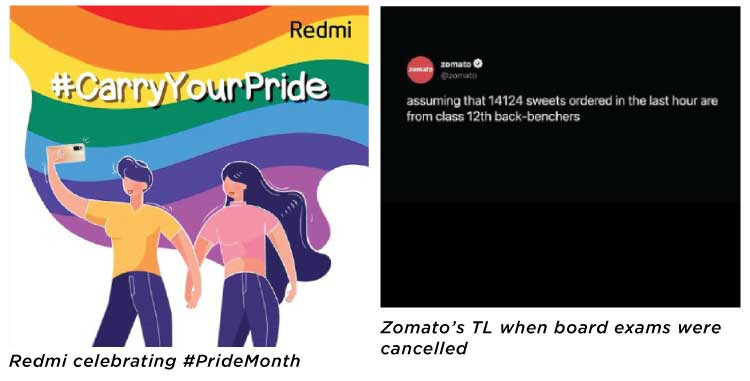 Dulani observes that today several brands join a conversation when it peaks – and while it works well for fleeting moments, it becomes an act of tokenism when brands view more sensitive issues, like important rulings that could affect the quality of life of several marginalised communities, as mere 'moments.' "It will be important for brands to talk about their commitment when they get behind such moments or they will risk being called out."
Pillai points out that with the advent of technology, things have become quick and moment marketing will become a part of all platforms eventually. "Digital is more conducive because as a platform, it allows for quick content creation and distribution, unlike platforms like TV which has a larger create-to-upload cycle. As the technology falls in place to crunch these timelines, moment marketing as we know will be visible on all platforms eventually."
Bali, however, opines that TV moves too slowly for the transition to happen. "Buying for one day on Television is a cumbersome process. I don't think it will land the kind of ratings, visibility and views that one would want. It will not be value for money from a brand spends point of view. It can be done but is it the wisest choice of spending your money? Probably not." She says that Print as a medium will lend itself better to moment marketing if at all but it requires fixed moments and time for planning. It cannot leverage fluid moments because you lose the day by the time the creative goes up.
Irrespective of what platform, it is clear that moment marketing is here to stay and will only get more innovative in the years ahead.