There are certain things that define an Indian summer; mangoes, an ice 'gola' by the beachside, summer holidays at a hill station or just a cool glass of buttermilk. Our summer months are typically replete with memories of at least one of these things, if not more. Over the years, summers have become synonymous with the season for cricket, thanks to the Indian Premier League (IPL) frenzy. In many ways, the summer of 2019 has been no ordinary season. While most of us were looking for ways to escape the searing temperatures, a huge majority of brands recognised this as a season of big opportunity! From the IPL and the general elections to the ICC World Cup and the release of big entertainers such as Avengers: Endgame and Game of Thrones, this year's summer gave brands many reasons to cheer.
Ashish Bhasin, Chairman & CEO - South Asia of Dentsu Aegis Network puts the ad spends by brands between the months of April and May this year in the region of Rs 10,000-Rs 11,000 crore. "Summer marketing spends have increased by about 10% over last year. This year, the IPL is almost instantaneously being followed by the World Cup so I expect that the brands who have a summer theme campaign to run will probably be also considering cricket in a big way," he says. While the summer season typically entails an increase in spends among certain categories like cold beverages, travel and electronics, Indian summers can no longer be viewed in isolation. Pointing out the importance of media properties, Shekhar Banerjee, Head (West), Wavemaker India explains, "While there are categories that still leverage the summer weather like beverages and fashion, there are also brands targeting kids on vacation. The largest trend is brand advertising led by media properties such as the IPL during summer. These three merge to make summer the most important quarter of the year." Here's a look at how brands from categories such as food & beverages, travel, electronics, retail, lifestyle and entertainment pushed the marketing envelope during the summer of 2019.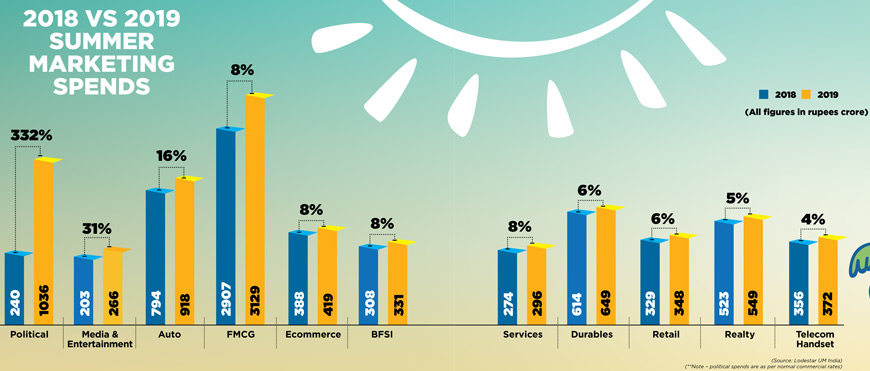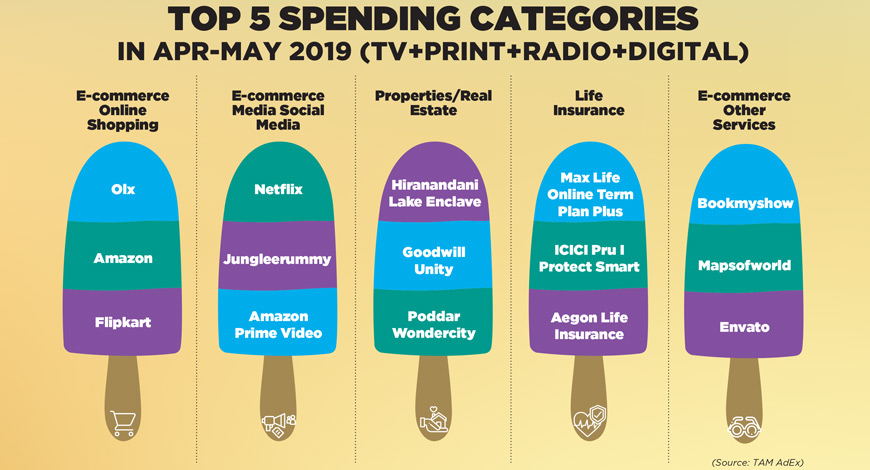 The ad spends this year during May and June according to our estimates are Rs10,662 crore, not including Digital and Cinema. While IPL has been a common event every summer, the highest growth has obviously been political advertising. June will again be a high value month because of the World Cup and post this is when we will know if NTO (New Tariff Order) has settled on-ground.
Nandini Dias, CEO-India, Lodestar UM

Advertising spends in the months of April and May 2019 would roughly have been in the region of Rs 10,000 to Rs 11,000 crore. Summer marketing spends overall have increased about 10% over last year, with cricket playing a key role in the advertising strategy of most brands.
Ashish Bhasin, Chairman & CEO - South Asia of Dentsu Aegis NetworkFOOD & BEVERAGES: RAISING A GLASS OF CHEER
There was a time when every summer meant endless visuals of colas and ice-cream sticks. The past few years have seen a few changes in the way food and beverage manufacturers have ramped up their portfolio of cool products. One such manufacturer is Parle Agro, with campaigns for Frooti and Appy Fizz in full throttle to grab consumer mindshare. Nadia Chauhan, Joint MD & CMO, Parle Agro, says, "We kick-started our summer campaigns for Appy Fizz and Frooti in March, and are following a 360-degree approach with strong reflections on TV, Digital, OOH and Print. With aggressive strategies across our sales and distribution system, pricing and packaging too are playing a big role for the brand this summer." Parle Agro has signed on actor Allu Arjun for Frooti in the South and Junior NTR as ambassador for Appy Fizz in the south region making its commitment to the market very clear. The summer of 2019 demonstrates a maturing of the juice category, as consumers have become discerning. Brands are now experimenting with local flavours and launching products with greater health benefits and lower sugar content. This can be seen from Coca-Cola's recent launch of three fruit-based drinks under the Minute Maid label as well as from the ramping up of PepsiCo's Tropicana Slice portfolio with local flavours. Meanwhile, Mayank Kumar, Head of Marketing- Foods, Dabur India, says that the brand has expanded the Real Juice portfolio this summer with the addition of the new masala range. "Post the successful test launch of Masala Guava and Masala Pomegranate, the masala range is being further strengthened with the addition of two new variants, Masala Mixed Fruit and Masala Aam Panna," Kumar says. In the light of new launches and increased demand, the company is spending most of its budget on TV this summer, supplemented by increased spends on Digital. Another brand that has had a series of product launches this summer is dairy giant Amul. The company will focus on three key product lines – ice-creams, beverages and fermented offerings like buttermilk and curd. RS Sodhi, Managing Director, Amul says, "The season has begun very well for us with the month of April being much hotter than last year. Overall, we have already seen a good 18-20% volume growth. From our annual advertising budget, we use about 40-50% of our spends in the months of April, May and June." Amul has also joined hands with the Afghanistan cricket team as the principal sponsor for the ICC World Cup. Sodhi explains that the rationale behind this partnership is the need to reach out to its target audience, especially the youth. "With cricket being such a craze in the subcontinent and the ICC World Cup being the biggest event the sport sees, we wanted to seize the opportunity to associate with the tournament," he adds.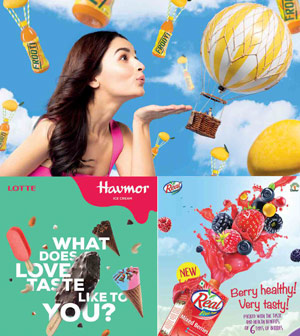 Apart from Amul, brands like Baskin Robbins, Kwality Walls and Havmor are also capitalising on the season with new ice-cream flavours, captivating consumers with innovative campaigns. Mondelez has teamed up with Kwality Walls to bring out two new flavours this summer – the Gems Burst and Oreo and Cream. Baskin Robbins too leveraged the IPL season with a big TV campaign for the season. "Baskin Robbins India has gone live on national television in India after nearly two decades. As a brand, the opportunity to reach out to over 100 million Indians is both exciting and full of new possibilities. During the IPL season, we gave our parlours a complete fresh fruit make-over right from our external façade branding to our outdoor innovations," says Samyukta Ganesh Iyer, Head of Marketing, Baskin Robbins India, adding that the brand spends about 80% of its marketing budget on summer advertising. For ice-cream brand Havmor, the summer months bring in approximately 60% of the annual business and that is reflected in the brand's marketing spends as well. "We have allocated 6.5-7% of our annual turnover towards marketing. TV still gets the major share of the pie, though our advertising on digital and events have significantly increased," says Vincent Noronha, Vice President-Marketing, Havmor Ice-Cream. Noronha adds that he expects Havmor to be a clear No.3 in the category by the end of the season (as per AC Nielsen, retail sales and 38 city data, April 30, 2019).
While ice-creams and fruity beverages may well be the flavour of the season, what's an Indian summer without the familiar sight of Kingfisher's chilled beers? This summer, United Breweries Limited (UBL) has gone national with its non-alcoholic drink, Kingfisher Radler. The new product leveraged IPL both on TV and Hotstar as its main communication platform, Ramesh Vishwanathan, Chief of New Business Development, UBL says. "We spend close to 50% of our marketing budget in summer. While the aim of Kingfisher Radler is to be a relevant proposition to people who don't consume alcohol, we expect Kingfisher Beer to continue its upward growth trajectory with its popular sub brands Kingfisher Premium, Kingfisher Strong, Kingfisher Ultra and Kingfisher Storm," Vishwanathan states, adding that the beer business is expected to grow at 10% in volumes this summer.
The summer of 2019 has been the season when every company is looking to make the most of the eyeballs big ticket events attract. Vivek Bhargava, CEO, DAN Performance Group provides some perspective to the summer madness. "The IPL, ICC World Cup and elections have definitely given a boost to the summer spending. To give you some context, each IPL team gets Rs 25-Rs 30 crore on an average as sponsorship money. This is the time for companies to launch products and services and make the most of the frenzy," he says.
F&B brands have spent 40% to 50% of their annual marketing budget this summer

The season has begun very well for us with the month of April being much hotter than last year. Overall, we have already seen a good 18-20% volume growth. From our annual advertising budget, we use about 40-50% of our spends in the months of April, May and June.
RS SODHI, Managing Director, Amul WE KNOW WHAT BRANDS DID THIS SUMMER!

• Parle Agro – Region-specific marketing; launch of Rs 10 Appy Fizz pack; signing on Junior NTR and Allu Arjun for Appy Fizz and Frooti respectively, targeting the South market
• Kingfisher – Leveraged new non-alcoholic beverage launch Kingfisher Radler during the IPL, both on TV and Hotstar
• Amul – Clear focus on ice-creams, beverages and fermented offerings like buttermilk and curd this summer; has signed on as principal sponsor for the Afghanistan cricket team during the upcoming ICC World Cup
• Dabur – Launch of new 'masala' range of flavours and Real Mix berries juice variant; advertising focus on TV and Digital
• Coca-Cola – Launched three fruit-based drinks under the Minute Maid portfolio with a clear South market focus
• PepsiCo – Ramped up its Tropicana Slice portfolio with local drinks and new flavours; released the Swag campaign to woo millennials
• Baskin Robbins – went live on national television in India after nearly two decades during the IPL; gave its stores a fresh fruit makeover
• Havmor – Allocated up to 7% of turnover towards summer marketing in order to reach the Number 3 position by the end of the season
RETAIL & APPAREL: MAKING A STATEMENT
There are two things every summer brings to the Indian advertising industry - the dual focus of traditionally summer season-focused brands and the Indian Premier League (IPL). This time around, the elections and the release of big entertainers like Avengers: Endgame have made the season even more interesting, believes Varun Duggirala, Co-Founder & Content Chief, The Glitch. "Summer campaigns used to have a massive share of FMCG companies focussed on the weather, but that share has definitely gone down with other categories like tech and e-commerce taking a large chunk of the pie. The campaigns that really stood out for me were the 'Don't spoil the endgame' one for Avengers: Endgame and Hotstar's campaign for Game of Thrones," he says. One brand that leveraged the Game of Thrones hype in a big way is Fastrack. "The biggest talking point across the globe this summer was Game of Thrones. We were the official merchandise partner and have introduced a range of products for the fans - watches, bags and sunglasses," says Ayushman Chiranewala, Marketing Head, Fastrack, Titan Company Limited. He adds that the brand is taking an aggressive stance this summer with 20% of its annual marketing budget devoted to this season's initiatives. Additionally, with its association with the IPL and big collections set to release, Chiranewala says that Fastrack is aiming for double-digit growth this season.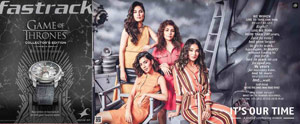 While some brands like Bata and United Colours of Benetton reflected the political flavour of the season, by encouraging consumers to vote, some others like Shoppers Stop leveraged special occasions like Mother's Day. The brand invited customers to spread the love by bringing their mothers to the store and giving away the sarees they don't use anymore. Talking about the brand's advertising spends this summer, Uma Talreja, Chief of Marketing and Customer Officer, Shoppers Stop says, "Print is a lead medium for retail. However, as Digital has become a very prominent part of our strategy, our spends between our e-commerce platform and digital marketing are reaching close to 35% of our total spends now, while Print remains our largest pie of ad spends." In agreement with Talreja is Brand Factory CMO Roch D'Souza, who relies on both Print and Digital for the various summer campaigns the company has rolled out. "Print is an announcement medium for us. Digital is largely the second medium for us where we spend a lot of money these days. So, the split is around the two," D'Souza explains. Another brand that is focusing on the summer season in a big way is the popular American sunglasses brand Ray-Ban. The company has recently launched its new communication platform #ProudToBelong by putting the spotlight on moments that connect humans. "In India, we see a big opportunity. Online will continue to play a very important role, so the right digital and social media strategy will be key not just in terms of pure advertising, but especially in terms of story-telling," asserts Alessandro Chiarelli, Ray-Ban Director (Luxottica Group). Another eyewear brand Coolwinks has also rolled out an initiative that enables consumers to select suitable lenses according to their lifestyle using an AI lens selection tool. Ganesh Iyer, CEO, Coolwinks elaborates, "About 20% of the annual marketing budget is currently being diverted to summer marketing. Our spends are across TV, Outdoor, Digital and Experiential."
Summer fashion choices bring in volumes of colour and vibrancy in one's wardrobe. Reflecting this change, fashion brand fbb has brought in campaigns employing influencers and personalised content that have kept the buzz going for the company throughout the summer. Prachi Mohapatra, CMO, fbb says, "The season opened with the biggest cricket property IPL and our association continues for the third year in a row now. We are into the pre-finale stage of the 2019 fbb Femina Miss India, which has also been a fruitful association for the brand." Inspired from the insight that consumers explore new fashion trends during their holidays to create looks that are social media ready, fashion brand Pantaloons has unveiled the 'Holiday in Style' campaign. Talking about how the brand plans to connect with the millennials, Ryan Fernandes, VP – Marketing and e-commerce, Pantaloons (ABFRL) explains, "We have committed close to 20% of the annual spends for summer, which has allowed us to get a good 360-degree presence. We will be present on shows like American Idol, and have also released the campaign in cinemas during the release of Avengers: Endgame." Another brand that leveraged the Avengers release and vacation season was Max Fashion, which launched two campaigns – Holiyay and Max Kids Festival. "This summer, as always, Max Kids Fest hosted its Max Little Icon in stores across 55 markets. Every year we engage with more than 3 lakh kids across India during this season, and this year we are looking to take it to the next level. This year we were proud to be associated with Marvel's Avengers: Endgame, one of our strongest associations with Disney," Pallavi Pandey, Head of Brand Communication, Max Fashion said.
Payback, a multi-brand loyalty programme in India, is also running a series of initiatives during the summer season, keeping in mind events like the ICC World Cup and end of season sales. Ramakant Khandelwal, CMO, Payback India says, "This summer, we launched Payback Days – a five-day shopping offer, where our key partner brands like Big Bazaar, fbb, ICICI Bank, BookMyShow and HPCL announced mega point-based offers for members."

We started seeing the ad spends increase from the month of March itself on the back of elections and the IPL. The adex growth on TV for March has been almost 25-30% over Jan-Feb. April had also been substantially higher than March.
Vaishali Verma, CEO, InitiativeAD SPENDS
Apparel brands spent 20% of their annual marketing budget this summer
WE KNOW WHAT BRANDS DID THIS SUMMER!

• Fastrack – Introduced the Game of Thrones range of watches, bags and sunglasses
• Pantaloons – Released summer-themed clothing collection campaign in cinemas along with Avengers: Endgame release
• Bata – Rolled out the 'Ja Ungli Dikha' campaign during the elections, giving voters a 10% discount on purchases
• Max Fashion – Held the eighth edition of the Max Kids Festival in stores this summer; also released an Avengers collection
• fbb – IPL association for the third season in a row, also associated with the Miss India 2019 property as title sponsor
• Shoppers' Stop – released the 'It's Our Time' campaign with a core message of women's empowerment; leveraged special days like Mothers' Day this season
ELECTRONICS & CONSUMER APPLIANCES: KEEPING THEIR COOL
Soaring temperatures definitely spell good news for the country's electronics players. Categories like air-conditioners and refrigerators look set to witness a healthy, double-digit growth boosted by increased consumption from Tier I and Tier II cities. For most brands of course, the media selection is largely dependent on category and objective. The impact of properties like IPL mean that despite the growing spends on Digital platforms, TV continues to get the highest share of the ad spends pie. For Godrej Appliances, which launched a slew of 38 new AC models and a new refrigerator, the Godrej Edge Duo, TV continues to be the dominant medium. "However, the increasing penetration of Internet and smartphones is a trend here to stay and in a category like ACs where the product research trend is playing a big role, Digital is the key medium apart from ground presence," says Swati Rathi, Marketing Head - Godrej Appliances, adding that the brand is looking at a 25% growth this summer.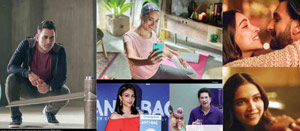 Haier too has announced its PuriCool range of ACs to capitalise on the summer and has rolled out a 360-degree campaign for the same. With its focus on cricket this year, TV is an important part of Haier's media mix. "With the IPL and ongoing ICC World Cup, the fever has gripped the country and we're leveraging the summer by not only introducing our product on television but also enhancing mindshare among consumers," points out Satish N.S., Senior Vice-President, Sales and Marketing, Haier India. Brands like Lloyd however, are betting big on Bollywood pull for the AC portfolio by getting star couple Deepika Padukone and Ranveer Singh on board this summer, while Orient Electric has signed on MS Dhoni for its latest campaign.
Large format retail brand Croma devotes close to 20% of its annual budget on summer campaigns with a clear focus on products such as ACs, refrigerators and innovative products like portable ACs and unique ice-makers that produce ice in seven minutes. Ritesh Ghosal, CMO, Croma - Infiniti Retail Ltd adds, "We have seen a growth of over 45% YOY in the sales of refrigerators and ACs." The brand's latest TV campaign will also focus on three key categories - ACs, phones and televisions, Ghosal points out.
Naturally, spends in the summer quarter are usually much higher than any other quarter for Indian multinational company Crompton Greaves. The brand has an innovative line-up of launches this summer which include Aura anti-dust fans, V-sense low-voltage fans for the rural segment and air buddy fans for kitchens. "Our campaigns have a media mix spread across TV, Digital, Radio, Print and Outdoor. However, for this season's campaigns, spends on TV tend to be higher than the other media," says Rohit Malkani, VP Marketing at Crompton Greaves Consumer Electricals Ltd.
The overall sentiment this summer is very positive as compared with 2018. Home appliances, aside from cooling products, too are seeing positive traction, believes Deba Ghoshal, Head of Marketing, Voltas. "In the most recent value proposition, the brand has added another dimension in launching the Voltas Adjustable Inverter ACs, which gives the consumer the option to run the AC at different tonnage/capacities, which leads to savings," he reveals.
Voltas Beko, also part of the Tata Group, is a relatively new entrant into the consumer durables market. The brand has allocated close to 18% of its total spends towards summer marketing to build momentum for its product line. Speaking about its marketing initiatives that kicked off this summer, Prasenjit Basu, Head of Marketing, Voltbek Appliances India says, "Once the brand identity gains the required momentum, we hope to bring down our marketing spends to 3.5– 4%. Our focus will largely be on Television, followed by Print and Digital." Another new entrant into the AC category is Livpure that was previously present only in the water and air purifiers' space. The company recently launched its first smart AC equipped with Wi-Fi, IOT module and embedded with AI and machine learning. Sushil Matey, Director – Marketing, Livpure & CEO, Livpure Smart Homes, anticipates a 50% growth in sales by the end of this season. "The peak season for water purifiers begins in May and continues until August. This is when we will spend 50% of our marketing budget. This year, we have earmarked Rs 40 crore towards our summer campaigns," explains Matey.

Air conditioners and soft drinks are expected to devote more than 80% of their spends during the summer, while other categories like educational institutes, travel, tourism and smartphones use about 50% of their budgets during this season.
Mohit Joshi, Managing Director, Havas Media India
AD SPENDS
Consumer durables brands spent 20% to 40% of their annual marketing budget this summer
WE KNOW WHAT BRANDS DID THIS SUMMER!

• Crompton Greaves: Rolled out 360-degree campaign for new product launches with a larger focus on TV
• Haier: Predominant focus on TV in the light of properties like the IPL and the World Cup
• Lloyd: Signed on power couple Deepika Padukone and Ranveer Singh for its latest range of ACs
• Godrej Appliances: Targeting 25% growth this summer with 38 new AC launches and Digital as a key medium
• Croma: Introduced consumer loyalty programme 'Croma Privileges' allowing customers to avail benefits like upgrade bonus on purchase of inverter ACs, e-waste disposal for non-functional ACs, etc.
• Livpure: Made entry into AC category for the first time with smart ACs equipped with Wi-Fi, Internet of Things module, embedded with AI
• Orient Electric: Signed on MS Dhoni for new summer campaign
BEAUTY & PERSONAL CARE: PUTTING THEIR BEST FACE ON
You really cannot get through the scorching summer sun without a trusted sun block cream, can you? It's no wonder then that beauty and personal care brands are definitely bringing out their best summer game in the frenzy to grab consumer eyeballs and market share.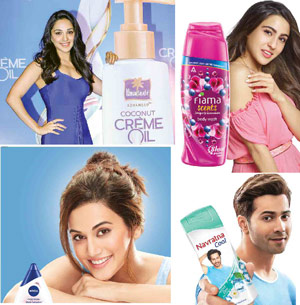 Nivea, which recently launched the Milk Delights range of face washes, is positioning itself as a skincare expert for consumers. Explains Sachin Killawala, Marketing Director, Nivea India, "Consumers today seek information on healthy-looking skin across varied mediums like Digital, Print, TV and point of sale. We tailor our communication for each of these mediums and are also curating an educational content platform called 'Healthy Skin Series' to help our consumers leverage Nivea's skin expertise." FMCG brand Marico has trained its attention on millennials through its #OilKaNayaAvatar campaign, which encourages them to oil their hair with its latest launch Parachute Advansed Coconut Crème Oil. The company roped in actress Kiara Advani to build a stronger millennial connect largely on social media platforms. It also recently signed a licensing agreement with Kaya Limited to launch Kaya Youth, a skincare brand aimed at younger consumers.
One brand that is definitely riding on the storyline of youthfulness and romance is McNROE's Wild Stone. Narendra Kumar Daga, Founder & MD, McNROE maintains that TV will be a big part of the brand's communication plan this summer and that Wild Stone will continue to build on the success of the #JustFriendsNoMore campaign launched early in the year. "Our latest TVC is an endearing storyline in a corporate set-up amidst young office colleagues that showcases the transition of a platonic friendship to a budding relationship as fragrance steps in to brew romance," explains Daga. Brands are also looking at building that connect with young consumers by signing up young brand ambassadors. Case in point – Emami Limited that recently got actor Varun Dhawan on board for its launch of Navratna Cool's He Magic Duo. Emami's Fair and Handsome brand has also been a part of the recently concluded IPL as a key sponsor. Harsha V Agarwal, Director, Emami Limited, says, "Summer is an important season for us and all our summer-skewed brands are geared up to leverage the seasonal demands. For Navratna Cool, we have rolled out a new TVC starring Varun Dhawan. This is also the season to leverage the face wash category, and so we also have a series of consumer offers running for Fair and Handsome." Another fresh face and brand ambassador is Sara Ali Khan, appointed by ITC's personal care brand Fiama. Irrespective of category, Gopa Kumar, COO, Isobar believes this will be a summer unlike any other. "We will see good spends this summer, not only because of the season but also because of big ticket events like the World Cup, General Election and IPL," Kumar notes.
For some brands, the summer strategy revolves around addressing the skincare concerns the excessive heat brings with it. Bajaj Consumer Care, for instance, has recently launched its Bajaj Cool Almond Drops hair oil and its NoMarks sunscreen, largely featuring natural ingredients. Sandeep Verma, President (Sales & Marketing), Bajaj Consumer Care Ltd says, "For the Bajaj Cool Almond Drops, we have launched a 360-degree campaign and rolled out a new TVC with our brand ambassador, Ravindra Jadeja. For NoMarks sunscreen, we have a targeted digital campaign. In the long term, these new product launches will contribute to a significant percentage of our company's overall turnover. Cooling hair oils is a Rs 1,100 crore market growing at 10% annually and sunscreens are a Rs 300 crore market growing at 14% annually. The company aims to get to a 5% share this year," Verma says. Also looking to leverage the summer to build market-share in the face wash category is RSH Global's Joy Personal Care. The brand has introduced sunscreens in various packages and sizes to cater to diverse consumer needs. Poulomi Roy, CMO, RSH Global states that the brand will spend 50% of its annual marketing budget on summer campaigns, adding that while TV remains the key focus for the two ongoing campaigns, there will also be a great thrust on the Digital platforms to reach out to a wider section of its target audience.

We peg spends in April and May at over Rs 10,000 to 11,000 crores, especially on the back of special events like IPL and elections, potentially leading to 10% higher spends in these two months than the annual monthly average..
Anand Chakravarthy, MD India, Essence
AD SPENDS
Skincare and deodorant brands spent 40% to 50% of their annual marketing budget this summer
WE KNOW WHAT BRANDS DID THIS SUMMER!

• Emami – Launched Navratna Cool's 'He Magic Deo' roping in Varun Dhawan. Association with IPL 2019 for Fair and Handsome
• Marico – Launch of Parachute Advansed Coconut Crème Oil campaign
• Wild Stone – Riding high on millennial connect through the #JustFriendsNoMore campaign
• Bajaj Consumer Care – campaigns for Bajaj Cool Almond Drops hair oil and NoMarks Ayurvedic sunscreen; to grow market-share in hair oil and sunscreen market
• Nivea – Launched the 'healthy skin series' on diverse platforms to leverage Nivea's skin expertise
TRAVEL AND ENTERTAINMENT: GOING PLACES THIS SUMMER
What's a summer without a summer holiday? As the mercury rises, brands in the travel and entertainment space are also seizing the opportunity to offer consumers new travel and entertainment offerings. A case in point is SOTC's latest Customised Holiday launch that offers Indian customers flexibility while on holiday. Talking about the brand's approach for marketing this summer, Asif Riaz, AVP & Head Marketing, SOTC Travel Ltd explains, "Our marketing spends are skewed for summer travel, owing to the longer duration of summer holidays for children. That said, we are also focussing on promoting a 12-month holiday calendar targeting varied segments of travellers like DINKS (Double Income No Kids), senior citizens and others." Digital has emerged as the key platform for brands to talk to consumers today as travellers plan their itineraries at the click of a button. Pointing out that consumers today are spending a lot more on leisure-related products like travel, Chandni Shah, Co-founder and COO, Social Kinnect says, "With kids out of school for the summer and people planning their vacations, budgets and expenditures are naturally higher. Brands should allocate and plan for their marketing budgets in proportion to this." Since vacation planning for summer travellers begins around the months of January and continues till March, some brands invest around 40% of their annual budget on marketing initiatives within this period. One such example is Thomas Cook. The brand has rolled out a variety of campaigns throughout the first half of the year, including the 'Grand India Holiday Carnival' and the 'Ghar Jao Vote Karo' campaign encouraging people to vote. Abraham Alapatt, President & Group Head - Marketing, Service Quality, Value Added Services & Innovation, Thomas Cook, says, "About 60-65% of our budget (cumulatively) is invested before the conclusion of the first half of the year (H1 period). This summer, we have aligned about 50% of our total budgets on digital platforms, followed by 40% on Print and 10% on BTL activations." Another massive opportunity comes from the e-commerce sector, especially in hotel bookings. There is no one-size-fits-all for travel bookings, which is where e-commerce comes in with options that can be tailored for various consumer preferences. MakeMyTrip launched its summer campaign in the month of March, featuring actors Ranveer Singh and Alia Bhatt. Saujanya Shrivastava, Group CMO, MakeMyTrip, explains the rationale behind the campaign. "We launched the campaign with an aim to showcase reliability of booking hotels online for business or family travel on MakeMyTrip. As India's one-stop-travel-shop we have incredible insights on what elevates the hotel booking and stay experience for travellers," he says. Likewise, other e-commerce players like Yatra and ezeego1 also leveraged the election season to encourage people to head home to vote.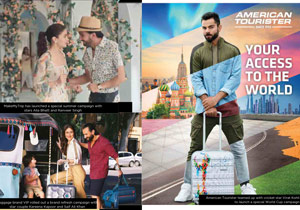 Apart from travel and tourism companies, other brands leveraging the season were the travel gear brands such as Samsonite, American Tourister and VIP Industries. Luggage brand Samsonite posted a short video #EkDinKiChutti that exhorts consumers to travel home to vote. American Tourister is also leveraging the Cricket World Cup with brand ambassador and Indian team captain, Virat Kohli. Anushree Tainwala, Executive Director Marketing, Samsonite South Asia says, "With cricket fever running high, we have launched our special champions edition range of travel gear and our new 'Access to the World' campaign themed around Virat's journey to the World Cup. Since the summer is a big travel season, the majority of our spends are devoted to our summer campaigns for all our brands (such as American Tourister and Samsonite)." VIP Industries, the Indian luggage brand, has also repositioned itself and its brand vision with its summer campaign. The brand has roped in celebrity couple Saif Ali Khan and Kareena Kapoor Khan for its 'Hello Holidays' campaign. VIP also has a campaign for Skybags featuring Varun Dhawan. "This year, we associated with the IPL as the official luggage partner of Kings XI Punjab. We are also the first luggage brand to participate in the IPL as a sponsor. This is in addition to the most important step we have taken this summer, which is the repositioning of Brand VIP," says Anirudh Pandharkar, CMO, VIP Industries.
A significant consumer group during the summer is children. Therefore, channels like Nickelodeon, Sony Yay and Hungama have a wide range of content for kids this summer. Leena Lele Dutta, Business Head, Sony Yay explains how the channel plans to leverage the summer vacation this year. "Kids are in for a treat as we will air new episodes of KickO and Super Speedo, the mischievous feline duo in a fresh avatar as Honey-Bunny ka Jholmaal. We will also air 13 new movies across all our properties," Dutta says. Nickelodeon, from Viacom18, has also launched its eighth IP 'Golmaal Jr' for Sonic and is set to roll out over 200 hours of content for this financial year. Hungama Play has also released a wide content library of 5,000 films, and original content shows for this summer.

We have seen a swing in political spends and beverages categories. The summer spends indicate that there has been a significant amount of activity surrounding elections and IPL, thanks to which, the channel innovations are focused on digital platforms, shorter edits, smarter dominance of spaces in Print, and the OTT advertising in the Digital space has also bought about new elements.
Priti Murthy, CEO, OMD India
AD SPENDS
In the Travel sector, brands are spending 40-50% of their annual ad budget for summer marketing
WE KNOW WHAT BRANDS DID THIS SUMMER!

• MakeMyTrip – Launched Knock-knock, travel game show series aimed at customer engagement through travel bids, deals, rewards and games
• VIP – Revamped the brand with a 'Hello Holidays' philosophy and tied up with Kings XI Punjab during the last season of the IPL
• American Tourister – Rolled out the Access to the World campaign with Virat Kohli to leverage the upcoming World Cup
• SOTC - Launched 'SOTC On The Go' customised holidays, introduced VR-enabled Customer Experience Zones at select SOTC outlets
• Thomas Cook India - Launched experiential regional tours and Grand India Holiday Carnival this summer
• Sony YAY! – Added 100 hours of summer programming, featuring 109 new episodes and 13 movies in seven languages
• Hungama – Hungama Play rolled out a wide content library of 5,000 films, and original content shows
• Nickelodeon – Launched its 8th IP 'Golmaal Jr' for Sonic; to roll out over 200 hours of content for this financial year