With Byju's, Pharmeasy and Groww acquiring older and established companies, is this the coming of age of Indian start ups, and is the dominance of digital companies over traditional the future
Earlier this year news broke out about the acquisition of Akash Educational Services Ltd. (AESL) by Edtech giant and India's most valuable start-up Byju's. While it's true that Byju's has been on an acquisition spree having shelled out over $2.2 billion on acquiring compatible brands across India and the US in 2021 alone, the approx $1 billion deal with AESL was significant as a rare example of a much older and traditional firm being bought by a new-age, tech start-up. The scepticism prevailing around start-ups burning cash and growing on investor money notwithstanding, the news had the industry talking about one such new entrant acquiring an organically grown profitable business.
Blackstone-backed AESL is a 33-year-old company founded by JC Chaudhry. It runs offline coaching for medical and engineering entrance test at over 200 centers across India. During the pandemic, a chunk of its classes was moved online with the launch of the Aakash Digital App in June 2020. Byju's on the other hand is a relatively younger firm founded by Byju Raveendran and Divya Gokulnath in 2011.
The story, however, gets more interesting. Just next month, i.e. in May, online investment platform Groww announced the acquisition of Indiabulls AMC and Trustee Company, the asset management company and trustee, respectively, of Indiabulls Mutual Fund, for consideration of `175 crores (including cash and cash equivalent of `100 crores). Pertinent here again is the fact that the digital platform founded in 2016 by ex-Flipkart executives Lalit Keshre, Harsh Jain, Neeraj Singh and Ishan Bansal acquired an older and established financial services player. With this buyout, Groww effectively became one of the first fintech companies to enter the asset management space. The Tiger Global, Sequoia Capital India, Y Combinator, Propel Venture Partners and Ribbit Capital backed start-up joined the unicorn club in April this year following a Series D round of funding led by Tiger Global.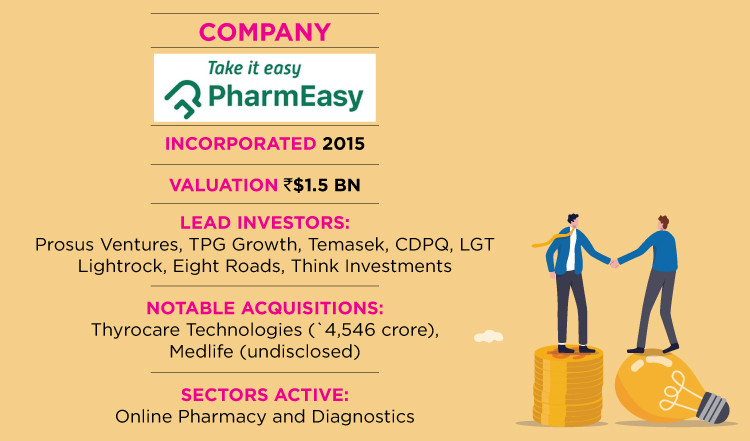 Another similar, yet groundbreaking, development took place in June when the Mumbai-headquartered online pharmacy start-up PharmEasy – founded in 2015 by Dharmil Sheth and Dr. Dhaval Shah – acquired majority stake in the 2.5 decade-old Indian multinational chain of diagnostic and preventive care laboratories, Thyrocare Technologies Ltd. The news was big as the move made the six-year-old startup the first Indian unicorn to acquire a listed company. According to the exchange filing, PharmEasy parent API Holdings signed a definitive agreement to acquire a 66.1% stake in Thyrocare for `4,546 crore.
PharmEasy became a unicorn in April following the raising of USD 350 million in its Series E round led by Prosus Ventures and TPG Growth. Existing investors including Temasek, CDPQ, LGT Lightrock, Eight Roads and Think Investments also participated in the round. With an estimated valuation at ~$1.5 billion, it has raised total funding of USD 651.5 Mn.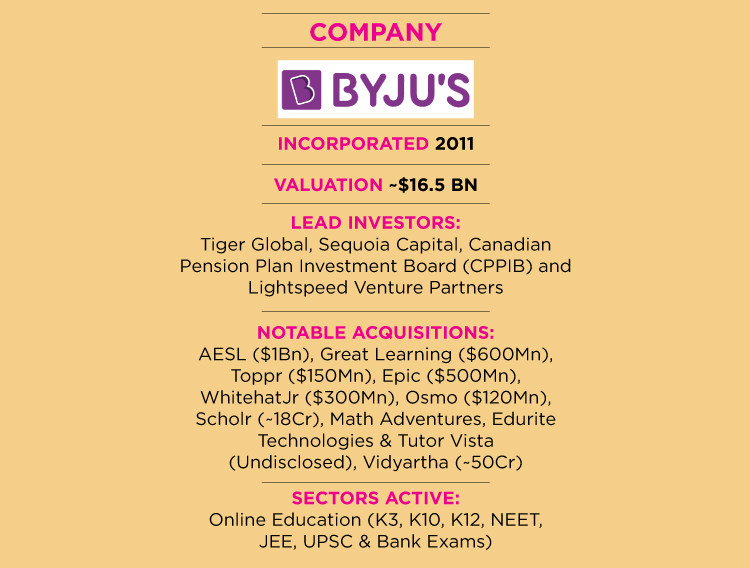 Realising the vision
Given the significance of these events, it would not be surprising if one questions whether the term 'start-up' being used for these firms is merely a dated misnomer. Not only are these online, tech giants ruling the game, but also setting the rules of the game today, and their catalytic involvement in the restructuring of their respective industries is a testimony to it.
The $1 billion acquisition deal between Byju's and AESL was a milestone defining the future of learning, which is believed to be hybrid. Forged during the pandemic year when the new format came to the forefront, it assumed even greater significance for bringing two of the foremost companies in Indian supplementary education together in a synergistic partnership to build an omni-channel learning offering that would accelerate test-prep experience to the next level.
"Driven by the philosophy of creating something better, and not bigger, the focus of all our acquisitions and collaborations has always been to strengthen our offerings and value, scale ourselves, and create holistic learning experiences. In fact, the most fundamental question we address during our acquisition's evaluation process is 'will it be useful to our students'. If we see value in our synergies only then we consider going ahead," says the Byju's spokesperson.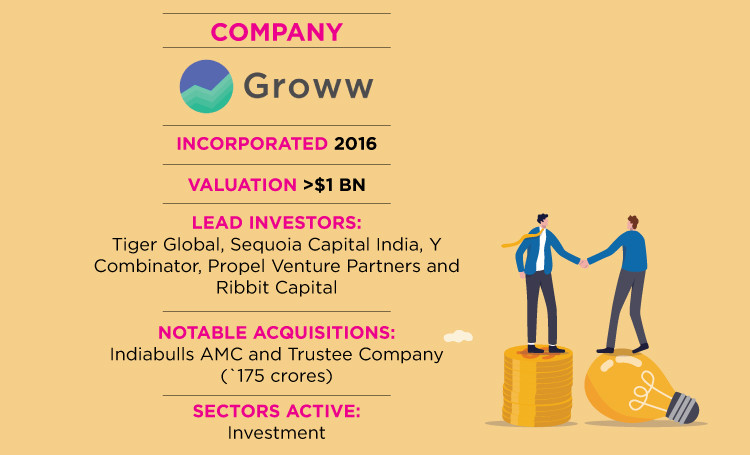 Commenting further on what how the metrics for evaluating an acquisition deal may evolve in the future, the response read, "For us, it's all about partnering with complementary models that help expand our umbrella of product offerings. If a potential acquisition or merger fits into our strategy of building a product focused on the same age groups, brand vision, and demographics, then we will surely examine it. In the future as well, we will look at companies that fit into our long-term vision of helping students get access to different learning formats of online learning."
Sure enough! With the two Edtech market leaders Byju's and Unacademy acquiring brands in the segment at a breakneck speed, one can definitely look forward to more news on further consolidation of the sector. More recently Byju's acquired Great Learning and Toppr for $600 million and $150 million respectively. This happened within a week of the company buying US-based children's online reading platform, Epic for $500 million. Other significant acquisitions by Byju's include Mumbai–based WhiteHat Jr ($300 million); The online coding school for young kids which, like Byju's, operates in the K-12 segment was founded in 2018 by the former CEO of Discovery Networks, Karan Bajaj.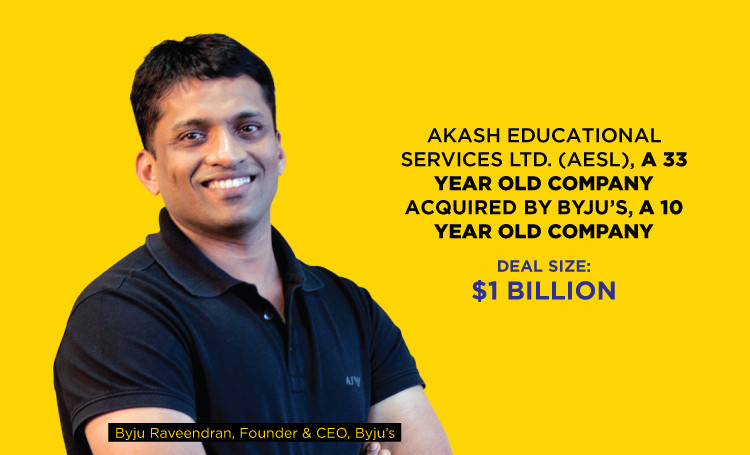 Notable Unacademy acquisitions include NeoStencil, Code Chef, Mastree, Prep Ladder and Coursavy. The Bengaluru-based start-up became the country's second edtech unicorn in September last year. Needless to say, edtech was India's most-funded sector in 2020 fetching a record $2.2 billion in venture capital as per IVCA. Currently valued at $700-800 million, the Indian Edtech industry is poised to become $30 billion in size in the next 10 years, according to a report by transaction advisory firm RBSA Advisors.
Similarly, Groww's strategic buyout of Indiabulls AMC and trustee company was planned with the larger aim of democratising investing in India. "Over the last five years, we have made investing simple and transparent for retail investors across the country. We have experienced the power of technology in enabling the access of financial services to even those who do not live in metros or who are not HNIs. With the capability to create products, we plan to make mutual funds even more accessible - by making them simpler, more transparent, and by lowering the cost further," says the CEO and co-founder, Lalit Keshre.
The Indian Fintech market is currently valued at $31 Bn and is expected to grow to $84 Bn by 2025, at a CAGR of 22%. The Indian Fintech ecosystem which is the third largest and has the highest adoption rate globally, comprises a wide range of sub-segments including Payments, Lending, Wealth Technology (WealthTech), Personal Finance Management, Insurance Technology (InsurTech) and, Regulation Technology (RegTech). The industry has seen cumulative investments into domestic FinTechs of more than $10 Bn since 2016. As of May 2021, India's United Payments Interface (UPI) witnessed participation of 224 banks and recorded 2.6 billion transactions worth ~$68 Bn representing a jump of 15x from just 3 years ago for the same period in 2018.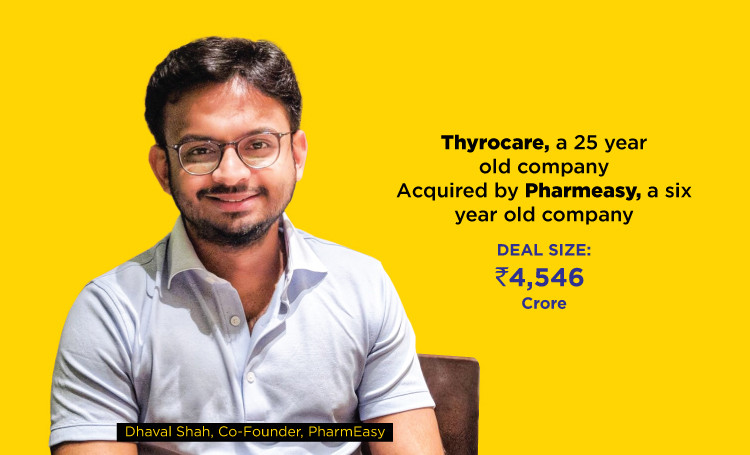 The Thyrocare deal which catapulted the six-year-old startup PharmEasy to instant 'stardom', came at the time when pivoting around the pandemic, the Indian pharma industry had opened up to never-imagined contactless form of medical care. A month ago, in May, it had also acquired Medlife for an undisclosed amount. PharmEasy competes with the likes of Netmeds, 1mg, Practo and others in healthtech startup space which has reportedly raised $234.4 million in the first quarter of 2021 alone. The $83 million acquisition of Netmeds by Reliance in August 2020 and that of 1mg by Tata for $200-250 mn this year is indicative of the relevance of technology in the Indian healthcare ecosystem.
According to a research done by The Internet and Mobile Association of India (IAMAI) – Praxis Global Alliance, the size of the Indian HealthTech Industry as of 2020 was estimated at USD 1.9 billion. The industry accounts for less than 1% of the overall Healthcare industry in India implying a huge market opportunity. India has more than 5,000 Healthtech startups and the Healthtech market, according to IAMAI-Praxis Global Alliance, is expected to grow at a CAGR of 39% to touch USD 5.0 billion by 2023. RBSA believes that this industry has the potential to grow to be USD 50 billion industry over the next 10 to 12 years.
Technology –
the great leveller
Having come a long way from the days when start-ups were accused of not having a business model and instead relying on fancy metrics which belie profitability, these new-age tech companies are today operating in a ecosystem which is driven by tangible outcomes and are forging a tech-led future for the country, and world at large. The comparison with internet bubble of 2000, which was more of a vision for those times, is not tenable today. Talking of India alone, with nearly 700 million internet users, it is one of the fastest growing digital economies in the world.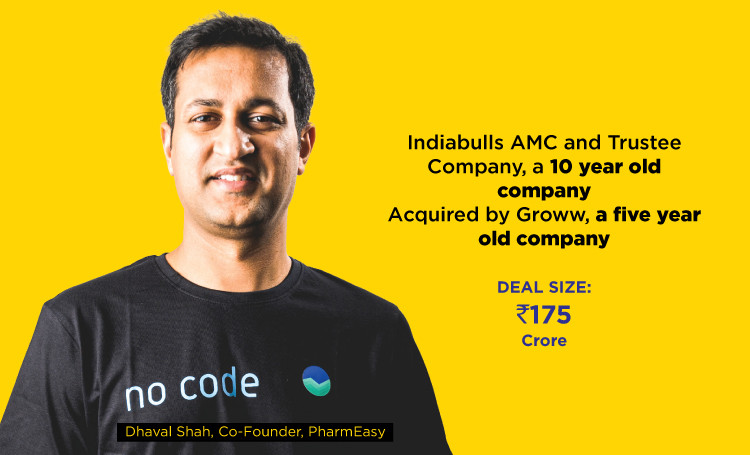 "The digital transformation wave has swept through businesses across verticals and they have certainly levelled the playing field for new-age tech companies. However, it can vary for each sector. Incorporating technologies such as AI, ML, IoT, and Data Analytics has become the need of the hour and has helped companies streamline their operations through strengthening the infrastructure. For new-age companies, digitizing operations has proven to be a key driver of growth while also playing a major role in augmenting customer experience, says Harsh Jain, Co-founder and COO, Groww.
"The brick-and-mortar stores too have realized the significance of digitization and are now increasingly looking to establish their presence online. While the established ones do possess a substantial amount of credibility, given the rapid technological evolution, the changing face of businesses and the growing digital consumerism, digital

transformation has already taken over, and businesses powered by technology will be frontrunners across industries."
Kashyap Dalal, Chief Business Officer & Co-founder, Simplilearn shares a similar opinion. Contending that the tech start-ups are not just at par with traditional firms, but are in fact disrupting the entire ecosystem with digital transformation, he adds, "In my understanding the discussion is no more about equivalence, but about being better suited for the future. One of the big reasons why new age tech companies are acquiring the traditional ones is that investors want to invest in what's going to build a large business for the next 10 years, rather than what was worth in the last 10 years. That's really where the former has a huge edge."
Commenting on why the reverse would not hold true, Dalal states that building a website or launching an app does not make a company 'digital', "The new-age tech companies are what we call the tech natives. Their entire leadership and the employees understand and talk technology. They are extremely agile. The automation led by them is disrupting how things have been done for the last 10 years. And essentially, that's what investors are betting on, and enabling them to buy whatever resources
they need to accelerate faster."
Chiming in, Anand Jain – Co-Founder and Chief Strategy Officer, CleverTap, remarks, "Technology has enabled deep personalization and hyper-localization, which empower new age firms to create individual user experiences. Data is central to this -- it allows firms to decode how people interact with their web and app presence. Learning these behaviors and preferences becomes the core of a business and when experiences are personalized, customers realize that the firm has invested resources in understanding their preferences. Hence, digital adoption has leveled the playing field and in fact, actually given these firms an edge over traditional brick and mortar firms."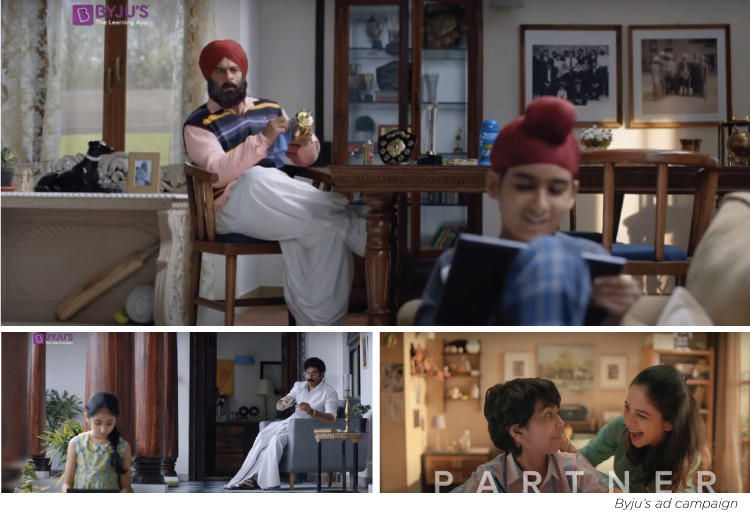 Envisioning a larger trend emerging out of such developments which bring together the best of the online and offline worlds, he adds, "Looking at the changes that have happened in the last decade, but accelerated in the last three or four years, we can see that several brick and mortar companies are now going online. This is because they are realizing the power of a multi-touch experience, and that a combination of physical presence along with digital capabilities is truly unbeatable. On the other hand, digital brands, are acknowledging that brick and mortar companies have a clear edge when it comes to customer loyalty. This is mainly due to the tangible nature of a physical store which instills the factor of authenticity in the minds of consumers. The relationship building and networking that takes place in a physical store as opposed to a virtual world makes all the difference. Hence, with these acquisitions, they are actually buying customer loyalty by collaborating with physical brands. These are good marriages."
The advertising blitzkrieg
Given their scale and the vision for growth, tech startups across the board are bullish on advertising. Byju's alone spent Rs 450 cr on advertising in FY19, up 239% from the previous year. From a branding and advertising perspective, 2017 was quite an eventful year for the company. In addition to unveiling the new logo, Byju's got onboard Bollywood Superstar Shahrukh Khan as brand ambassador.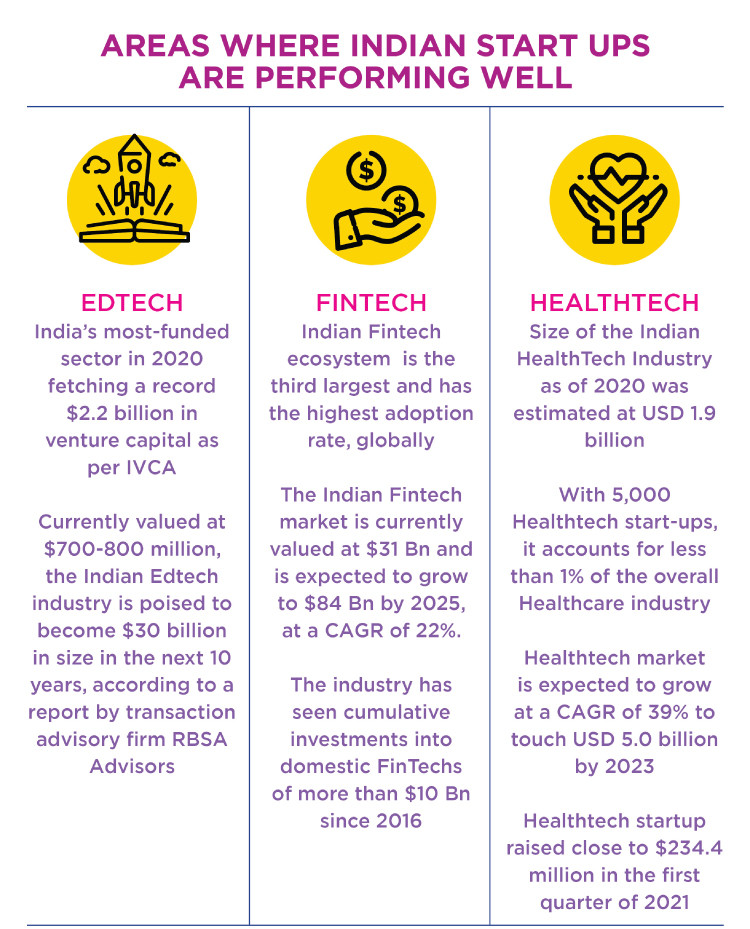 Leo Burnett India, which has been PharmEasy's agency partner since 2019 has crafted several memorable campaigns for the brand including the 'take it easy' campaign addressing work from home woes, the three-film 'DanceEasy' campaign and the latest, 'uparwala'. In July, PharmEasy teamed up with digital marketing agency Social Beat to scale up its organic reach.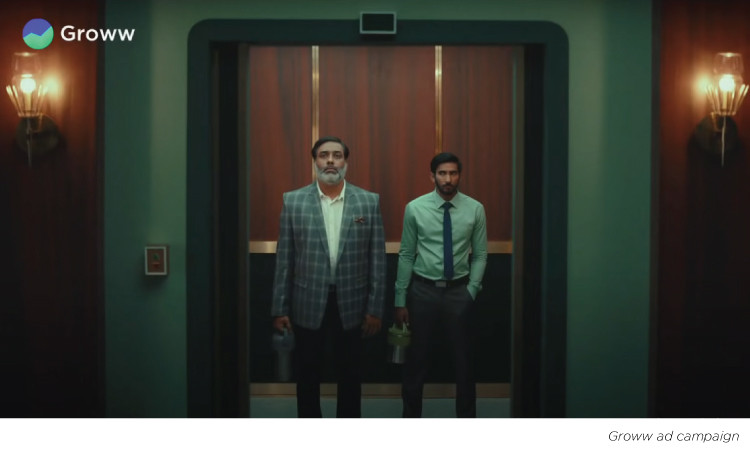 Healthcare communications expert and Founder and MD of Medulla Communications, Praful Akali has some interesting insights to share with regard to healthcare/tech advertising. "Pharma and consumer healthcare advertising are both growing steadily in the pandemic. In pharma advertising, since medical reps are not able to meet doctors regularly, the role of digital advertising to doctors has become critical and is driving growth. In the case of consumer healthcare advertising for hospitals, diagnostic chains, OTC brands and the likes, consumer involvement and spends on healthcare are driving the growth in revenue."
For the sake of simplicity, Akali categorises Healthtech start-ups into two sets - supporting doctors and supporting consumers – though there are a number of brands that operate in both areas. "Consumer health-tech brands like GoQii, 1mg, PharmEasy, Cult.Fit, Wysa that are relatively well-known are investing more in marketing, if not advertising. Doctor targeted health-tech brands like Credoweb, Remedo, Harbor Vision are now beginning to capitalise on the opportunity of being able to reach doctors digitally and using tech to compete with age-old pharma brands that have significantly deeper pockets. Brands like Practo play both roles – help consumers identify the right doctors and help doctors attract the right patient walk-ins. Those like Lybrate started out as doctor-focused brands and are still trying to transition into being consumer-led," he explains.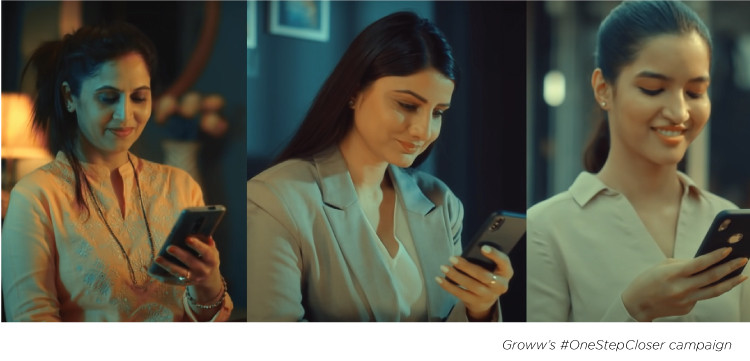 Commenting on what problem areas, he thinks, the healthtech start-ups should be addressing in their campaigns, Akali adds, "Most start-ups do tend to over-invest in performance marketing or leads through discounting rather than on equity building. Often deep discounting, tacky visuals and over-promises in performance-marketing campaigns can damage the equity in the long-term. It's not about investing more; the same media monies can be directed towards building more value if the brand personality and messaging is sorted in the performance marketing communication. And as brands scale up, allocating certain budgets to building brand equity help them in attracting investors, occupying first spot in the consumer's mind, and increasing the return on ad spends on performance marketing as well."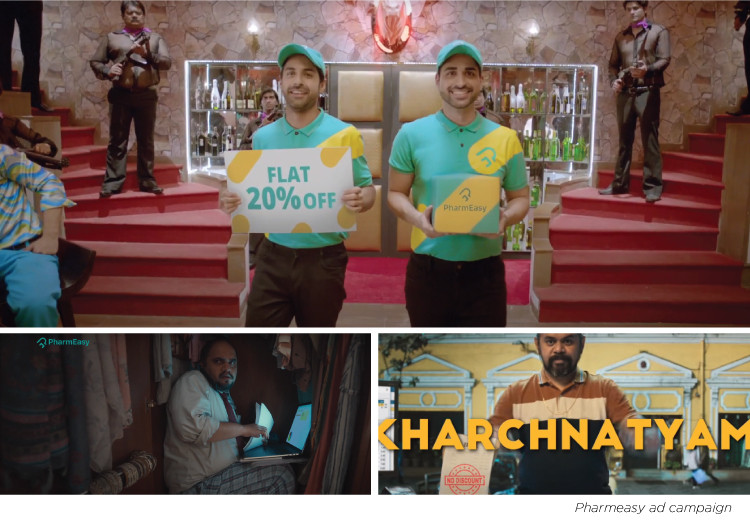 Groww has been addressing women and millennials through its ad campaigns over the past couple of years. Summing up the philosophy behind the brand's communication, Jain shares, "When it comes to service-based businesses that target millennials, digital transformation is a need as you are reaching out to the 2nd/3rd generation of users who grew up with technology and smartphones. With the amount of information that is available to everyone, customers prefer high-quality, cost-efficient, and personalized experiences. Digital transformation provides this at a low operating cost, and this is essentially what we aim to communicate through our campaigns."

Decoding the communication strategy employed by tech start-ups in recent years, Neeraj Aggarwal, co-founder and COO of start-up consulting firm xto10x, says that most firms in the aforementioned sectors have "Followed a two-pronged approach of trying to build their brand as well as the customer base through ad campaigns. Further, what we see is that, brands in each of these categories have been differentiating themselves from each other by highlighting their core services. So, while WhiteHat Jr talks about its coding expertise, Vedantu wants to establish itself in the test-prep space. Healthtech brands are also following suit. The Fintech segment, on the other hand, is focussed on 'keeping/making it simple', by emphasising on the ease and safety propositions."
Aggarwal points out that in the context of advertising, the two big differences between the new-age, tech companies and the traditional ones are that that former "knows how to use the digital and OTT mediums, and this gives them a huge edge over established players."