With an increase in the number of Internet users and thereby an increase in the demand for variety in the online video consumption space, original content is likely to be the key growth driver for the Over-The-Top (OTT) industry in the coming years. A recent report by Deloitte states that close to Rs 3,300 crore has been set aside by top OTT players for creating original video content in the near future.
If you have been in Mumbai, Delhi or Bangalore in the last couple of weeks, chances are you would have come across one or many billboards announcing the launch of Sacred Games, Netflix's first Indian original. Industry sources peg that Netflix has spent anywhere between Rs 5-6 crore promoting the series. It has also already announced its next original, Ghoul, a horror series featuring Radhika Apte. Even Amazon Prime Video has gone all out to promote its just-released, unscripted original stand-up special series, Comicstaan. That these platforms are spending big bucks on promoting their original shows is proof that there is merit in the findings of these reports.
PWC's latest Global Entertainment & Media Outlook 2018-2022 states that the Indian OTT market is growing at a CAGR of 22.6%. It also states India will move into the top 10 largest global OTT video markets in 2022 with revenues to the tune of Rs 5,595 crore.

Currently, the Indian streaming market is roughly pegged at $300 million with 30 OTT players. While Hotstar is far ahead in the OTT race with an estimated 150 million monthly active subscribers, it is followed by VOOT, Amazon Prime Video, Sony LIV and Netflix. And most of the top players seem to have hit the consumer's sweet spot - they are all introducing an array of originals to keep the binge-video-watching generation happy.
Considering that Deloitte's report also projects vernacular users to grow to more than 2.5 times the English Internet user base by 2021, OTT players have identified vernacular content as something that will drive growth for them and have already started working on creating content to reach out to targeted regional markets.
ORIGINAL CONTENT: A KEY GROWTH DRIVER
When most OTT platforms first made their entry into the market, they started off with catch-up shows. However, the entry of global players like Netflix and Amazon Prime Video that brought with them a plethora of rich, original content, has now compelled existing Indian players to move beyond just catch-up, syndicated and licensed content.
Over the past year, ever since telecom operators, primarily led by Jio, brought down data costs, there has been a significant shift in the content consumption pattern, with more content being increasingly consumed on Digital screens which has led to individual focused programming.
For a platform like Voot from the Viacom18 stable, catch-up content continues to stay important. However, it is original content that brings in new viewership and growth while helping the platform stay relevant. Monika Shergill, EVP and Content Head, Viacom18 Digital Ventures says, "We were the only network OTT service that launched with original shows because we were very clear that a significant number of audiences, between 20 to 30 million people, are already disengaged from TV content. They are very actively forcing new content and storyline and disruptive story-telling because Digital is becoming their native medium. When Voot started out, original content was a differentiator for us, but now, original content has become an absolute must for anybody who wants to be at the top of the game." Voot currently has 33 million monthly active users.
When Balaji Telefilms launched its OTT platform ALTBalaji in 2017, they did so on the premise that they would tell stories never told before. The platform has already released 22 original shows with 50 more in the pipeline. "We are planning to invest Rs 500 crore in the next three years. We have an investor in Reliance Jio, so money won't really be a challenge for us. We are investing Rs 150-170 crore every year in strengthening our content offering," says Manav Sethi, Chief Marketing Officer, ALTBalaji.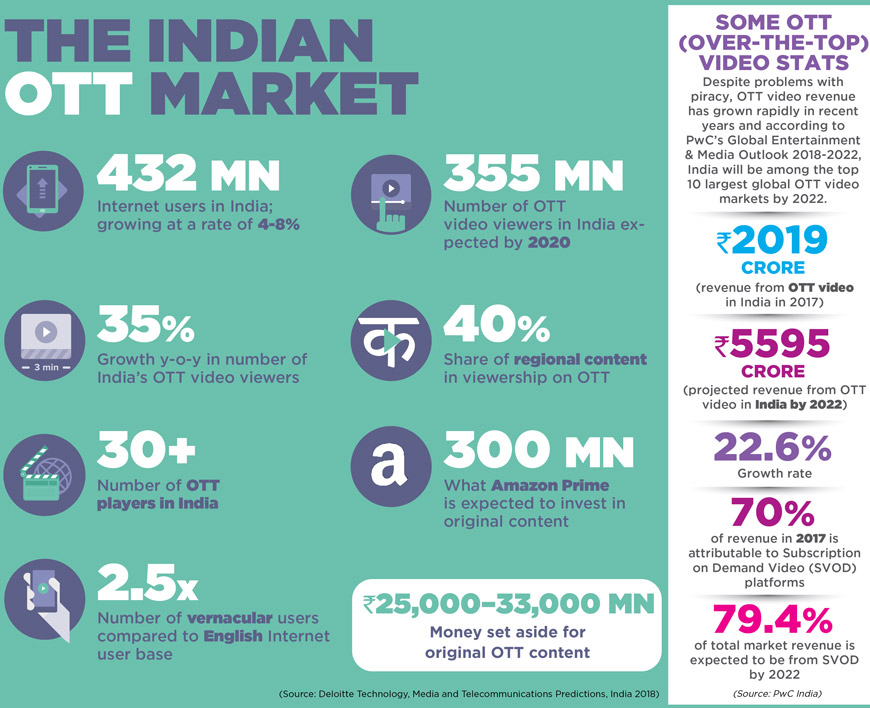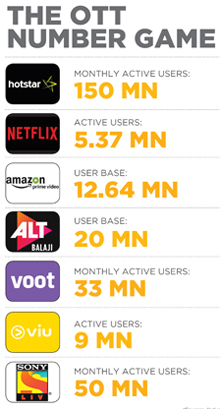 User trends indicate that consumers are constantly seeking new concepts and fresh themes on the platform on an ongoing basis. Thus, personalization of content is key and is one of the factors that marks Digital apart from TV content, believes Tarun Katial, CEO, ZEE5 India. He further adds, "When we set out on this journey of creating the platform of ZEE5, our endeavour was to bring stories that resonate with Indians across the country as also the non-resident Indian. Our bet on investing in good content has clearly paid off. Riding on this strong insight, ZEE5 has built a strong pipeline of original content that will be released in the months to come. Zero KMS, the debut series of Naseeruddin Shah (in six languages) already broke records online, and with shows like Karenjit Kaur and Kallachirippu (Tamil), audiences have much to look forward to."
Applause Entertainment, the content studio from the Aditya Birla Group, also has a varied mix of shows coming up, original and adaptations, across genres which include a heartland coming-ofage comedy with Swara Bhasker titled Rasbhari, a dark comedy Hasmukh with Vir Das, a political thriller, City of Dreams with Nagesh Kukunoor and a conspiracy thriller, Hostages with Sudhir Mishra, among many others. Ashok A Cherian, Head of Marketing & Revenue, Applause talks about the sea of opportunities on OTT platforms for production houses. "Today, there is a huge potential for OTT players, especially with all the great platforms available and many telecom companies turning into video streaming platforms. Audiences are spoilt for choice as they are consuming the internet, more than ever, to watch new content every single day. We need new, relevant, entertaining, local, and quality content that can captivate these audiences each time. And with the momentum of growth we are seeing in the digital viewership, I don't think there can ever be enough original content," he says, adding that Applause Entertainment will retain the IP of all the content they commission and license.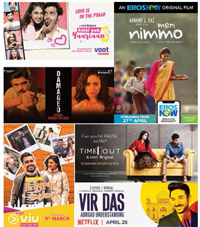 While producing original content, production houses must also ensure versatility and create larger universal appeal to connect with audiences beyond a certain geography. Citing the example of the widely popular show Narcos, Abhishek Rege, Chief Executive Officer, Endemol Shine India says, "A series like Narcos established that your content needs to be multi-territory and multi-season. Your product and story should be able to connect with a larger audience. It also has to lure the audience to binge-watch. Moreover, platforms can benefit if a series is multi-season. It is important to create series that are around 8-10 episodes long, and gripping enough across all episodes."
Original content is also a great way for an OTT service to create a brand with the viewer and subscriber, adds Ridhima Lulla, Chief Content Officer, Eros Digital. "The premise is deep-rooted in the stories and the culture we are looking to create with the audience. On an industry level, the millennial audience in India is severely underserved with quality and relevant programming that they can associate with and hence we will help develop more loyal viewers for the brand."
While growth in the OTT space will definitely come from original content, Katial further points out that all formats of content, be it original, catch-up or syndicated, work with different sets of audiences. "In addition to the strong original content we host, we also have a library of syndicated national and international content including movies, music, TV shows and such that are hugely popular among our viewers," he adds.
WHY REGIONAL CONTENT WILL PLAY AN IMPORTANT ROLE
Given that India is not a homogenous market but rather one that is made up of thousands of smaller, diverse markets, each OTT player is looking for that sweet space to capture unique audiences. Most players agree that the way to do that is by going local.
Devendra Deshpande, Head, Content+, Mindshare believes that the potential for regional original content is limitless because the success of regional content is not limited to Indian borders. Deshpande explains, "Indian vernacular content has a lot of potential in other markets as well. For example, our show No 1 Yaari with Rana for McDowell's No. 1 saw 40 million views with an average watch time of 39 minutes in India alone, and that's a huge number. However, this content has the potential to resonate well with the Telugu diaspora settled in Malaysia or Singapore. The same thing goes for a market like Bengal, Tamil Nadu or Karnataka. The scope is huge."
In May 2018, Viu announced the launch of around 70 original titles and more than 900 episodes of locally produced content to be consumed globally. Around half of this will be Indian content, produced in multiple languages including Hindi and Telugu. Talking about their commitment to regional original content, Vishal Maheshwari, Country Head, Viu, India says, "We've launched about 11 shows in two languages in 2016-17 alone. This year, we've already launched nine originals and have plans to launch at least 20 more before the end of the year. We're entering the Tamil market with six new originals produced locally with local production houses and talents by the end of this month. About 70% of our consumption comes from original content while the other 30% comes from the other content on our platform." Viu currently has a total viewership of 9 million in India.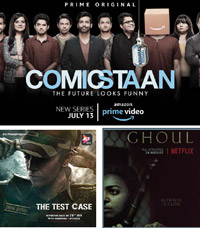 Echoing similar views is Vijay Subramaniam, Director & Head, Content, Amazon Prime Video, India. He says, "Providing local stories helps us remain relevant and relatable and our goal is to bring new, path-breaking content to our Indian customers. Our content mix is predominantly local and includes Indian Prime Originals series of the highest quality with leading content creators from India. Our local content plays a significant part in our viewership mix."
Digital content platform Arre, which creates original content across a range of formats - from thrillers to drama - adopts a fairly diversified approach towards original programming and spends between 65-75% of their resources in creating original content. The platform's first major project for the regional space was the official biopic of music maestro Ilaiyaraja, who has a regional as well as global appeal. Ajay Chacko, Co-Founder & CEO, Arré, says, "The scope of regional original content is immense and we are already betting fairly sizeably in the space. The regional TV and film markets are very large in India and I see the same trend of consumption of regional content on Digital. Our short to medium term plans include a sizeable regional foray beginning with Tamil followed by Telugu, Marathi and Bengali content. Language versions of our marquee shows are doing quite well in Tamil and we soon plan to augment the genre with originals."
THE OPPORTUNITY FOR BIG PRODUCTION HOUSES
With OTT platforms offering a rich variety of content for all kinds of audiences, will Bollywood suffer in the near future? Or does there lie an opportunity for big Bollywood production houses to encash on the OTT craze?
Apoorva Mehta, CEO, Dharma Productions says, "It won't be wrong to say that the OTT industry is rapidly moving in the direction facing innate growth, considering the fact that a major chunk of content is being consumed on the digital medium today. They provide a host of enticing features such as convenience and flexibility on either laptops or smartphones, giving full control to viewers who decide the entry, exit and return to such platforms as compared to appointment viewing on other platforms. While every platform has its advantages and disadvantages, OTT as a platform has indeed emerged as here-to-stay in the digital age."
Explaining how the OTT platform is the natural progression towards developing an original content show for the web, allowing it to transcend all boundaries, Gaurav Verma, Chief Revenue Officer – Red Chillies Entertainment says, "Not every story lends itself to a theatrical innings because there is that much time, investment, multiple characters, multiple stories which this platform gives you the comfort to nurture and develop. With the Internet, reach is global and so you can cross language and geographical boundaries. That's the beauty of the platform. We are creating content for international diaspora at Red Chillies. Putting it on a platform like Netflix helps us to reach out to a much wider audience in, say, 180 countries. We can't afford to release a film in all locations around the world as cost is too high but through Netflix or any OTT platform, users around the world can get access to the film."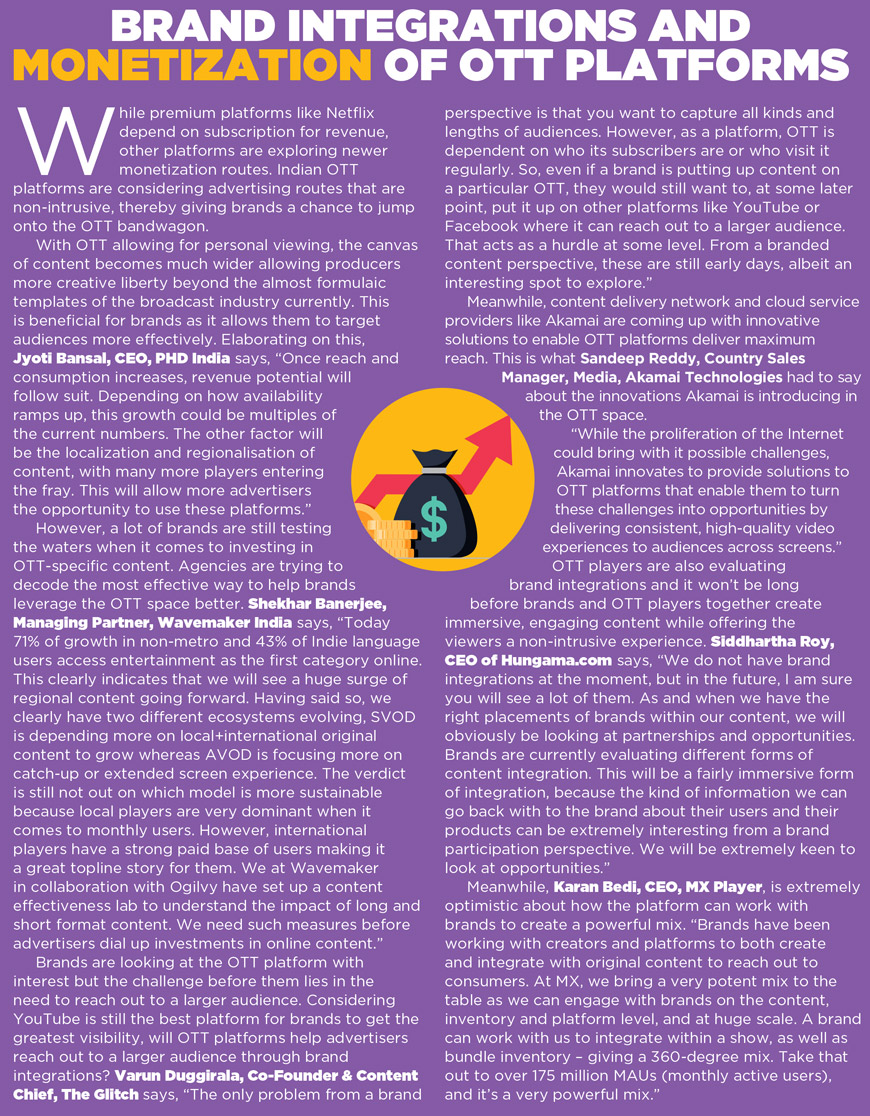 From an overall growth perspective, the OTT segment is extremely bullish as far as India is concerned. PwC's projections are that India will be one of the top 10 OTT markets in the world in the next five years. This growth is going to span out along the expected lines - we originally had Hindi and English content, which were the drivers, but then to grow and get a greater market-share, we have to move to localized content, beyond Hindi into regional languages. So, that is going to be the game plan. Then there is the whole question about original versus repeat content, content which is exclusive or premium, and first offered on a particular OTT platform as against being offered elsewhere. Those are all going to be strategies in terms of how you get people to come on to a particular platform.

But despite the fact that India is going to be the 10th largest market for OTT globally in five years, even if you look at the numbers at that point of time, the overall market size of OTT is just going to be 120th the market size for television, both for subscription and advertising.


NO REGULATION, NO CENSORSHIP

There is also a regulatory arbitrage that the OTT platforms currently enjoy. Their content is not subject to any programming guidelines or certification or censorship, which means that they can push through edgier content which otherwise is not possible on Television or in movie theatres. Edgier not only in terms of the type of content but also in terms of the experimentation that they can do and therefore bring new talent into this segment. Effectively, it is like the second coming of the studios in the country. Possibly, in future we might see all the players trying to do some kind of self-regulation, but until then, there is a window of opportunity from no regulation.


ORIGINAL CONTENT AS DRIVER OF GROWTH

Is it so much to do with original content, or exclusivity of particular content on a particular platform, and possibly for a short period of time? If Hotstar has a right to Game of Thrones which Netflix and Amazon do not have for India, it is as good an original content as far as India is concerned. Say for example the content creators were to say that this content will be available only on this platform to begin with for the first three months. And after that it can be repeated and shown anywhere else, if they were to monetize it in that manner… Will that be a good strategy? It could be. How is original OTT content different from movies which also have a window for theatrical release and can go on to any other platform? Many of the classic OTT players like Hotstar or Amazon or Netflix started as content aggregators. They had repeat value. Increasingly they realize that given the concerns of linear players, somewhere they are going to be starved of the supply of content. And each one individually has started creating content. Some of them have budgets that exceed what the traditional studios spend on content creation. Now, step back and look at it from the consumer's perspective. If you are going to have so much original content, exclusive to each platform, to how many platforms does the consumer subscribe? His spending capacity is going to be limited. And therefore which is the model that is going to evolve ultimately? To have a short window of release where content remains excusive to your platform and then you eventually share it with other mediums, and you then monetize the licensing part. Or, do you keep it exclusive on your platform forever?


ADVERTISING POTENTIAL OF OTT PLATFORMS

Advertising potential on any medium ultimately has to play out. Let's look at the example of HD channels. When they were originally introduced, one of the strategies was that there would be no ads on HD channels, and then subsequently you had advertising coming in. Digital platforms have the benefit that you can narrowcast any advertising. You can get the right advertising to the right consumer because you have significant analytics about that particular consumer. Agencies clearly believe that there are significant advantages in advertising on an OTT platform. The struggle today is - how good are the analytics? How do you measure the efficiency of advertising, as you do for TV, Print and OOH? Though consumption patterns are changing rapidly, advertising till date has not moved, not only in India but even globally at the same speed. The fact that it has to move is a no-brainer, it is going to happen. Is original content going to drive advertising? I am not too sure. Any good content will drive advertising. You really target advertising to a particular subscriber. Therefore whether the subscriber is watching The Heist or Sacred Games, or some Hollywood movie or Bollywood content on the platform, you don't go seeking advertising for the type of content, you seek advertising for the subscriber. You have data on the subscriber, and no matter what content he is watching, you push the right ads to him. The subscriber is the driver for advertising independent of what content he is watching.


RESEARCH ON ORIGINAL OTT CONTENT

Even if you have to do a study, how do you do it? The pricing is common bundled pricing. Subscriber numbers are not freely available. Those are all at best estimates. Even if a Netflix or Amazon gives out the number of subscribers, how do you know how the subscribers are moving, in the absence of an equivalent of a TRP for content? The only way one would know is that over a period of time, if there is a correlation between number of subscribers and the new content that you add. And we have to be careful here as to what is meant by original content. Does it necessarily mean only new Indian content? Does it mean foreign content which is dubbed in Indian languages? Say, for example if Netflix is pushing into India a lot of Spanish content, because they have found that kind of content works in India, is it original content? One has to consider all this.