It's a typical Friday evening. Racing from work to catch the latest 'Mission Impossible' movie, it almost feels like an impossible mission, looking at the long, snaking red line of traffic on Google Maps. One difference, however, is that the Google Map in front of you showcasing live traffic updates is not on your phone, but on a digital billboard ahead, with the familiar red, blue, green and yellow lines in LED, glowing against the night sky.
The #LookBeforeYouLeave campaign by Google Maps, which won it a Gold Abby for 'Best use of technology in digital and mobile', helped commuters use the real-time information to plan their routes, making it relevant and interactive. The integrated media campaign (including OOH, online video, social media, Radio and TV) accounted for an 8-10% uplift in feature awareness and drove 40% of the growth in daily active users of Google Maps in India.
More recently, Jabong launched an innovative Digital OOH campaign for its Big Brand Sale held from July 27-30. Aptly called #OutOfTheWorld, the OOH campaign featured backlit 3D celestial objects like rockets and spaceship cut-outs as part of a motorized installation which created an illusion of zero gravity in space. The site also had a ticker updating the countdown to the event 'start date' and 'hours left' in real time. Talking about the campaign, Gaurav Kacker, Head of Brand, Jabong says, "It was a clutter-breaking approach to grab maximum consumer attention, reach and retention of our message." Today, Digital Out-of-Home or DOOH accounts for approximately 3-5% of the overall OOH pie in India, estimated to be above Rs 3,000 crore in size, as per the Pitch Madison Advertising Report (PMAR) 2018. As per industry estimates, DOOH is expected to grow by 20-25% in the next five years – to four times its current size. Another way to look at it is that with the overall OOH market in India estimated to be growing at about 10% year-on-year, according to PMAR and the Indian Outdoor Advertising Association (IOAA), the Digital OOH growth estimate of 20-25% implies that this segment alone will grow at double the pace than the OOH industry average, adding to the overall industry revenues. While these numbers may not be sizeable, there are several reasons which make the OOH industry bullish about DOOH.

THE GROWTH OPPORTUNITY
Until recently, Digital OOH was plagued by several challenges including lack of technology advancement, lack of government permissions to install digital screens in public places - restricting their use to controlled environments like airports or malls and multiplexes, and slow growth of infrastructure. However, the scenario has undergone drastic changes in the last couple of years.
According to the FICCI EY Media & Entertainment Report 2018, Digital OOH will be a key growth driver for the OOH industry in India, which is expected to touch Rs 4,300 crore by 2020, on the back of a 7.7% CAGR. Elaborating on this, Ashish Pherwani, India M&E Advisory Leader, EY says, "Several agencies we spoke to informed us that a large number of their clients are increasing spends on Digital OOH compared to the traditional medium. We believe factors such as an increase in airports and travellers, upcoming retail spaces, technology advancement with increased penetration of AR and VR technologies and ease of their deployment, targeted campaigns and offers through integration with social media and mobile, plus accurate measurability of Digital OOH, will aid its rapid growth going forward."
Indrajit Sen, Executive Director, IOAA echoes a similar sentiment. "As regulations adapt to accommodate DOOH, existing static boards will first convert to digitally-served static boards and finally to video displays. Such digital signages can connect beautifully with hand-held screens, with changing time-of-day brand messages, presenting a hugely contemporary advertising environment that can change the entire face of the city as well as brand marketing and take both to a far more elegant and effective level than today," he says. Noomi Mehta, Chairman & MD, Selvel One and President of IOAA concurs. "Today, there is accountability, numbers and greater registration and recognition of brands that use the Digital OOH medium.
In combination with mobile phones, it has proven to have unbelievable efficiency. A recent study has shown that customer hits on websites increased to 180% when digital/ mobile phone advertising was linked to OOH displays. Thus, it makes ample sense to spend 20% of the digital advertising budget on OOH to dramatically energise response and brand engagement," remarks Mehta.
KEY GROWTH DRIVERS FOR DOOH
Imagine smiling at a digital screen in a mall and being rewarded for it with a cookie emerging out of a digital unit attached to the screen. This was in fact a unique onground activation for Britannia Good Day conceptualized and executed by The Social Street to make the brand experience come alive for consumers by reinforcing its association with smiles.
Talking about how DOOH offers brands flexibility, contextual relevance and micro-targeting, Aman Nanda, EVP- Strategy & Product Development, Times OOH says, "DOOH has a pivotal role to play in helping marketers capture the micro-moments or critical touchpoints in a consumer's journey. Brands must act fast to gain valuable impressions in these moments by making sure that they are present for the customer to notice them and, at the same time, are relevant to the consumer's needs. By activating contextual messaging at different parts of the day at different locations, DOOH can reach multiple cross-sections of society and deliver relevant messages that can further activate online search or purchase."
The combination of DOOH and experiential marketing helps enhance brand appeal to a huge extent, while also providing a unique touch-and-feel experience to consumers. Commenting on it, Pallavi Patil Raina, National Director, Planning and Strategy, Madison OOH says, "We can build personal connect and interactivity in DOOH with experiential which enhances and gives an edge over any other medium."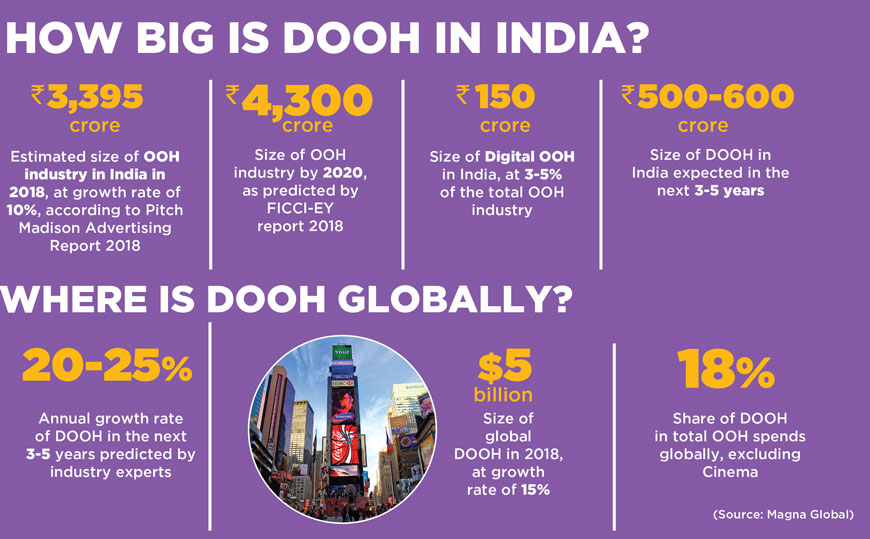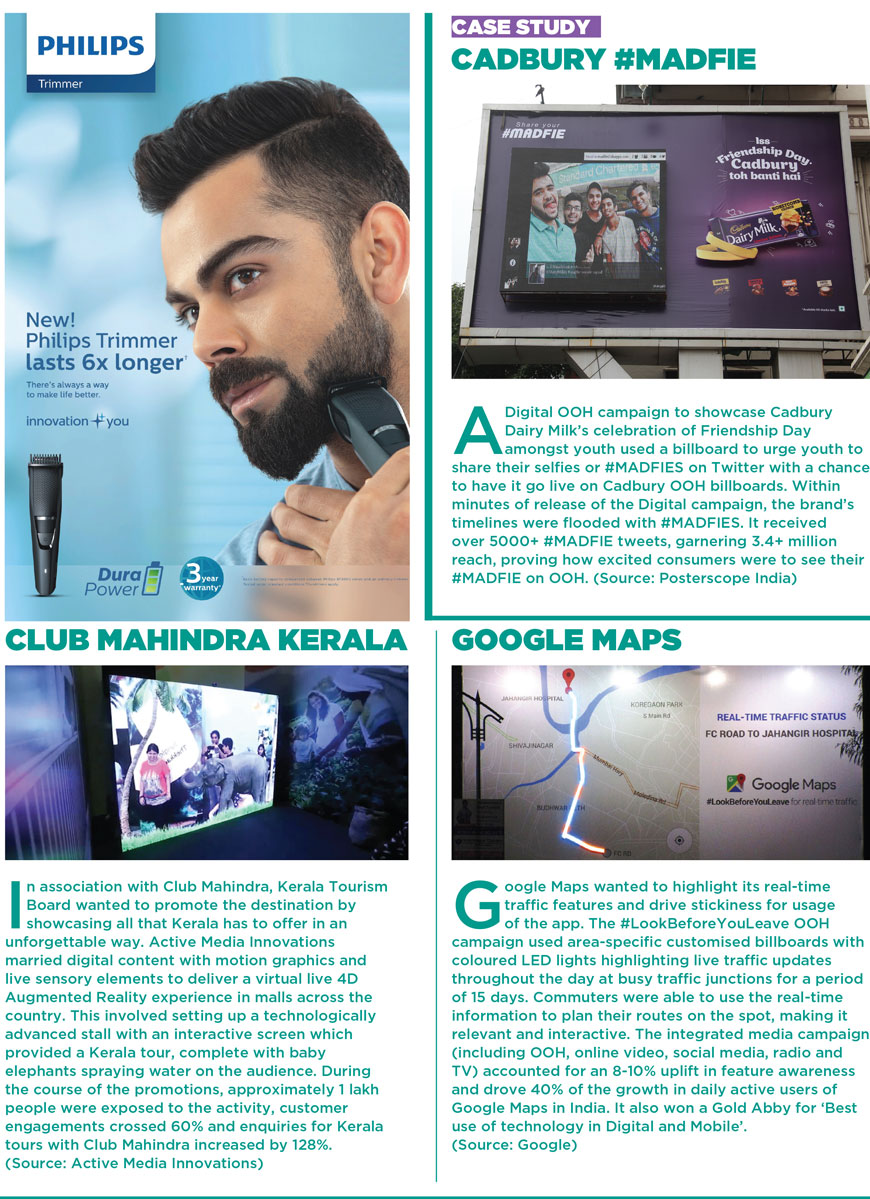 The rapid infrastructure development, transit media and street furniture, including upcoming airports, smart city projects, malls, metros, bus shelters, public conveniences, coffee shops, coupled with increased advertising opportunities in Tier II and Tier III towns is yet another factor favouring growth of Digital OOH. Within this space, airports will continue to account for a bulk of DOOH, thanks to the time afforded to travellers to view ads at specific touch-points like security check and boarding gates, where maximum eyeballs are generated and pointed targeting based on accurate customer profiling is possible, believe both Sunder Hemrajani, former MD of Times OOH and Nabendu Bhattacharyya, Founder and Managing Director of Milestone Brandcom. Says Bhattacharyya, "If you look at airports, 50-60% of the spaces have all been converted to DOOH and that's about 30% of the industry growth. Most of our international clients are in fact replicating their preference of DOOH in airport spaces, here in India as well."
Speaking about how the growth of transit systems and infrastructure in India make him bullish about the growth of DOOH in India, Sanjeev Goyle, CEO - OOH & Rural, IPG Mediabrands says, "This will also attract global media houses to come and invest in building the OOH infrastructure in India. However, to make it a success we also need a single window of clearance which should reduce the hassles of the media partners. Moreover, we need to create an official mechanism that would ensure safety against destruction of DOOH inventories."
Another area where Digital OOH has been able to score over traditional or static OOH is measurability, leading to more brands switching over from traditional OOH to DOOH, today. Remarks Haresh Nayak, Managing Director, Posterscope India, "Out of a total inventory in India of 70,000 sites, we have 28,000 sites which are connected to our server, which are latitude-longitude mapped with availability of data of the site with high-resolution, high-quality photographs and consumer profiling, in and around that area which enables us to predict trends even before a campaign is launched. It also enables programmatic OOH buying. So when brands work with us today on AOR basis, we can provide the same kind of APIs and ROI-driven analytics available in the digital space to help them make an informed decision. Invariably, this has led to an increase in average spend by brands, thanks to technology which allows them the ability to evaluate and compare and put weightages to different mediums. Thus, we can safely conclude that the evolution of digital is pushing spends in the OOH space."
Pramod Bhandula, Managing Director, JCDecaux India agrees. "Digital OOH is gaining popularity due to its effectiveness and measurable reach and with increased digital options, I am sure clients would continue to switch over to it," he remarks.
"An increasing number of agencies offering some in-house tools to track ROI by offering formats that are measurable and researchbased data that translates into rich insights are making marketers more positive towards OOH spending," adds Atul Shrivastava, Group CEO, Laqshya Media.
Location-based advertising, real-time mobile updates and the convergence of DOOH with Digital and social media is also giving its growth a fillip. Mobile and OOH complement each other big time. An effective outdoor campaign can convert your mobile into a Point of Sale. Moreover, with data costs diving, there is a huge opportunity to integrate both worlds in real-time, believes Alok Gupta, Director, Graphisads.
Citing an example of a Nerolac Paints campaign where the entire town was painted based on the digital selection of graffiti, Gour Gupta, CEO, DDB MudraMax, says, "The demand from clients to see some technological integrated solutions for their brands is on the rise. Digital OOH can be integrated with any format, only the technology may differ. Thus, even Mobile OOH can be smartly integrated with DOOH." Sommnath Sengupta, Former Head – Tech Innovations, OOH & Experiential, DDB MudraMax also says that digital and mobile convergence is a rapidly emerging trend, with more and more of the agency's clients seeking innovative OOH campaigns that can be digitally enabled and amplified through social media.
Another strong believer in this convergence is Anupriya Acharya, CEO, Publicis Media India. "In recent times, with advances in tech-enabled OOH options and interesting use of mobile-based applications, one sees great potential in the medium. Localized DOOH campaigns and programmatic buying will attract the bulk of advertisers. Auto brands have been pioneering DOOH usage and not just in ambient environments," she says. For example, in a campaign for Ola, CO2 emission data was pushed dynamically on to a digital billboard and got updated automatically through Ola servers, generating brand awareness and providing a public service at the same time.
The number of digital screens have increased from about 12,000 three years ago to 60,000 today, according to industry estimates. This points to the effectiveness of Digital OOH in creating the right kind of brand recall, and innovation is at the centre of it. Active Media Innovations has done quite a bit of pioneering work in this aspect. Having created a unique Projection Mapping Billboard, Phone Call Interactive Billboard, Augmented Reality Billboard and an SMS Interactive Billboard, the agency is also known for providing DOOH solutions using face morphing, realtime special effects, multi-touch technology, immersive augmented reality, gesture control, holography and virtual reality in India.
Talking about how such innovation can be a key differentiator for the OOH industry, Emraan Kureshi, Founder and Managing Director of Active Media Innovations says, "We recently implemented a nationwide digital campaign across 50 locations where mobile numbers were captured after on-the-spot OTP verification, ensuring instant quality data and brand impressions were digitally recorded into the database in real-time, categorized by location, gender and even engagement duration. This was unthinkable just a few years ago."
Mobile and DOOH activate and enhance each other. Together, they offer data maximization, customer impression targeting, multi-screen re-targeting, geo-fencing and attribution. With an increase in demand for logic-driven content delivery and changing consumer behaviour, today media owners are also looking at this opportunity as a great futuristic investment which boosts cost per panel ad revenues significantly. One of the key growth drivers will be the Smart City Initiative which was announced in 2015. With civic bodies and media owners coming together, DOOH will exponentially grow by creating public-friendly informative digital ecosystems, feels Gautam Bhirani, Founder & CEO, TagTalk. Vyoma Media, a leader in the DOOH space which has been growing at almost 60-70% in the last three years, is bullish about the growth of DOOH thanks to intelligence and customisation which can now be added to digital displays, coupled with the fact that the cost of digital screens is decreasing, even as screen quality is steadily improving. Shriranga Sudhakara, Managing Director, Vyoma Media tells us, "The number of connected devices and digital displays in the OOH space is going to go up by 5-10 times in the next three years. The quality of display will be phenomenal, much more data and intelligence will come in, making the medium extremely exciting for brands that will be able to get viewer estimation reports on a real-time basis to judge campaign efficacy from agencies like us." So while in the first avatar of digital OOH, i.e., displays, were positioned as an extension of posters or digital posters, today they are engagement hubs being connected in real time, providing contextual marketing such as weather updates, travel patterns and more, he adds.
Finally, the fact that media owners can run multiple campaigns in real time using DOOH instead of a single static campaign and the ease of dynamically refreshing communication in a big network of touch-points, offering advertisers and marketers the flexibility to specifically choose where and when their ads appear are other advantages of DOOH, pushing its growth. "Advertisers like the speed and flexibility of digital billboards which offer quick postings, easy change of messages, and no production costs. This is the reason why several static OOH billboards are being converted to digital today," remarks Yogesh Lakhani, Chief Managing Director, Bright Outdoor Media.
Estimating a 35-40% growth of the DOOH market in the next five years, Ketan Lakhani, Director, Orienta Cine Advertising says, "The major growth driver for DOOH is flexibility, which allows clients to change commercials much more easily, saving time and money on printing and mounting. Moreover, with government permissions for installation of digital signages in public spaces, DOOH will grow rapidly, which is what makes us confident of this growth estimate."

"Today, there is greater registration and recognition of brands that use the Digital OOH medium. In combination with mobile phones, it has proven to have unbelievable efficiency. A recent study has shown that customer hits on websites increased to 180% when digital/mobile phone advertising was linked to OOH displays."


NOOMI MEHTA

Chairman & MD, Selvel One



"Out of a total inventory of 70,000 OOH sites in India, we have 28,000 sites which are connected to our server, and latitudelongitude mapped with availability of data of the site with high-resolution, high-quality photographs and consumer profiling, in and around that area which enables us to predict trends even before a campaign is launched. Invariably, this has led to an increase in average spend by brands on OOH."


HARESH NAYAK

Managing Director, Posterscope India



"The number of connected devices and digital displays in the OOH space is going to go up by 5-10 times in the next three years. The quality of display will be phenomenal, much more data and intelligence will come in, making the medium extremely exciting for brands that will be able to get viewer estimation reports on a real-time basis to judge campaign efficacy from agencies like us."


SHRIRANGA SUDHAKARA

Managing Director, Vyoma Media

NOW, NEW AGE BRANDS TAKE TO OOH FOR REACH AND RECALL
Why new age brands like Google, Amazon, Netflix, Hotstar, ZEE5 are spending 15%-60% of their ad budgets on OOH

A quick look around while travelling by road today and you see a plethora of billboards competing for your attention. From 'Comicstaan' to 'Yeh Meri Family' and 'Karenjit Kaur: The Untold Story of Sunny Leone', a visible trend is that most of these billboards display campaigns by new age brands like Amazon, Netflix, Hotstar, ZEE5 and more. In fact, a number of brands today use OOH as the primary mode of advertising, spending more money on it than traditional mediums like TV, Print or Radio.

Research reports suggest a 33% increase in time spent outdoors by consumers in the last five years, pointing to a rise in consumerism and increased spending power, new infrastructure avenues and rapid mobility. Hence, for a new brand, the Outdoor medium helps reach out to a wider audience, presenting a larger-than-life brand image, while directly engaging consumers through repeat viewing.

Besides, OOH also helps drive digital traffic – because vivid imagery, repeated often enough, prompts viewing of the brand's online presence, given the amount of time consumers spend on their smartphones.

"At Amazon, we leverage customer relevant touchpoints to connect with them. The OOH medium enables additional impact and localization, complimenting TV and digital media buys in priority markets. It also helps us drive brand awareness, creative recall and brand association by showcasing the width of latest content and bringing content stories alive visually for our Originals' launches," says Ravi Desai, Director - Brand and Mass Marketing, Amazon.in.

During the recent IPL season, home-grown OTT platform Hotstar launched a skill-based game called Watch'NPlay, allowing users to test their cricket knowledge while watching the matches, with a chance to win a car or Rs 10 lakh worth of prizes with each match of the season. To spread awareness about the game, Hotstar launched 3D innovative outdoor campaigns across metros and mini metros across the country, which became a hit. Talking about the role OOH played in the success of the campaign, Sidharth Shakdher, Senior Vice President, Hotstar says, "Consumers face a deluge of contests these days and most over-promise and under-deliver. So there is that lack of credibility underpinning any game-related experience.

OOH communication addressed both of these insights and used quirky, humorous lines to deliver the message." Commenting on how new age brands are using OOH as a primary medium of advertising, Suresh Balakrishna, former CEO, South Asia and Middle East, Kinetic Advertising India (the agency services brands like Netflix, Facebook, Google and LinkedIn), says, "For new age brands that have a very focused target audience in specific markets like Mumbai, Delhi and Bangalore, OOH is extremely helpful in brand reach and recall, and the very fact that these brands are repeat buyers of OOH implies the high success rate they see in the use of this advertising medium. In fact, while Google and Facebook spend around 15% on this medium, for other brands, OOH makes up close to 60% of ad spends."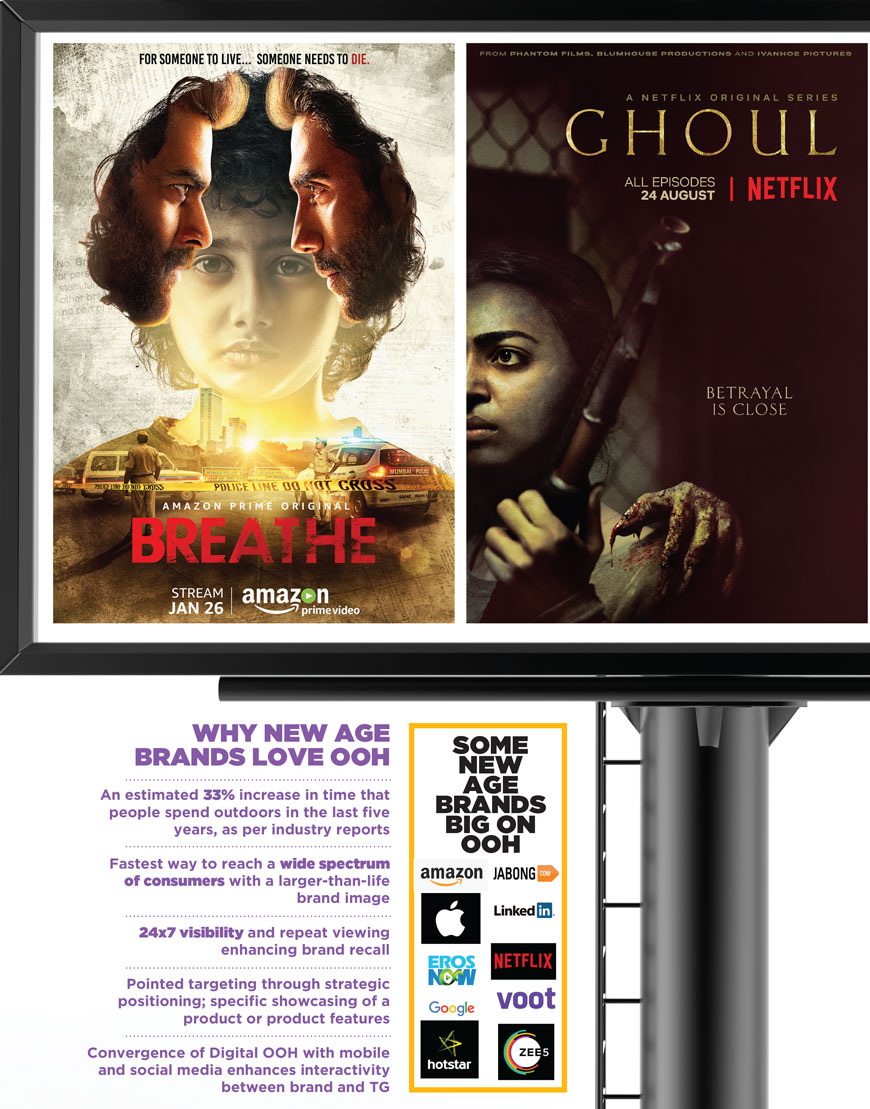 Nabendu Bhattacharya, Founder and Managing Director of Milestone Brandcom agrees. "In a large city like Mumbai or Delhi, OOH is the best way for new age brands to build brand awareness with larger than life, innovative displays at multiple sites on an area-specific basis. This also ensures minimum wastage, as a site can be purchased for 10 days and will still achieve maximum result. Besides, it also gives a push to digital/social media, because consumers tend to check their phones after seeing the same OOH billboard multiple times – thus, this is a pocket approach to showcase the brand and what the products are that the brand offers," he says.

The seriousness that new age brands attribute to the OOH medium is clearly visible from the fact that Netflix recently bought an OOH agency, Radiant OOH in the United States. Google is also planning to do something similar, while Apple which is a big believer in OOH, prefers large formats across the world as a primary medium of advertising, seeing it as an image-driver, and paying a premium to build those sites across the world. The brand has also replicated a similar strategy in India, Bhattacharyya tells us.

Moreover, innovations by new age brands are adding to the interactivity of the OOH medium, driving consumer engagement. For example, for the launch of the Netflix original movie Bright, digital OOH screens were used at bus shelters and metros, to promote the movie premiere on Netflix. Investment on OOH is much lower than in Print or TV, considering multiple touch-points spread over many cities and the sustained visibility for a longer duration, which OOH offers.

Also, the ability to customise and use multiple creatives which can be refreshed several times a month, coupled with the fact that OOH provides more space than Print, TV or Digital, also works in its favour and is visible to every kind of audience across age groups and demographics, all the time.

Brand visibility which leads to higher selling potential, coupled with the fact that OOH allows for quicker execution (72 hours turnaround time, which is faster than any other medium), amplification of the brand, as well as the easy adaptability of OOH to the digital and mobile medium are some other reasons for new age brands targeting the outdoor advertising route in a big way, believes Mandeep Malhotra, Founding Partner and CEO, The Social Street.

"New age brands constantly come up with fresh offerings for their TG, which makes it critical for them to speed up registration and awareness for such offerings. OOH, due to its inherent nature of being out there 24x7, serves as the best option available to these brands to maintain top-of-mind recall and recency. The strength of OOH also lies in customizing communication as per the geography being targeted, enabling these brands to communicate to their varied TG in a more relevant manner with minimal spillover," explains Spencer Noronha, Managing Partner, The Social Street.

Professional networking site LinkedIn recently released its first OOH campaign #InItTogether in India. Talking about the campaign, Roger Pua, Senior Director, Brand, Marketing Communications, LinkedIn Asia Pacific and China says, "Our campaign in India is a showcase of multiple stories of our members who bring a piece of their values, beliefs and desires into their workplace. We hope to encourage everyone in the Indian workforce to think about what success means to them."

In a similar vein, WeWork, an international company that provides shared workspaces, also released its first national campaign in India using OOH, which is being aggressively rolled out across key locations in Mumbai, Delhi-NCR and Bangalore. Talking about the campaign, Karan Virwani, General Manager, WeWork India, says, "As WeWork continues to make a mark in reimagining the office environment, the campaign will prove to be a gamechanger locally by showcasing our unique 'we' culture and how WeWork will reinvent your work and everyday life."

TARGETED BRAND ENGAGEMENT
Talking about what is prompting the visible spike in OOH spends over the last two years, Viral Oza, Chief Marketing Officer, Lodha Group says, "It's an effective approach, especially in the case of metros where our customers spend maximum time travelling by road and the OOH hoardings remain static. It acts as a good medium to build recall and definitely contributes to the multiplier effect, besides cutting across clutter in the online and offline space. This medium also facilitates micro-market targeting which is a must for brands like ours." Indeed, while the overall share of OOH media is pegged at nearly 6% of the total Indian advertising pie, the real estate category spends a disproportionate amount on OOH in comparison to TV and Digital, with categories like FMCG, Mobile Handset, Automobile and e-commerce spending about 15-18% of their total advertising budgets on OOH. "In a recent study piloted by us, we found that the top two sources of our brand awareness are OOH and Digital, quoted by consumers in an unaided questionnaire. It goes without saying that both the content of the ad and the scientific methodology to map a precise OOH location, goes hand in hand to bring out the best of OOH advertising," Oza reveals.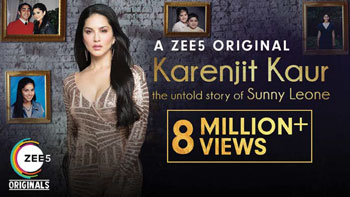 According to a 2017 Nielsen report, OOH advertisements prompted more online activations than Radio and Print, and 46% of audiences used a search engine to look up additional information after seeing an OOH advertisement, resulting in an activation index of over 6x for OOH versus TV.

Apart from brand awareness and recall, OOH is also increasingly being used to target specific aspects of a product. Instead of driving imagery, brand love and engagement, which one can do on TV + Digital, OOH can be assigned the role of showcasing individual product features through multiple creatives which get missed or compromised on TV, feels Debarjyo Nandi, Senior Vice President, L&K Saatchi & Saatchi. For example, he cites Jockey's new products, Hero two-wheelers' specific features, Flipkart's service features, etc. Besides, OOH is also a great option for retail brands like Jockey, Pepperfry and Nike who can focus on sites in and around their stores. Karthik Y, Assistant General Manager and Head- Marketing, Jockey India agrees. "OOH is the lead medium for static communication for Jockey. From primary research and media tracks that we have conducted, the medium has reached our consumers and helped build awareness for the brand. Moreover, given our retail presence and geographical spread, the medium works well to reach our target audience," he says.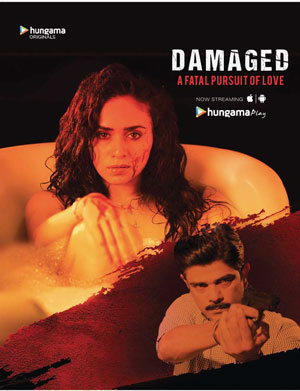 BRAND-BUILDING VIA OOH
Consumers today engage with a diverse array of media and technologies while on the go – shopping, sharing, socializing, documenting. As such, the role of OOH has been redefined and reinvented. From the consideration of product to final purchase, OOH has been instrumental in driving decision-making. "This change in lifestyle has impacted the way marketers plan for communication campaigns. Outdoor completes the overall marketing plan and helps in delivering the message to the target audience with much better Opportunity to See (OTS)," believes Shripad Ashtekar, Managing Partner, Signpost India.
For the Rustomjee Group, which runs new OOH campaigns every 40 days, Outdoor advertising is the most extensive medium used. The brand tries to use innovation in terms of unique and differentiated creatives, which have helped in brand recall with customers usually referring to one or the other OOH campaign while making enquiries. Explains Rutu Mody-Kamdar, Brand Consultant, Rustomjee Group, "OOH is one of the strongest mediums to build a brand because it offers you the frequency and longevity in a campaign. A lot of our brand-building has happened through this medium because people have viewed our campaigns continuously. So people remember things like our taglines, headlines, where we are, and what we do."

Brand trust is yet another less-spoken-of facet of OOH. It is a known fact that brands visible in the public domain over a long period of time are perceived to be trustworthy and of better quality, and now with media convergence on the rise, OOH is creating better, accountable and spend-worthy propositions. "OOH brings that confidence to advertisers, as they know exactly where their ads are going to be and that there will not be any unsavoury content around them," adds Aman Nanda, EVP- Strategy & Product Development, Times OOH.