Young voters will define the elections in 2019. By showing them a very easy to execute idea of converting their own motorcycles or scooters into a vehicle to ferry people to polling booths, we have hopefully shown them a way and encouraged them to think differently to do their bit.
SUKESH NAYAK
Chief Creative Officer, Ogilvy

Today's youth is self-aware and responsible. This campaign is our salute to the youth who want to make a difference to society and are driving this positive change. In this journey, we hope that Castrol Activ will be their trusted partner. We see this communication as a catalyst for change to shape thoughts of the young generation.
KEDAR APTE
Vice President - Marketing, Castrol India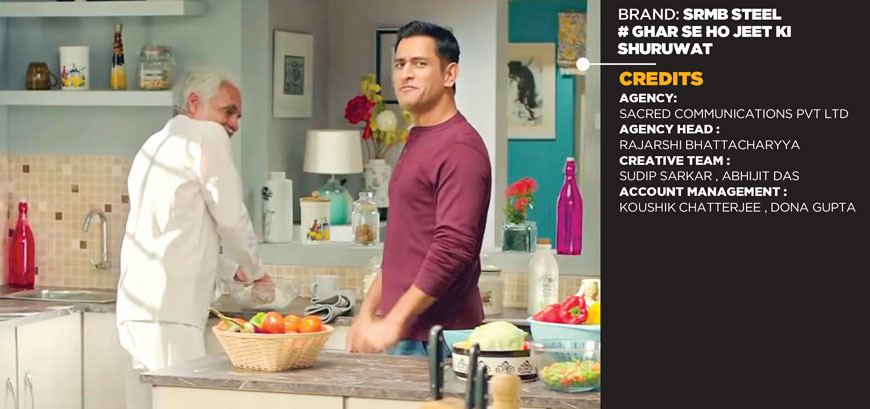 SRMB has a rich legacy in building homes. We wanted to disrupt the usual category codes of strength and longevity and give the brand a personality and make it stand for building a foundation of values that would define the future generations and help them achieve their goals.
RAJARSHI BHATTACHARYYA
Founder- Director, Sacred Communications Pvt. Ltd

Our 360-degree full-fledged campaign for TMT Bars has kicked in and I am sure that our TV ad, featuring beautiful visuals supported by a strong concept on foundation and values, will capture the audiences' attention while implicitly imparting the importance of TMT bars usage as an integral part of every home.
ASHISH BERIWALA
Director Marketing, SRMB Group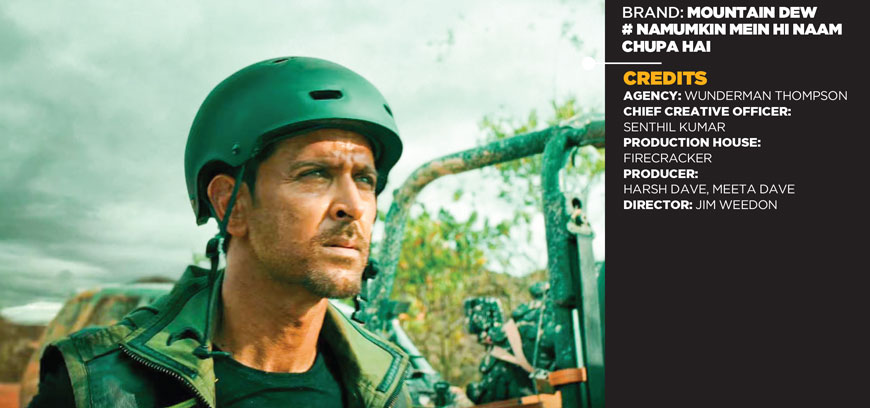 Mountain Dew brings authentic and inspiring stories of real heroes using the popular cinematic biopic storytelling format. This time Hrithik Roshan shares the story of India's first 4x4 world champions. Set amidst rainforest landscape this shoot was an adventure like no other. The journey of these men is one filled with grit and guts.
SENTHIL KUMAR
Creative Chief, Wunderman Thompson

Mountain Dew has always celebrated the spirit of those who push themselves to achieve extraordinary results, making a name for themselves in the process. Gurmeet & Kirpal are an embodiment of the Dew philosophy of Risk Utha, Naam Bana and it is our privilege to be able to share their inspiring story with millions of Indians across the country.
NASEEB PURI
Director, Mountain Dew & Energy, PepsiCo India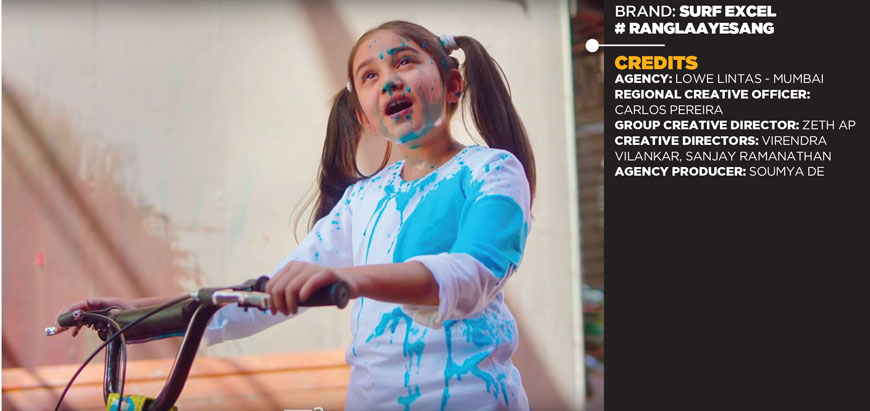 We felt the festival of Holi gave us the opportunity to highlight the true spirit of togetherness. By making colour the medium of oneness, we could seamlessly bring forth the larger thought of Rang Laaye Sang - a sentiment that kids truly believe in.
CARLOS PEREIRA
Regional Creative Officer, Lowe Lintas

The #RangLaayeSang campaign from Surf Excel beautifully captures how the colours of Holi can be a force for good, melting differences and bringing people together. It seamlessly brings to life our decade long 'Dirt is Good' philosophy – 'Agar kuch accha karne mein daag lag jaaye, toh daag acche hain'.
PRIYA NAIR
Executive Director - Home Care, Hindustan Unilever Limited