At the onset we knew there would be a barrage of colourful ads during Holi, so we decided to make something that stands out. Also, Holi is revealed only much later in the film, in a thoughtfully crafted suspense narrative, so the audience remains intrigued throughout. It was pure fun working on this one. Grateful to all who made this happen.
RAMAKRISHNAN HARIHARAN
Head of Creative, Publicis Ambience

Holi traditionally has been the only festival where we wear old clothes, we took that as an insight and wanted to encourage everyone to wear new clothes. Brand Factory plays the perfect enabler since we are the only fashion destination that's on discount 365 days. The film stays true to our space of being quirky and delivering the message in an interesting narrative.
ROCH D'SOUZA
Chief Marketing Officer, Brand Factory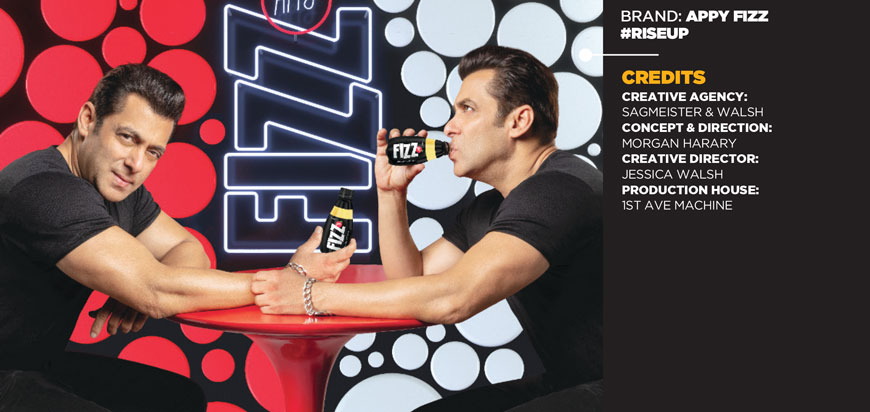 For Appy Fizz, we have always maintained the intriguing communication strategy, connecting with consumers across the country. Both the brand ambassadors have good screen presence and seamlessly blend with Appy Fizz's bold and edgy persona.
JESSICA WALSH
Partner, Sagmeister & Walsh

Appy Fizz, a 740 crore brand, has grown by 70% in last year, witnessing this phenomenal acceptance from consumers has fueled our desire to chalk an aggressive marketing strategy and build this category to Rs. 4,000 crore. Both Salman Khan and Jr. NTR have a huge fan base that will help us connect with our consumers and actualize this feat.
NADIA CHAUHAN
Joint MD and CMO, Parle Agro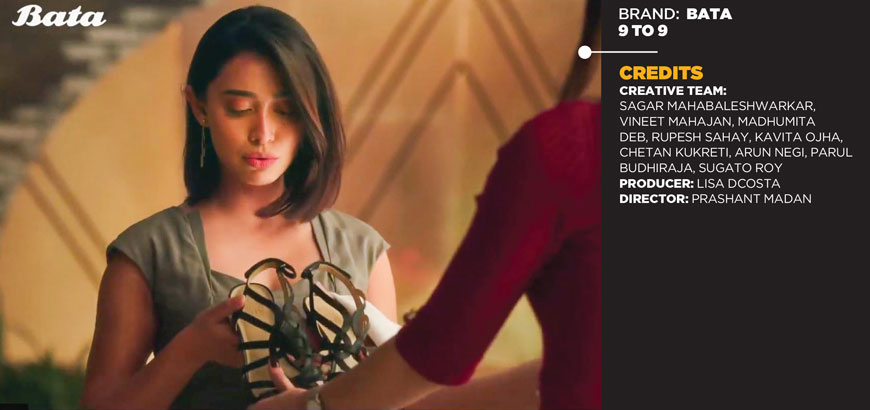 Kriti Sanon, the face of Bata's women range wanted to solve her friend's problem and surprised her with the new 9 to 9 collection.The idea of the film was to let people discover the delight of wearing something that's comfortable and surprisingly stylish too.
VINEET MAHAJAN
Head of Art, Contract India

Our new 9 to 9 collection consisting of Bata Comfit, Naturalizer, Hush Puppies and Bata contemporary styles offers nonstop comfort from 9 am to 9 pm. For all those early morning meetings to postwork dinner dates with friends, Bata's new collection makes sure no woman has to compromise on style or comfort now.
ANAND NARANG
Vice President – Marketing, Bata India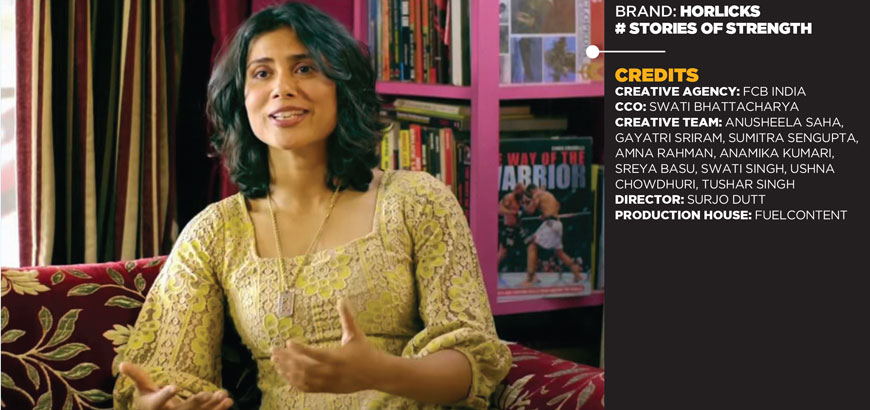 Every story of bravery, every story of strength and every story of courage, is often a man's story, we don't hear a woman's story of courage. Women's stories are about sacrifice, being vulnerable or being rescued. So, with 'stories of strength' we thought of changing the narrative, so that when we think of strength, we don't just think of men.
SWATI BHATTACHARYA
CCO, FCB Ulka

Women in India are often celebrated for their emotional solidarity and not physical strength. We wanted to break this misconception and enable women to be physically, emotionally and mentally strong. As a brand that challenges stereotypes, we believe that for this it is our responsibility to encourage women to invest in strengthening their body and mind.
VIKRAM BAHL
Executive Vice President Marketing, GSK Consumer Healthcare India