In a world where every brand wants to ride the cultural wave, Sprite, in its own inimitable style, offers a refreshing counter narrative. Technology has literally found a fix for everything imaginable out there, but when it comes to something as basic as refreshment, nothing can beat Sprite.

AMARINDER BUTALIA
Managing Partner, Ogilvy Delhi-NCR

This tongue-in-cheek campaign reminds us that while advancing technology may bring 'better' solutions for many of life's problems, when it comes to some basic problems, e.g. looking for the 'best idea for refreshment', the solution remains unchanged- A chilled Sprite.

SHRENIK DASANI
Vice President - Sparkling Category, Coca-Cola India and South West Asia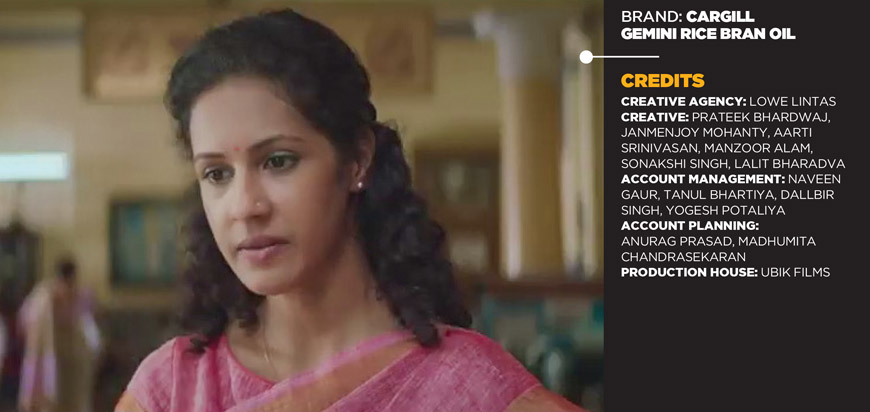 When you have sharp product delivery, the onus is on the idea to deliver a hook that neatly grasps the consumer's attention - and so, the 'Cholesterol Cutter' was born. In the campaign, a bittersweet story talks about how it hurts when things like marks get cut, but not when it comes to cholesterol. A playful music track holds everything in place memorably.
JANMENJOY MOHANTY
Regional Creative Officer, Lowe Lintas

Studies indicate that 80% of consumers are concerned about their heart health and cholesterol. In a move to fuel Indian kitchens with healthier alternatives, we launched Gemini Rice Bran Oil with a stronger cholesterol reduction claim supported by the presence of 40% more oryzanol as compared to any regular rice bran oil.
SUBIN SIVAN
Marketing Head, Cargill Oils, India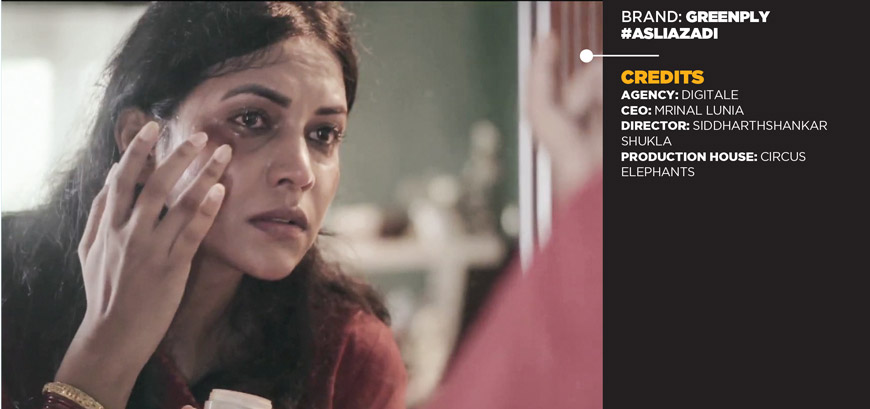 This film helped explore and bring to light some key issues that our society is engulfed with. Greenply being a socially aware brand, gave us the right platform to help highlight these and bring it to the mainstream, to break free from the shackles, and attain #AsliAzadi
MRINAL LUNIA
CEO, Digitale India

Our #AsliAzadi is an awareness campaign personified through various plywood furniture. It is dedicated for people at large to break free from the oppressive societal issues, and claim independence from the suffering that happen behind closed doors. This campaign was conceptualized with a commitment towards creating a positive change in society.
SANIDHYA MITTAL
Executive Director, Greenply Industries Limited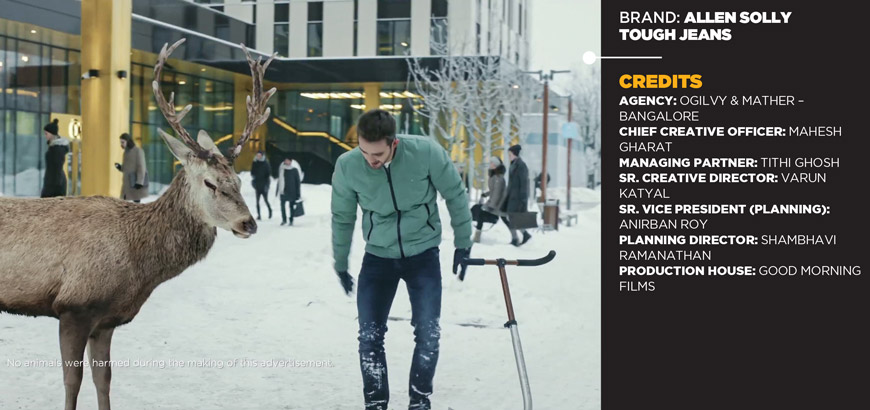 To emphasize the toughness of the denims in the film, the Stag takes our protagonist on a road less travelled, thus demonstrating the strength of them. We wrote the lyrics and collaborated with Antonio Sanchez, the music composer of the Oscar-winning movie, 'Birdman' and the renowned Thana Alexa, on vocals, to create an original soundtrack. I think this one will be truly memorable.
MAHESH GHARAT
Chief Creative Officer, Ogilvy, South

Allen Solly now sets a new benchmark for work wear fashion through jeans. This fashion forward range of tough jeans combines fashion with durability and comfort. With modern construction and durafit fabric the collection offers excellent recovery and stability.
JAYANTH GURUMURTHY
Creative Director, Allen Solly